A layer of creamy filling and chocolate makes these Peanut Butter Truffle Brownies disappear in a hurry.  Trust me and take a pan to your next party or picnic!  I promise you the pan will come home empty!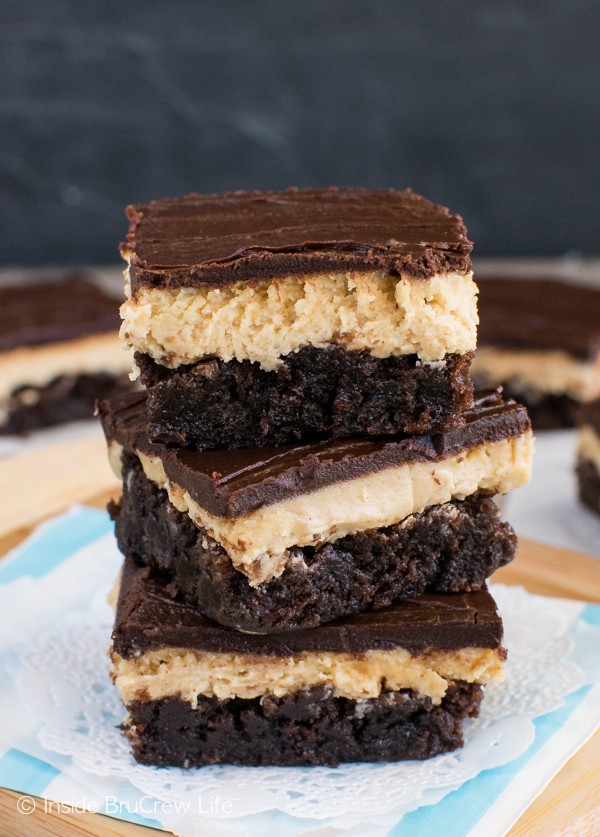 (pictures updated August 2016)
CLICK HERE TO SAVE THIS RECIPE FOR LATER!
Ok, so here is one of my favorite brownie recipes of all time. Anytime I have to bring a dessert, I reach for this fabulous recipe.
You can go easy like I do most of the time and use a box mix, or you can make a double batch of these Homemade Chocolate Chip Brownies for the base. Both ways work and will taste amazing!
Either way, as soon as everyone takes a bite of these delicious goodies, you will be the star of the dessert table.  Every time I bring them to an event, people go nuts for them.
Get it…go nuts!  Because they have a layer of peanut butter filling.  Ok, maybe I'm the only one giggling at that little pun.  What can I say, I crack myself up!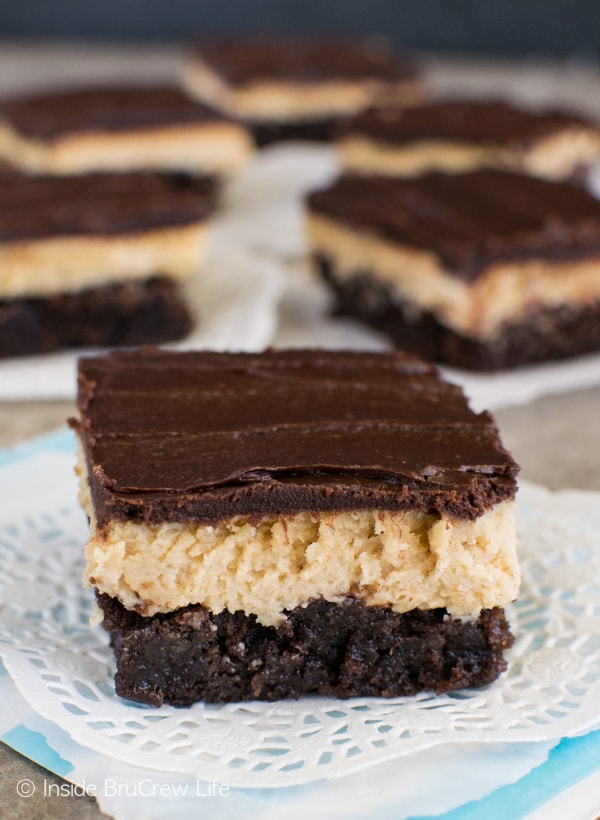 How to make Peanut Butter Truffle Brownies
I have been making these brownies for years, so I hope you enjoy this easy recipe.  The peanut butter filling on top of these gooey brownies is a very slight variation from these Peanut Butter Balls that my family adores.
The only difference is that this peanut butter filling has a little bit more butter in order to make it creamier and easier to spread on the top.
A layer of thick chocolate ganache coats the top of everything.  And yes, licking the spatula after you are done spreading the chocolate out is totally ok.
I  mean, why waste perfectly good chocolate, right?  I know I never do!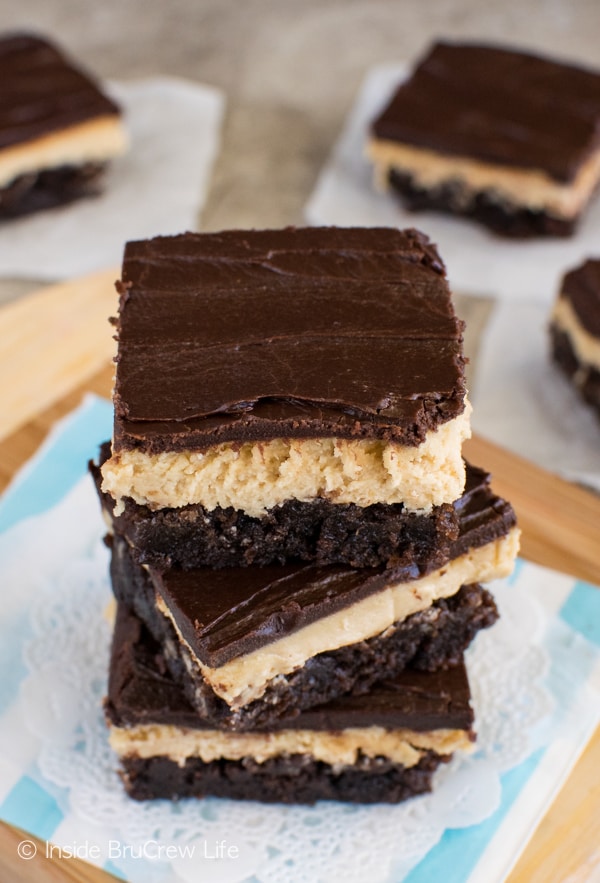 The last time I shared these peanut butter truffle brownies, everyone declared them illegal. In a good sort of way, of course!
I know my jeans wish I would say sweets like this were illegal, but no, I keep on snacking on the sweets.
But don't take my word that these brownies are awesome, make a pan for yourself and see what happens.
(original photo from October 2008)
Peanut Butter Truffle Brownies recipe:
Yield: 24 brownies
Peanut Butter Truffle Brownies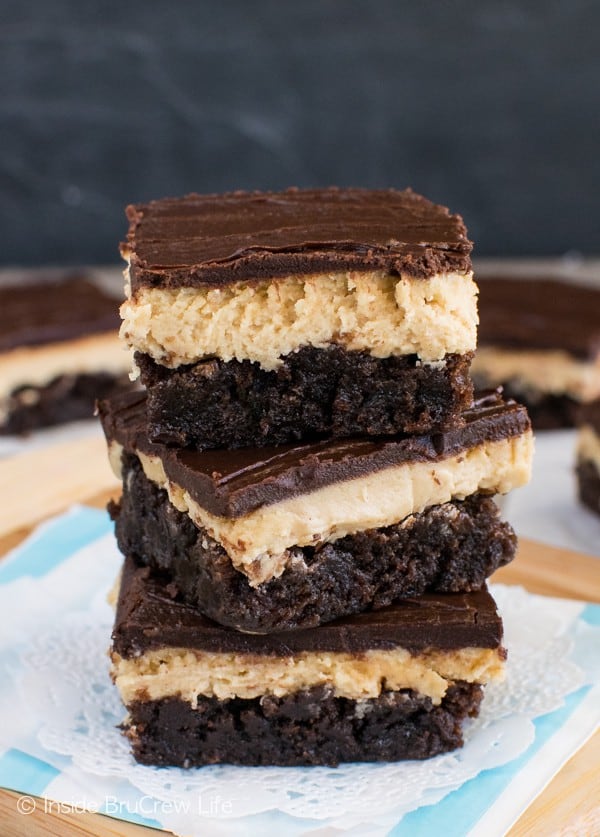 The creamy filling and chocolate topping on these Peanut Butter Truffle Brownies will have them disappearing in no time. Perfect dessert for parties and picnics.
Ingredients
1 - 9x13 box brownie mix
8 Tablespoons butter, softened
1/2 cup peanut butter
1/4 cup marshmallow cream
1/2 teaspoon vanilla extract
pinch salt
2 cups powdered sugar
1/4 cup heavy whipping cream
1 cup chocolate chips
Instructions
Preheat the oven to 350 degrees. Spray a 9x13 pan with non-stick baking spray.
Mix up the brownies according to the package directions. Bake and cool.
Beat the butter until creamy. Add the peanut butter, marshmallow cream, vanilla, and salt and beat again until creamy.
Slowly add the powdered sugar until completely mixed in. Spread gently on top of the cooled brownies.
Place the heavy whipping cream in a small sauce pan and bring to a low simmer. Stir in the chocolate chips until melted and creamy.
Spread on top of the peanut butter filling and let set. Cut into 24 bars. Store in a sealed container.
Nutrition Information:
Yield:
24
Serving Size:
1
Amount Per Serving:
Calories:

153
Total Fat:

10g
Saturated Fat:

5g
Trans Fat:

0g
Unsaturated Fat:

4g
Cholesterol:

13mg
Sodium:

67mg
Carbohydrates:

17g
Fiber:

1g
Sugar:

14g
Protein:

2g