These Banana Chocolate Chip Zucchini Cookies are so soft and delicious. Such a great way to sneak some fruits and veggies into your dessert without anyone even knowing.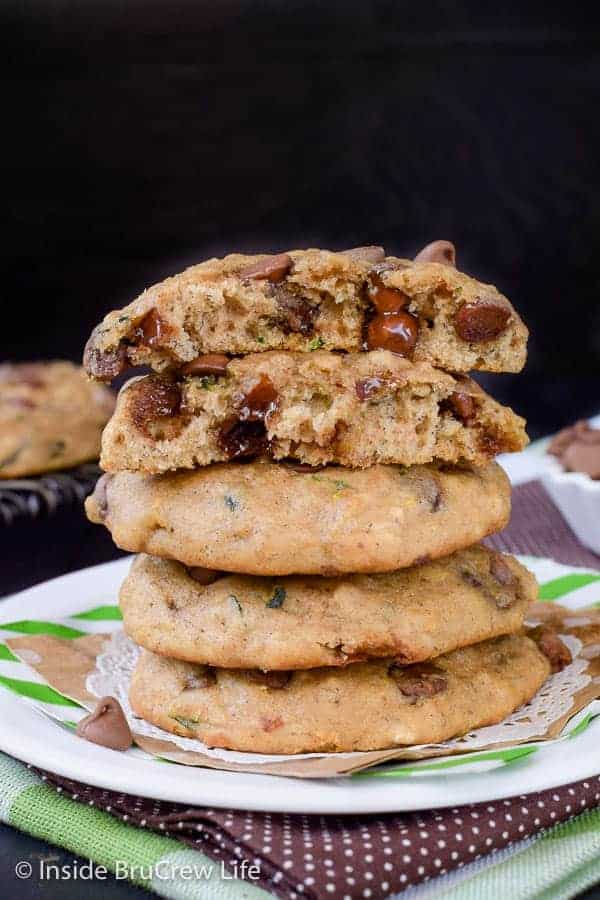 Banana Zucchini Cookies
One of the other things that I always make when we have an extra zucchini are a few batches of zucchini cookies. I love creating yummy dessert recipes to use up extra zucchini because it really does make baked goods taste so good.
Hopefully you need another zucchini recipe because these banana zucchini cookies are one of the best zucchini desserts you will ever make.
This zucchini banana cake and banana zucchini bread are some of my all time favorite zucchini recipes, so I added those flavors to one of my chocolate chip cookies recipe. The result was the most delicious and puffy banana bread cookie.
You are going to love these banana zucchini cookies. They are easy to make, taste amazing, and are a great way to use up ripe bananas and extra zucchinis.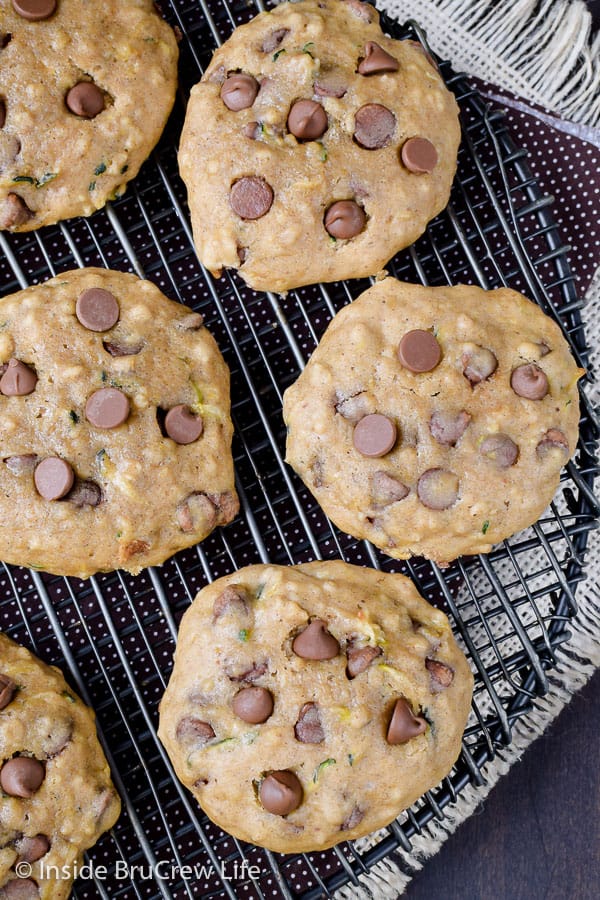 Ingredient List
These zucchini cookies are made with basic pantry ingredients that you will probably have on hand. Make sure to pick up bananas and zucchinis before you start the cookies.
Shortening - This will keep your cookies from spreading too much as they bake. I like to use the butter flavored shortening for added flavor.
Sugars - A mixture of brown sugar and granulated sugar sweetens the cookies and makes them super soft.
Eggs - Adds moisture to the batter and binds everything together.
Zucchini - One medium sized zucchini should produce 2 cups of zucchini when grated. Make sure to squeeze as much of the excess liquid out of it as possible.
Banana - 2 medium bananas mashed to equal 1 cup.
Flour & Quick Oats - Provides structure and texture to the banana cookies.
Baking Soda - Helps the cookie brown and rise.
Salt, Cinnamon & Nutmeg - Adds flavor.
Chocolate Chips - I like using semi-sweet chocolate chips in these zucchini cookies. Feel free to use any type of chocolate chips though. White, milk chocolate, and dark chocolate would all be great too.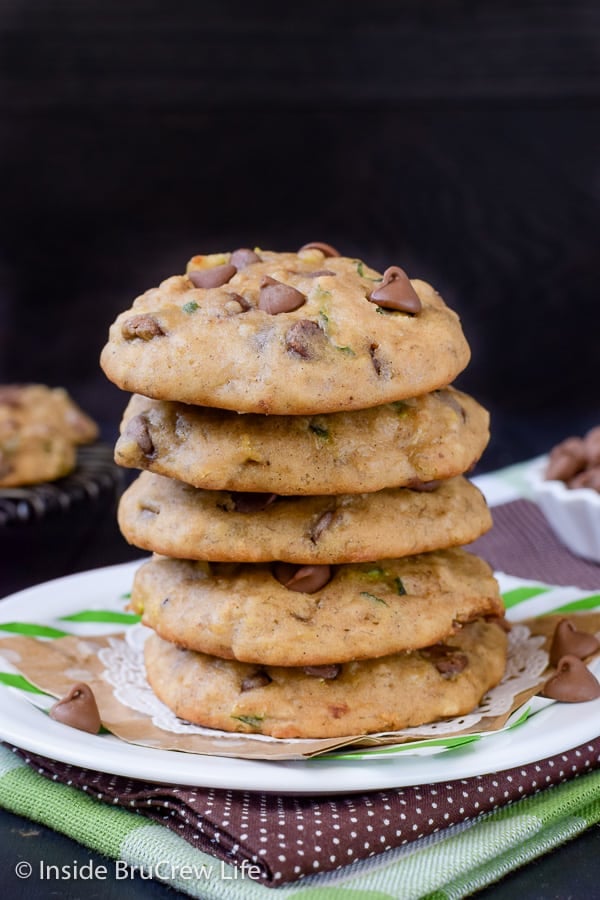 How to make Banana Chocolate Chip Zucchini Cookies
The batter for these banana zucchini cookies is so easy to make. Mix it all in one bowl, then scoop onto a baking sheet and bake.
If you are looking for a recipe for oatmeal zucchini cookies, look no further because after one bite of these zucchini cookies, you will be in love.
Mix together the butter shortening and sugar until nice and creamy. Using shortening keeps you cookies from spreading too much as they bake.
Add two eggs to the mixture and mix again.
Shred some zucchini using the medium sized holes of a grater. Stir the mashed banana and zucchini into the sugar mixture.
Mix together all the dry ingredients, then slowly mix it in until a soft dough forms.
Add the chocolate chips and stir gently.
Spoon the batter onto a prepared cookie sheet and bake.
Store the cooled banana zucchini cookies in a loosely sealed container.
What I love most about these cookies, other than how good they taste, is that they freeze well. I made these cookies a week before an event and placed them in the freezer until the night before. Everyone at our life group loved them and had no idea that I had made them ahead of time.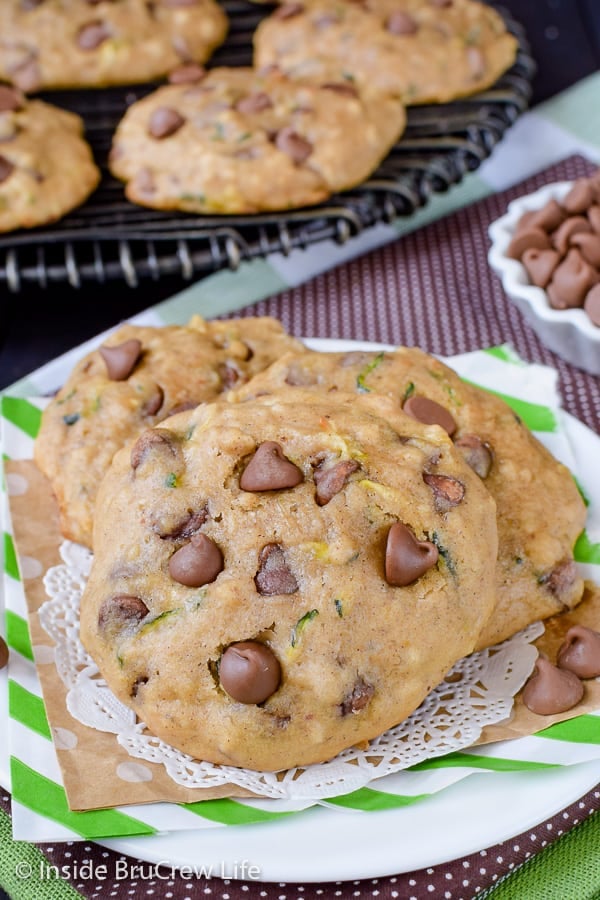 Recipe Tips
Squeeze any excess liquid out of the grated zucchini. As a result of too much extra liquid in the cookie batter it can affect your baked cookies. Just hold handfuls of the grated zucchini in your hand and squeeze it over the sink. Try to get out as much water as you can.
Do NOT pack the squeezed zucchini into a measuring cup. You want to just place the shredded zucchini in your measuring cups; do NOT press it in firmly.
Drop spoonfuls of the cookie batter on a cookie sheet lined with a Silpat. This sheet will keep the cookies from spreading too much. You can also use parchment paper.
Try to keep the batter in a nice circle when you drop it on the cookie sheet.
When the cookies come out of the oven, let them sit on the cookie sheet for a few minutes before transferring them to a sheet of parchment.
Press a few extra chocolate chips into the tops of the warm cookies. It's not necessary, however it makes the cookies look so pretty. If you want to skip this step, stir all the chocolate chips into the batter before baking.
Frequently Asked Questions
Do you peel the zucchini first?
No, you can shred the zucchini with the peels on. It gives the cookies little bits of green, so you know what it is in them. If you are trying to hide the zucchini from people, definitely peel them first.
Can these cookies be made ahead of time?
Yes, these zucchini cookies keep really well because of the moisture from the bananas and zucchini in them.
How do you store these cookies?
Counter - Keep the zucchini chocolate chip cookies in a loosely sealed container on the counter for 4-5 days.
Freezer - These cookies freeze very well. Place them in a freezer safe container or bag with parchment paper between the layers. Thaw on the counter overnight or a few hours before serving them.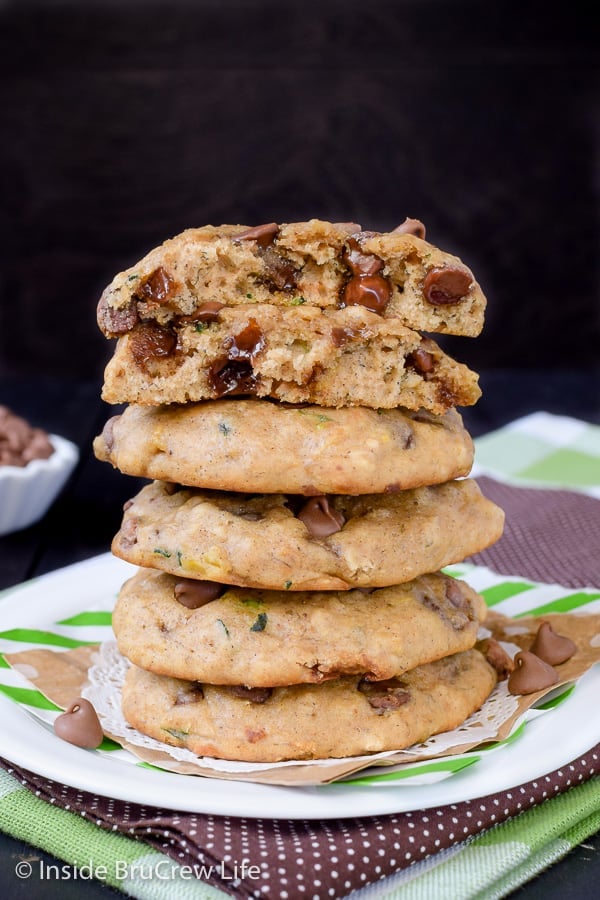 More easy zucchini dessert recipes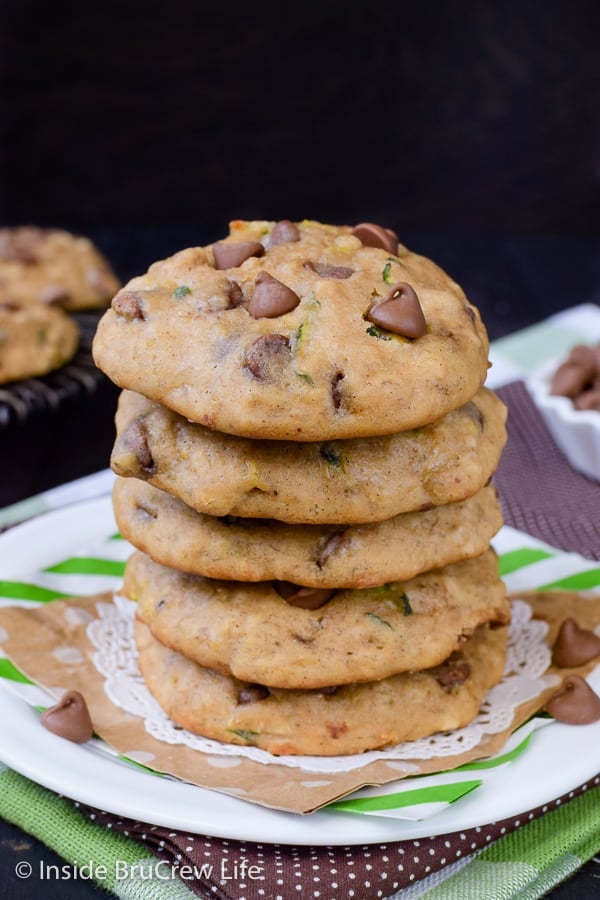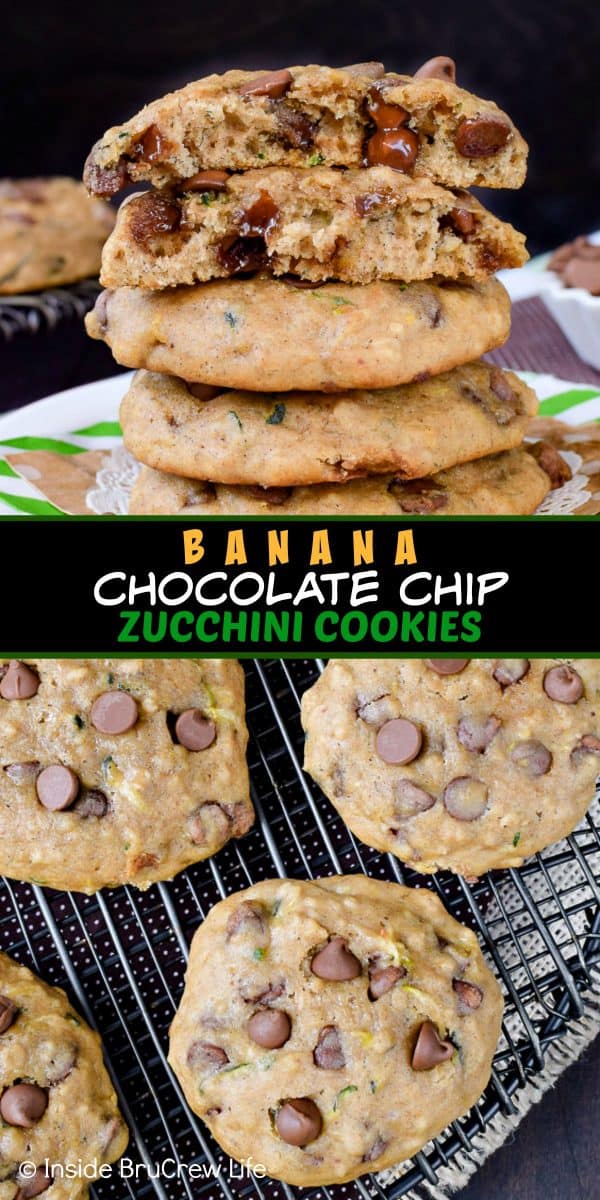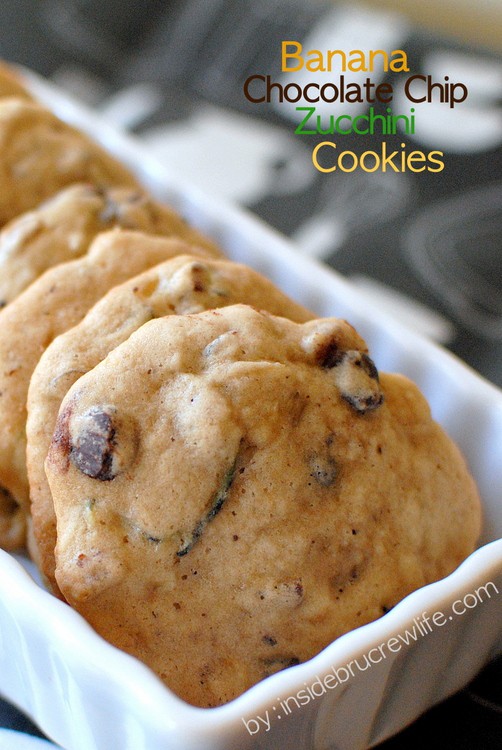 (original photo from July 2010)
*The post for Banana Chocolate Chip Zucchini Cookies was first published on July 13, 2010. The recipe and photos have been updated, and it was republished on August 5, 2019.