These little White Chocolate Reese's Rice Krispie Hearts will make everyone smile when they see the cute treat. They are such a fun no bake treat to make for Valentine's day parties.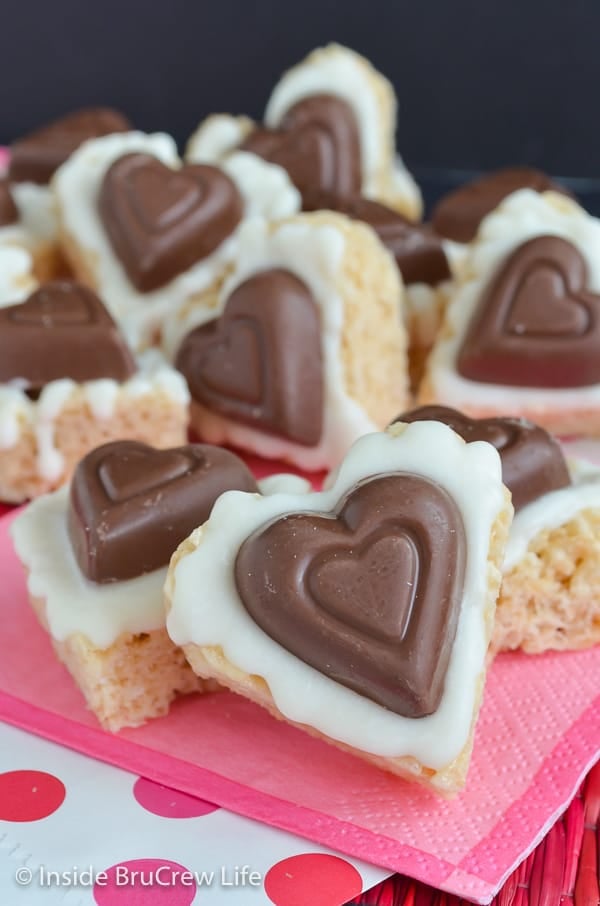 I puffy heart love Rice Krispie treats. In fact, I love them so much that I cannot stop eating them until they are gone. It's bad people. Bad for the jeans in my life that is.
Me on the other hand...well, I am good with more krispie treats in my life. Although, I should probably stop making them when no one is home with me.
Now add a peanut butter cup heart to the top, and you will want to eat the entire batch in one day. You can also add these peanut butter hearts to these peanut butter cookie bars!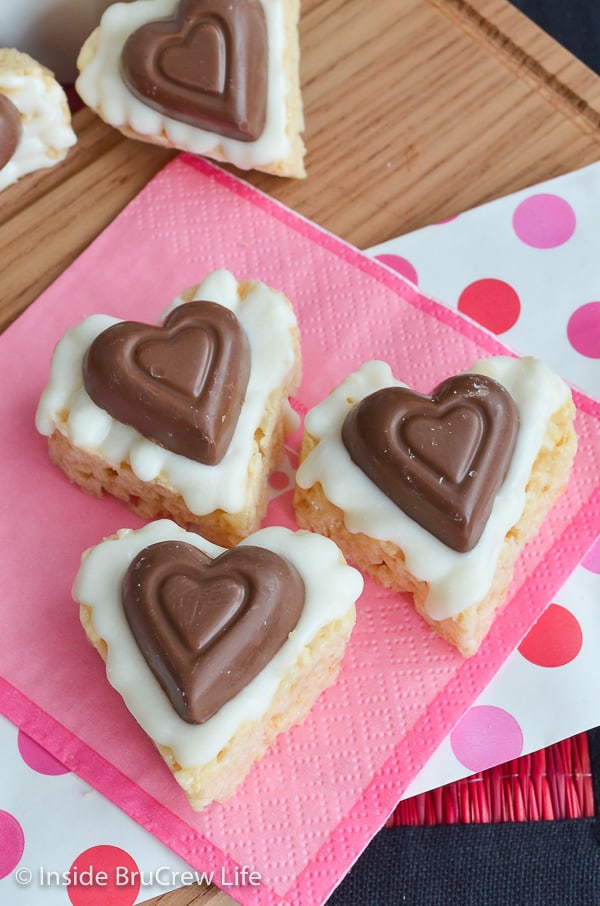 I was at Target the other day, and I just couldn't resist buying a bag of the Reese's hearts. Not that I can resist regular Reese's, but there is something about cute fun shapes that makes me buy them even more.
At that very moment I did not have any idea what I was going to make with them. I just knew they had to come home with me. Please tell me I am not alone in my random candy buying!!!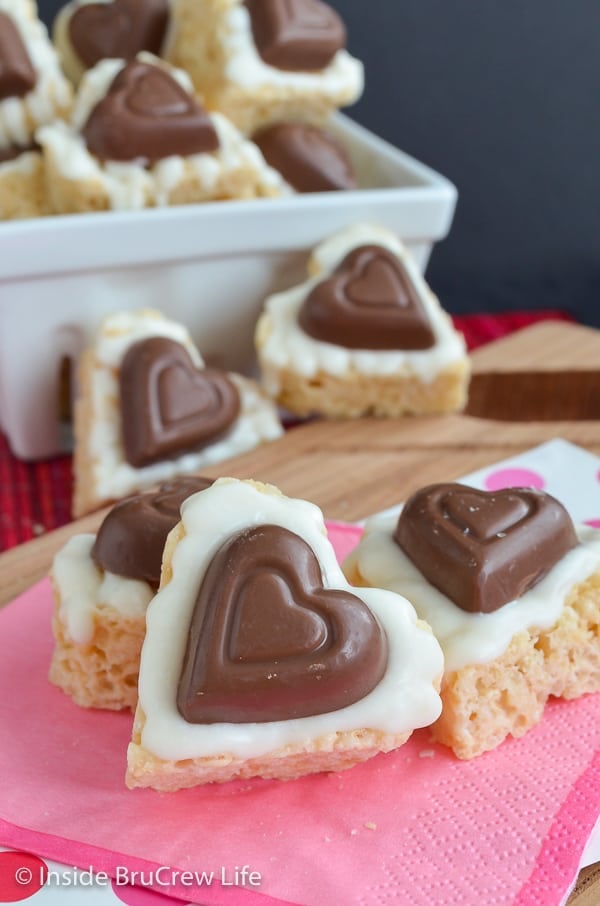 As I was putting away the groceries...aka...the rest of the baking supplies, I saw a lone box of rice krispies sitting there. It made me think about these Peanut Butter Cup Rice Krispie Treats.
All of a sudden I knew I wanted to make cute little heart shaped rice krispie treats with the Reese's candies on top.
How to make White Chocolate Reese's Rice Krispie Hearts
Melt the butter and marshmallows in a large pot over low heat.
Add the dry pudding mix and stir until completely dissolved and mixed together.
Pour in the cereal and stir until coated.
Press the mixture evenly into a buttered pan and let it cool for 15 minutes.
Use a heart shaped cookie cutter to cut out hearts.
Dip the tops of the rice krispie treat hearts into melted white chocolate.
Press a peanut butter cup heart on top and let set.
The bonus part of cutting rice krispie treat shapes??? Someone has to eat all the scraps! It's a rough job, but someone has to do it.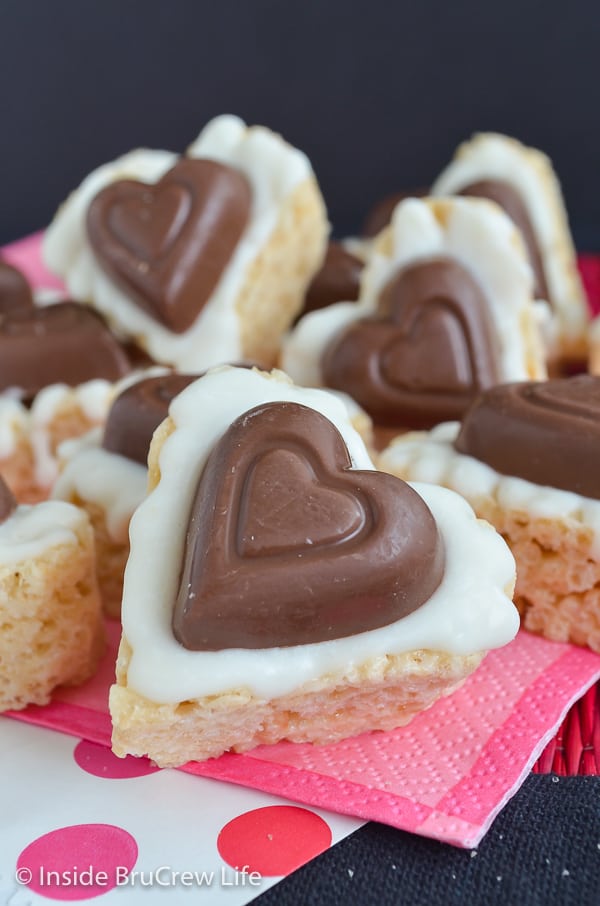 Recipe Tips
Butter the pan and your hands to keep the mixture from sticking when you are pressing it into the pan.
Make sure you melt the butter and marshmallows on low heat. This will keep your treats from getting too hard when they set up.
Do not use old marshmallows because they will be dried out and they will not melt as well.
Press the mixture into the pan lightly but firmly at the same time. You want them to stay together, but you do not want to compact it so much that they are hard to bite into.
Eat the rice krispie treats within 3 days as they will start to lose their freshness and begin to harden.
More easy rice krispie treats recipes
Oreo cookies and sprinkles will have everyone reaching for these Oreo Stuffed Rice Krispie Treats.
These Brownie Mint Rice Krispie Treats get a fun flair and flavor from a brownie mix and mint chips.
M&M candies and marshmallows make these easy Cherry Marshmallow Rice Krispy Treats the perfect no bake dessert to share.
These easy 100 Grand Rice Krispie Treats are filled with caramel and chocolate goodness.
The Oreos, Nutter Butters, and M&M's in these Monster Cookie Rice Krispie Treats are sure to satisfy the cookie monster in you.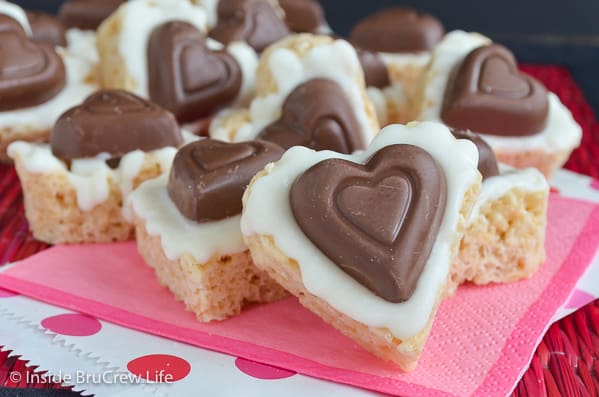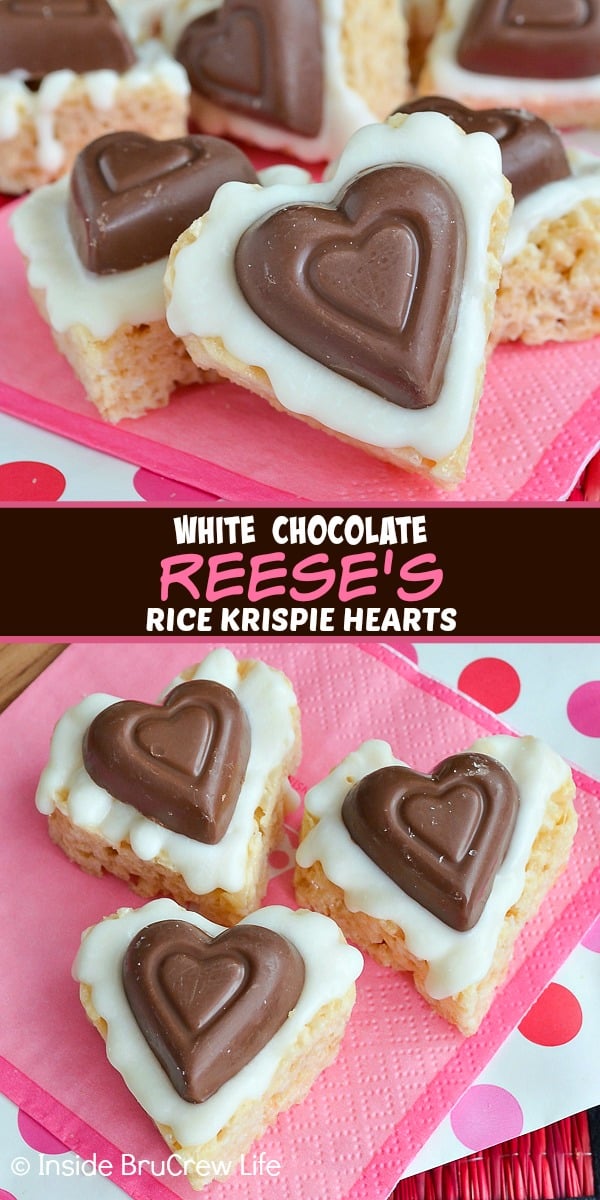 *The post for White Chocolate Reese's Rice Krispie Hearts was first published on January 27, 2013. The photos and post were updated and republished on February 6, 2020.