A batch of these cute little White Chocolate Reese's Krispie Hearts is a fun treat to share with your loved ones!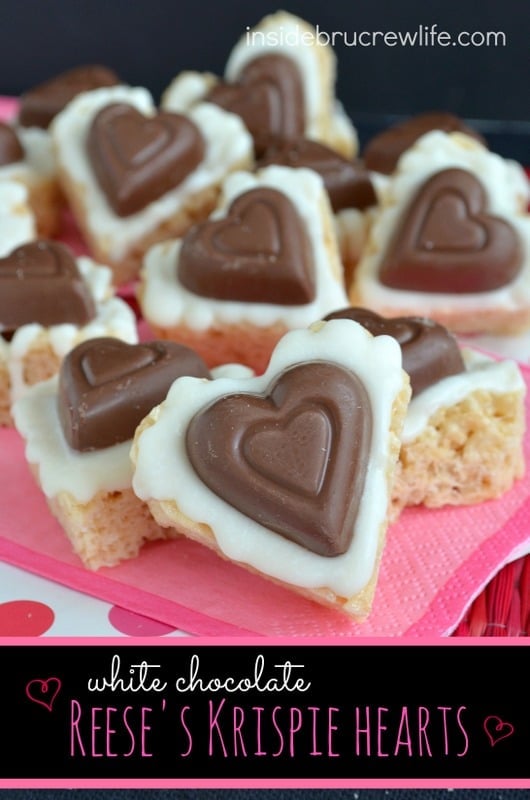 I love Rice Krispie treats. Like, love them so much I can't stop eating them until they are gone.
It's bad people. Bad for the jeans in my life that is.  Me on the other hand…well, I am good with more krispies in my life. I should probably stop making them when no one is home with me.
Today's White Chocolate Reese's Krispie Hearts will make you want to eat the entire batch in one day.  What?  That's not normal to do?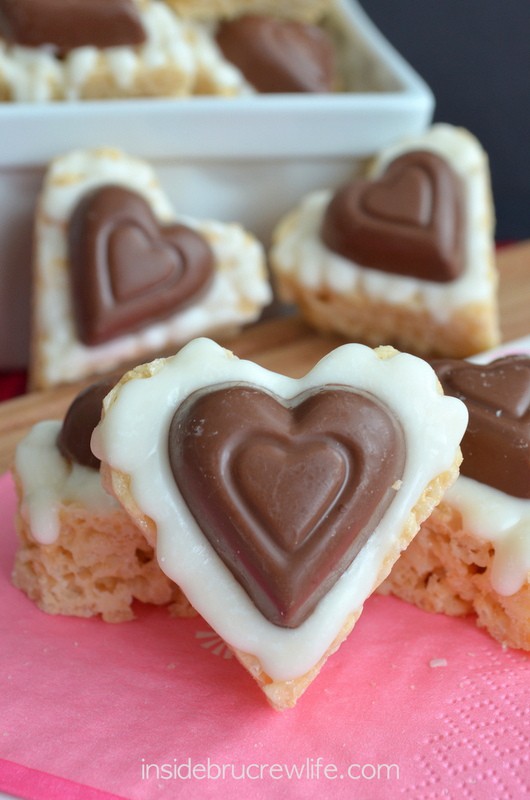 This batch of rice krispie treats starts out like a regular pan of krispies, but at the last minute you add a box of white chocolate pudding into the melted marshmallows.  Pour in the cereal and stir until coated.
Go ahead and press the hot mixture into a buttered pan.  Yes, go ahead and lick the spoon.  You know you want to.
But you probably are going to burn your tongue.  I know, because I do it every single time I make krispie treats.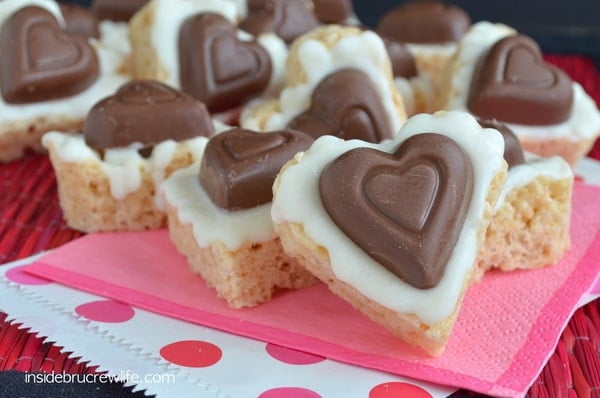 I was at Target the other day and I just couldn't resist buying a bag of the Reese's hearts.  Not that I can resist regular Reese's, but there is something about cute fun shapes that makes me buy them even more.
I didn't have any idea what I was going to make with them. I just knew they had to come home with me.  (Please tell me I am not alone in my random candy buying!!!)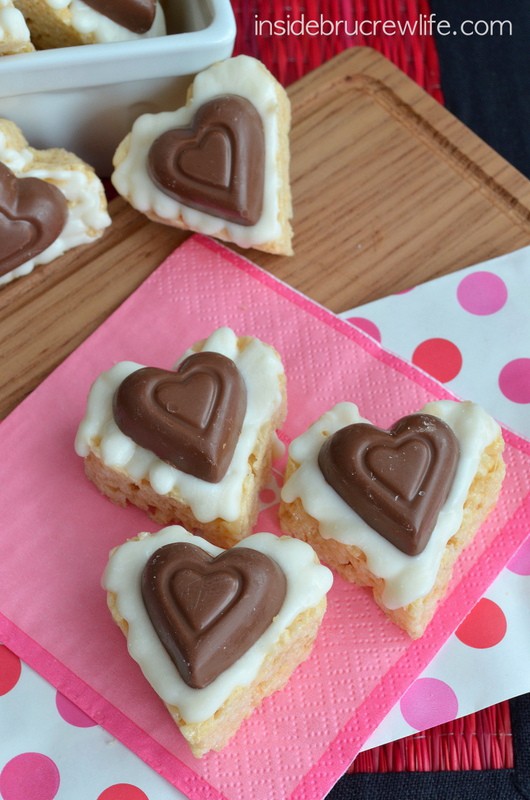 Enter the White Chocolate Rice Krispies cooling on the counter.  All of a sudden I knew I wanted to share my love of krispies, white chocolate, and peanut butter cups all in one glorious ADORABLE treat!
You start by cutting the white chocolate krispies into a heart shape just slightly bigger than the Reese's hearts.  Then drizzle the tops of the krispie hearts with white chocolate and drop a Reese's heart on the top.  (go ahead and eat the rest of the Reese's while the chocolate is setting…I won't tell!)
Super easy!  And so stinking cute!!!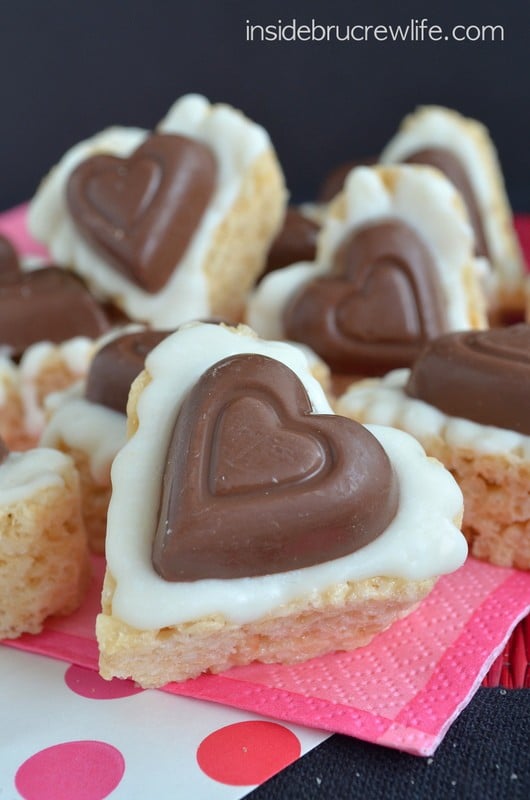 The bonus part of cutting hearts from these rice krispies???
Someone has to eat all the scraps! It's a rough job, but someone has to do it.
 Make sure you don't miss any of the crazy baking by following the BruCrew here:
FACEBOOK | PINTEREST | GOOGLE+ | TWITTER | INSTAGRAM
Yield: 15 hearts
White Chocolate Reese's Krispie Hearts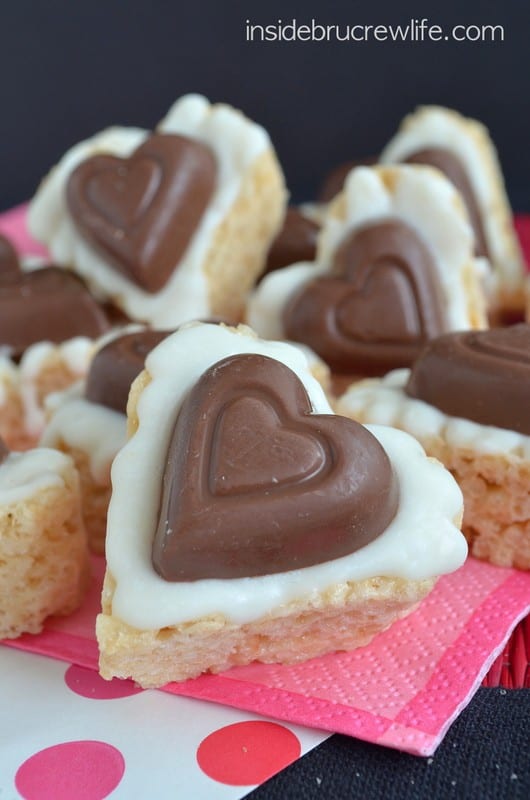 A batch of these cute White Chocolate Reese's Krispie Hearts is a fun treat to share with your loved ones!

Prep Time 15 minutes

Total Time 15 minutes
Ingredients
4 Tablespoons butter
1 - 10 ounce bag miniature marshmallows
1 - 3.4 ounce box Jello instant white chocolate pudding
5 cups Rice Krispies cereal
1/4 cup white chocolate melts, melted
15 Reese's peanut butter hearts
Instructions
Butter the bottom and sides of a 9x13 pan.
Place the butter and marshmallows in a large saucepan. Heat and stir on medium heat until melted and smooth. Add the pudding and stir for about 1 minute, so the pudding can dissolve. Stir in the cereal.
Pour the cereal mixture firmly and evenly into the prepared pan. Let set about 15 minutes.
Use a metal heart cookie cutter to cut out 15 hearts. Let cool completely.
Drizzle the krispie hearts with the melted white chocolate.
Press a Reese's heart on top before the chocolate sets. Let set before serving.
Notes
You could also cut the rice krispie treats into squares and top with the melted chocolate and hearts.
Nutrition Information:
Yield:
15
Serving Size:
1
Amount Per Serving:Calories: 375 Total Fat: 19g Saturated Fat: 7g Trans Fat: 0g Unsaturated Fat: 2g Cholesterol: 11mg Sodium: 268mg Carbohydrates: 52g Fiber: 1g Sugar: 37g Protein: 7g