Valentine Peanut Butter Heart Cookie Bars - quick and easy cookie bars loaded with sprinkles, M&M's, and peanut butter hearts! Perfect treat to bring to Valentine's day parties or to share with your favorite peanut butter loving friend!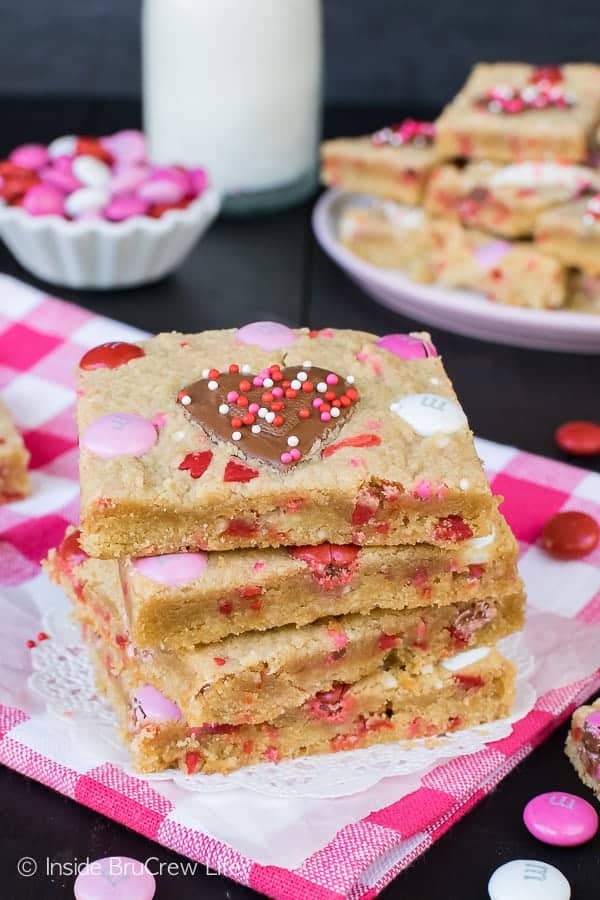 The other day I had a rare quiet moment when no one was home. My daughter was at youth group, and my husband had taken our youngest son to soccer practice. It was just the dog and I sitting at home doing nothing.
I contemplated reading, watching tv, editing photos, or baking cookies. Since I had a couple bags of Valentine's day candy sitting in the pantry I opted to make short-cut cookies. You know the ones, right? You just press all the dough in a pan and call it a day.
Since I had two bags of peanut butter hearts to use up, I decided to give these Peanut Butter Nutella Cookies Bars a fun red, white, and pink twist.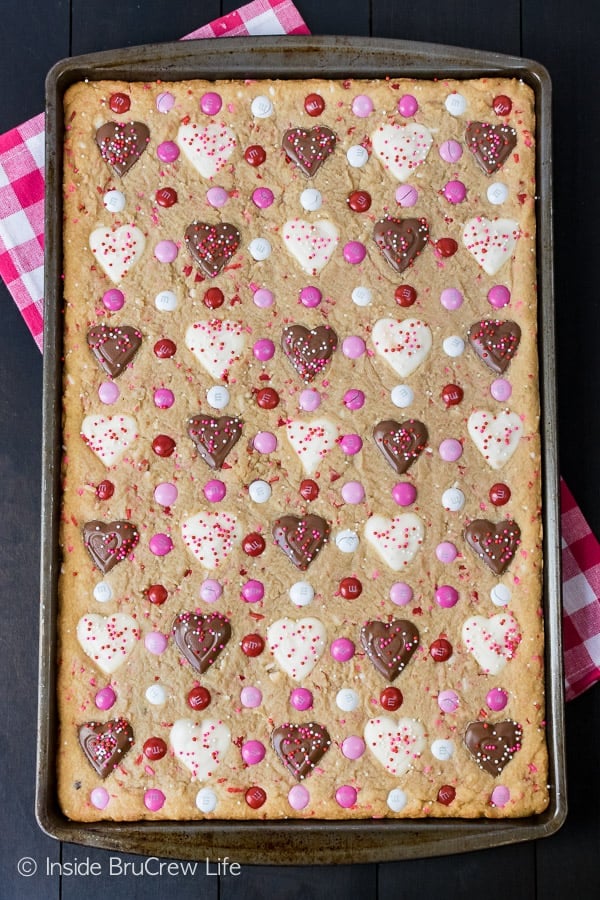 Peanut butter and chocolate is my kryptonite. No matter how hard I try to resist this combo, I just can't do it. At least this time I resisted until the pan of cookie bars was cooled off.
Honestly, the only reason I waited on the cookies was because I wanted a picture of the top of the bars. See how pretty the grid of peanut butter hearts and M&M's was! I just had to take a picture of it.
Next time, I want to dig in and add a scoop of moose tracks ice cream. Oh, yeah baby! That would be epic!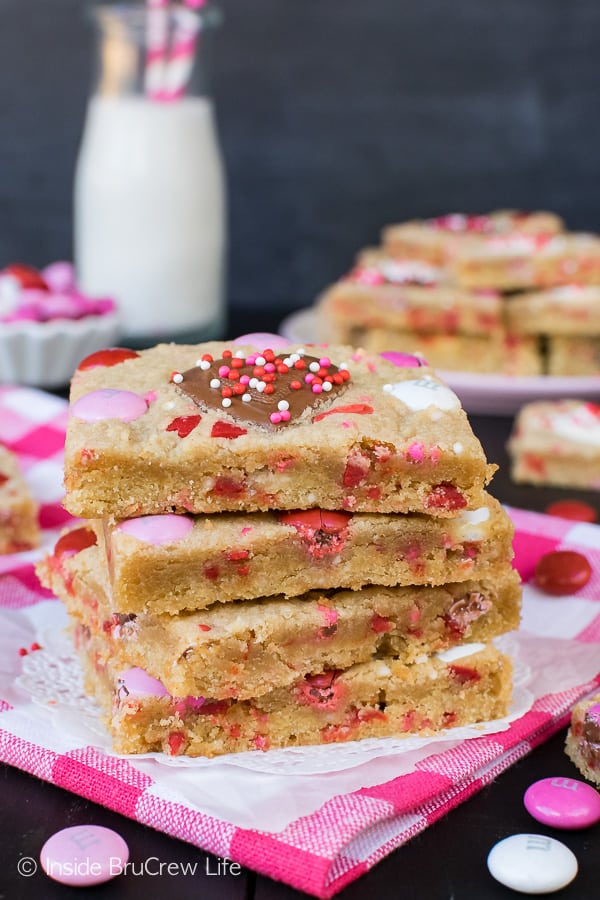 My husband got home while I was pressing all the candies into the top of the dough. He questioned my sanity at this point because when I make these Peanut Butter Cup Cookies, the candy gets pressed in AFTER the cookies come out of the oven.
Silly little boy! I told him that there is a reason I do this for a living. As long as the peanut butter cups aren't in the oven for too long, all will be well. The cookie dough bakes around them so they keep their shape perfectly.
He just shook his head. I'm pretty sure he doubted that these homemade cookie bars were going to be a success. To be honest, he actually had me wondering if I was crazy for putting the candy in BEFORE baking them. But at that point it was already done, so I just went with it.
Booyah! These bars turned out just like I thought they would. I did add some more sprinkles to the tops of the melted chocolate as soon as they came out of the oven because, well because sprinkles. Duh!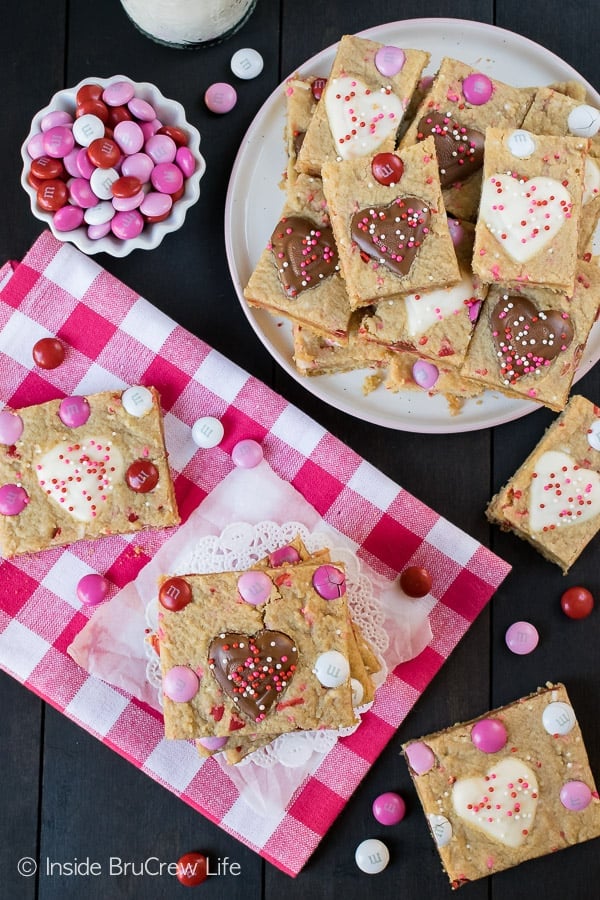 Sprinkles and candies make these easy peanut butter bars a fun treat to share with your loved ones.
Tips for making these Valentine Peanut Butter Heart Cookie Bars
Make sure you butter is softened before you start. It's just so much easier to beat the butter and sugars together when it is soft.
Stir together the dry ingredients and slowly beat them into the creamed mixture.
Use an angled spatula to spread the batter into your cookie sheet. It's sticky, so do not use your hands.
Press the candies into the top of your batter in whatever pattern your heart desires. I did a grid alternating the white chocolate and chocolate hearts.
Do not over bake your cookies. No one wants cookies that fall apart when they try to pick them up.
Add more sprinkles to the tops of the melted chocolate when they come out of the oven.
Products I used to make these cookie bars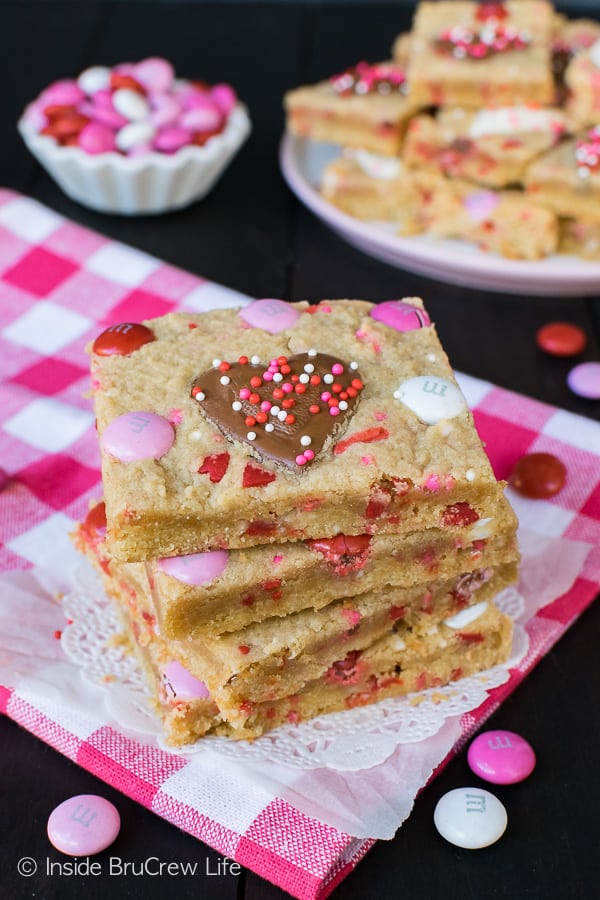 More easy Valentine's Day treats
CLICK HERE TO PIN THIS RECIPE FOR LATER!

*This post contains affiliate links. Inside BruCrew Life may receive a small percentage from sales made through these free links. As always, these links do not cost you any extra. Thank you for letting us share products we use and love this way.
SaveSave
SaveSave
SaveSave
SaveSave
SaveSave
SaveSave
SaveSave