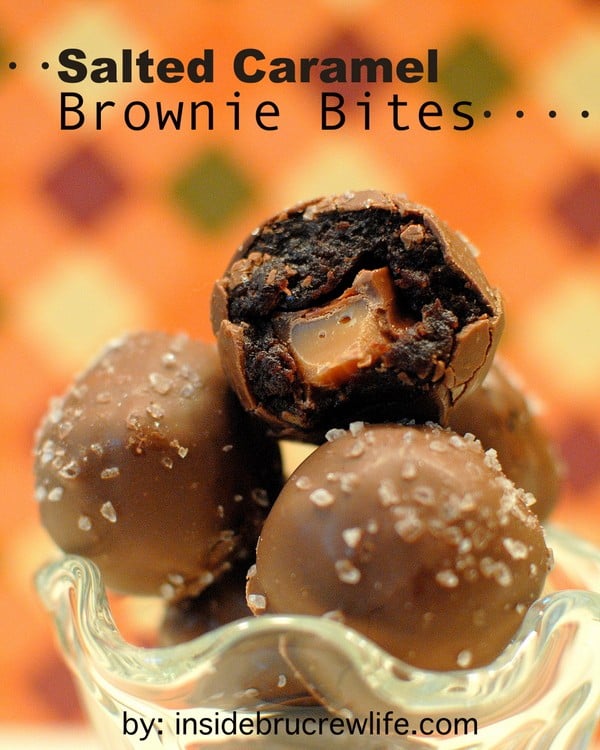 Of course we are starting with dessert first
because that is the best part anyway, right??
Ever since I made these pumpkin spice brownie bites
I have been thinking non stop
about what else I could put inside.
I might end up going a little overboard
on the brownie bites…just saying;-)
I hope you won't get tired of brownie bites any time soon!!!
Let's get started with…
The Salted Caramel Brownie Bites
What is it about salty and sweet that just gets me every time?
I absolutely loved these, although next time I want to try
a softer caramel center…rolos are a little too chewy.
My kids weren't as crazy about the salt on top as I was…
in fact my oldest asked me,
"Why does it taste like you dipped them in the ocean?"
Silly boy! Hee hee! I am just refining their dessert palates!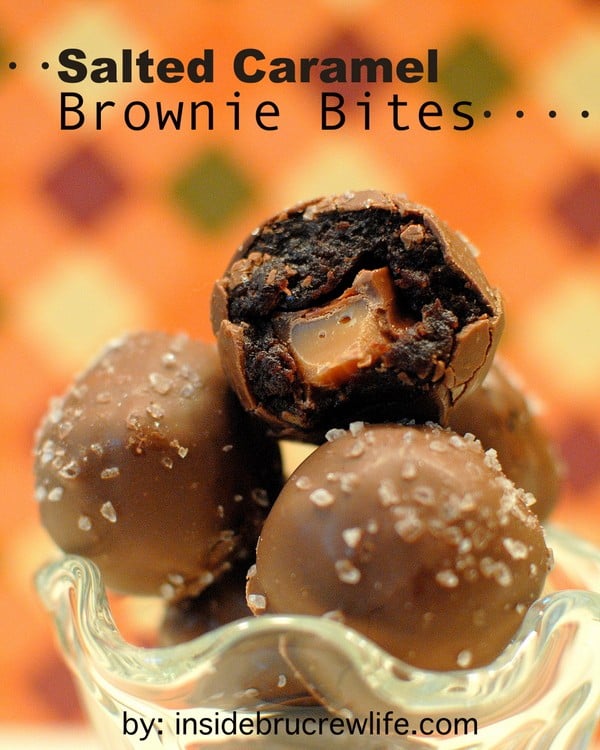 Rolos wrapped in brownies and dipped in chocolate with sea salt.
Ingredients
1 - 9x13 box brownie mix
35 Rolos
12 ounces chocolate melting wafers
sea salt
Instructions
Make the brownie mix according to the directions on the back of the box. Bake at 350 degrees for about 24-25 minutes. Do not over bake. A toothpick should come out slightly gooey.
Cut the brownies into 35 small squares. Place a Rolo on each square. Wrap the brownie around the Rolo and form into a ball. Place on a wax paper covered baking sheet. Refrigerate the bites for about an hour or more.
Melt the chocolate in the microwave according to the package directions. Dip the brownie bites in the melted chocolate using a fork, place on wax paper, and sprinkle with sea salt. Makes 35 brownie bites.
http://insidebrucrewlife.com/2010/11/be-our-guest-for-dinner-and-dessert/
Copyright Inside BruCrew Life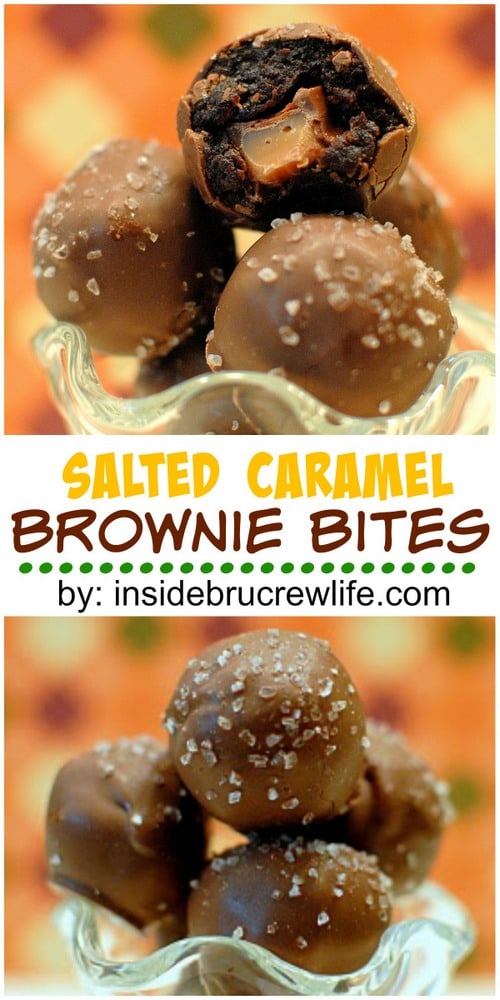 One good thing about cold weather approaching means
the start of comfort food.
Tater Tot Casserole is one of my kids favorite casseroles….
who am I kidding?
It happens to be one of my favorite too:-)
I know it doesn't exactly look like the prettiest meal…
it is hard to photograph melted cheese and soup
and make it look amazing!
But believe me it tastes so yummy!
Tater Tot Casserole
1 lb. ground beef
1 small onion, chopped
salt and pepper
1 pkg. (16 oz) frozen tater tot potatoes
1 can (10 3/4 oz.) cream of mushroom soup
1/2 can milk or water
1 c. shredded cheddar cheese
dried parsley
In skillet, brown the meat and onion. Drain off the fat. Season with salt and pepper. Place in greased 2 qt. casserole pan. Top with tater tots. Combine soup and milk/water; pour over tater tots. Sprinkle with cheese and parsley. Bake at 350* for 30-40 minutes.
(I usually double this for our family of 5)