You are only 5 ingredients and a few minutes away from having a batch of Cookies and Cream Toffee Bark in your life. This easy snack mix will be the first treat to go at all your holiday parties.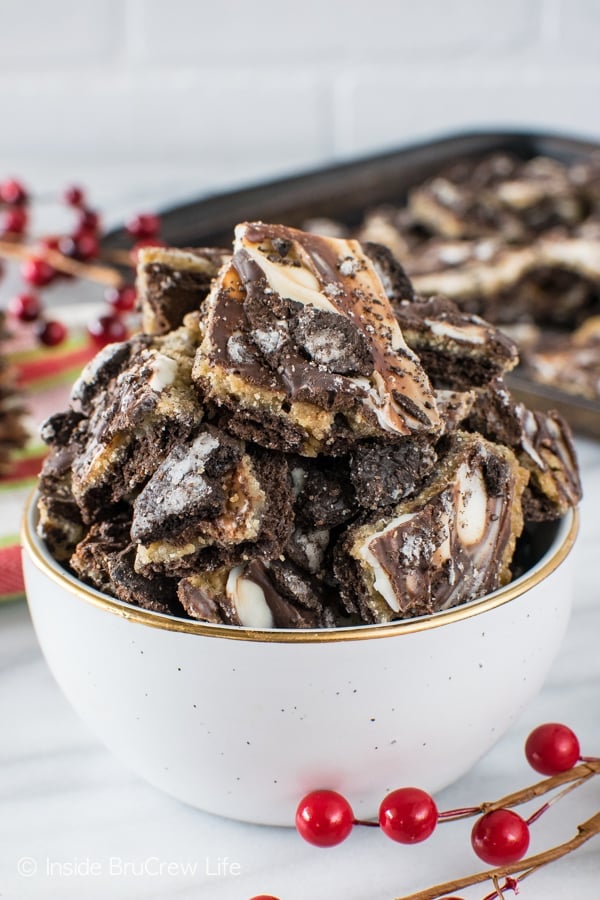 This sweet snack single-handedly took me out this weekend. I had the idea to make this bark a few months, but I kept getting busy and forgetting to make it. That's probably a good thing now that I know how delicious and addicting this stuff is.
After one weekend of snacking on this sweet cookies and cream goodness, my jeans may not be fitting so well this week. I guess it is a sweats kind of day around here. I probably should add a few more things to our workout board each day to combat the amount of toffee bark I consumed.
Luckily, we had a Christmas party to go to, so I was able to share some of this goodness with others. But when the party was over, there was still some cookies and cream bark in the bag.
Part of me was NOT happy about taking it home because I knew I would eat it all. The other part of me was SO happy I got to take some home because I couldn't wait to eat more. There was quite the dilemma going on in my mind as we walked to the car.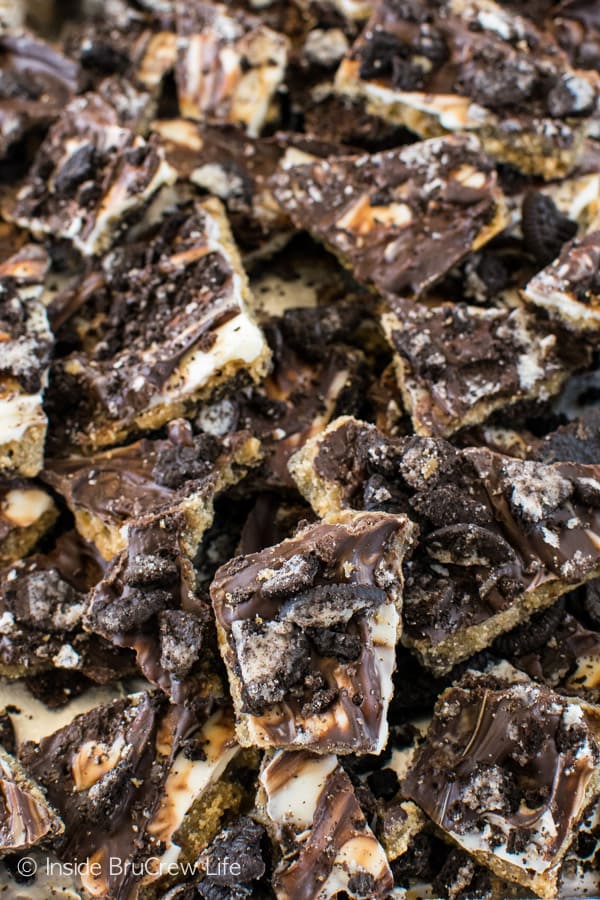 I can't believe that after creating and blogging recipes for so many years that I only have one toffee bark on here. I have made lots of chocolate bark treats like this Peppermint Oreo Bark, but this S'mores Toffee Bark is the only one made with melted butter and sugar. Time to change that!
Although, if I make more versions, I will definitely have to break out the stretchy pants more often and do triple the amount of exercise. There is a reason so many people call this sweet treat "crack". What to do? What to do?
At least it's the holidays and adding a few more pounds is kind of acceptable this month. Heck, it's pretty much encouraged. I mean every time we go to a holiday party, the table is covered in chips, dip, and sweets.
Ok, so there was a fruit and veggie tray at the party this weekend. But only one of each, and there were multiple dips, chips, and desserts covering the rest of the table.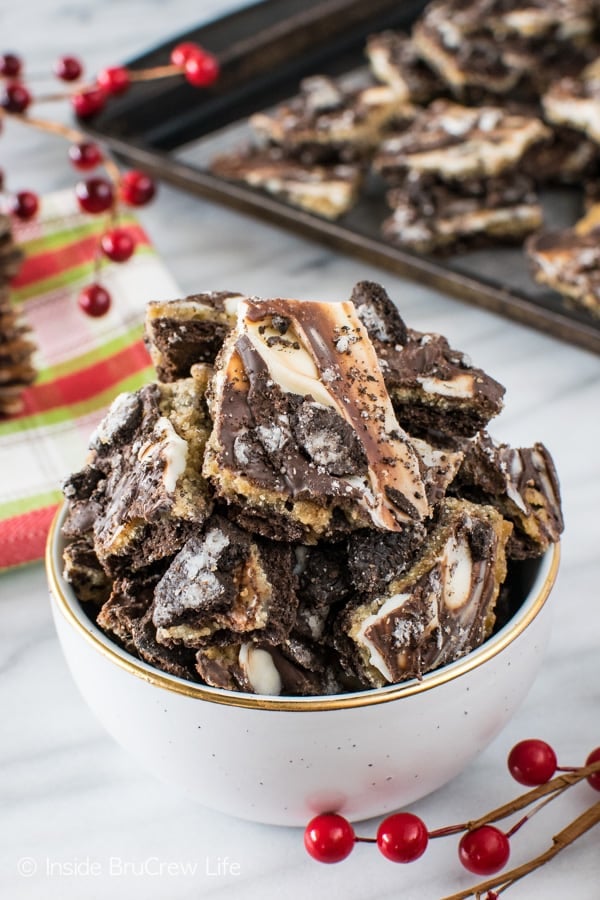 Since there is no way that I am going to change my reputation of being the "dessert lady", I showed up the party with a bag of this Cookies and Cream Toffee Bark.
I'm just doing my part to help everyone with their expected weight gain this month. Don't give me that look!
You know you are right there with me eating the sweets and loving it.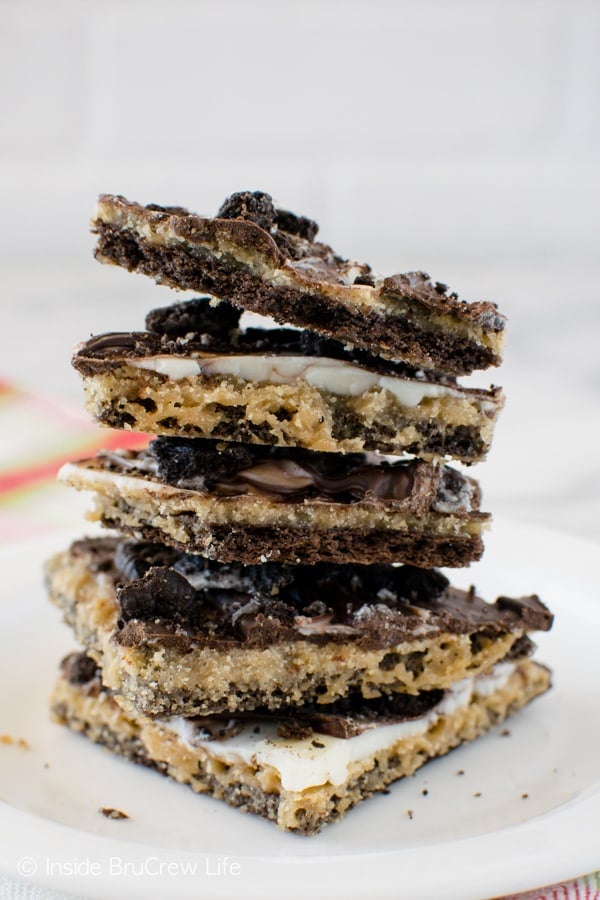 Let's talk about this cookies and cream bark in front of you. You are only 5 ingredients away from having a batch of toffee in your life as well.
How to make Cookies and Cream Toffee Bark:
Line a baking sheet with foil because it will make it so much easier to remove the bark after it cools.
Place one layer of chocolate graham crackers all over the bottom of the pan.
Melt butter and sugar together in a pan and then boil it for 2 minutes without stirring.
Pour the hot mess on top of the crackers and spread it out.
Bake for 5 minutes, and then remove the pan from the oven.
Sprinkle the chocolate and white chips over the top of the bubbling toffee. Bake for another 1-2 minutes.
Use an angled spatula to spread the chocolate out carefully. Do not over spread the chocolate because you want to see the swirls.
Add the cookie chunks to the top and let it set. You can refrigerate the pan in order to speed this up.
Break the toffee bark apart, and then try to restrain yourself from eating the entire batch. Trust me, it could happen.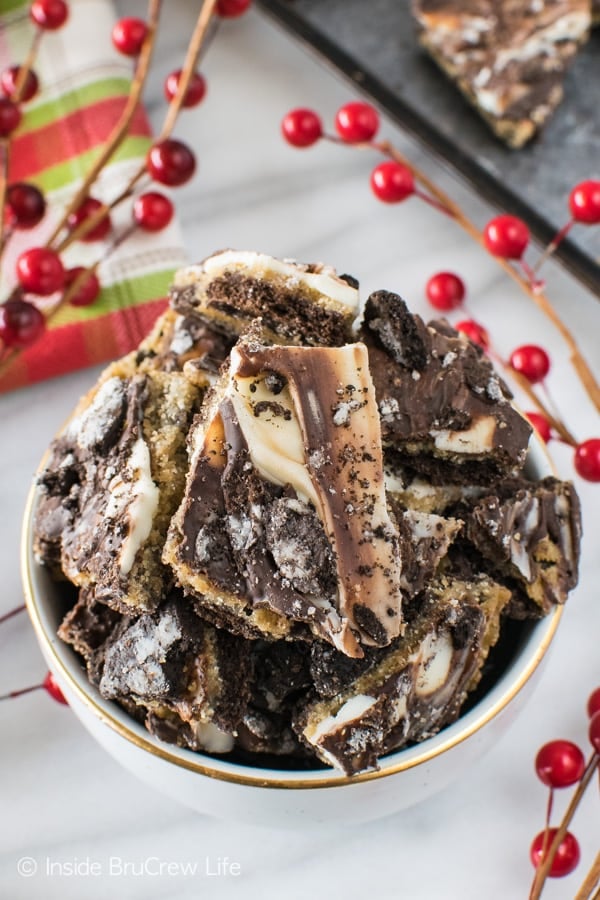 More easy holiday desserts you may like:

*This post contains affiliate links. Inside BruCrew Life may receive a small percentage from sales made through purchases made through these links, but no extra charge is made to you. Thank you for letting us share products we use and love this way.