Here is my big philosophical reason on beds and cookies…
I like big cookies and I have discovered that I like big beds.
The more the merrier, right?
See, in my mind, cookies are like beds.
The more cookies I have the merrier I am,
and the bigger the bed, more merriment I get from all that space!
Yes, I have strange ways of looking at things.
Last week we spent a week at the beach with my family.
The room we stayed in had a king sized bed.
I am more than ready to upgrade to one that size for my room at home.
You could do "snow angels" and not bump into the other person.
I have to admit something…
I kind of like my own space when I am sleeping.
Now don't get me wrong, I like to cuddle.
But when it is time to sleep, lots of space is nice!!!
Well, unless it is freezing cold out, then I "steal" my hubby's body heat.
So that King sized bed wouldn't be as practical in the middle of winter, I guess.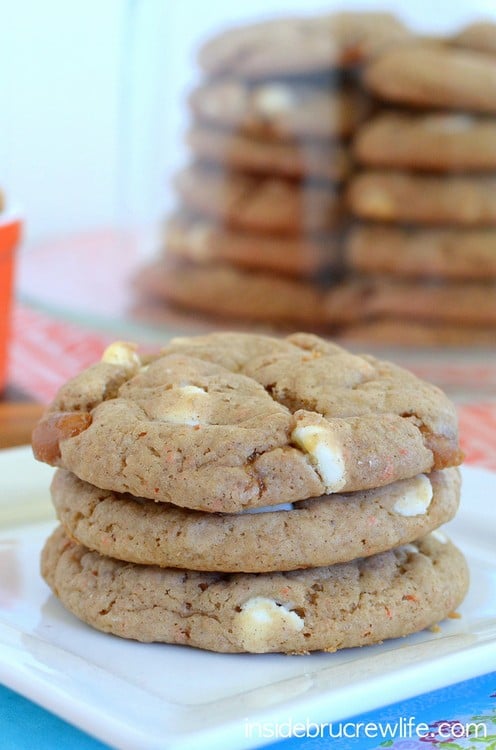 Want to know something else I like to "steal"?
Cookies from the kitchen when no one is looking.
It's a problem, I know!
Lately I have been all about making cake mix cookies,
so making a carrot cake version was bound to happen sooner than later.
I just love how quick and easy they are to make!! (and to eat)
A few weeks ago my husband and I went on our church staff retreat.
Guess who was in charge of making sure we had enough sweet stuff to munch on?
Silly question to ask, huh?   Me of course:-)
I made these cookies, some fudge, and some Oreo truffles.
These cookies disappeared at an alarming rate.
In fact, I do believe the last cookie got hidden, so it could be enjoyed later.
(and no, not by me)