Soft fluffy muffins are great to eat with your morning coffee.  These Chocolate Chip Oatmeal Muffins have a coffee glaze.  Perfect for starting out the day caffeinated!
 Today is the last Monday of the month and that means it is Secret Recipe Club day.  I have met so many great bloggers through this program and have enjoyed my past year of "stalking" new blogs.
I was excited to receive Casey's blog My Beautiful Disasters for my last SRC post.  This girl is truly amazing!!!  I wish that I had been as dedicated to working out in high school.  I think it is so cool that she runs 5K's with her dad too.
And her blog has so many fun recipes on it…did I mention she is still in high school?  I am way impressed that she keeps up with her homework all while posting all this delicious food.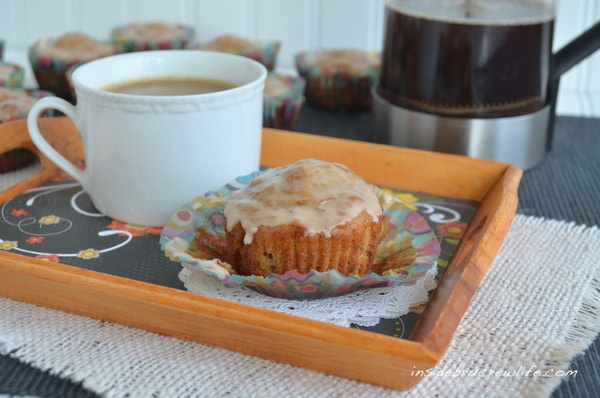 Casey had so many yummy things that I wanted to try on her blog.  Look at these Chocolate Peanut Butter Cup Bars…S'mores Stuffed Brownies…or Chocolate Caramel Bars.
Yes, I have a thing for bar treats.  But then I found these Oatmeal Chocolate Chip Muffins and I knew my kids would love these for breakfast.  Who wouldn't want to eat cookies for breakfast???
Of course I had to change the recipe, but only slightly.  I did double it because my kids really like their muffins for breakfast, and I figured this would last a few days at least.
I did take out the topping because I really like my muffins with a glaze on them.  Give me frosting or glaze on baked goods any day of the week.  These Chocolate Chip Oatmeal Muffins were just like eating cookies for breakfast…gotta love that!