Fresh fruit, crumble, and a drizzle of glaze make this Apple Cranberry Coffee Cake an impressive coffee cake to share at breakfast.
*This post was sponsored by Crunch Pak apples. I am partnering with them as a blog ambassador creating delicious apple recipes.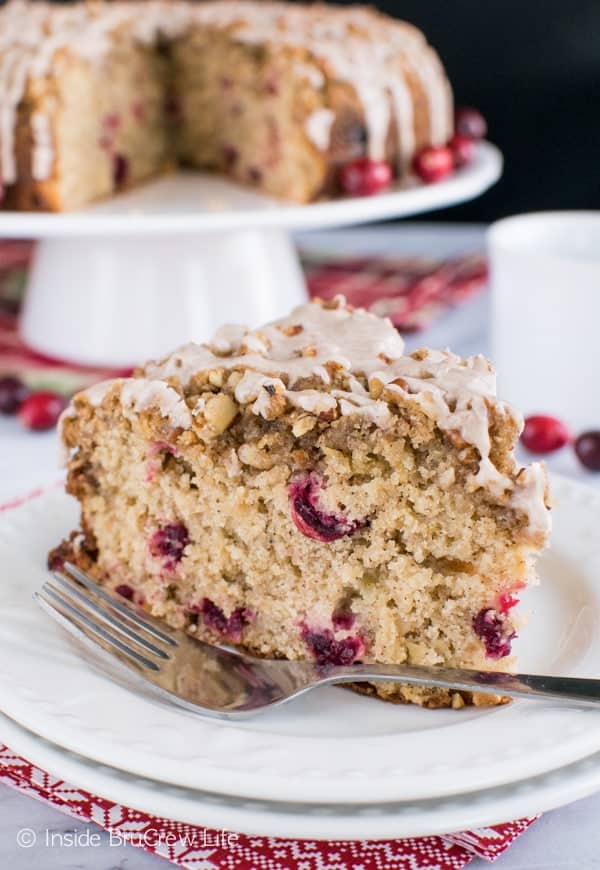 Can you believe that we are down to one week until Christmas? Ok, that totally just freaked me out when I wrote that. I always think that I'm going to be on top of things when December gets here, but in reality I'm still scrambling to get things finished up.
Cards were ordered two weeks ago, but they are still sitting here waiting for addresses and stamps. There are presents to buy and wrap for our kids and family. Good thing I waited until a week before because it's not going to be crazy in the store now, right? What was I thinking?
Oh, and let's not forget about packing up anything and everything we have accumulated over the years. Moving over the holidays is not the best idea we have had, but it had to be that way, so we are rolling with it. That just means I had to make all my holiday desserts a month early this year. At least I'm ahead on one thing...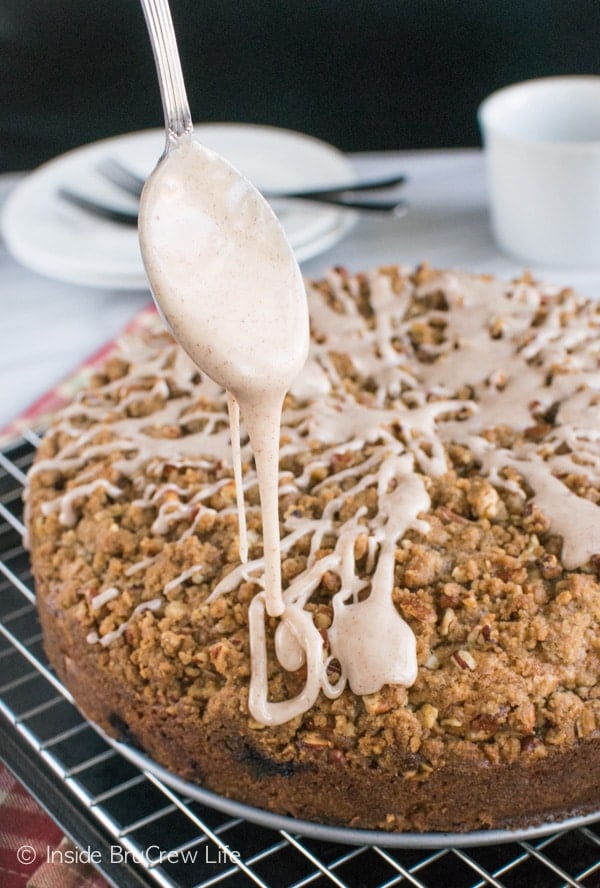 This apple cranberry coffee cake actually happened over Thanksgiving this year. We were traveling to see family, and I wanted to bring something with me. They see all the goodies I post all year long, so coming empty-handed wasn't really an option.
Coffee cake is a great thing to make ahead of time because it just gets better and better tasting each day it sits in a covered container. Plus, I knew it would travel well too.
Of course adding lots of crumble and glaze makes any cake that much better too. I may have eaten more of this than anyone. I can't help it no one else looked in the box on the counter at my sister's house. More cake for me...yeah, my jeans still hate me.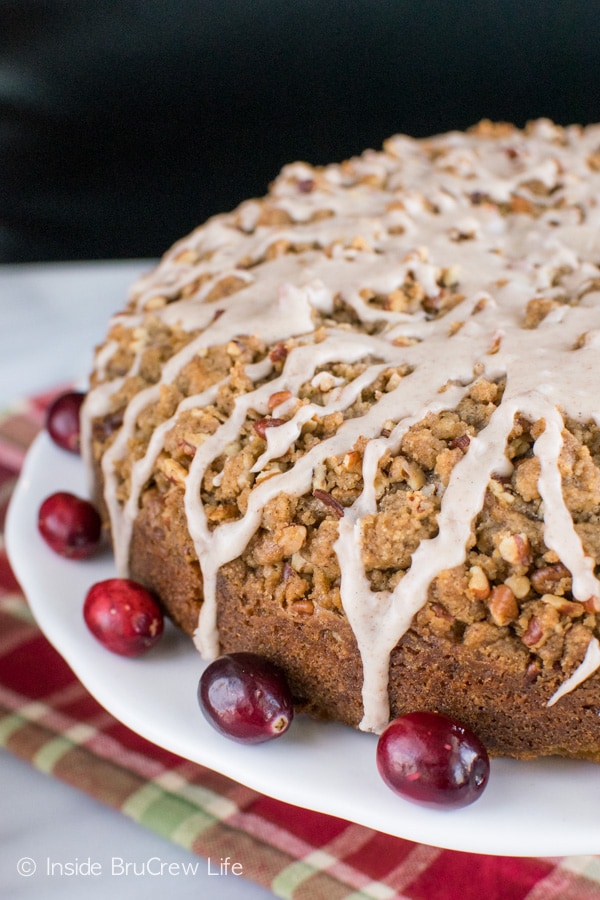 I love working with Crunch Pak apples as a brand ambassador. My kids love that we always have some sort of box or bag of apples ready to pack in lunches or snack on after school.
They offer a variety of different products like individually wrapped apples, salad kitz, apple snack paks, apple dipperz, and my favorite the large boxes or bags of apple slices.
I usually buy the big box at Sam's Club, so I can make things like candy apple cookie cups or frosted cinnamon apple bars. Plus, then there are plenty of apples leftover to snack on when my sweet tooth tries to sabotage me with cake.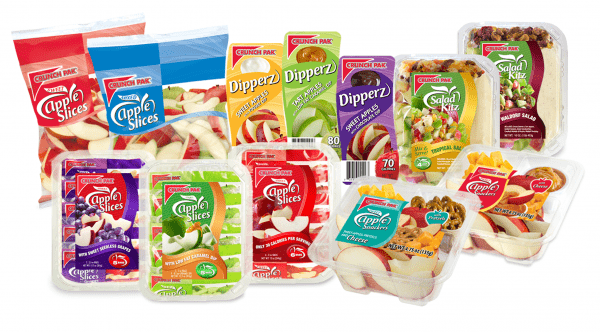 This year was the first year that I have ever baked with cranberries. Where have I been all these years? I couldn't believe it either. That had to change right away.
And what better way to change it up than with a cake full of apples and crumble. The red berries were the perfect pop of color and flavor.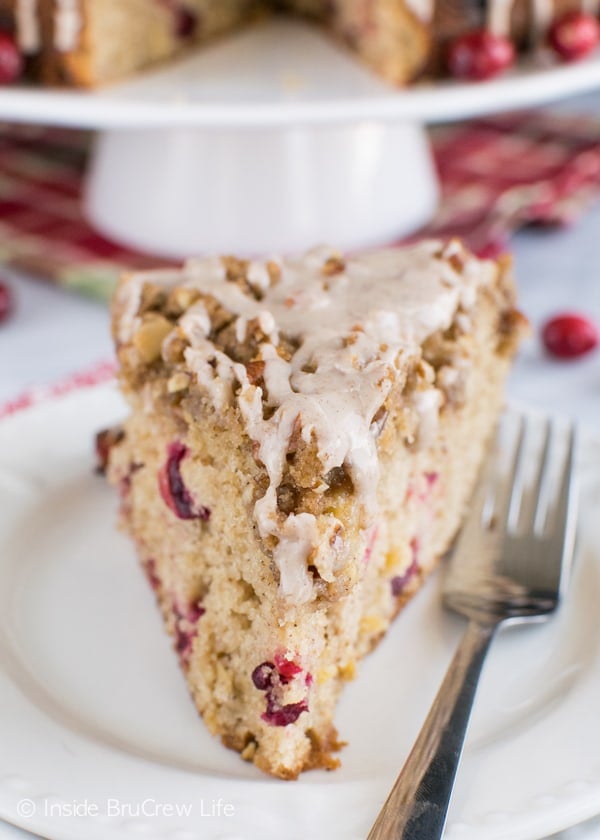 After the cake baked and cooled, I had the bright idea to drizzle glaze all over it. Ok, so it's not really an original idea because I do it to anything that has a crumble topping. Apple crumble cake, anyone? Glaze just adds that something, something extra to everything...AND it makes crumble look pretty. Am I right?
This apple cranberry coffee cake would be the perfect last minute addition to your holiday plans. Make it a day or two ahead and breakfast is ready to go on Christmas Day, so you have more time to enjoy your family.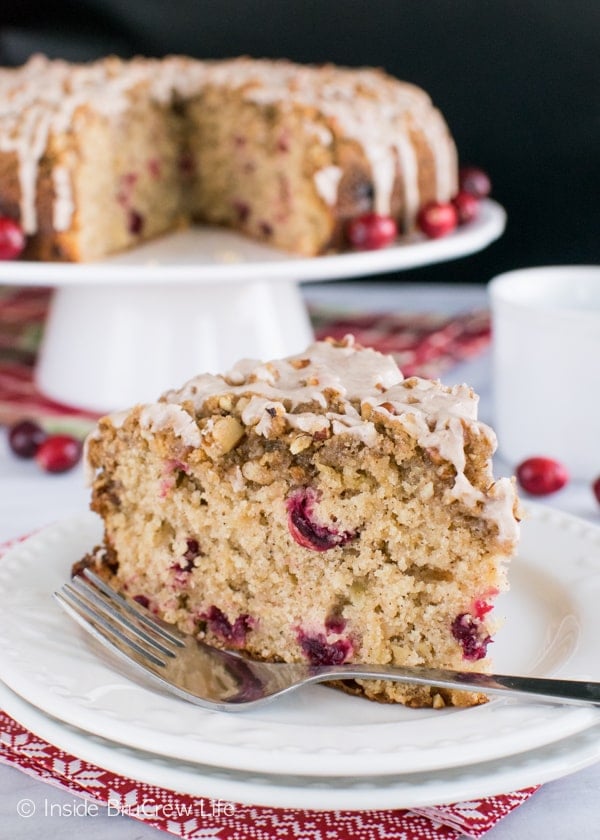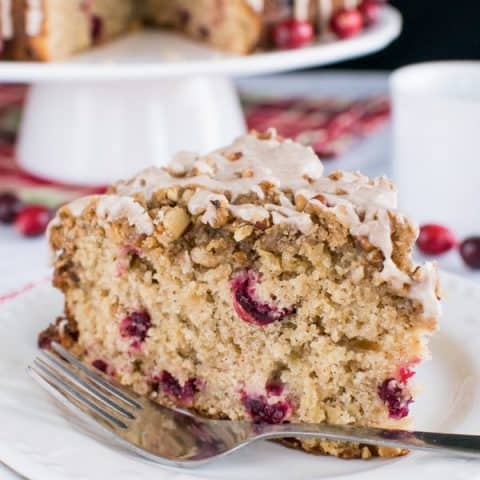 Apple Cranberry Coffee Cake
Total Time:
1 hour
15 minutes
Fresh fruit, crumble, and a drizzle of glaze make this Apple Cranberry Coffee Cake an impressive coffee cake to share at breakfast.
Ingredients
For the Cake
½ cup unsalted butter
½ cup granulated sugar
½ brown sugar
2 large eggs
½ cup sour cream
1 teaspoon vanilla extract
2 cups all purpose flour
1 teaspoon baking powder
½ teaspoon baking soda
½ teaspoon salt
1 teaspoon cinnamon
½ teaspoon nutmeg
½ teaspoon ground ginger
¼ teaspoon ground cloves
1 cup finely diced apples
1 cup fresh cranberries, quartered
For the Topping
4 Tablespoons unsalted butter
½ cup brown sugar
½ cup all purpose flour
½ teaspoon cinnamon
½ cup pecan chips
For the Glaze
1 cup powdered sugar
½ teaspoon apple pie spice
2 Tablespoons water
Instructions
Preheat oven to 350 degrees. Line the bottom of a 9-inch springform pan with parchment paper.
Beat the butter and sugars until creamy. Add the eggs, sour cream, and vanilla and beat again.
Stir together the flour, baking powder, baking soda, salt, cinnamon, nutmeg, ginger, and cloves. Slowly beat into the butter mixture.
Add the diced apples and cranberries and stir gently. Spoon the batter into prepared pan.
Combine the topping ingredients and use a fork to mix the butter into everything until it resembles coarse crumbs. Sprinkle evenly over the top of the cake batter.
Bake for 45-50 minutes. Do not over bake. Remove and let it cool completely. Remove the sides of the pan.
Whisk together the glaze ingredients. Drizzle over the top of the cooled cake. Let set. Store in a sealed container.
Recommended Products
As an Amazon Associate and member of other affiliate programs, I earn from qualifying purchases.
Nutrition Information:
Yield:

12
Serving Size:

1
Amount Per Serving:
Calories:

380
Total Fat:

18g
Saturated Fat:

9g
Trans Fat:

0g
Unsaturated Fat:

8g
Cholesterol:

67mg
Sodium:

214mg
Carbohydrates:

50g
Fiber:

2g
Sugar:

27g
Protein:

5g
Nutrition facts are an estimate and are not guaranteed to be accurate. If you need special diet advice, please see a registered dietician.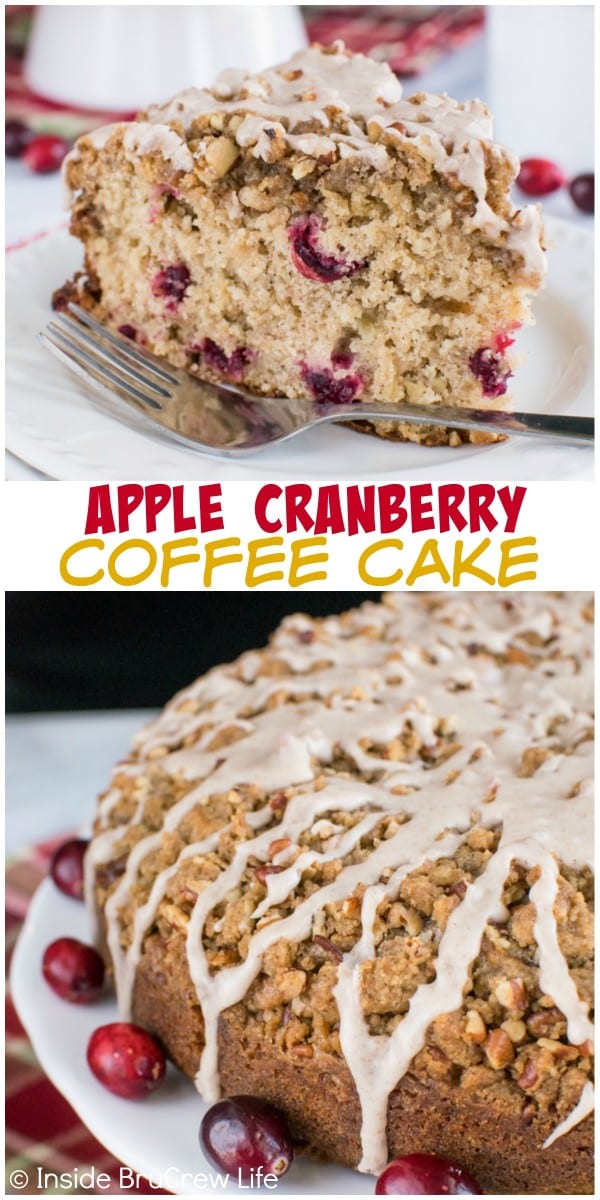 More delicious recipes to use apples in: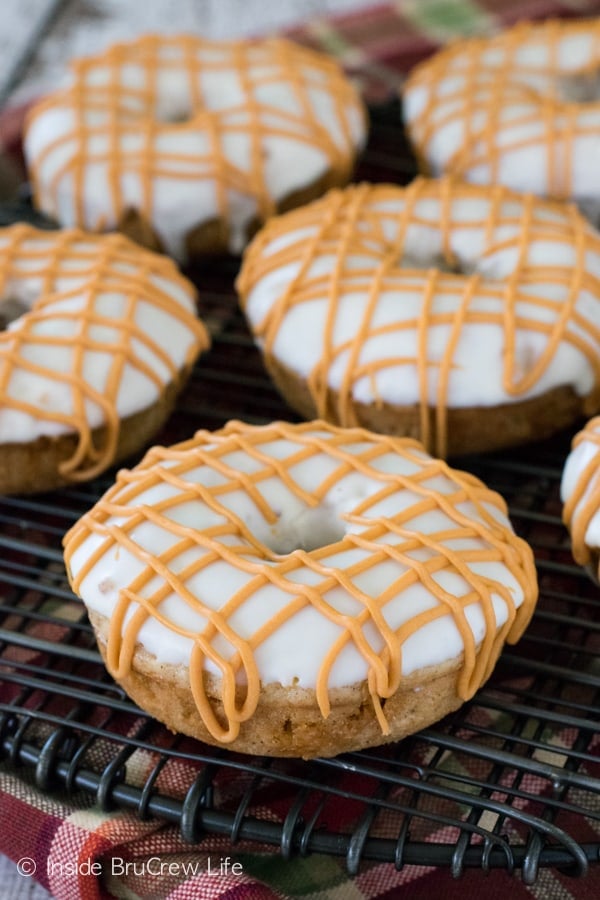 Butterscotch Apple Cake Donuts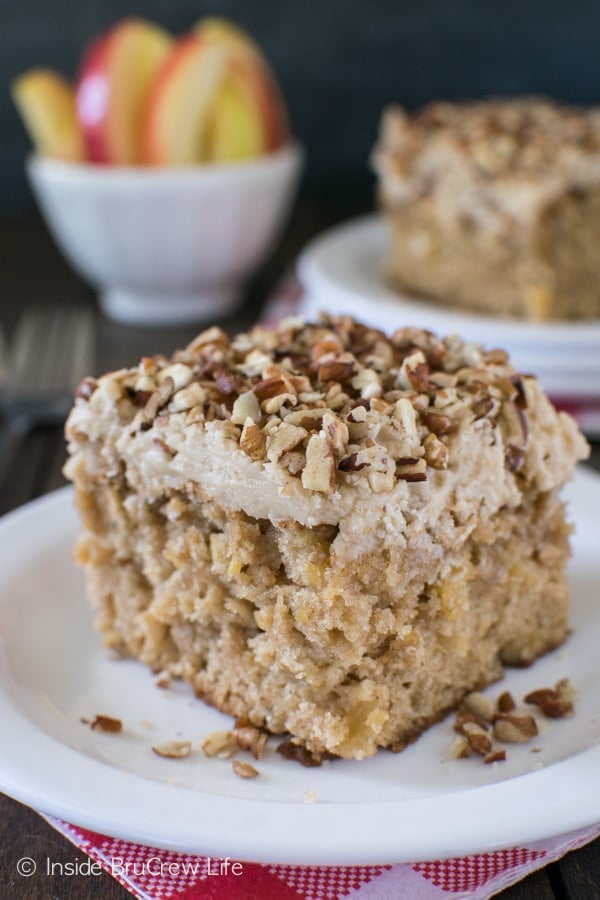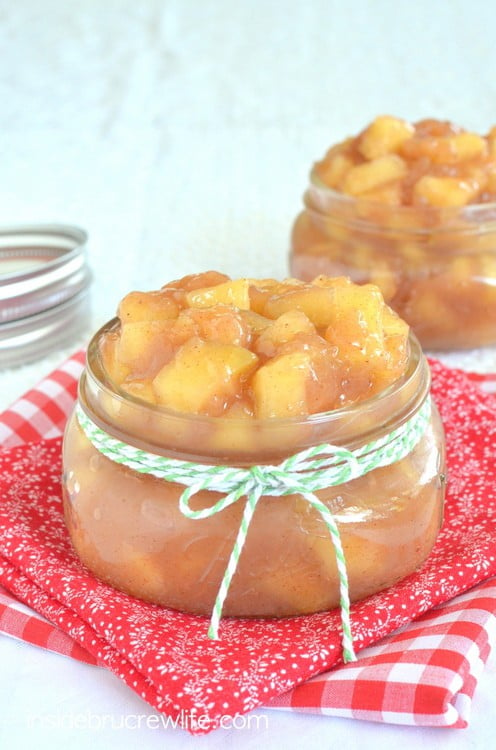 *I was compensated for my time as a brand ambassador for Crunch Pak apples. All opinions expressed in this post are 100% my own.