Fresh apples and a streusel topping make this Apple Crumble Cake a delicious treat for fall. It is great for breakfast with coffee, or you can warm it up and add a scoop of vanilla ice cream for dessert. It's your call.
*Love these recipes? Sign up for the BruCrew email to have them sent to your inbox.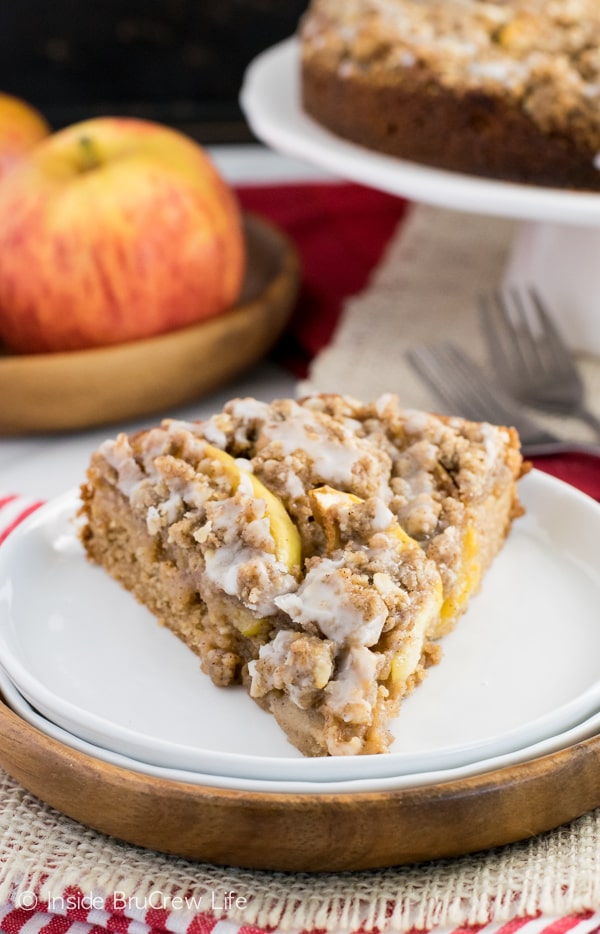 When September hits, I'm all about the apple and pumpkin treats and wanting to wear sweatshirts and jeans in the cooler air. This apple praline cake from a few weeks ago totally got me in the fall baking spirit.
But our weather is not cooperating with my fall wants. This past weekend it was 90 degrees or higher each day, and our air conditioner decided to break.
It was ok because we ended up being gone each day. We did some biking, swimming, and hot dog eating for the holiday weekend. But let me tell you, sleeping in a hot muggy house with just a fan is not fun…especially when you have been spoiled with air. I have mad props for those of you who do this regularly.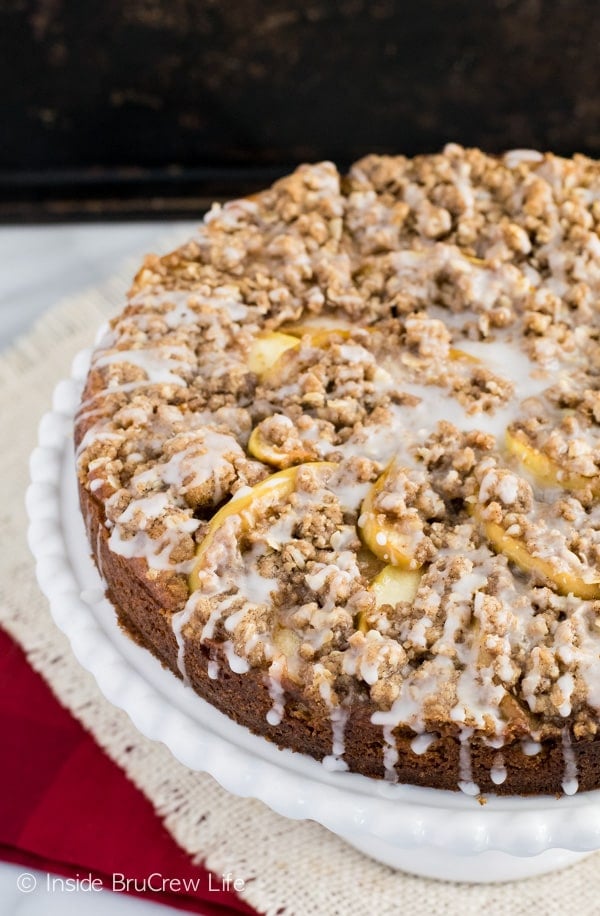 Last week I had some apples that needed used up because we all forgot about the bag of apples in the crisper drawer.
At first I thought about making another variation of this cheesecake apple pie because it is definitely a favorite fall treat here.
But then I saw this recipe in an old cookbook I had picked up at Goodwill. Gotta love those 50 cent finds, right?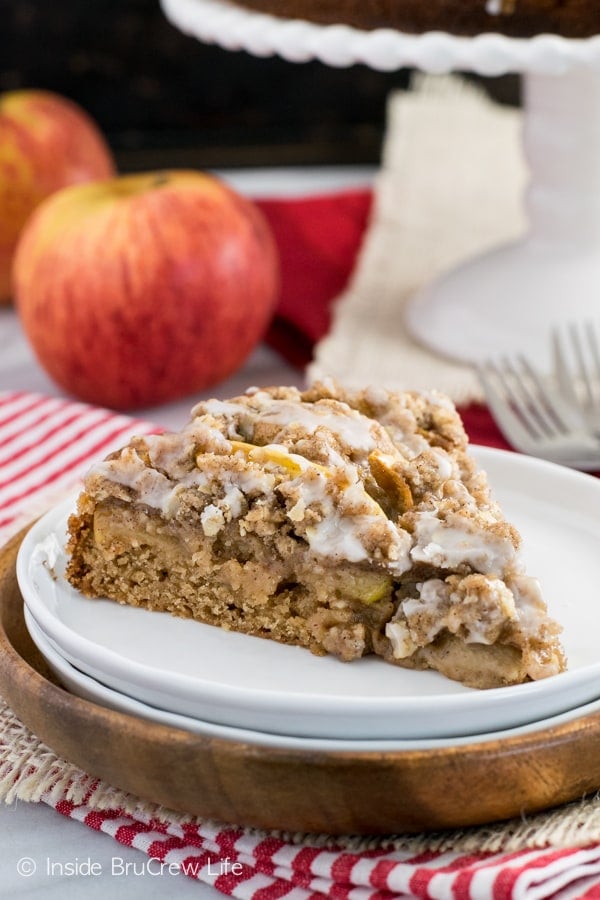 As I sat reading the recipe, I started marking different things to do to the recipe. Not major changes, but little tweaks based on how I like to bake.
I love using brown sugar in baked goods because it keeps everything so soft. I also increased the crumble topping and added a glaze.
But the biggest thing that I did was to use a little bit of ground star anise in the batter. This isn't a spice I use very often, and it isn't one that you normally think to pair with apples. But it gave the apple cake that little bit of different spice that was just amazing! I cannot wait to use it again!!!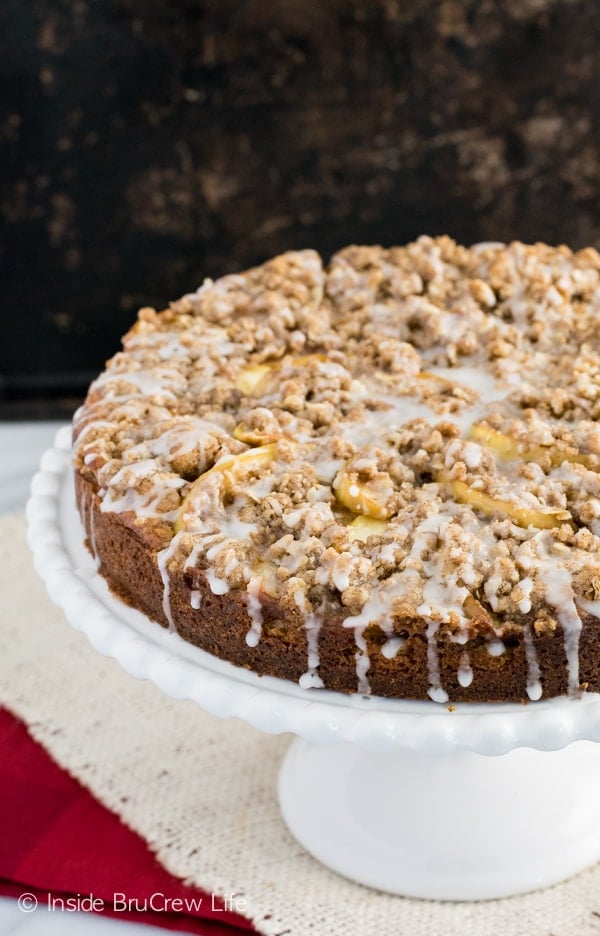 Make sure you cut your apples into very thin slices. You want them to bake with the cake. Also, do not layer the apples on the batter. The slices should be flat with the batter, so everything can bake evenly.
I baked mine for 35 minutes in a 9-inch springform pan. Use a toothpick to check the middle of your cake at the 35 minute mark. There should be a few crumbs still on it. If it still has batter on it, bake it another few minutes. Just remember it will continue to bake a little more in the pan while it cools on the counter.
Once it cools, the cake is ready to dive into. Or drizzle on a little glaze to make it pretty. I always opt for the glaze…of course that might be my sweet tooth talking.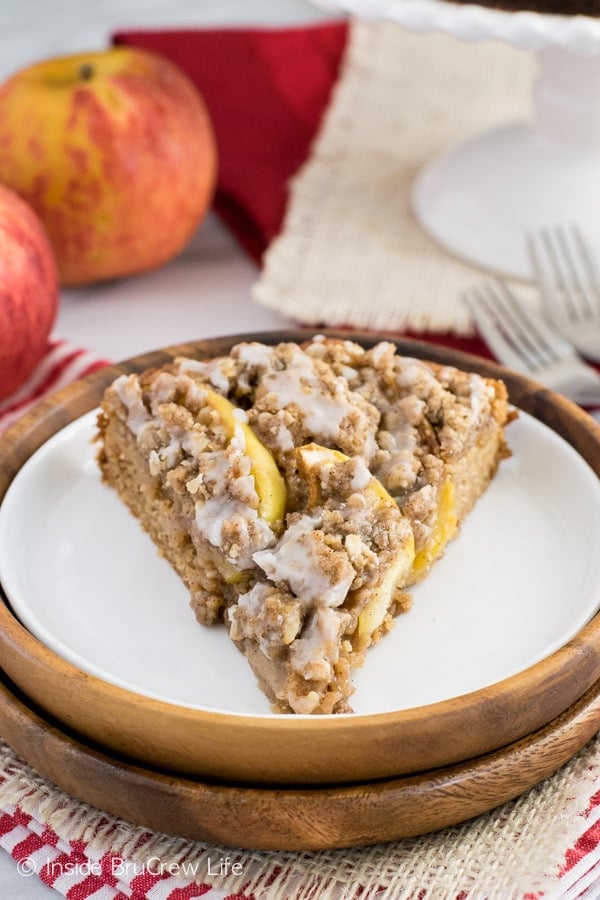 Stay up to date on all the BruCrew baking here:
FACEBOOK | PINTEREST | GOOGLE+ | TWITTER | INSTAGRAM | BLOGLOVIN
Sign up to receive an email in your inbox for each new recipe:
EMAIL SUBSCRIPTION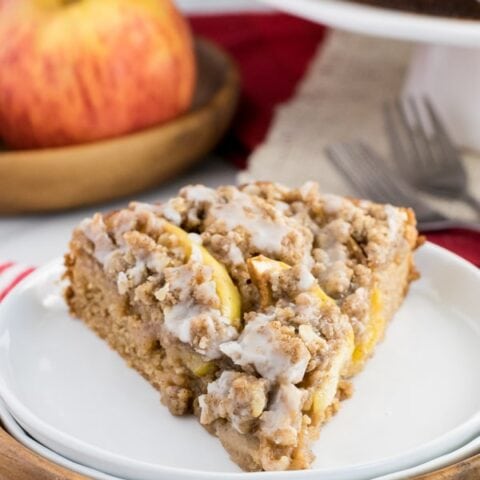 Apple Crumble Cake
Fresh apples and a crumble topping make this apple spice cake a delicious fall cake.
Ingredients
For the Cake
1/4 cup butter, softened
1/2 cup brown sugar
1/4 cup applesauce
1/4 cup plain Greek yogurt
1 teaspoon vanilla extract
1 cup flour
1 teaspoon baking powder
1/2 teaspoon baking soda
1/2 teaspoon salt
1 teaspoon cinnamon
1/2 teaspoon powdered star anise
2 cups thinly sliced apples
For the Topping
1/4 cup flour
1/4 cup quick oats
1 teaspoon cinnamon
4 Tablespoons cold butter
For the Glaze
1/4 cup powdered sugar
1 teaspoon water
Instructions
Beat the butter and brown sugar until creamy. Add the applesauce, yogurt, and vanilla and beat again.
Stir together the flour, baking powder, baking soda, salt, cinnamon, and star anise. Slowly beat it into the butter mixture. Line a 9 inch springform pan with parchment paper. Spray the sides with non stick spray. Spread the batter in the pan. Line the apples up side by side on the batter.
Mix together the flour, oats, and cinnamon. Cut in the butter until crumbly. Sprinkle over the top of the apples. Bake at 350 degrees for 35-40 minutes, or until a toothpick comes out with only a few crumbs on it. Let cool completely. Remove the sides of the pan.
Stir together powdered sugar and water. Drizzle over the top of the cake. Cut into 10 slices. Store in a loosely sealed container for 2-3 days.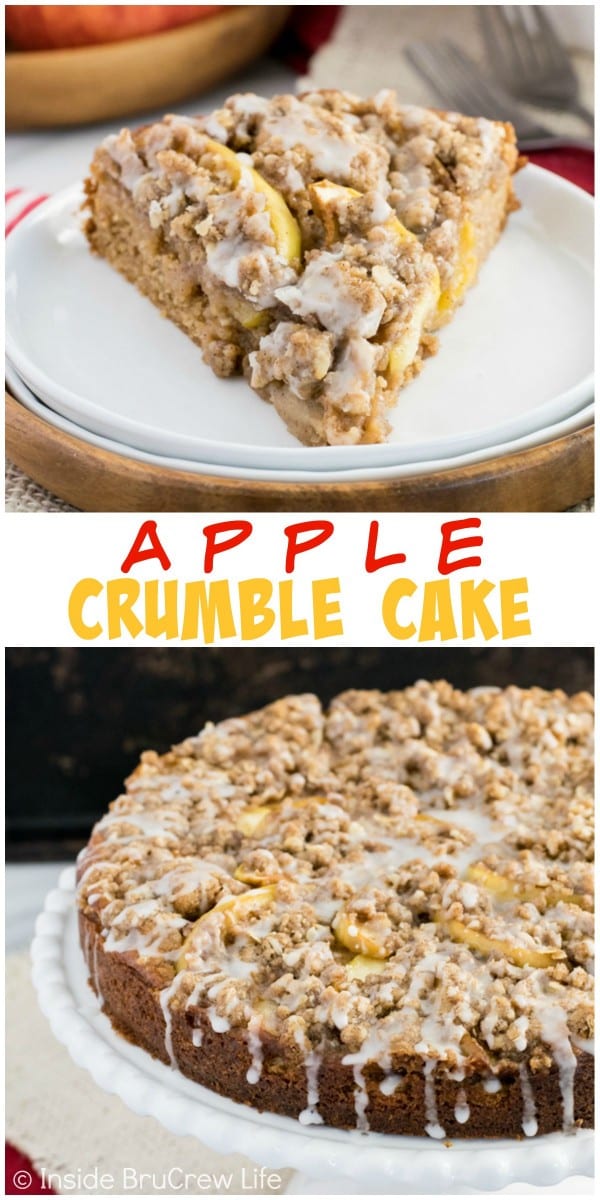 More apple desserts to try this fall: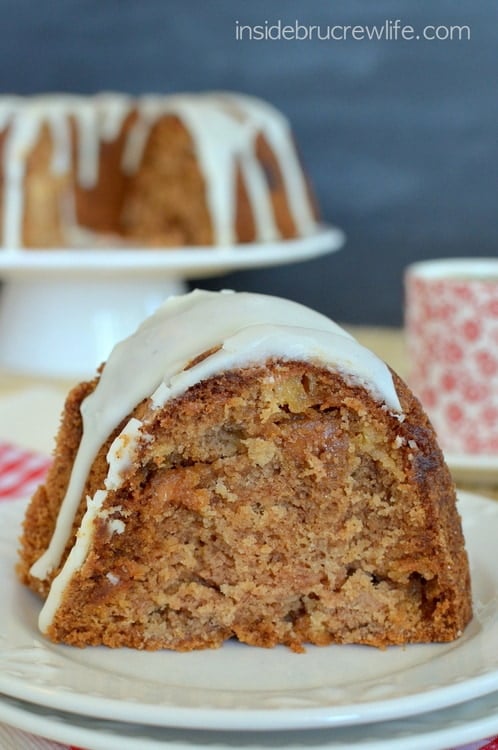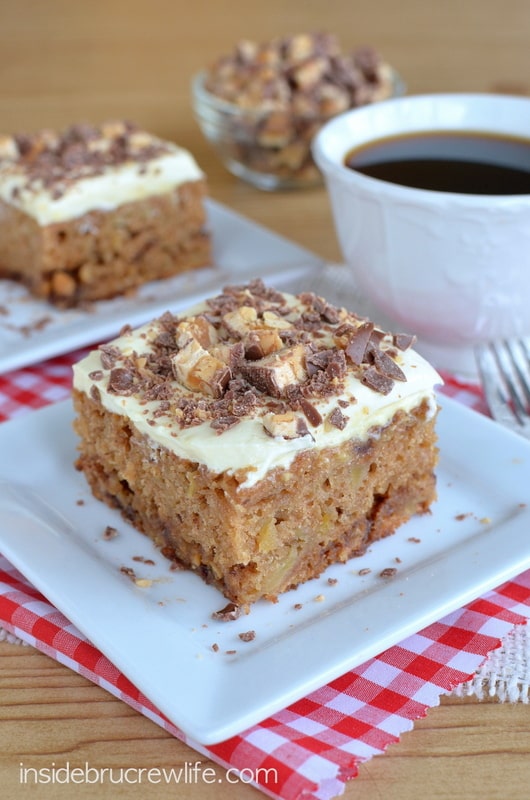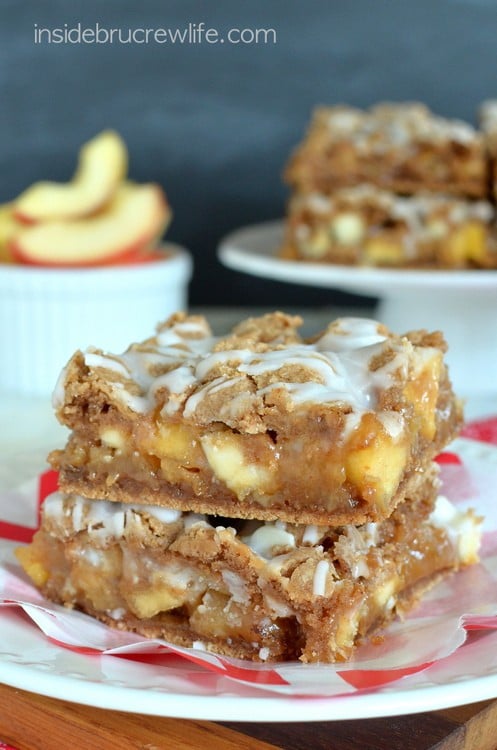 *This post contains affiliate links. We make a very small percentage of sales from purchases made through these links. Thank you for supporting BruCrew Life this way.