Homemade macaroni and cheese is easy to have on the table in no time at all. Try this delicious Bacon Broccoli Macaroni and Cheese for a comforting meal on a cold winter day.
*Enjoy these recipes? Be sure to sign up for the BruCrew email to receive these recipes in your inbox.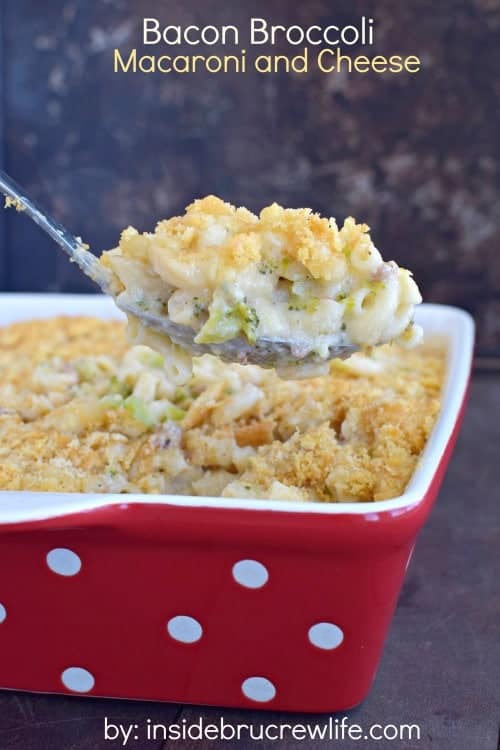 I hope you are ready for some cheesy goodness!!
After seeing that the three top recipes of last year were cheesy pasta, I am on a mission to bring you more pasta dishes this year. You guys like cheese and pasta, and so do we!!! Oh, there will still be plenty of sugary treats too, but my goal is to bring you more dinners.
I'm going TO TRY to do one savory recipe a week, but do not hold me to it! There may be weeks where I get on a roll making cake and cookies, and I might just "forget" about dinner for the time being.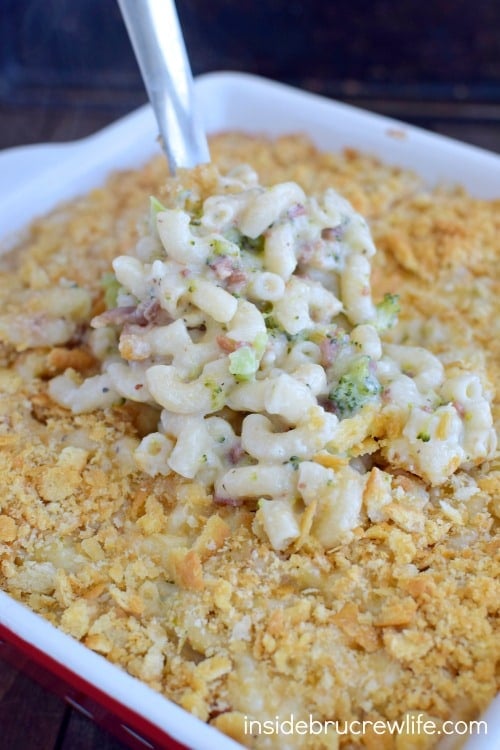 Last week winter hit us hard. Ice, snow, freezing rain…it all has me wishing we lived on a tropical island. I'm pretty sure I have told my husband daily how much I do not like winter. Oh, it's pretty…for a day, and then I am over it.
Thank goodness for little space heaters to keep running beside my desk.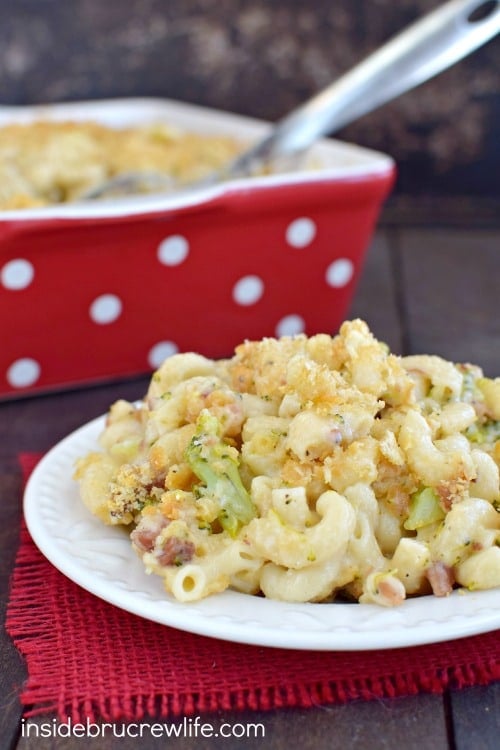 To combat the arctic tundra that is our life right now, I decided to make another pan of homemade mac and cheese for dinner. Last year we enjoyed this Ham and Broccoli Pasta Bake, so I decided to make it again with some changes.
The bag of crumbled bacon in our refrigerator has been getting lots of use lately. My oldest loves making scrambled eggs with crumbled bacon and cheese. And he always stirs some bacon into the blue box of mac and cheese, so I knew that bacon was a must for this pasta!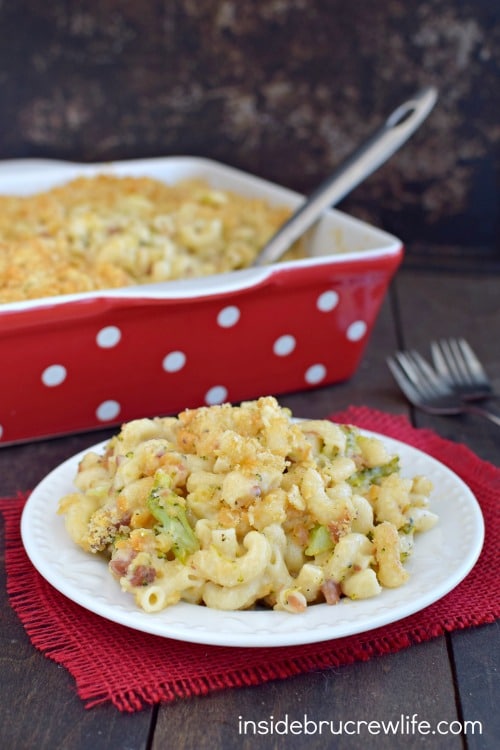 We have been trying hard to stick with our healthier eating, so we had some fresh broccoli to use up before the crisper drawer claimed it for its own.
You know how that happens, right? Buy the veggies, eat them for 1-2 days, put the veggies in the drawer, forget about the veggies for a week or two, find said veggies with extra things growing on them…yeah, that's the life cycle of most veggies in our fridge. Anyone else have the same veggie problems? I guess I should make more Veggie Salad before the veggies disappear into that drawer!
Anyway, I chopped up some fresh broccoli and added it to the boiling pasta when it had a few minutes left to go. Then while that was draining, I made the cheesy sauce that the noodles, broccoli, and bacon went into. Now if you are short on time, you can go ahead and eat it now because it tastes great.
But if you have an extra 20 minutes, pour the pasta into a dish, top it with a little more cheese, and some crushed crackers. Extra cheese always gets my vote, no matter how hungry we are.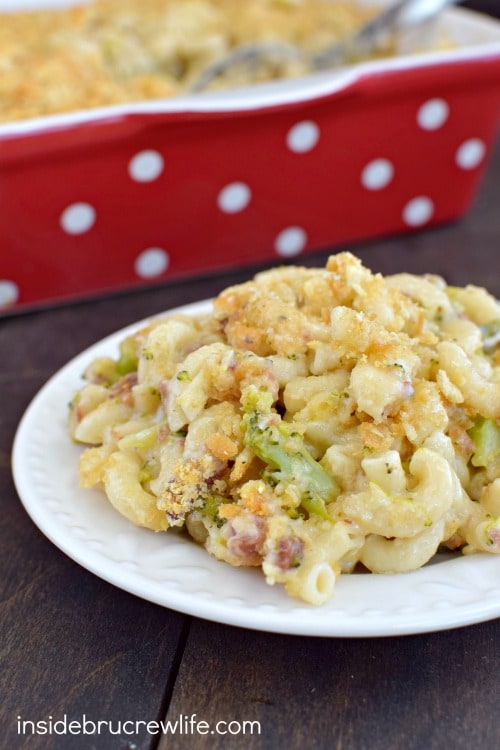 Stay up to date on all the BruCrew baking here:
FACEBOOK | PINTEREST | GOOGLE+ | TWITTER | INSTAGRAM | BLOGLOVIN
Sign up to receive an email in your inbox for each new recipe:
EMAIL SUBSCRIPTION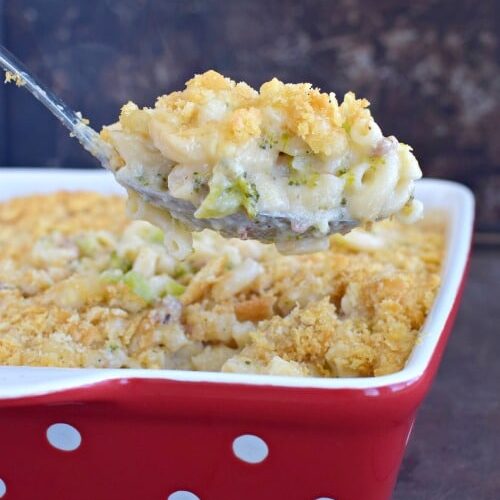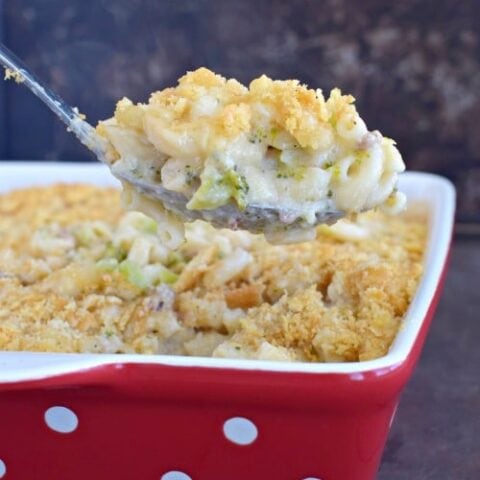 Bacon Broccoli Macaroni and Cheese
Homemade macaroni and cheese with a bacon, broccoli and cracker topping is a great comfort food meal.
Ingredients
16 ounces macaroni noodles
2 cups freshly chopped broccoli
4 tablespoons butter
4 tablespoons all purpose flour
1 teaspoon pepper
2 cups milk
1/2 cup plain Greek yogurt
3 cups shredded white cheddar cheese, divided
1 cup crumbled cooked bacon
3/4 cup crushed butter crackers (1/2 sleeve Ritz)
Instructions
Preheat oven to 350°.
Bring a pot of water to a boil. Pour in the noodles and cook for 6 minutes. Add the broccoli and bring back to a boil and cook another 2 minutes. Drain and set aside.
Melt the butter in a large skillet. Whisk in the butter and pepper and cook for 2-3 minutes. Whisk in the milk and bring to a boil. Cook and stir until it thickens slightly. Stir in the yogurt and 2 cups cheese and continue stirring until melted and creamy.
Add the noodles, broccoli, and bacon to the melted cheese mixture and stir until coated.
Pour into a 9x9 baking dish that was sprayed with non stick spray. Sprinkle the remaining cheese over the top of the noodles. Sprinkle with the crushed crackers.
Bake for 20-22 minutes. Serve immediately. Cool and store leftovers in a sealed container in the refrigerator.
Nutrition Information:
Yield:

8
Serving Size:

1
Amount Per Serving:
Calories:

474
Total Fat:

28g
Saturated Fat:

15g
Trans Fat:

1g
Unsaturated Fat:

11g
Cholesterol:

76mg
Sodium:

627mg
Carbohydrates:

33g
Fiber:

3g
Sugar:

2g
Protein:

23g
Nutrition facts are an estimate and are not guaranteed to be accurate. If you need special diet advice, please see a registered dietician.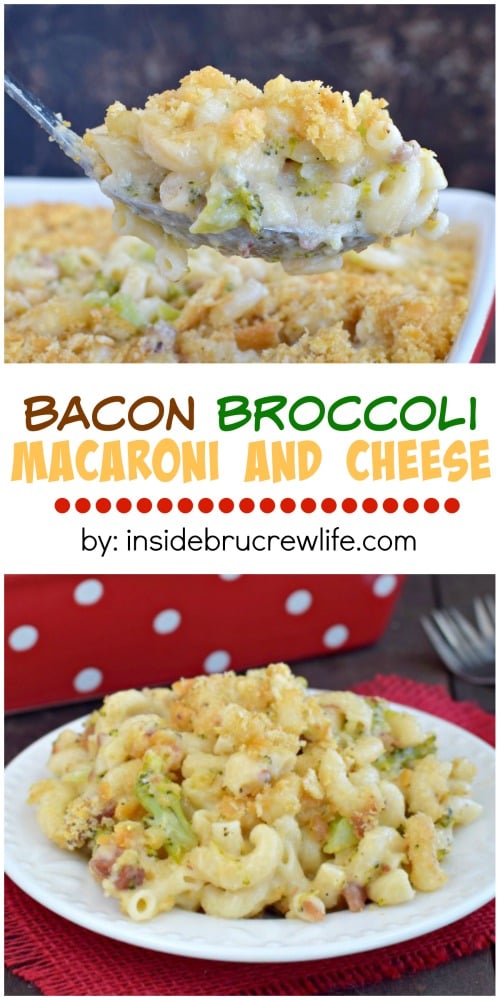 More delicious cheesy pasta dinner recipes to try: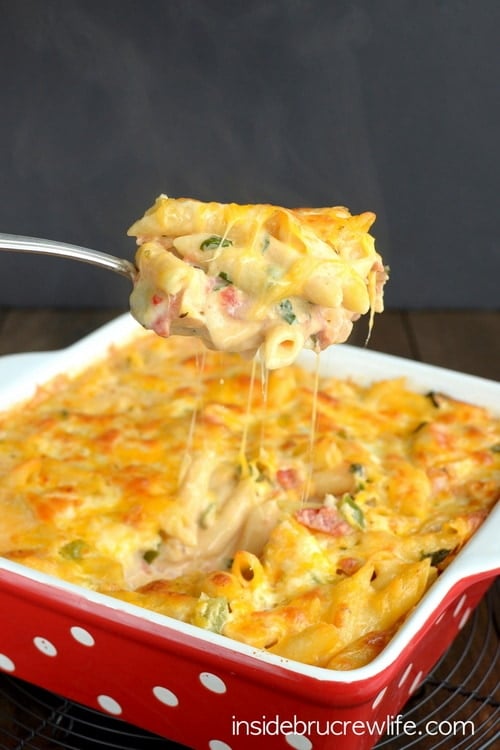 Chicken Bacon Ranch Pasta Bake