This Ham and Broccoli Pasta Bake is loaded with meat and veggies. Homemade macaroni and cheese is an easy pasta dinner that everyone will love.
When I need comfort food, I always go for easy pasta recipes. A pan of this Cheesy Chicken Pasta satisfies that need and always disappears at dinner.
*Love these recipes? Be sure to sign up for the BruCrew email to have these recipes delivered to your inbox each time a new recipe is shared.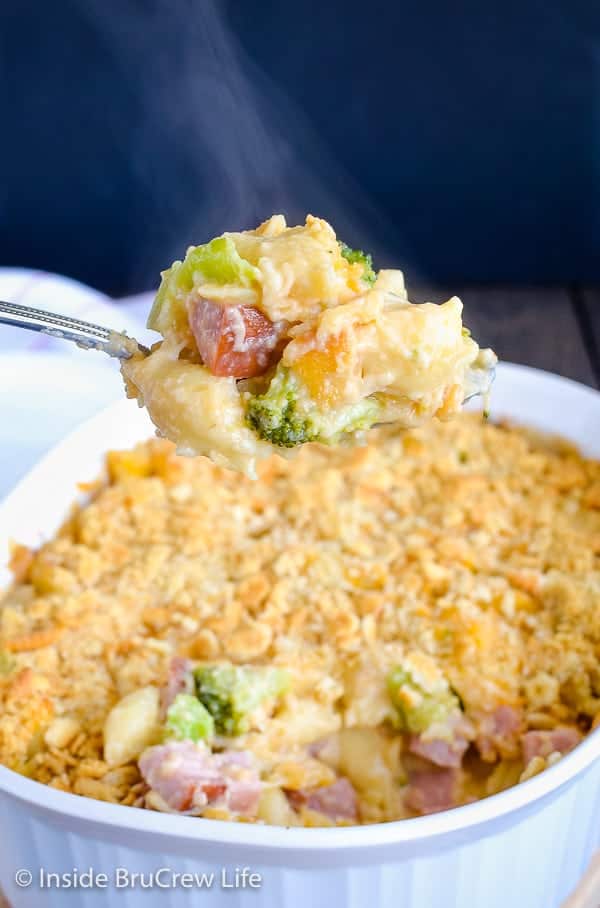 I am definitely enjoying sharing some of our favorite easy dinner recipes with you guys.
And judging from the amount of response and traffic on this Chicken Supreme Pasta Bake, you guys are loving them too. I still have a few more delicious pasta recipes up my sleeve. Well, actually they are in my belly and on my computer just waiting for the right day to share them.
Dinner is something that everyone has to eat, so why not share the ones that are kid approved in our house.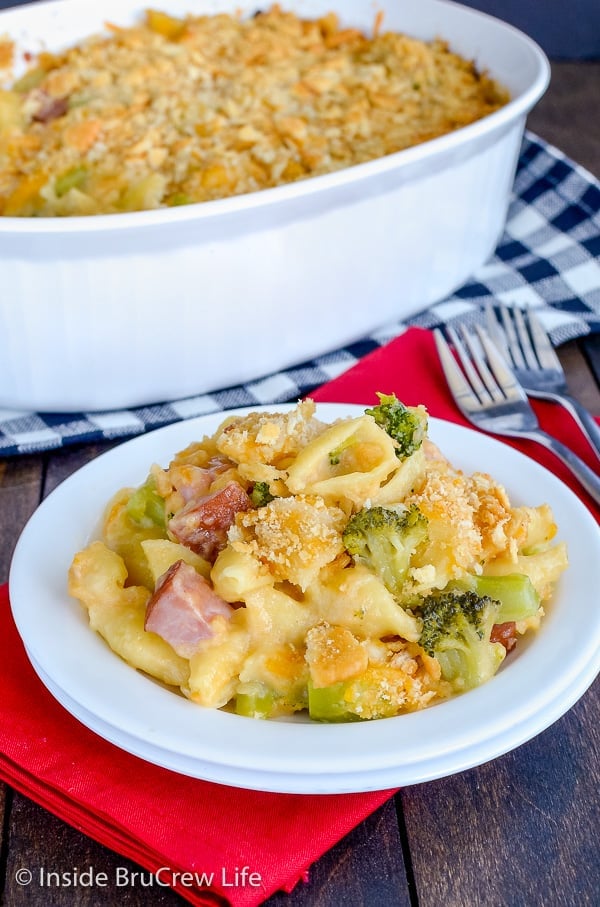 Did you eat ham this past weekend for Easter dinner? Are you looking for leftover ham recipes for the remainder of the ham in our fridge?
I say chop it up and add it along with some broccoli to this Three Cheese Macaroni and Cheese. Pasta with ham and cheese will get two thumbs up at the dinner table. You could also use the leftover ham in this Ham and Tomato Egg Bake and eat that for breakfast all week.
Even the pickiest eaters will gobble this ooey, gooey cheesy pasta dinner in a hurry. Well, they might pick around the ham if they are anything like our youngest. But I kind of figured he would do that.
He has it in his head that he doesn't like ham, but he will eat bacon. It doesn't matter how many times we tell him that both meats come from the same animal. He refuses to do ham. Now put a Veggie Pasta Salad in front of the kid, and he will go to town on it.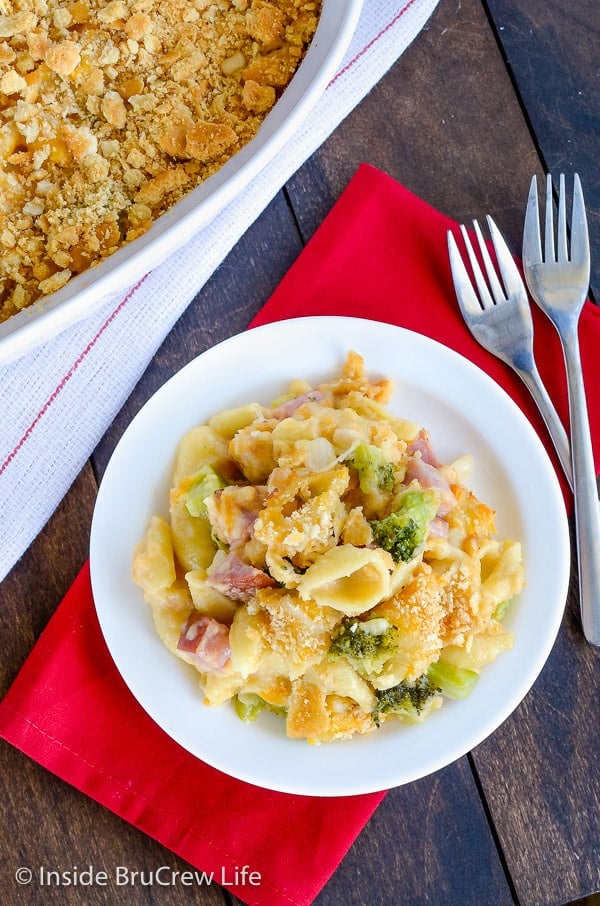 This Ham and Broccoli Pasta Bake only takes about 45 minutes from start to finish. If you want to save some time, you can prep some of the ingredients ahead of time.
Cook the noodles earlier and toss them with a little bit of olive oil, so they do not stick together.
Chop the onions and ham and store in separate containers in the refrigerator.
Crush the crackers and place in a Ziplock baggie.
Then when you go to cook dinner, all your prep is done, and you can put this Ham and Broccoli Pasta Bake together in minutes.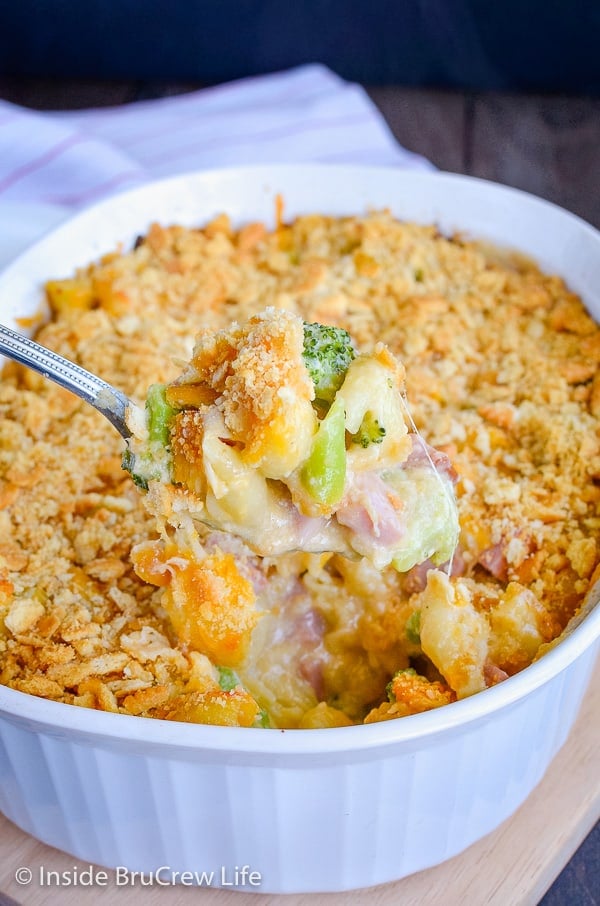 How to make Ham and Broccoli Pasta Bake:
Sauté the onions and butter in a large pot, then stir in the leftover ham and garlic and let it warm up.
Run some hot water over the frozen broccoli in a colander to thaw it out. Drain this and add it to the ham mixture.
Now you can either set this pan aside and use a new one, or spoon that mixture into a bowl and set aside it aside, so you can reuse the dirty pan.
Melt some butter and cook the flour in it for 1 minute. Add some milk and stir until it is thickened slightly. This is a basic roux that you can use as a base for any pasta recipe.
Stir in the shredded cheese until it is melted and gooey.
Add the all ready cooked pasta and ham mixture, season it with some salt and pepper, and spoon it into a casserole dish.
Top it with more cheese and cracker crumbs and pop it into the oven for 20 minutes or so to melt the cheese on top.
Ooey, gooey, pasta dinners are definitely ones that get rave reviews from everyone in our house.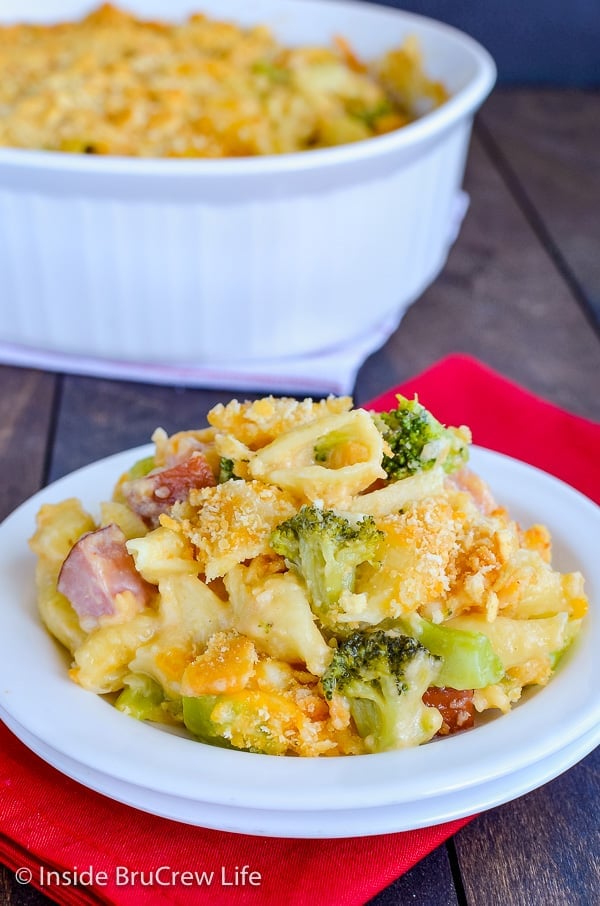 More easy pasta dinners that you may enjoy:
This Bacon Cheeseburger Skillet Tortellini is full of meats, veggies, and gooey cheese. Quick and easy comfort food on a busy night makes everyone smile.
A creamy cheese filling makes these Sausage Alfredo Stuffed Shells a delicious and easy pasta dinner that can be on the table in 30 minutes.
These Cheddar Broccoli Chicken Lasagna Rolls are filled with a cheesy meat and veggie filling and then covered in more cheese.
Combining buffalo chicken, cheese, and pasta in one casserole creates a meal that everyone will love. This Buffalo Chicken Pasta Bake is delicious and can be on the dinner table in 30 minutes.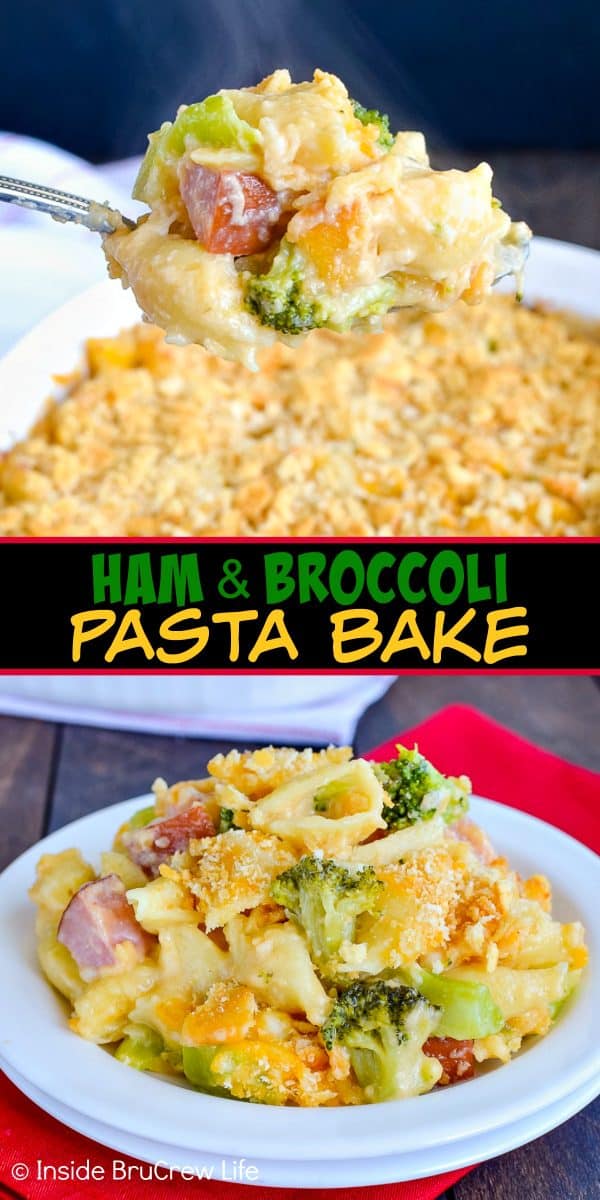 *The post for Ham and Broccoli Pasta Bake was first published on April 23, 2014. The photos have been updated and it was republished on April 25, 2019.
**This post contains affiliate links. Inside BruCrew Life may receive a small percentage from sales made through these free links. As always, these links do not cost you any extra. Thank you for letting us share products we use and love this way.
SaveSave
SaveSaveSaveSave