This gooey Cheddar Bacon Macaroni and Cheese can be on your dinner table in under 30 minutes. An easy meal in minutes is always good for busy nights!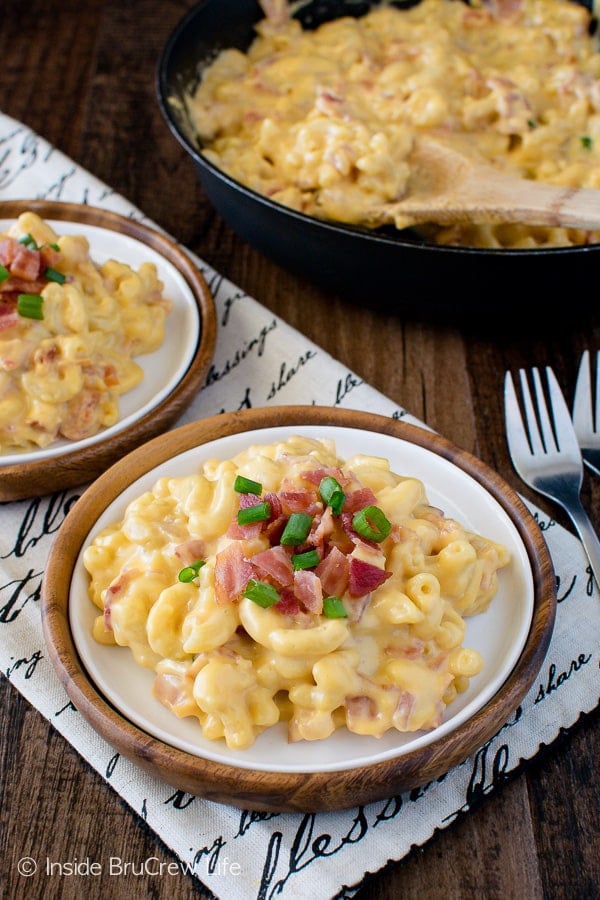 CLICK HERE TO PIN THIS RECIPE FOR LATER!
Time to start getting back to some more meal planning. Every year I say I'm going to work harder at making more dinners because my family says they can't exist on sugar. I'm pretty sure I could, but then my skinny jeans would not fit. So making real food is a goal I need to keep working at.
Every day I stand in the kitchen and stare into the cupboards hoping easy dinner ideas will hit me. Usually my husband is the one who will send me a text with what he wants for dinner. That makes it much easier on my brain. He will even stop at the store at lunch time and pick up whatever ingredients we need. Yup, he's a keeper!
This leaves me more time for thinking about and creating things like this peanut butter brownie dessert. Making desserts is just what I do best.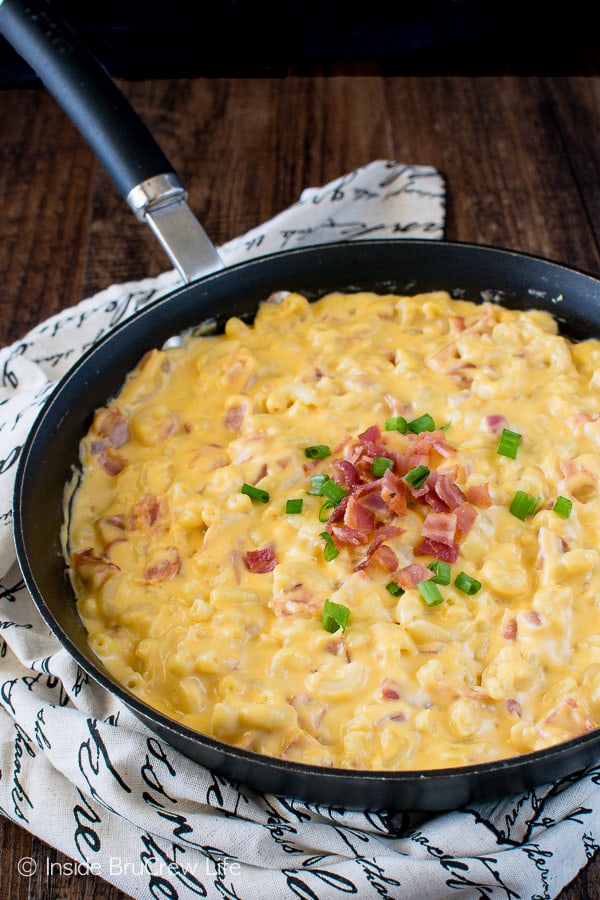 But then those days happen where I get an idea for dinner, and I cannot rest until it is tested. This gooey pan of pasta was what happened in my kitchen this week…twice. The first time I made it and shot the video above, but the pictures just weren't my favorite.
So, the next day I made another pan of homemade macaroni and cheese for more pictures.
My kids were pretty happy to have this cheesy goodness on our dinner table two nights in a row. Although, our youngest son wanted to know why I ruined it with bacon. He has requested just a pan of cheese and noodles because he isn't a big fan of any kind of meat. I guess I have a new dinner challenge before me.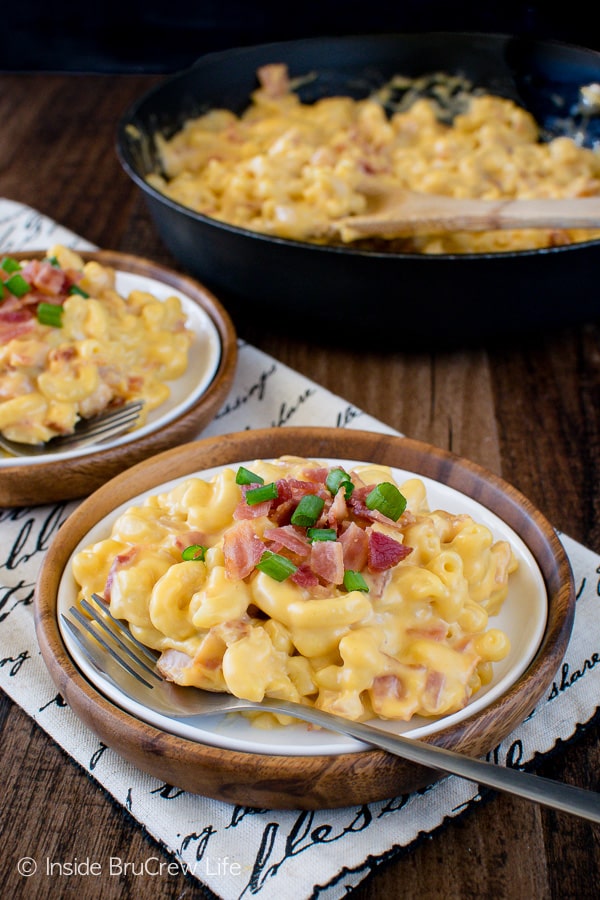 Raise your hand if you love bacon. Don't hate me, but I actually am not a huge fan, which is pretty funny because I tend to add it to all my pasta dinners. You can find it in this meat lover's pizza skillet ravioli and in these cheesy chicken sliders. It turns out if you cover it in gooey cheese I must like it.
The only other way I eat bacon is super crispy on a BLT sandwich. And now I'm totally craving a crispy, juicy sandwich for dinner tonight…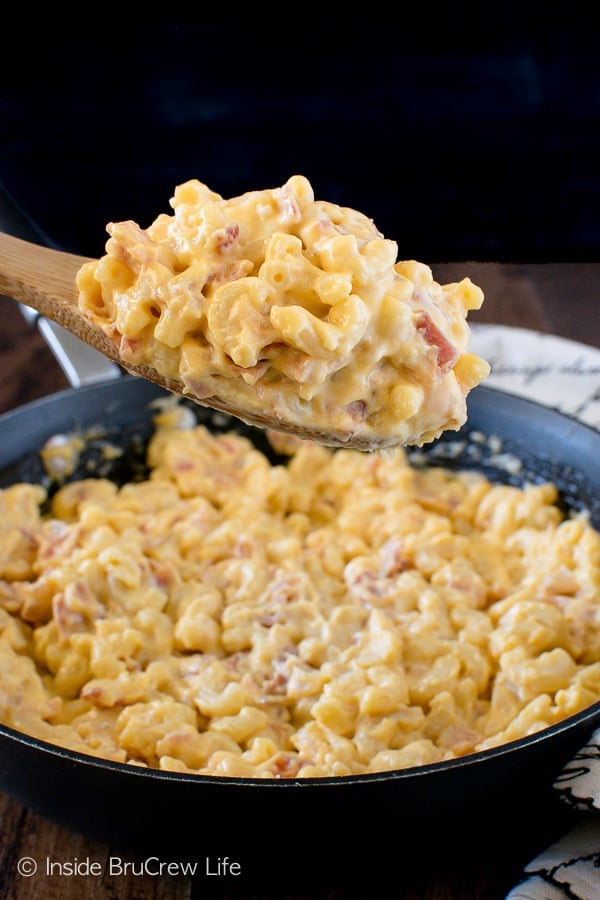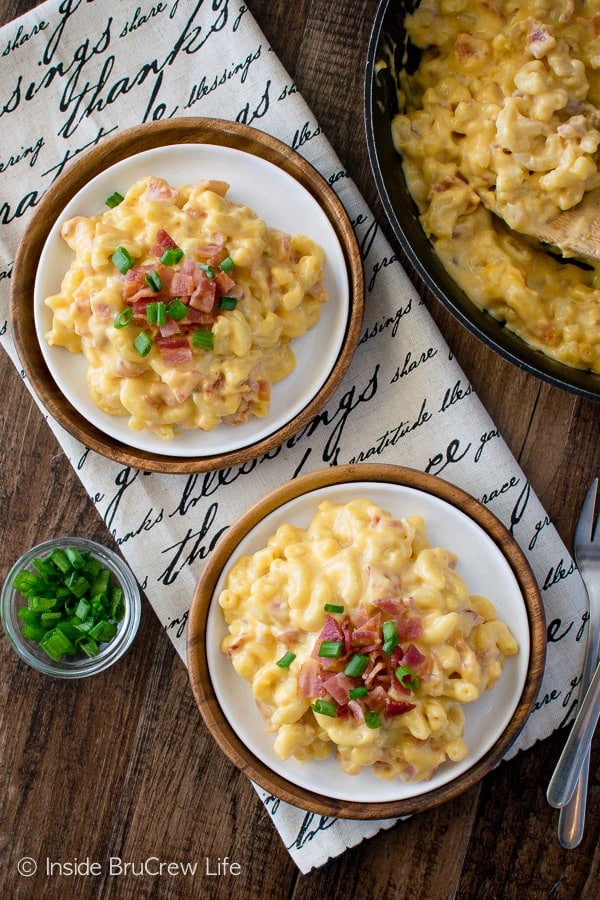 This easy pasta dish comes together in less than 30 minutes. Quick and easy meal ideas are the best ones to have on hand when things get crazy at dinner time. I don't know about your kids, but ours come in the door after school wanting to devour everything in the house.
If you prep your ingredients ahead of time, you can have this cheesy goodness on your table even faster. I like to boil my noodles earlier in the day. After draining them, add a little bit of olive oil to coat the noodles so they do not stick together. Cook, crumble, and measure the bacon ahead of time and keep it in a ziplock bag until time to stir it into the cheese mixture.
Or if you are like me, buy the already cooked bacon and pop it in the microwave to crisp it up. It's my favorite way to do bacon when it is going into another dish. If it's on sandwiches, it has to be the real stuff cooked extra long in the oven. How did I get off on that rabbit trail again? I really do want BLT's apparently.
Gooey cheese, pasta, and plenty of bacon will satisfy everyone at the dinner table tonight. The first meal idea down for the new year…I got this!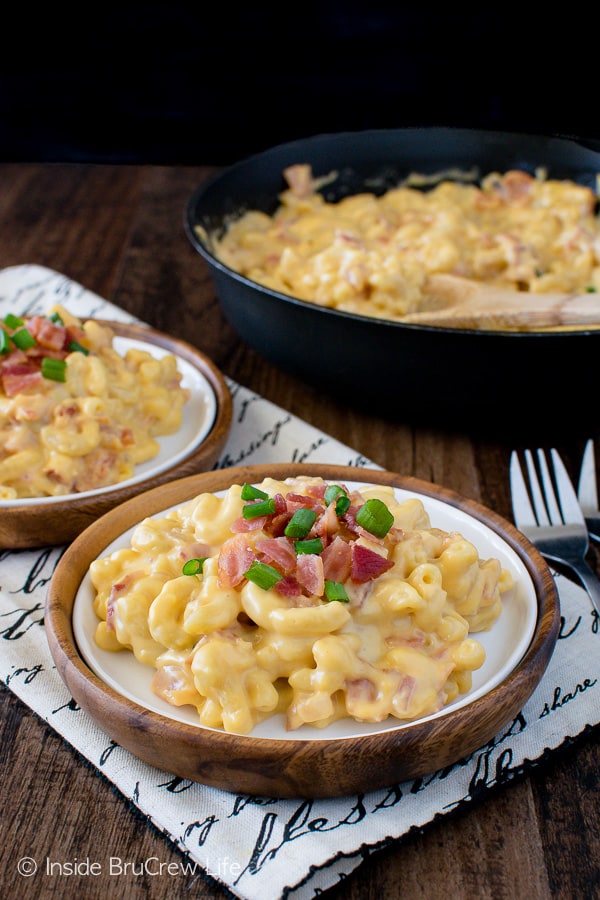 Stay up to date on all the BruCrew baking here:
FACEBOOK | PINTEREST | TWITTER | INSTAGRAM | BLOGLOVIN
Sign up to receive an email in your inbox for each new recipe:
EMAIL SUBSCRIPTION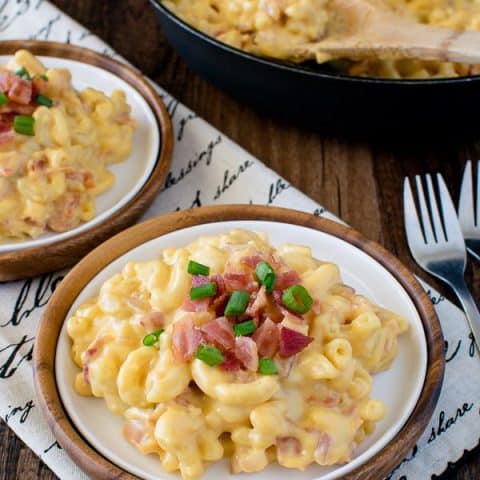 Cheddar Bacon Macaroni and Cheese
This gooey Cheddar Bacon Macaroni and Cheese can be on your dinner table in under 30 minutes. An easy meal in minutes is always good for busy nights!
Ingredients
8 ounces macaroni pasta
1 Tablespoon olive oil
1/2 cup diced red onions
1 Tablespoon minced garlic
12 ounce can evaporated milk
5 ounce can evaporated milk
3 cups shredded triple cheddar cheese
salt and pepper, to taste
1 cup crumbled cooked bacon
extra bacon, for garnish
green onions, for garnish
Instructions
Cook the pasta according to the package directions. Drain and set aside.
Saute the onions in the oil for about 2 minutes, or until soft. Add the garlic and cook 1 more minute.
Pour in both cans of evaporated milk. Heat over medium heat until it starts to bubble slightly.
Add the cheese and stir until melted and creamy. Season to taste with salt and pepper.
Add the bacon and cooked pasta and stir until coated. Let sit for a few minutes to thicken up.
Serve with extra bacon and green onions, if desired.
Notes
*If you cook the pasta ahead of time, stir 1 Tablespoon olive oil into the noodles to keep them from sticking.
Nutrition Information:
Yield:

6
Serving Size:

1
Amount Per Serving:
Calories:

547
Total Fat:

36g
Saturated Fat:

18g
Trans Fat:

1g
Unsaturated Fat:

15g
Cholesterol:

105mg
Sodium:

867mg
Carbohydrates:

25g
Fiber:

1g
Sugar:

10g
Protein:

29g
Nutrition facts are an estimate and are not guaranteed to be accurate. If you need special diet advice, please see a registered dietician.