Looking for a delicious and satisfying weeknight dinner? Our Stuffed Shells with Meat is the ultimate comfort food. Loaded with creamy ricotta cheese and baked in a hearty meat sauce, one bite will have you hooked. Plus, this easy stuffed shells recipe is freezer-friendly, so you can enjoy them any night of the week.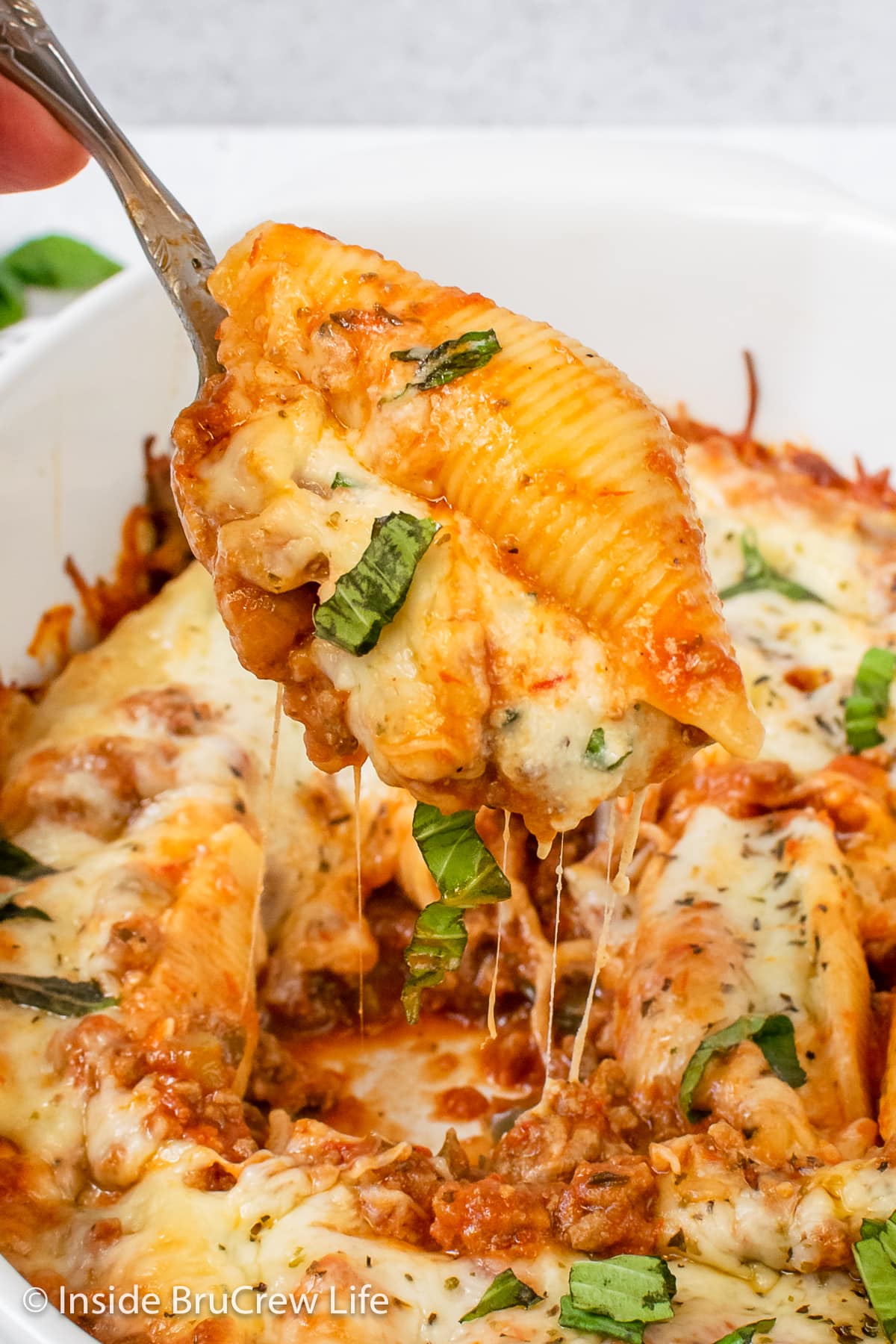 Jump to:
Cheesy pasta will always be my true love for dinner. Of course, any kind of pasta dinner makes me happy, but stuffed pasta really makes me smile. And the cheesier the dish is, the better!
Why Make Meat Stuffed Shells
These stuffed pasta shells can be ready to eat in less than an hour. Add some homemade garlic bread and this easy tiramisu recipe for a comforting dinner that everyone will love.
Easy to Make - These stuffed shells with meat might look complicated, but the homemade dinner recipe is really simple to assemble.
Cheesy & Delicious - A creamy ricotta filling and ground beef sauce adds flavor and makes it such a comforting meal.
Convenient - You can make a pan of stuffed shells ahead of time, so dinner is ready to be put in the oven as soon as you get home.
Freezer Friendly - This meal also freezes well. It's the perfect meal to keep on hand for busy days or to share with friends and family.
What are Stuffed Shells?
This Italian inspired dinner features jumbo pasta shells that are filled with a cheese mixture, then baked with sauce and cheese. Ricotta and beef are the most common ingredients used for this meal, but other favorites are sausage and cheese stuffed shells or chicken Alfredo stuffed shells.
Ingredients

Needed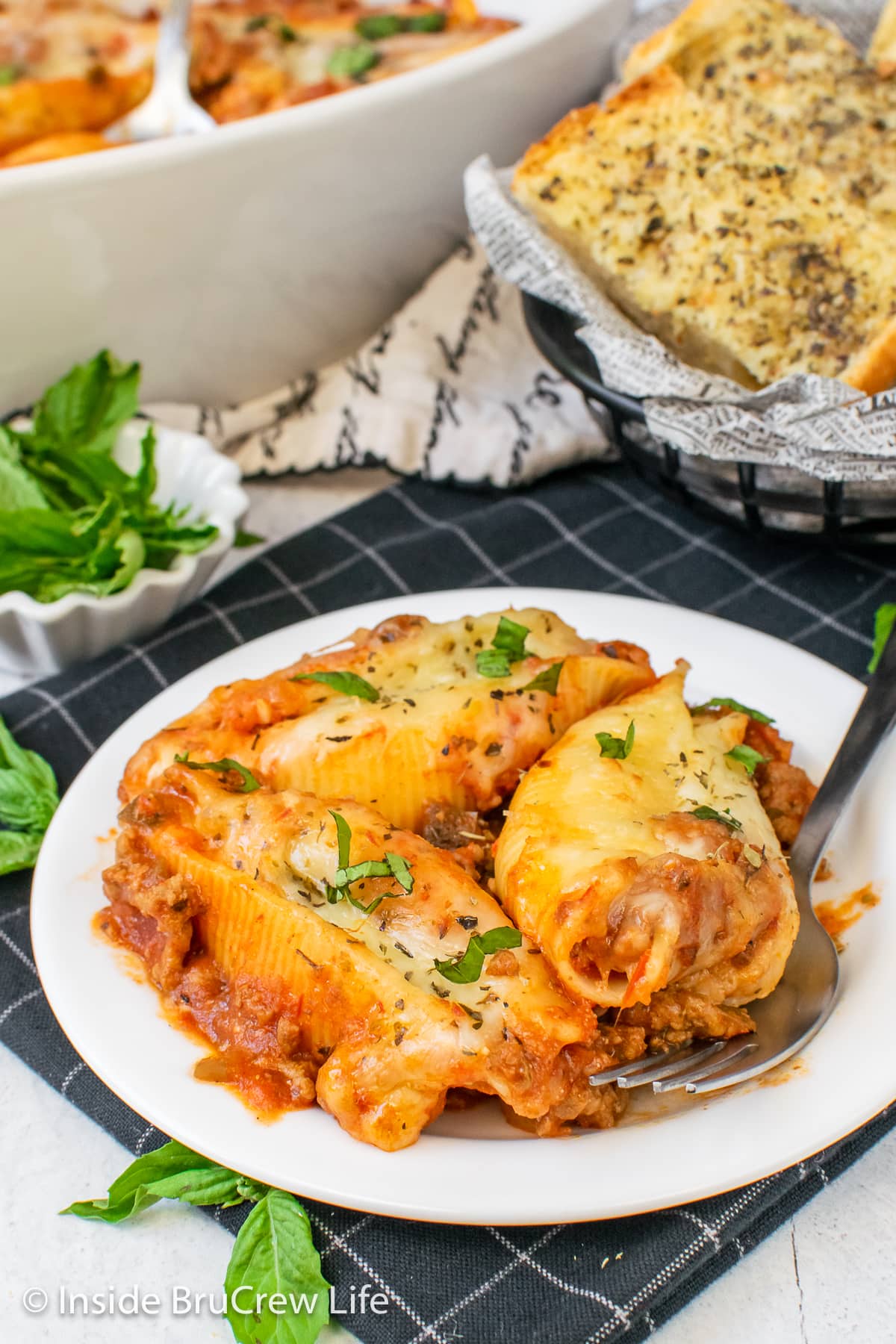 These jumbo ricotta stuffed shells are a delicious comfort food dinner similar to lasagna. The cheesy filling is made up of three different types of cheeses along with some fresh basil and garlic.
Jumbo Pasta Shells - I like to cook the entire box of shells, so there are extras in case some break while filling them.
Ground Beef - For this recipe you will need 1 pound cooked and drained for a hearty meat filled sauce.
Veggies - A mixture of onions, green peppers, and garlic gives the sauce a better flavor.
Marinara Sauce - A jar of store bought sauce saves time when making stuffed shells.
Ricotta Cheese - One whole container creates the base for the cheese mixture.
Parmesan Cheese - The pre-grated cheese in the bottle works perfectly fine.
Italian Cheese Blend - This cheese blend will go in the filling and also on top of the finished dish. Feel free to use shredded mozzarella if you prefer that.
Egg - Helps to hold the cheeses together in the shells, so it doesn't melt and run all over the place.
Seasonings - Salt, pepper, minced garlic, & fresh basil add plenty of flavor to the sauce and ricotta filling.
How to make Stuffed Shells

with Meat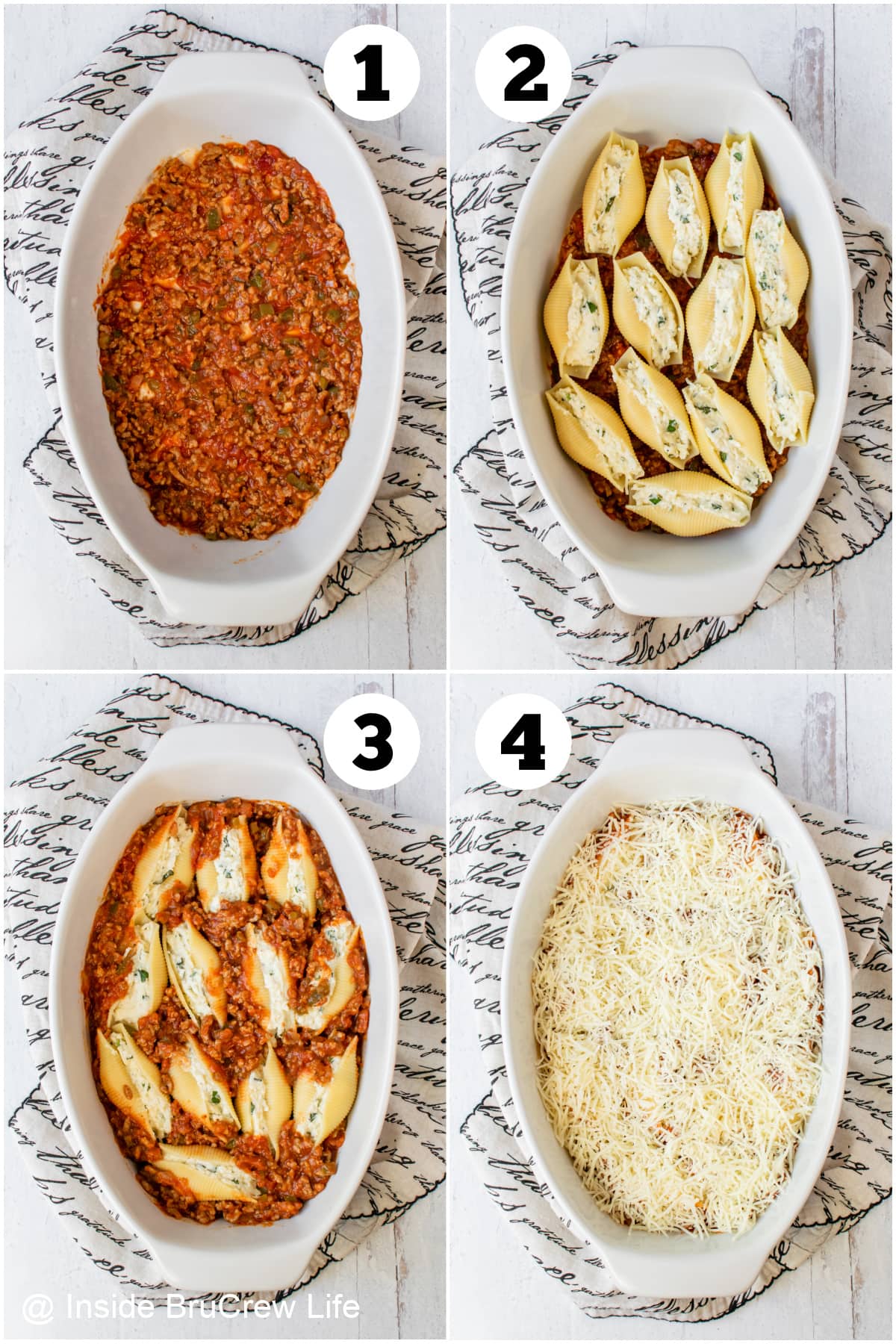 This easy stuffed shells recipe with meat can be ready in no time at all. it is a great comfort food for family dinners, yet it is fancy enough to serve guests for the holidays.
Step 1. Make the meat sauce. Cook the hamburger in a large skillet with diced veggies until cooked, then pour off the excess grease. Stir minced garlic and pasta sauce into the cooked meat. Spread 1 cup on the bottom of a dish.
BruCrew Tip: Cook the shells in a separate pot while the meat is cooking. Lay the drained cooked shells on a wire rack, so they do not stick together.
Step 2. Make a cheese filling. Stir together ricotta, parmesan, shredded cheese, egg, and spices. Fill cooled pasta shells with the cheese mixture.
Step 3. Assemble in pan. Place the stuffed shells in a baking dish and spoon the remaining sauce around them.
Step 4. Bake and enjoy. Top the stuffed shells with more shredded cheese. Place the dish in a preheated oven and bake until the cheese is melted and the sauce is bubbly.
Storage Recommendations
In the Refrigerator - Keep leftover cooked shells in an air tight container in the fridge for 3-4 days.
To Reheat - Place a few stuffed pasta shells on a microwave safe plate and heat for 1-2 minutes.
Tips and Variations
Here are some basic tips and tricks that will help you make the best stuffed shells for dinner.
Cook the shells to al dente. When you boil the shells, under cook them by 2 minutes because they will continue to cook later.
Salt the water. This is the only way you can season the pasta noodles and enhance the flavor. Use around 1 tablespoon salt for every 5-6 quarts of water.
Change up the cheese. Feel free to use cottage cheese that has been drained in place of the ricotta and shredded mozzarella instead of Italian cheese.
Use a different meat. To avoid using red meat, use an equal amount of ground turkey, ground chicken, or Italian sausage.
Add more veggies. Try adding spinach to the sauce. Let it wilt before spooning into the pan.
Freezer Friendly. This recipe serves 8 people, so divide the shells into 2 - 8x8 pans. Bake one for dinner now and freeze one for later.
Vegetarian Meal - Leave out the meat and increase the veggies in the sauce.
Serving Suggestions
These stuffed shells with ricotta and meat are a hearty meal all on their own. If you want to complete the meal with more veggies, here are a few we suggest.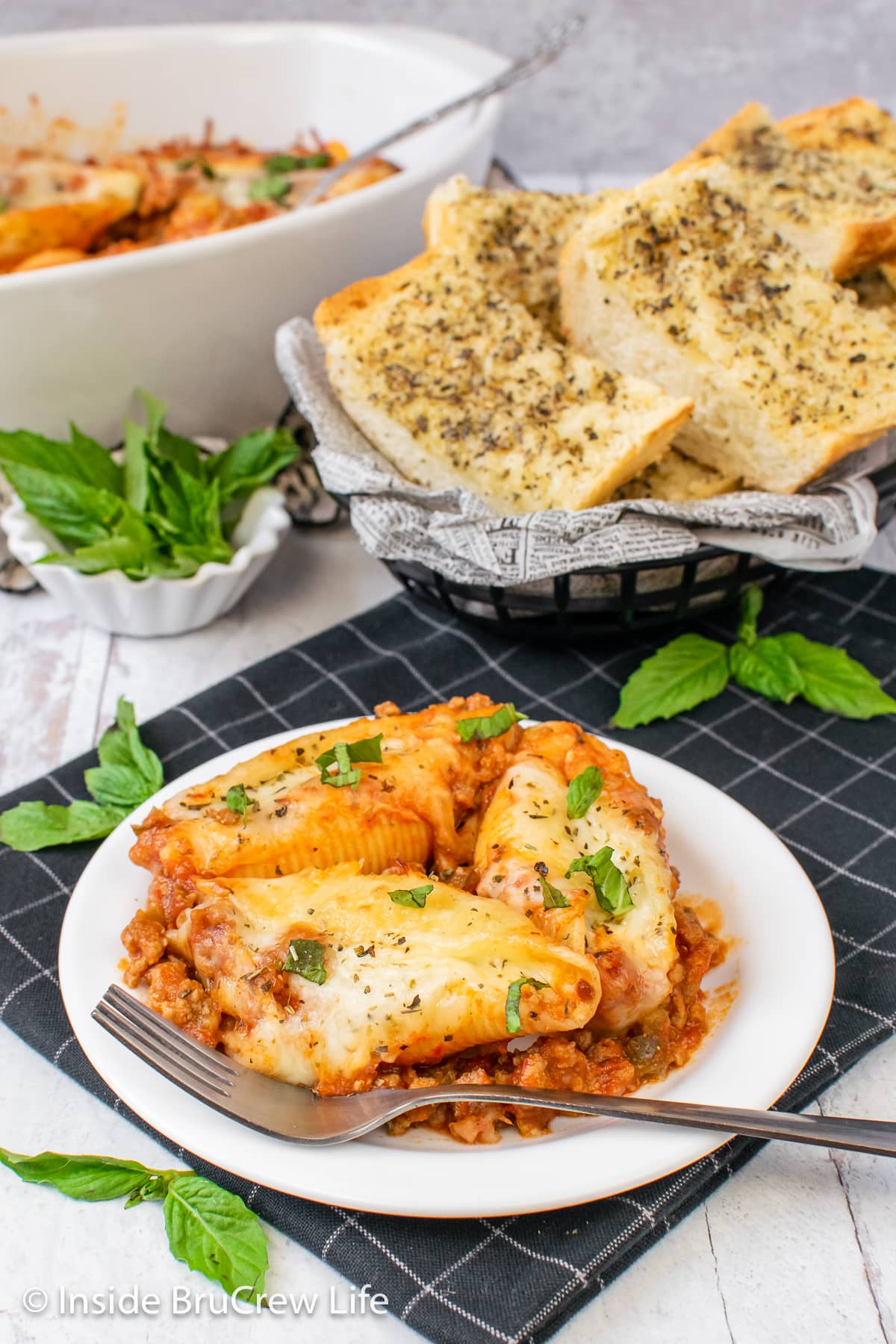 FAQ
Can these baked shells be made ahead of time?
Yes, they can be made and assembled up to 12 hours ahead of time. Make and stuff the shells and place them in a covered container in the refrigerator.

When you are ready to bake, place them in a pan with the meat sauce and cover with shredded cheese. You may need to add an additional 10-15 minutes to the bake time, since you are baking chilled pasta.
Can you freeze stuffed shells?
Yes, these pasta shells can be frozen individually or in a pan with sauce for 2-3 months.
How long do stuffed shells with meat sauce last?
Baked stuffed shells will keep for 3-4 days in the refrigerator. They are easy to reheat in the microwave making this a great meal prep recipe.
How can I make this a meatless meal?
Leave out the ground beef and just add sauce to the shells. You can also add chopped spinach to the sauce to add more veggies to the pasta dish.
How to Freeze Stuffed Shells
These classic stuffed shells are the ultimate freezer meal to make and share with others. There are two different ways you can freeze these stuffed pasta shells.
Freezing Stuffed Shells without Sauce
Fill the cooked cooled shells with the cheese mixture. Place the shells on a parchment lined tray and freeze for an hour or two, then place the frozen shells in a freezer safe bag.
To cook, place the frozen shells in a pan with pasta sauce and cheese and bake. They will need to bake about 10-15 minutes longer because they are frozen.
Freezing Stuffed Shells with Sauce
Make the shells and place them in a disposable aluminum pan with the meat sauce and cheese. Do not bake it!
Cover the pan with a layer of plastic wrap and then tightly wrap with foil. Freeze for 2-3 months.
You can bake the frozen shells, or you can thaw them overnight in the fridge first.
Remove the inner layer of plastic wrap before baking. The frozen shells with sauce will need to bake about 50-60 minutes covered, then remove the foil and cook another 10-15 minutes.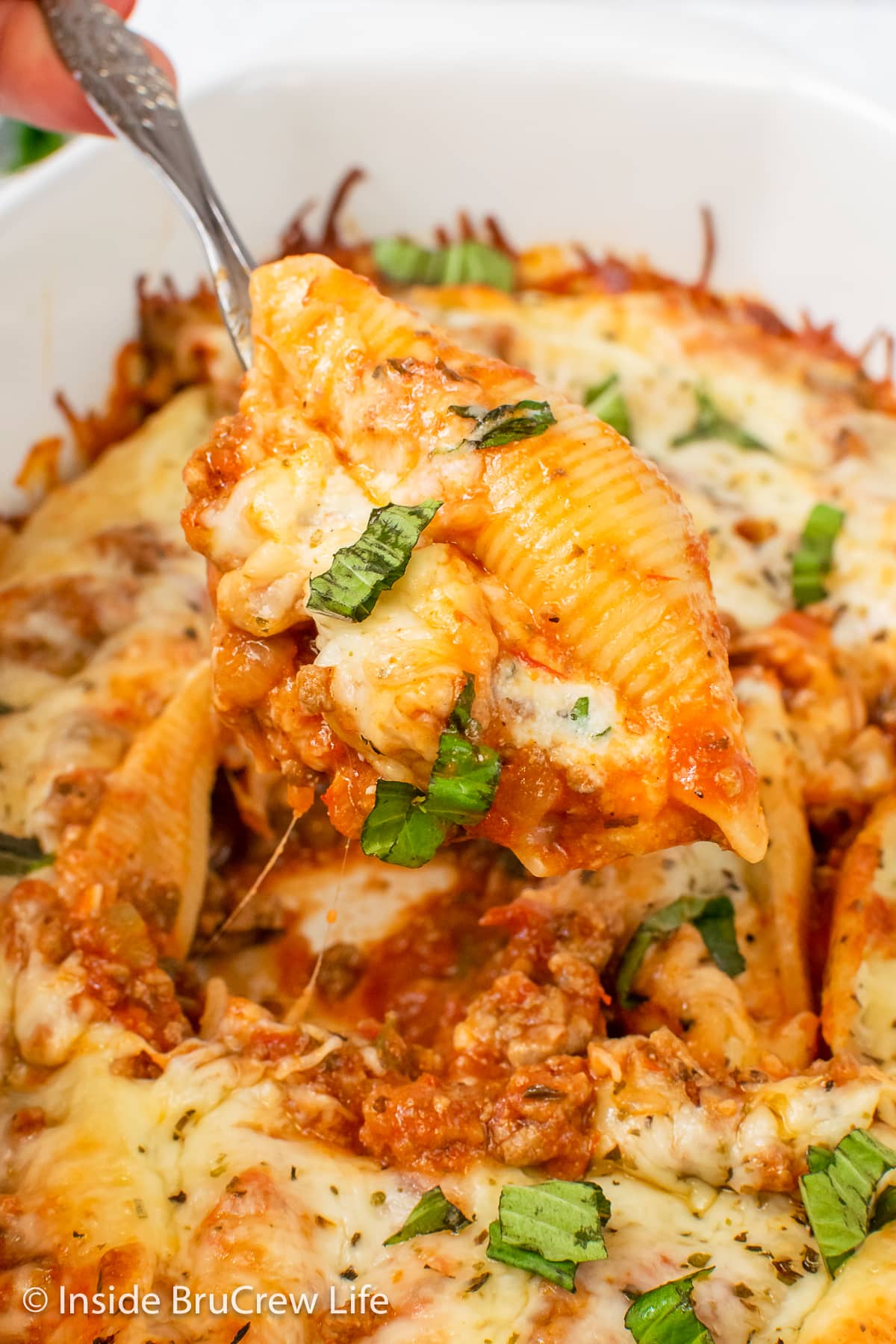 More Pasta Recipes
Do you love a recipe you tried from Inside BruCrew Life?
Please leave a 5-star ⭐️ rating and a review in the comments section below.
*The post for classic stuffed shells was first published March 2020. The post was updated March 2023.