This No Fail Orange Creamsicle Fudge will add a pretty flair to your summer dessert tables. The easy orange and vanilla no bake fudge is the perfect dessert to make when it is hot outside!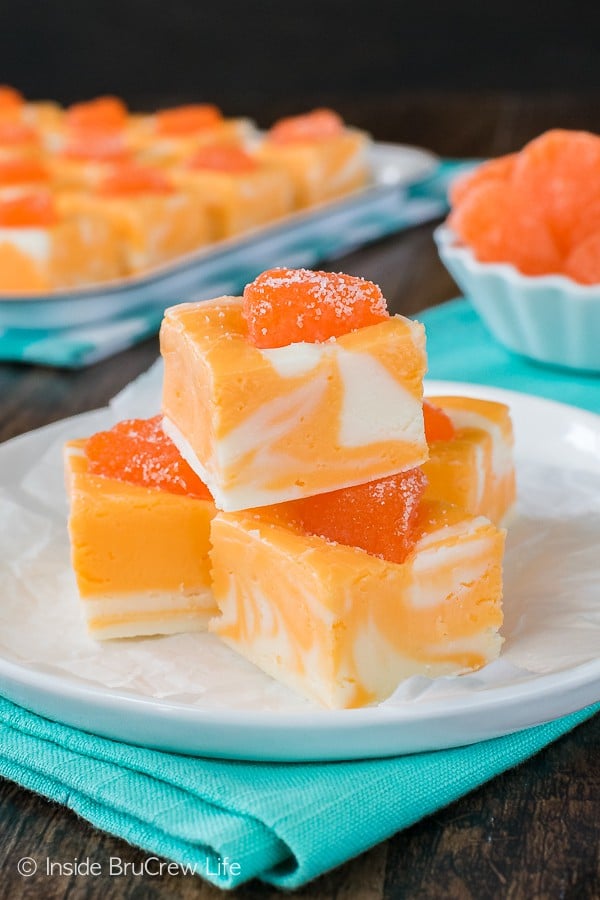 Over the years we have attempted to play tennis. My hubby and I bought racquets when we were first married and attempted to play a few times. Yeah, I grew up throwing and hitting a baseball with my dad, so hitting a tennis ball gave me problems. You can't hit a tennis ball the same way.
I basically launched it over the fence every single time it came to me. That makes tennis not so much fun for your partner who is always chasing the ball.
Our youngest has a friend who plays tennis, so he has been wanting to go over to the park and play with our old racquets. He also grew up as a cute little baseball player, so a lot of his balls are heading over the fence too. He is way more athletic than I am, so he has learned much faster to hold and hit differently.
Then there is our oldest son. He and I are pretty much on the same level of tennis. Although, I like to think that I don't look that way when I hit the ball back to him. He kept going after the ball and hitting it like a ninja.
You know the move, right? Jump in the air like a flying ninja and hope you connect with the ball. We all were laughing so hard at each other.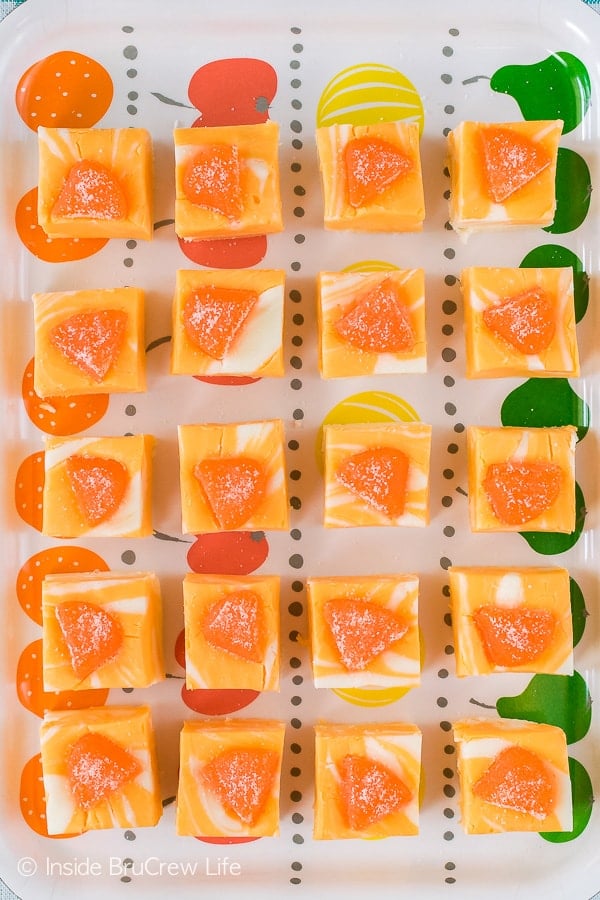 I'm thinking that I should just stick to creating fun desserts instead of trying to learn tennis. Although, tennis is much better for my jeans. Hhhhmmm, I might have to keep playing tennis because I do like to munch on M&M Blonde Brownies a little too much.
A few weeks ago I made a bunch of fudge, sugar cookie bars, and cheesecake parfaits for some school lunches. I made sure to get pictures of all of them because you need these recipes too.
As I was developing the recipes, I decided to go with all summer related desserts. Partly because it's almost summer, and partly because if I can make and photograph my recipes early, I can spend less time in the kitchen during the hot summer months.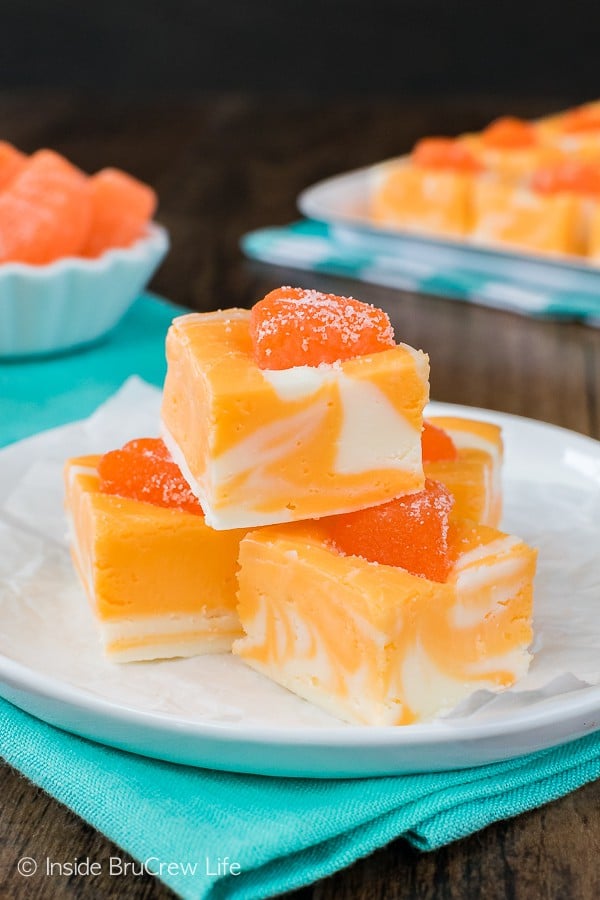 Fudge is one of those treats that can be made in just a few minutes, and it is a hit with everyone. Over the years, I have come to love the easy two ingredient fudge.
You know the one, right? Chocolate chips and canned frosting. Seriously, it makes fudge a no brainer. No boiling, no thermometer, no time.
Well, I guess you can't say no time because it takes about 15 minutes from start to finish, but then you have to let it cool and set. That's where you have to have patience!
As I was thinking about summer and fudge, I decided to turn this Orange Creamsicle Poke Cake into fudge. I took the two ingredients and turned it into five ingredient fudge.
Ok, six when you count the candy on top. A little orange extract and a swirl of color and this fun No Fail Orange Creamsicle Fudge was born!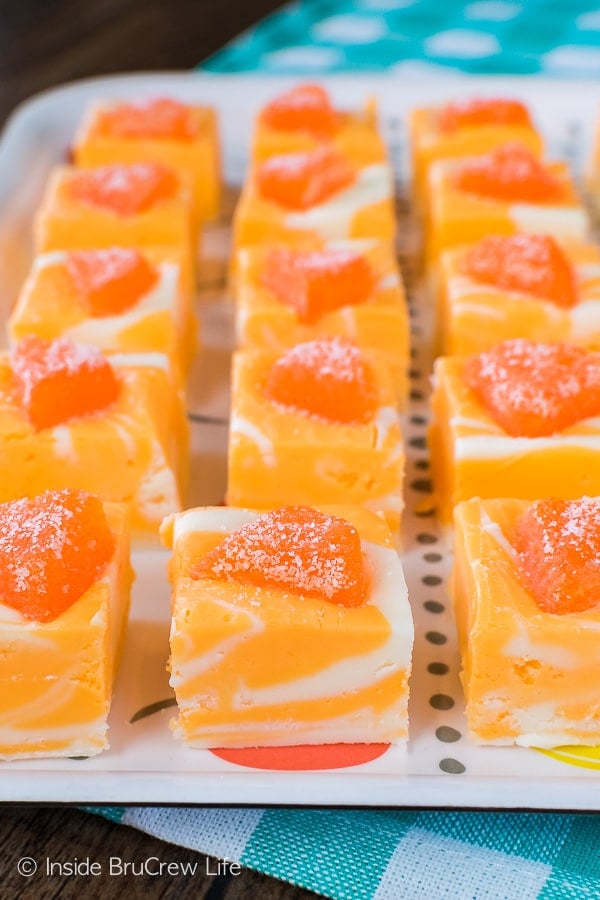 How to make No Fail Orange Creamsicle Fudge:
Add the white chocolate chips and the butter to a saucepan and heat it over low heat until it melts. It won't really melt into a liquid though. The heated mixture should look more like a paste.
Remove the lid from the canned frosting and heat it in the microwave for about 30 seconds. Just long enough to melt it so you can pour it into the white chocolate mixture.
Continue to stir over the low heat until everything is melted and creamy.
Divide the mixture into two separate bowls. Add the extract and and a little bit of food coloring to one bowl and mix it in very thoroughly. When you use a gel food coloring you will only need a little bit. Use a toothpick to slowly add color.
Drop spoonfuls of white fudge and orange fudge into a foil-lined pan. Spoon about half of each color into the bottom of the pan, then swirl it gently with a knife.
Repeat this step with the remaining fudge. Swirl the top one more time and then let it cool for about 10 minutes before adding the candies. If you add them too soon, they will sink to far into the fudge. You want them to sink in slightly but stay on top for the most part.
Let the fudge completely cool before trying to cut into it. It's best to make this fudge the night before, so that it can set up over night while you are sleeping.
Go ahead and cut it into fun little squares once it is cooled and then share it with your friends. Or hide it in the back of your pantry and sneak little pieces every day. I promise I won't tell.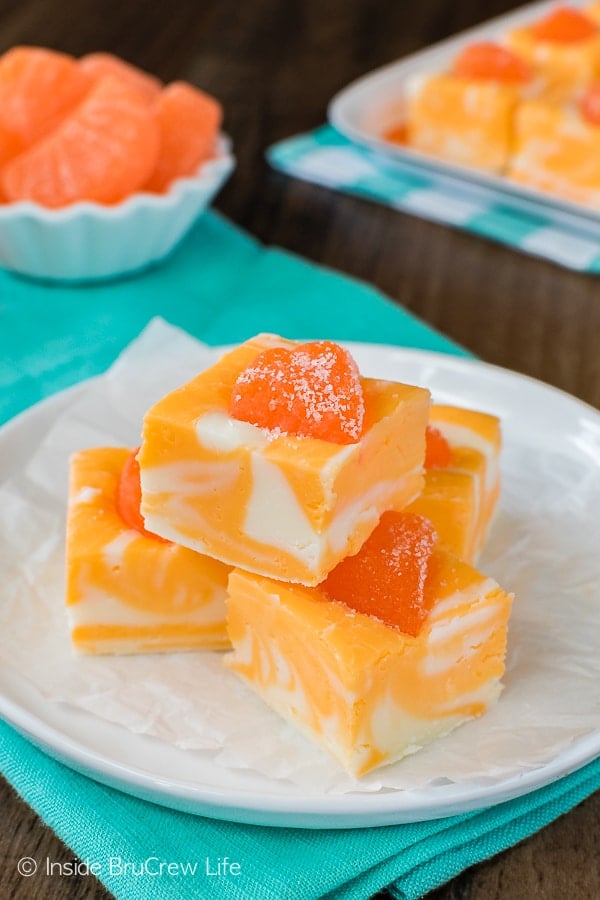 CLICK HERE TO PIN THIS RECIPE FOR LATER!
More easy orange desserts: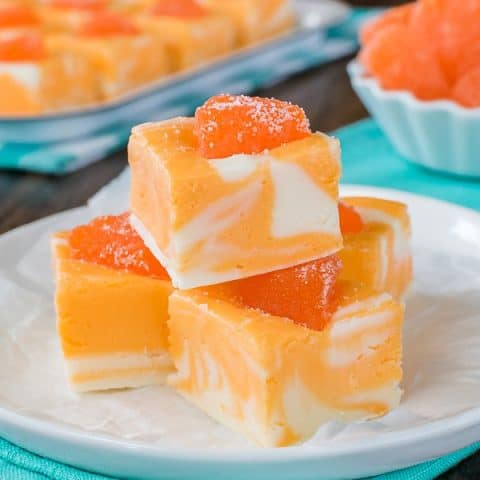 No Fail Orange Creamsicle Fudge
Yield:
36 pieces of fudge
Swirls of orange and white make this easy Orange Creamsicle Fudge a hit at any dinner or picnic. The bright color and fresh taste make it a fun no bake treat.
Ingredients
2 cups white chocolate chips
2 Tablespoons unsalted butter
1 - 16 ounce can vanilla frosting
1 1/2 teaspoons orange extract
Orange Gel Food Coloring
12 orange slice gummy candies
Instructions
Line an 8x8 pan with foil and set aside.
Place the white chips and butter in a large pan and heat until melted and creamy.
Peel off the metal liner on the frosting. Heat in the microwave for 30 seconds. Pour into the melted white chocolate mixture. Stir until melted and creamy.
Pour the mixture evenly into two bowls. Stir the extract into one bowl of fudge. Use a toothpick to add a little bit of orange gel food coloring at a time. Stir it in and look at your color. Add more if you want it darker. Make sure to use a new toothpick each time if you continue to add color.
Drop spoonfuls of each color randomly into the prepared pan. Swirl with a knife every so often, then continue spooning more of each color into the pan.
Use the knife to swirl the top a little bit. Be careful not to over swirl, or you will lose the white color.
Let the fudge cool for 10 minutes. Cut the gummy orange slices into 3 pieces and press them into the top of the fudge.
Let the fudge completely cool and set up before cutting into 36 pieces.
Recommended Products
As an Amazon Associate and member of other affiliate programs, I earn from qualifying purchases.
Nutrition Information:
Yield:

36
Serving Size:

1
Amount Per Serving:
Calories:

137
Total Fat:

6g
Saturated Fat:

3g
Trans Fat:

0g
Unsaturated Fat:

3g
Cholesterol:

4mg
Sodium:

33mg
Carbohydrates:

21g
Fiber:

1g
Sugar:

18g
Protein:

1g
Nutrition facts are an estimate and are not guaranteed to be accurate. If you need special diet advice, please see a registered dietician.