A creamy Banana Fudge with a Nilla wafer crust is sure to satisfy your sweet tooth. It's easy to make and tastes so delicious. Trust me, you won't be able to resist a few squares of this pudding fudge.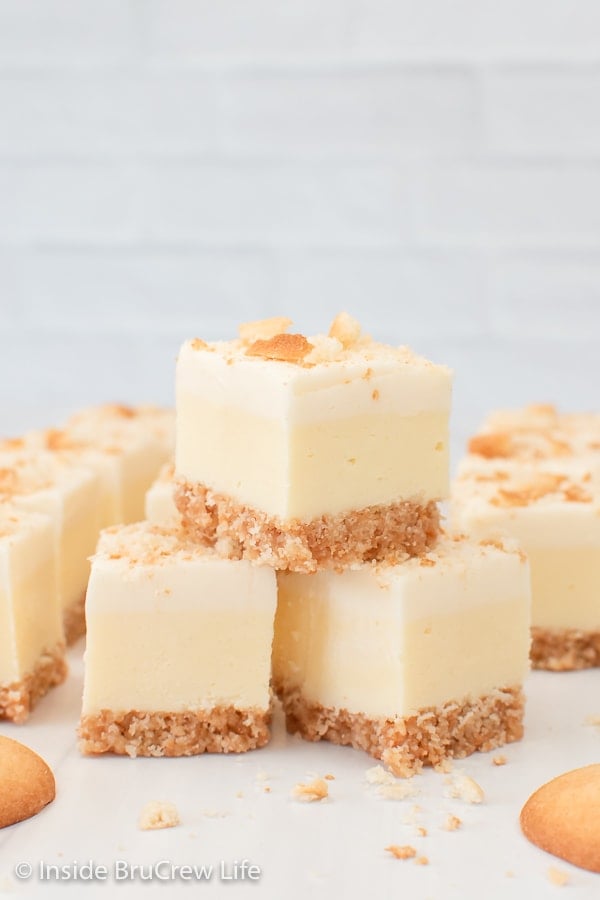 One of the easiest treats to make is fudge. I know this dessert is considered a holiday treat, but I'm all about making it all year long. It is so easy to jazz up a two or three ingredient fudge recipe with different extracts and colors.
Favorite fudge treats in our house are fantasy fudge, orange creamsicle fudge, and our award winning Neapolitan fudge.
Did you know you can add flavor to fudge using an instant pudding mix? That's right! By mixing the dry pudding mix into the hot fudge mixture, you can add a fun and unique flavor.
About This Recipe
If you love banana pudding, do yourself a favor and make a pan of this banana fudge today. It's creamy and has the most incredible banana cream flavor.
This fudge is easy to make in minutes.
You do not need a candy thermometer to make this fudge recipe.
A Nilla wafer crust makes this fudge stand out. Plus, it really give it that banana cream pie look and taste.
With a creamy banana flavor and a Nilla wafer crust, this pudding fudge is sure to satisfy your cravings! Go ahead and indulge.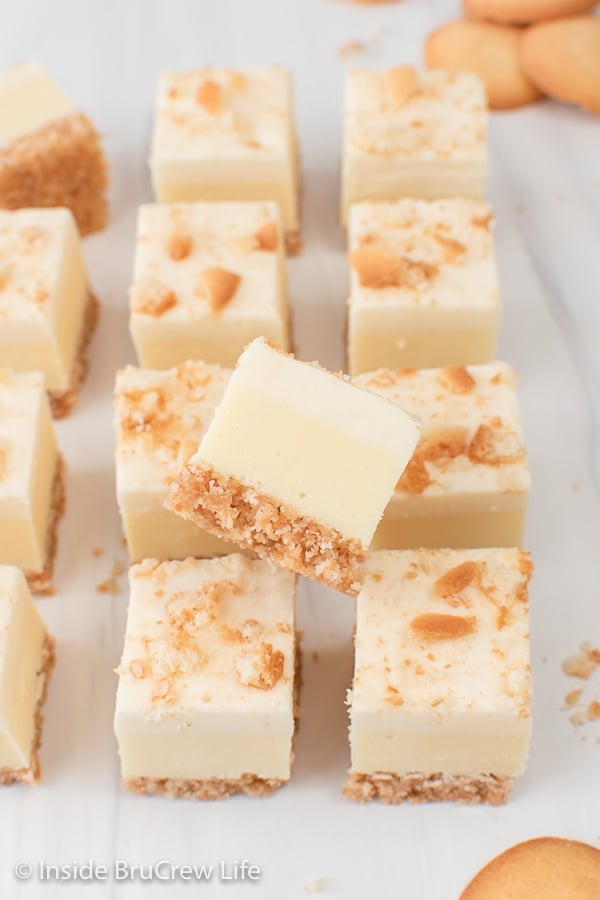 Key Ingredients Needed
What I love most about this fudge is that it is so easy to make. All you need are a few simple ingredients to make a simple and creamy treat.
Nilla Crust - A combo of Nilla wafer crumbs, sugar, and melted butter pressing into the bottom of the pan makes a great crust for this fudge.
White Chocolate Chips - You will need a 12 ounce bag of chips to make the banana and vanilla fudge layers.
Butter - Adding a little bit helps to melt the white chips and also give it a smooth texture.
Sweetened Condensed Milk -
Instant Banana Cream Pudding Mix - Gives the fudge a delicious banana flavor. Make sure you buy the instant pudding mix, so it dissolves easily.
Marshmallow Cream - Also know as fluff, this will give the fudge a fluffy and light texture.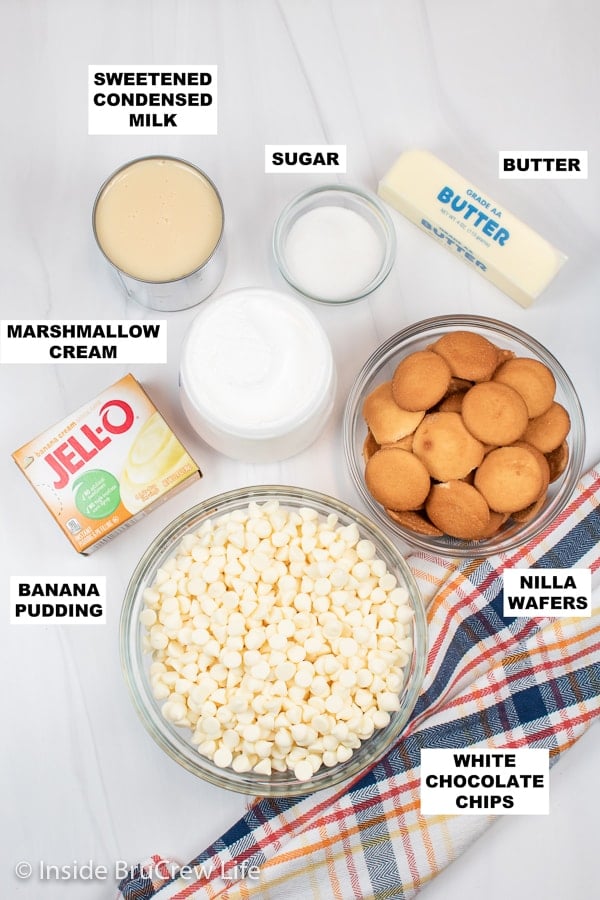 How to Make Banana Fudge
Don't let the layers in this fudge scare you. This banana pudding fudge is actually quite easy to make. Just follow the step by step instructions and in no time your pan of fudge will be cooling on the counter.
Make a Nilla Crust
Crush the Nilla wafer cookies into crumbs using a food processor.
Stir the sugar and melted butter into the crumbs.
Press the mixture evenly in a foil lined 8x8 baking pan.
Bake for 8 minutes, then cool.
Make Banana Fudge
Add the white chocolate chips, butter, and sweetened condensed milk in a pan over low-medium heat. Stir until melted and creamy.
Sprinkle in the dry pudding mix and stir for 1-2 minutes while the fudge is still on low heat.
Pour onto the crust.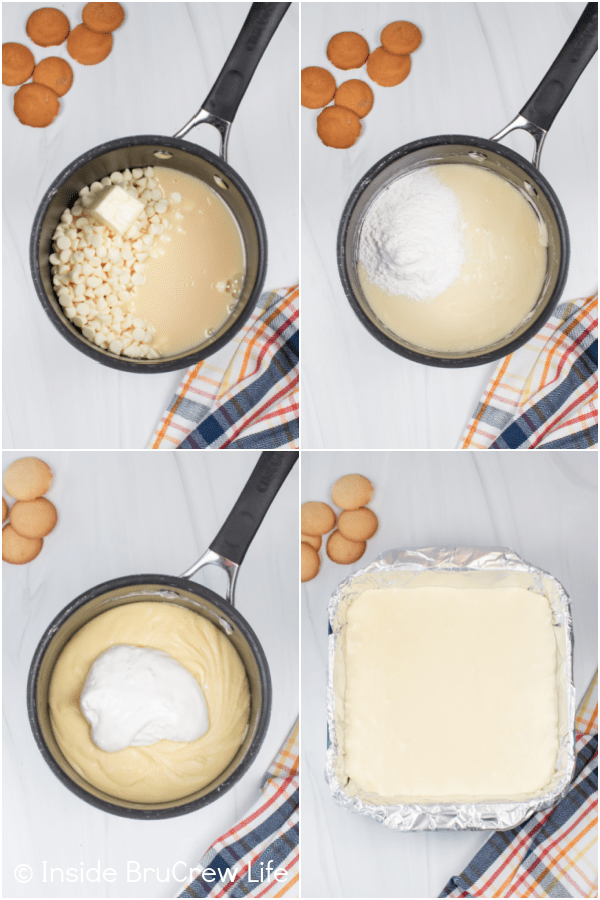 Make Vanilla Fudge
Melt a small amount of white chocolate chips, butter, and sweetened condensed milk in a small pan over low heat. Stir until melted.
Pour on top of the banana fudge layer and spread out gently.
Sprinkle the top with Nilla wafer cookie chunks.
Place on the counter for 4-6 hours or until completely set.
Set and Serve
Once the banana cream fudge is completely cool and set, lift the foil out of the pan and gently peel it away from the fudge.
Cut the fudge into 36 small squares.
Set on a tray and serve.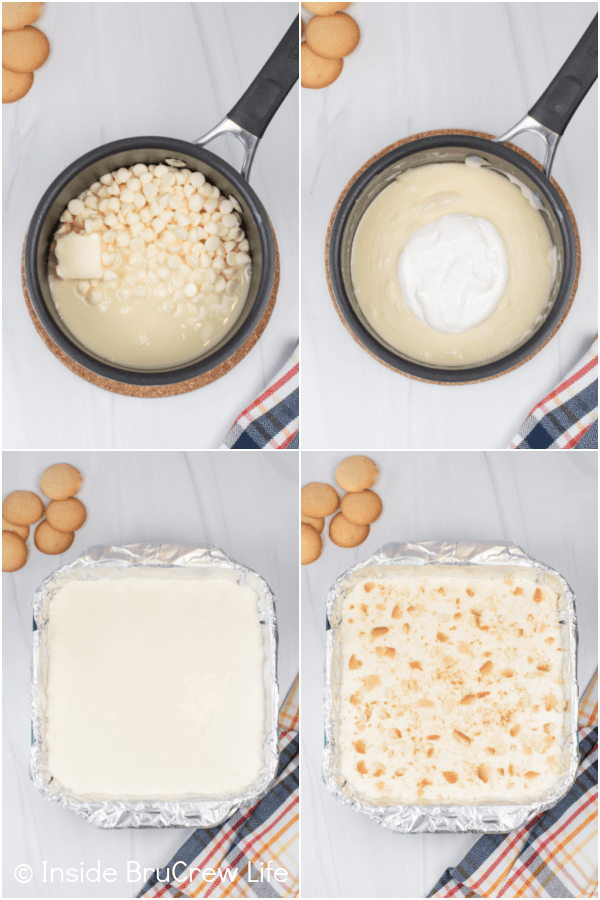 Storage Recommendations
Counter: Keep the banana fudge at room temperature in an air tight container for 3-4 days.
Refrigerator: Place the fudge in an air tight container in the fridge for 6-7 days.
Freezer: Wrap the entire block of fudge in plastic wrap and foil; place in a freezer safe bag or container for 1-2 months. Remove and thaw overnight in the fridge. Cut the fudge into squares right before you serve it. Freezing it whole vs squares keeps the fudge from drying out.
Recipe Tips
Line your pan with foil or parchment paper, so you can lift the whole block out easily for cutting.
Use a food processor to crush the cookies into fine crumbs. You can also use a plastic bag, a rolling pin, and some muscles to crush them.
Heat the ingredients over low heat to avoid scorching and ruining your chocolate.
Once you add the pudding mix make sure you continue to stir it over heat for a few minutes. This helps to dissolve the fudge a little better. It may still have just a little bit of grittiness to it.
Let the fudge chill and set completely before cutting into squares. Want it to set faster? Refrigerate it a few hours.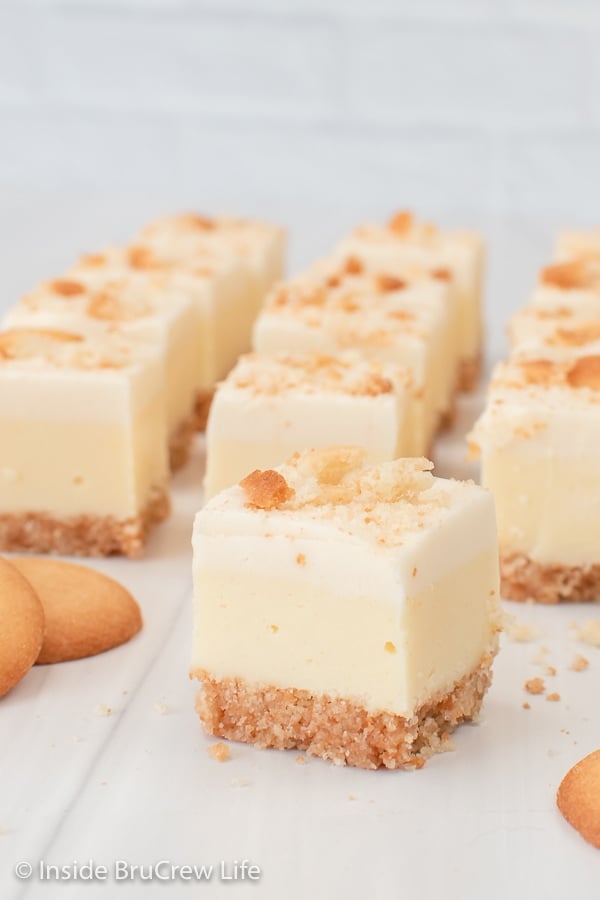 FAQ'S
What size pan do you use for fudge?
It depends on how much fudge you are making. Use a 9x13 pan for a large batch of fudge and an 8x8 pan for a smaller amount of fudge.
Can fudge be made ahead of time?
Yes, this is a great treat to make 1-2 days ahead of time because it needs time to set up completely before you cut it.
Can you freeze fudge?
Yes, fudge can be frozen. Make sure to wrap it tightly in a few layers of saran wrap and foil before putting it in the freezer.
More Easy Fudge Recipes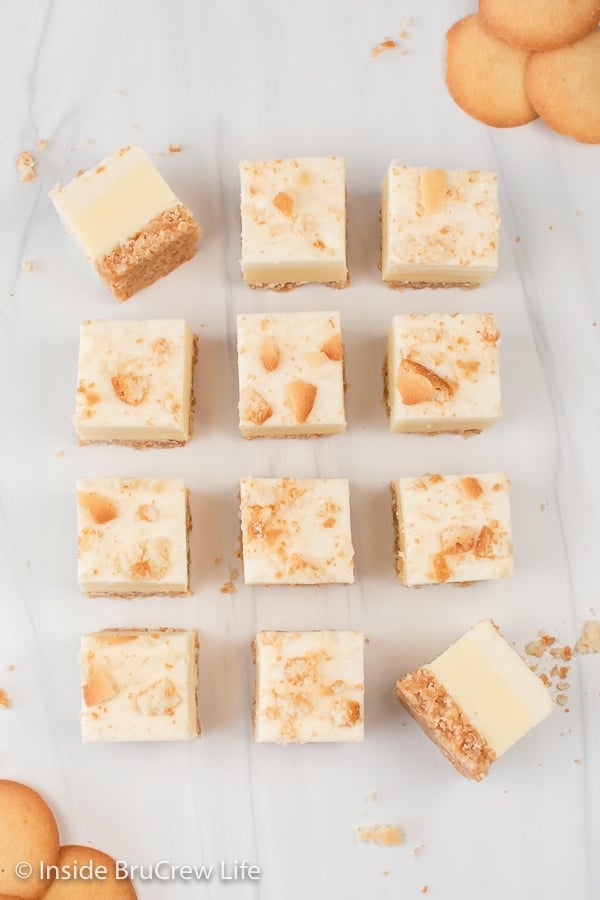 Do you love a recipe you tried from Inside BruCrew Life?
Please leave a 5-star ⭐️ rating and a review in the comments section below.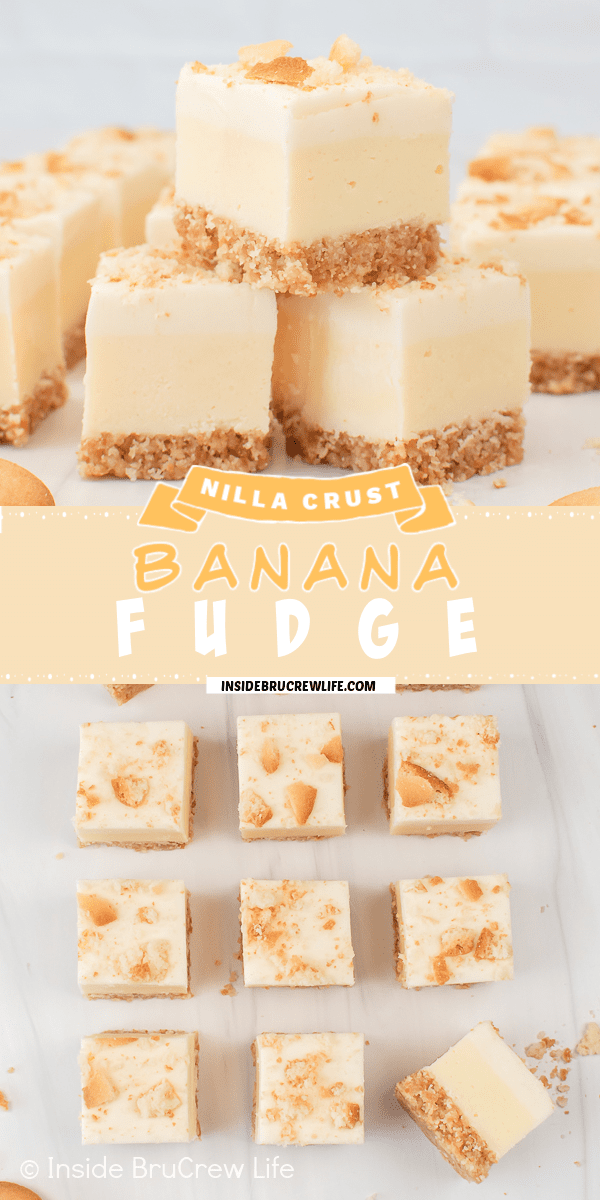 *The post for Banana Cream Fudge was first published March 2013. The pictures and post were updated and republished March 2022.