Try these Peanut Butter Chocolate Chip Banana Muffins the next time you have ripe bananas. These soft banana muffins are perfect for breakfast or afternoon snacking.
Add a mug of this Peanut Butter Chocolate Latte, and you will have a breakfast that peanut butter lover's will drool over.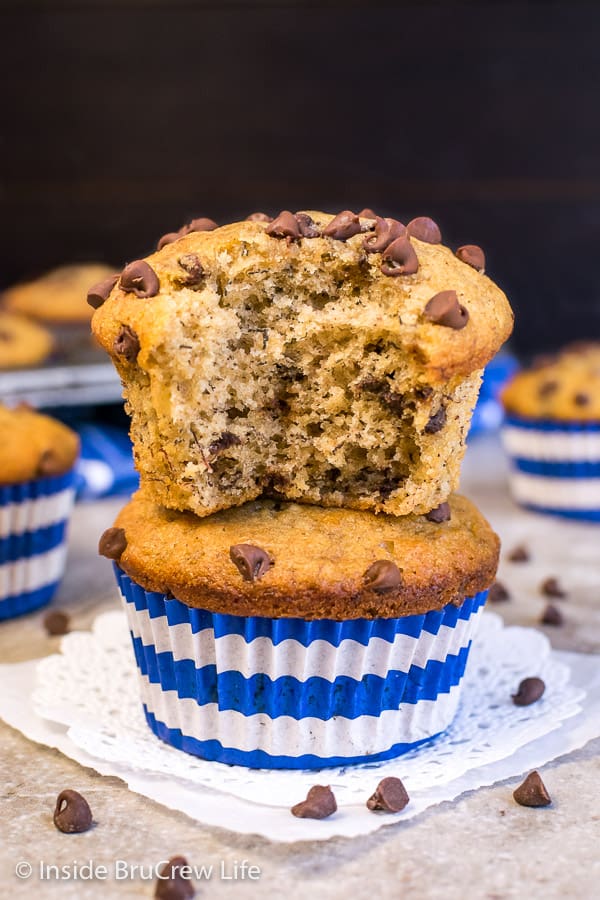 CLICK HERE TO PIN THIS RECIPE FOR LATER!
Last month we went Cruising with Norwegian Cruise Line, and I came back with a new breakfast obsession. On the breakfast buffet, they had cold muesli.
Now to be honest the first day that I got it, I thought it was just plain overnight oats. When I took my first bite I noticed the shredded apples and nuts along with the oats and realized it was a little bit different.
It was the first time I had experienced cold muesli, and I have to say I am a huge fan now. Of course, it could have been all the extras I loaded my bowl up with. Raisins, granola, and cinnamon were on the top of my first bowl.
The second day I loaded it up with sliced bananas, granola, and peanut butter. Any guesses which one I went with on the third day?
You got it. Banana and peanut butter. It's a timeless combo that I will always love.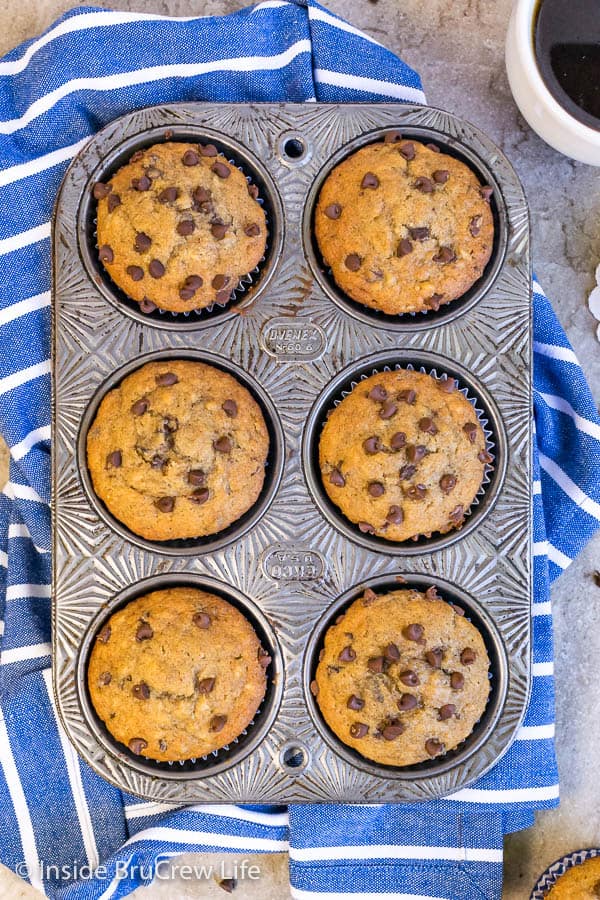 In fact, I love it so much that I loaded these soft and fluffy breakfast muffins with lots of ripe bananas and peanut butter too. And chocolate. Chocolate is almost always a must when I bake with bananas.
These Double Chocolate Banana Muffins used to hold the number one spot in our house. Our kids used to always ask for those chocolate muffins for breakfast. That is until I made these Peanut Butter Chocolate Chip Banana Muffins.
I actually made these banana muffins a few months ago, and our daughter still talks about them. She would be perfectly happy if I kept these muffins on the counter and this Peanut Butter Banana Ice Cream in the freezer all the time.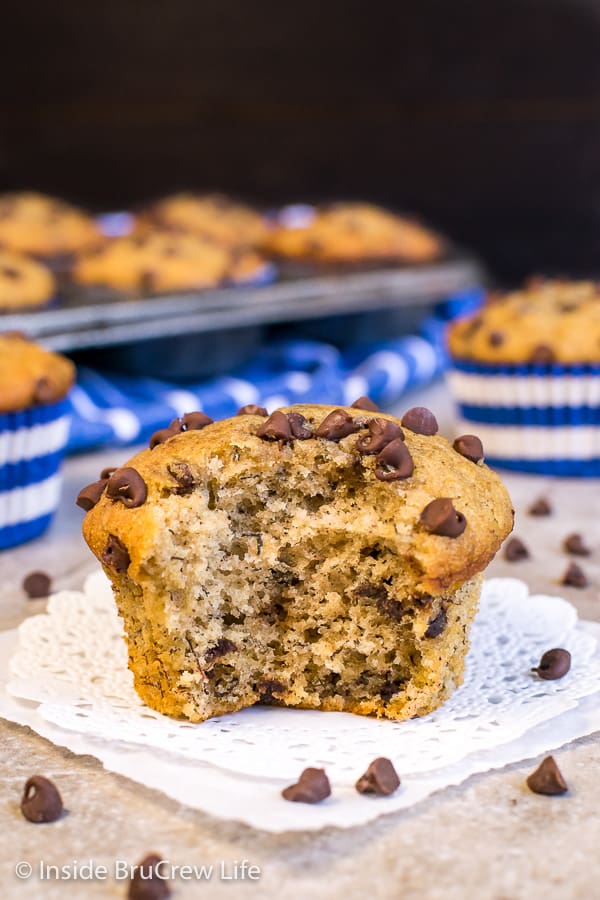 Tips for making Peanut Butter Chocolate Chip Banana Muffins:
Use very ripe bananas. Buy a bunch and set them aside until they are brown and spotty. Extra ripe bananas make the best baked goods.
Line your muffin pans with cupcake liners. You can grease the tins and bake them without liners, but I found they didn't rise as pretty when baked that way. The taste was exactly the same though. The liners give the batter something to hold on to as they are baking.
Do not over mix your batter. Of course, this is an important thing to remember with almost all things you bake. Over mixing ingredients can create a dry tough muffin. Light and fluffy muffins are what we are going for here, so do not over mix.
Spoon the batter evenly into the liners. You are going to fill the liners almost full. Do not worry. They will not over bake and create a mess in your oven. Trust me. I tested this recipe four different times, and they never overflowed.
Add a few extra chocolate chips to the tops of the muffins before baking them. It's not necessary, but I just love how it makes the peanut butter muffins prettier. And extra chocolate is never to be questioned.
Do not let the finished muffins stay in the muffin tin after the timer goes off. The banana muffins will continue to bake in a hot tin, so remove them after two or three minutes.
Go ahead and make a double batch of these peanut butter banana muffins and freeze one for later. Our son says they are amazing right out of the freezer, while our daughter likes to microwave them for 10 seconds for hot melty chips.
Both ways are perfectly acceptable and delicious.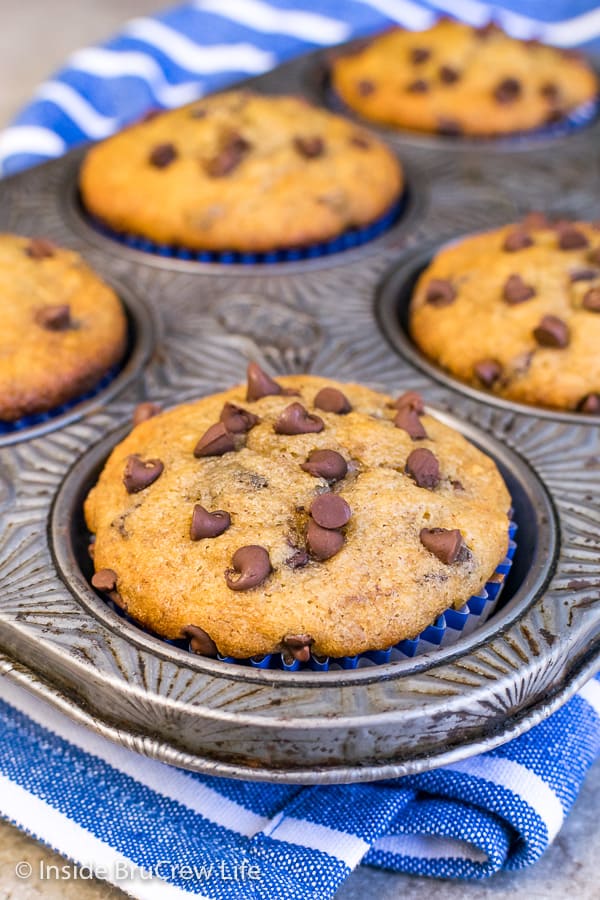 How to store Peanut Butter Chocolate Chip Banana Muffins:
Keep the muffins in a tightly sealed container on your counter. The muffins will stay fresh for 2-3 days.
These banana muffins are also freezer friendly. Freeze the muffins in a tightly sealed freezer bag. Eat straight from the freezer or microwave 10 seconds.
Other mix ins that are great in banana muffins:
Peanut Butter or Butterscotch Chips
Walnuts, Pecans, or Almonds
Toffee Bits
Coconut
Nutella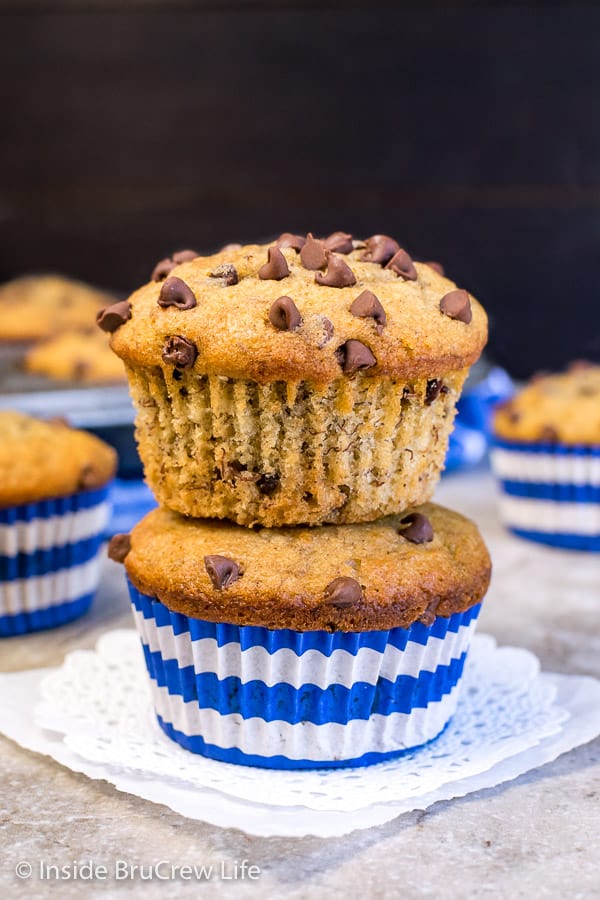 Other banana muffins you may like: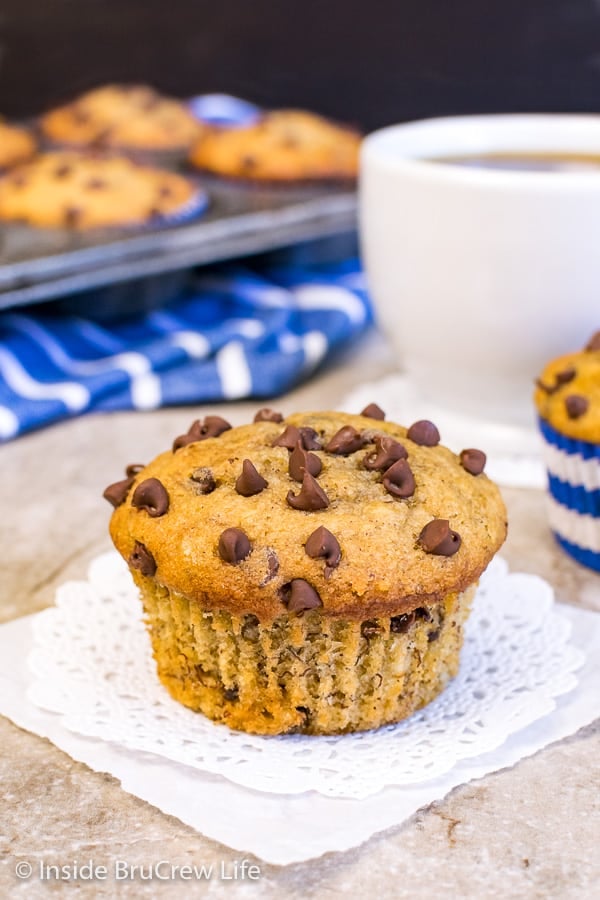 Connect with Inside BruCrew Life! Follow us on social media, so you never miss a post.
Email Subscription | Facebook | Pinterest | Twitter | Instagram | Bloglovin
I also created a fun new Facebook group, and I would love for you to join. It's a group where you can share your favorite recipes, ask questions, share photos, and see what's new with the BruCrew. If you would like to check it out, you can request to join HERE.
Peanut Butter Chocolate Chip Banana Muffins
Try these Peanut Butter Chocolate Chip Banana Muffins the next time you have ripe bananas. These soft banana muffins are perfect for breakfast or afternoon snacking.
Ingredients
1 cup granulated sugar
1/2 cup oil
1/2 cup peanut butter
2 large eggs
2 cups mashed banana, 4 medium
2 teaspoons vanilla extract
2 cups all purpose flour
1 teaspoon baking powder
1 teaspoon baking soda
1 teaspoon salt
1 teaspoon cinnamon
3/4 cup mini chocolate chips, plus 2 tablespoons, divided
Instructions
Preheat the oven to 350°F. Place 20 liners in 2 muffin tins.
Beat the sugar and oil until mixed together.
Add the peanut butter, eggs, banana, and vanilla and mix again.
Stir together the flour, baking powder, baking soda, salt, and cinnamon and slowly add to the banana mixture.
Gently stir in 3/4 cup mini chocolate chips. Spoon the mixture evenly into the liners. Sprinkle the remaining chocolate chips on top. Bake 18 minutes.
Remove the pan from the oven and let the muffins cool in the pan for 2 minutes before removing them and placing them on a wire rack. Let cool completely.
Store in a tightly sealed container. These muffins can also be frozen for later.
Nutrition Information:
Yield:

20
Serving Size:

1
Amount Per Serving:
Calories:

232
Total Fat:

11g
Saturated Fat:

2g
Trans Fat:

0g
Unsaturated Fat:

8g
Cholesterol:

19mg
Sodium:

232mg
Carbohydrates:

31g
Fiber:

2g
Sugar:

17g
Protein:

4g
Nutrition facts are an estimate and are not guaranteed to be accurate. If you need special diet advice, please see a registered dietician.