These Blackberry Brie Bites are an easy appetizer to share at parties. Melted cheese, blackberry jelly, and fresh blackberries make these little crescent cups an amazing snack. I suggest making them ASAP!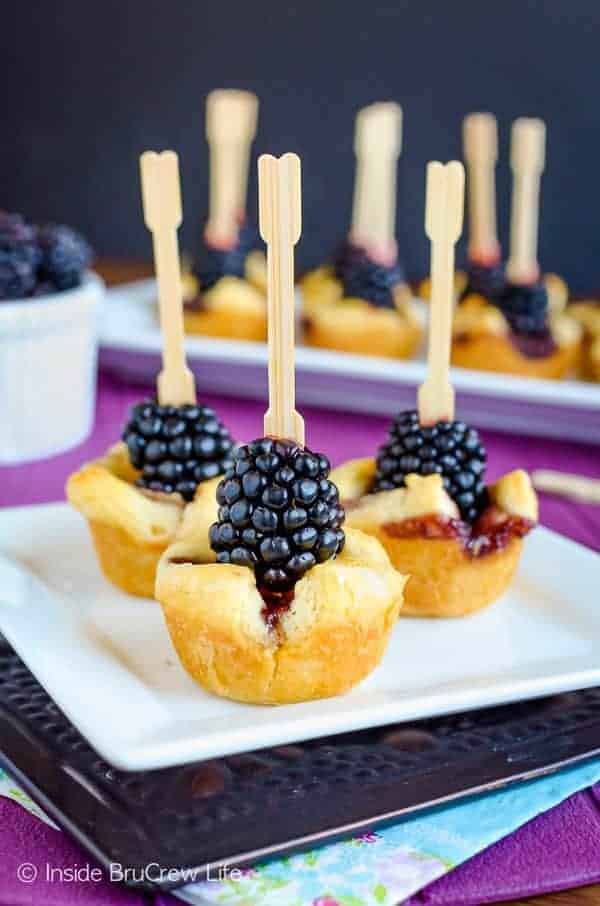 ZOOM! Did you hear that? That was the year passing you by. Is anyone else in awe that this year is coming to an end in only a few more days? It has been a great year for our family.
We are still enjoying living life in sunny Florida. This fall our kids started at a new private school and have done very well connecting with new friends. It makes a mama's heart happy when the kiddos are happy too.
Making and photographing recipes is still something that I enjoy very much. Thank you to all my amazing readers who take the time to read our stories and to make our recipes. Your comments and emails definitely keep me going strong!!!
That and the stack of recipe notes I have piled up on my desk. I hope you are ready for more delicious desserts and more healthy lean and green dinners in the new year. I know I'm ready for it!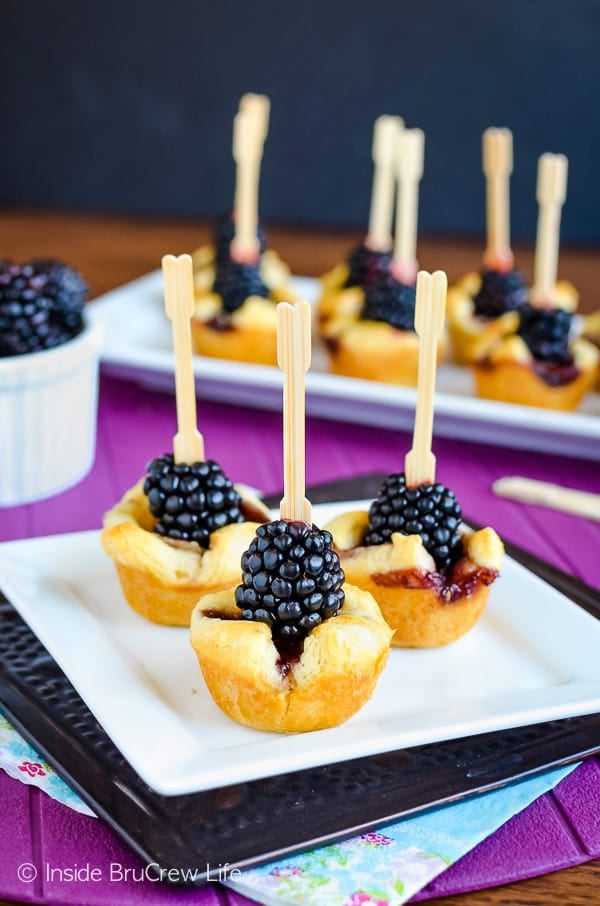 A few years ago, I tried Brie cheese for the first time. Normally, I prefer my cheese in things like Cheesy Chicken Pasta or Three Cheese Macaroni and Cheese.
But I had seen so many people talking about how amazing Brie was, so I had to get some and see what all the hype was about. I tried it with some crackers, and was an instant fan too.
But then I bought another small round of it, and it sat in my fridge. I knew that I wanted to experience some sort of melted goodness with it, but I wasn't sure what. So it sat there for a few weeks until I could think of some easy last minute appetizer ideas using the cheese.
Crazy, I know! Perfectly delicious cheese just sitting there all alone and forgotten!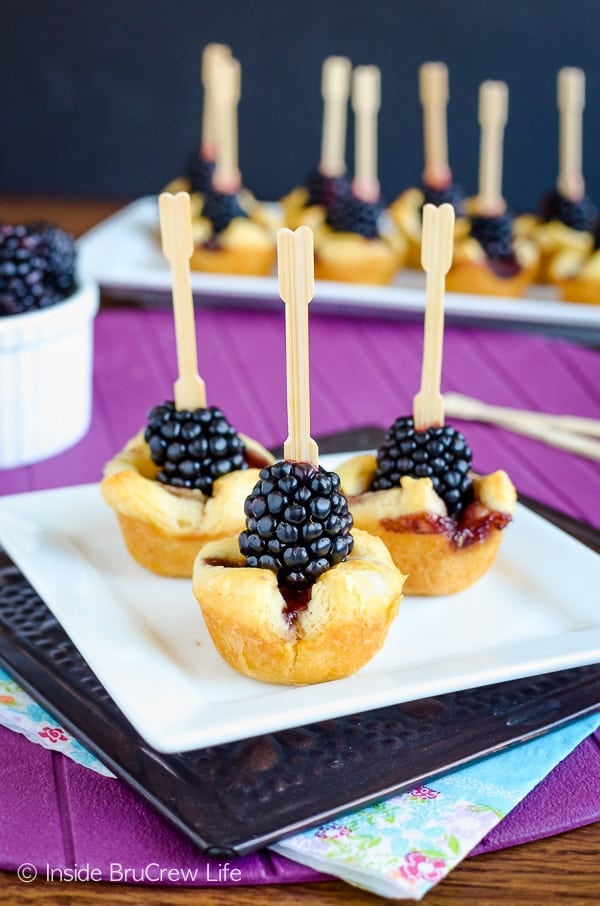 The other day I opened my fridge and started rearranging and tossing the food that was in there. You know the drill, right. Buy healthy delicious veggies in hopes that you will eat them, only to put them in the bottom drawers to be promptly forgotten about.
Let's just say that bags of broccoli cannot be forgotten about. Eeeiikk! It is not a smell I recommend.
I should probably start putting the vegetables in plain sight, so that I remember they are there. Maybe if I can see them, I will make this Italian Veggie Salad and these Roasted Veggies more often.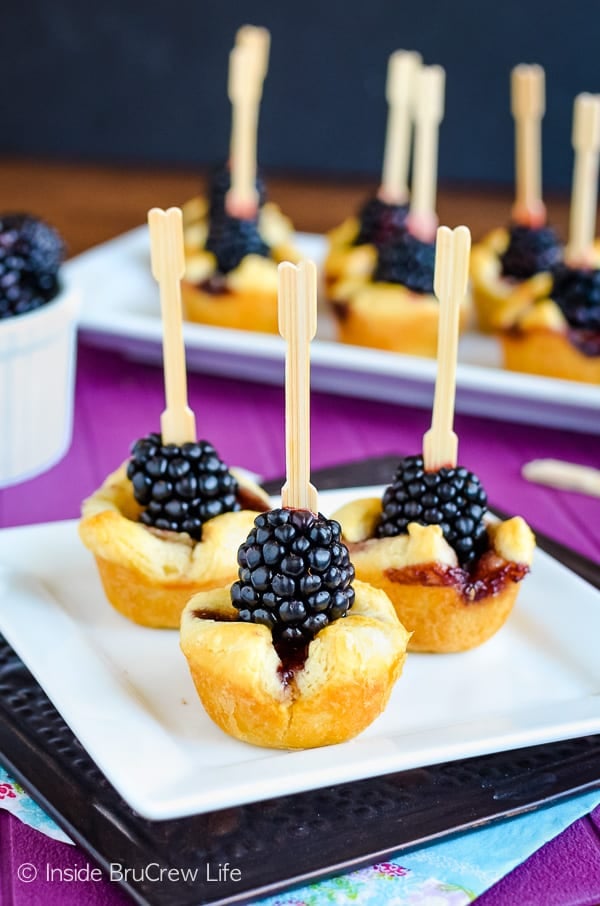 Anyway, as I was cleaning, I came across a jar of blackberry spreadable fruit that had not been opened yet. Then the crescent rolls and Brie cheese round started yelling at me. You have experienced food talking to you, right? No? Ok then, moving on.
Let's just say a run to the grocery store for fresh blackberries was in my very near future because I could not get the idea for these little appetizer bites out of my head.
These crescent cups with melted Brie cheese and sweet fruit spread paired with a fresh chilled blackberry are absolutely amazing. I now understand all the posts and Instagram pictures.
It's official. I love Brie cheese!!!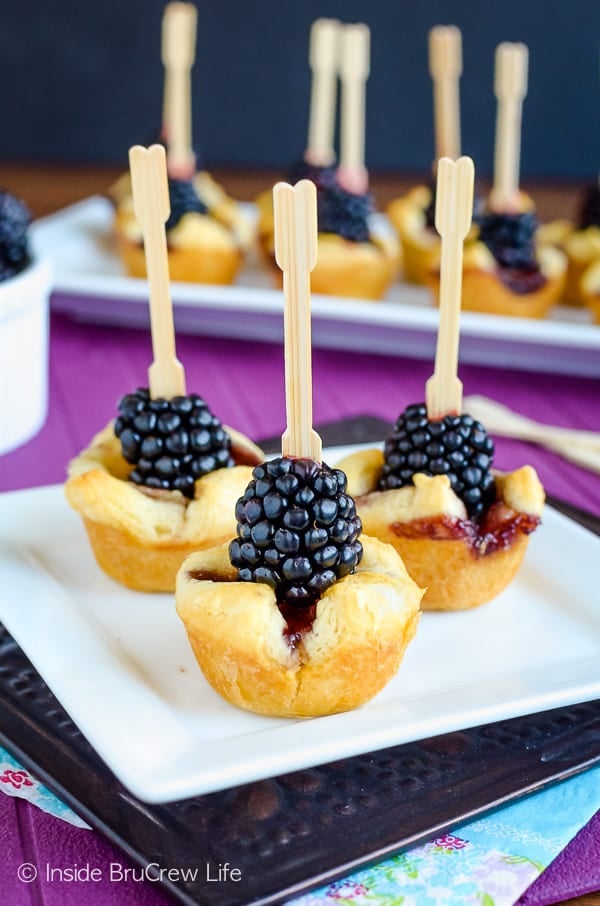 Tips for making Blackberry Brie Bites
Preheat the oven and spray your mini muffin tins with nonstick spray. This will keep your appetizer cups from sticking to the pan.
Unroll the crescent rolls and separate them into four rectangles. Press the seams together and cut each one into six even squares for a total of 24 pieces of dough. Press the squares into the prepared tins.
Cut the rind off the Brie cheese and cut it into 24 squares. Place each square in the crescent lined tins. Spoon a little bit of jelly on top of the cheese cubes.
Fold the corners of the squares over the top of the jelly and bake for 12-15 minutes. Remove from the oven and gently remove from the pan. Press a fresh blackberry on the top and serve immediately. Toothpicks are optional.
Other easy appetizer recipes
Tropical Meatball Crescent Cups - barbecue meatballs and pineapple chunks makes a delicious sweet and savory appetizer that tastes delicious
Stuffed Crust Pepperoni Pizza Bites - mini pizza bites stuffed with string cheese and topped with pepperoni
Sweet and Spicy Chicken Salad Crescent Bites - homemade chicken salad and melted cheese inside a little crescent cup makes a delicious little appetizer
Turkey Club Pinwheels - layers of turkey and cheese wrapped in a tortilla and topped with a cherry tomato
Buffalo Chicken Calzones - biscuits filled with your favorite buffalo chicken dip are a delicious idea for snacks or dinner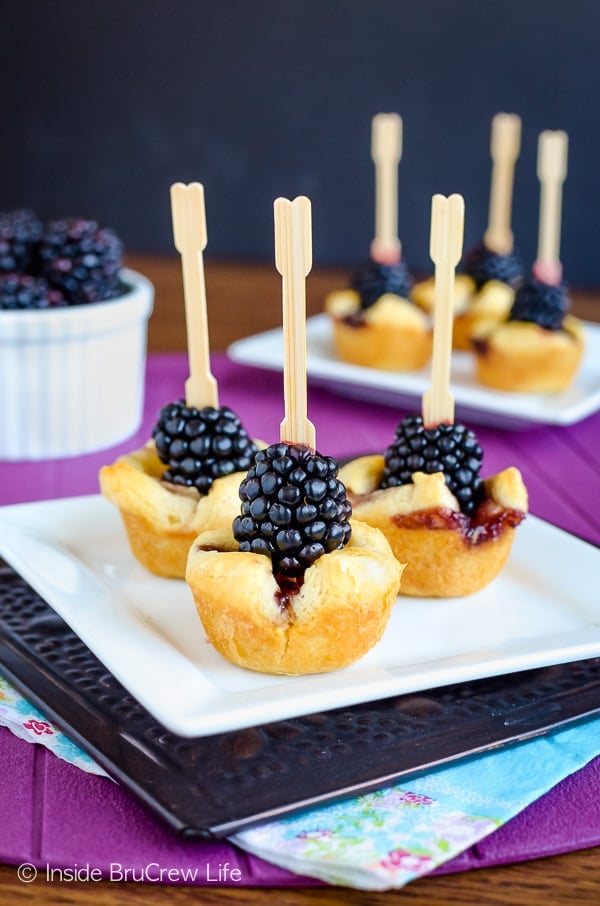 CLICK HERE TO PIN THIS RECIPE FOR LATER!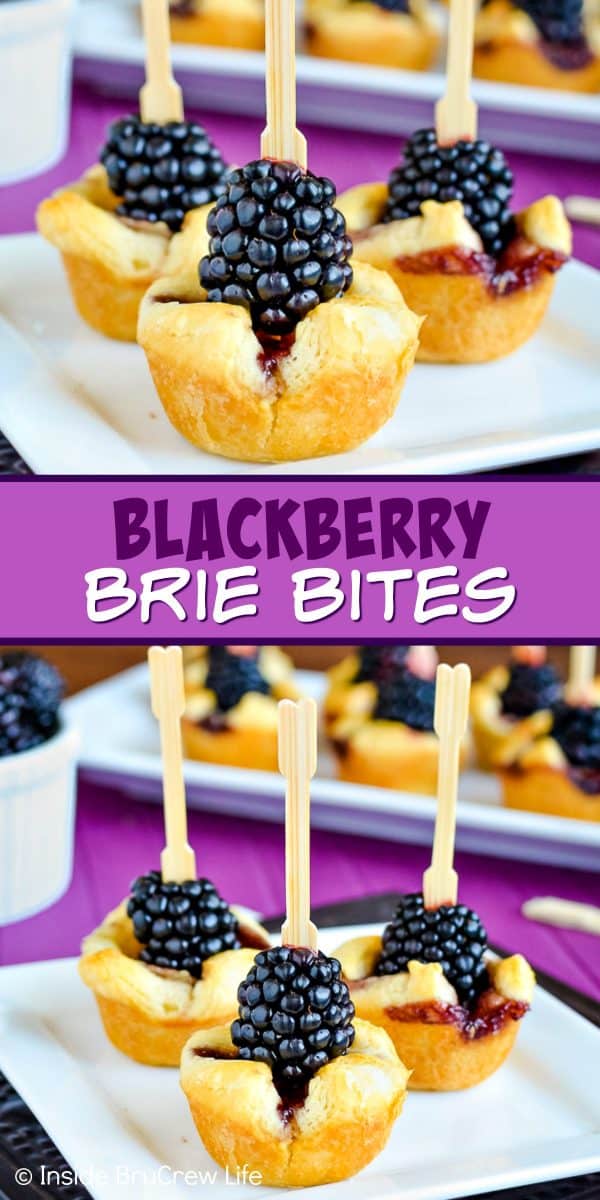 *The post for Blackberry Brie Bites was originally published on December 29, 2013. The photos and post have been updated and republished on December 29, 2018.