With just 15 minutes of prep time, you can make a delicious Blackberry Pie Filling that is bursting with flavor. Use this homemade pie filling recipe as a topping for cheesecake or bake it into a pie or cobbler.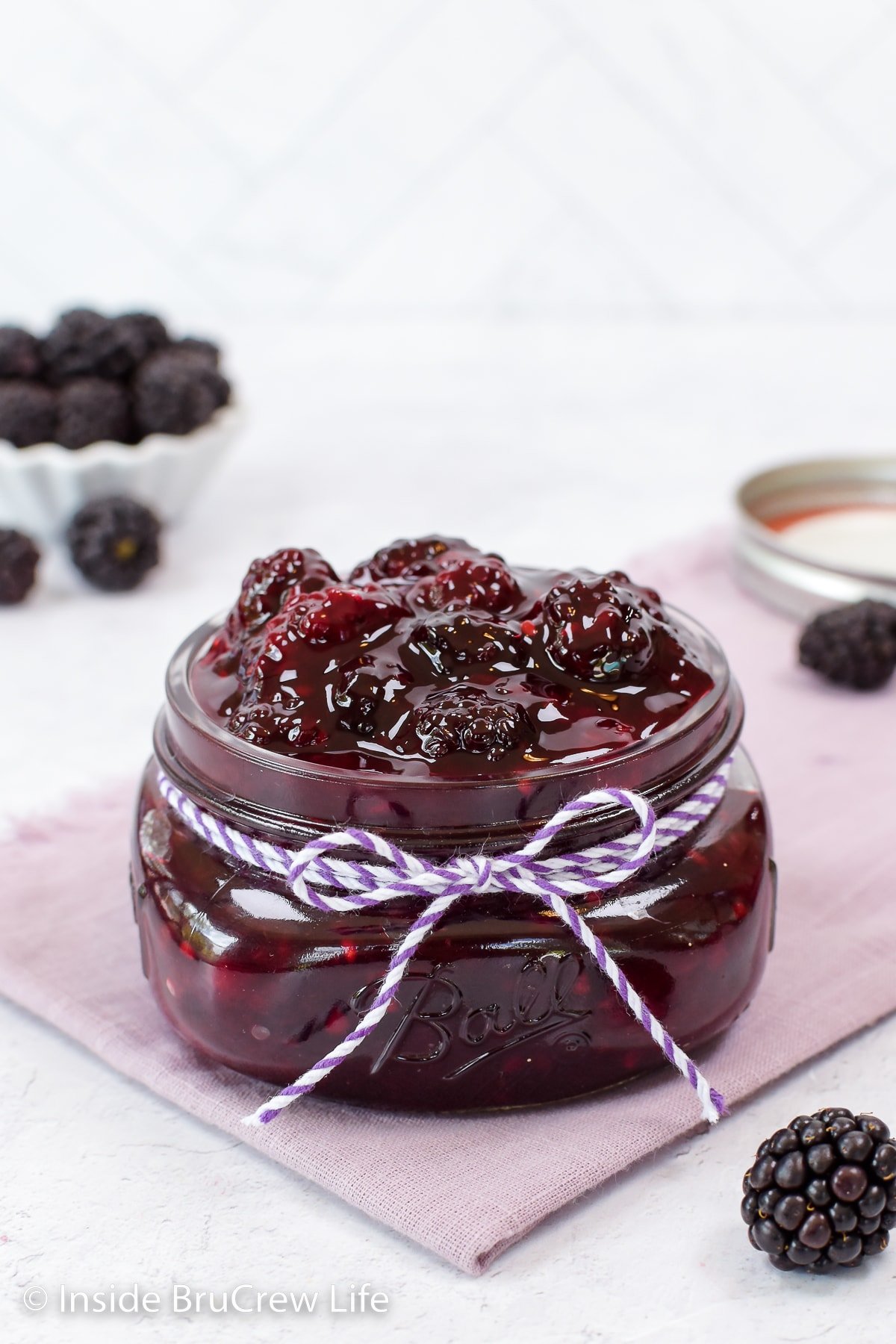 Jump to:
I have fond memories of walking down our dirt road as a kid looking for bushes loaded with ripe blackberries.
We always tried to find enough berries to make a blackberry filling for muffins. But most of the time we ended up eating those warm ripe berries before we got home.
Did you know that blackberry pie filling is hard to find in grocery stores? There are a few brands that make one, but apparently not many stores carry it.
Why This Recipe Works
Making your own homemade pie filling is so easy to do, and it tastes so much better than the one from a can. You can make a batch in minutes on the stove top.
There are so many benefits to making blackberry pie filling in your own kitchen. You control how much sugar you want to add. Plus, there are no added preservatives or artificial flavors and colors.
The best thing about this blackberry pie filling recipe is how versatile it is. You can swirl it in blackberry cheesecake, make a blackberry dump cake with it, or layer it in jars with yogurt for an easy summer dessert.
Key Ingredients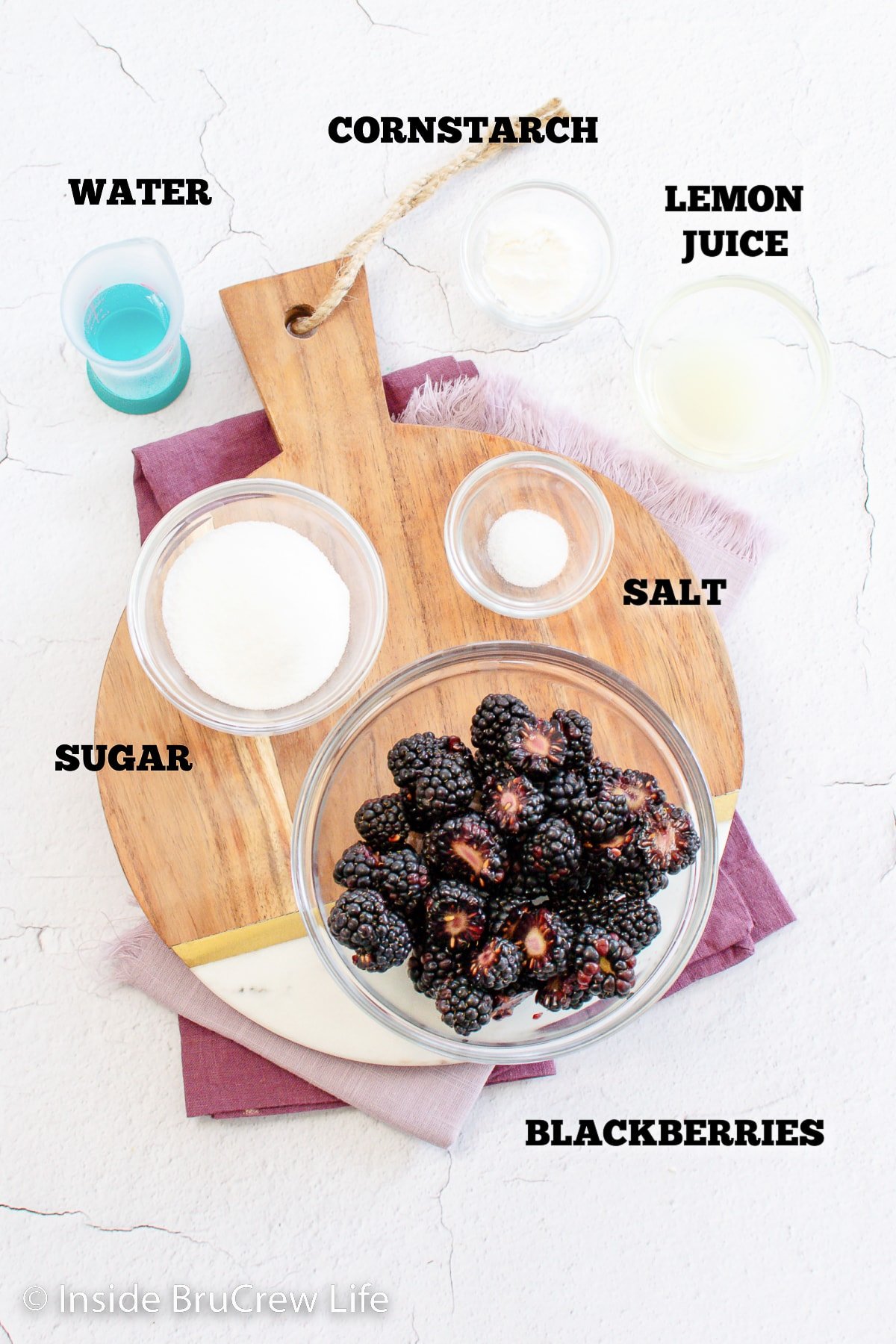 This blackberry pie filling recipe is easy to follow and calls for simple ingredients that you may already have in your kitchen. And fresh berries, of course.
Granulated Sugar - Sweetens the pie filling. Feel free to use brown sugar or your favorite sweetener.
Salt - Helps to balance out the sweet and tart flavors in the filling.
Blackberries - For this recipe you will need two 6 ounce boxes of fresh or 12 ounces frozen fruit.
Cornstarch - Used to thicken the fruit juices into a thick blackberry pie filling.
Lemon Juice - Helps to brighten the flavor of the fruit.
BRUCREW TIP: You can also add a little bit of vanilla extract after the blackberry filling is removed from the stove to enhance the flavor, if you like.
How to Make Blackberry Pie Filling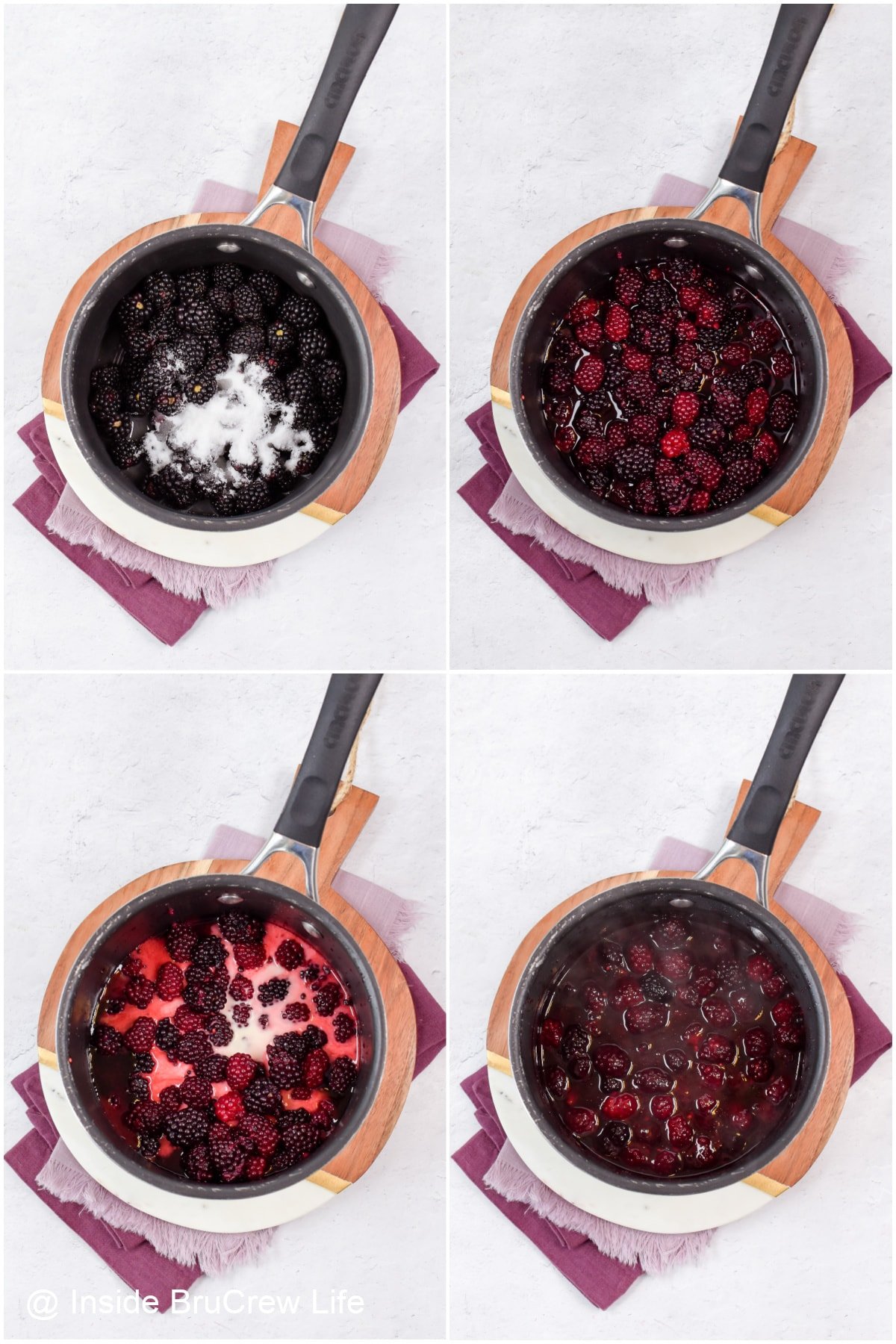 This homemade blackberry pie filling is easy to make and tastes delicious. In less than 15 minutes, you can have a batch cooling on your kitchen counter.
Cook the blackberries. Add the water, sugar, salt, and fresh blackberries to a large pan. Cook on low-medium heat until the berries begin to pop and release their juices. It will generally take about 7 minutes for this to happen. Make sure to stir often.
Add the lemon cornstarch mixture. Whisk together the lemon juice and cornstarch to make a slurry. Slowly stir it into the berry mixture.
Let it thicken. Continue cooking and stirring for another 3-4 minutes or until the filling thickens.
Cool and refrigerate. Remove the pan from the stove and spoon into a container. Let it cool slightly, then place a piece of plastic wrap directly on top to keep a skin from forming as it cools more. Refrigerate until ready to use.
Storage Recommendations
Store the blackberry filling in a covered container in the fridge for up to 1 week. The filling can be used in any recipe that calls for blackberry pie filling.
The pie filling can be frozen in a freezer safe container for 2-3 months. Thaw overnight in the refrigerator. If it is slightly watery, drain the excess liquid off before using.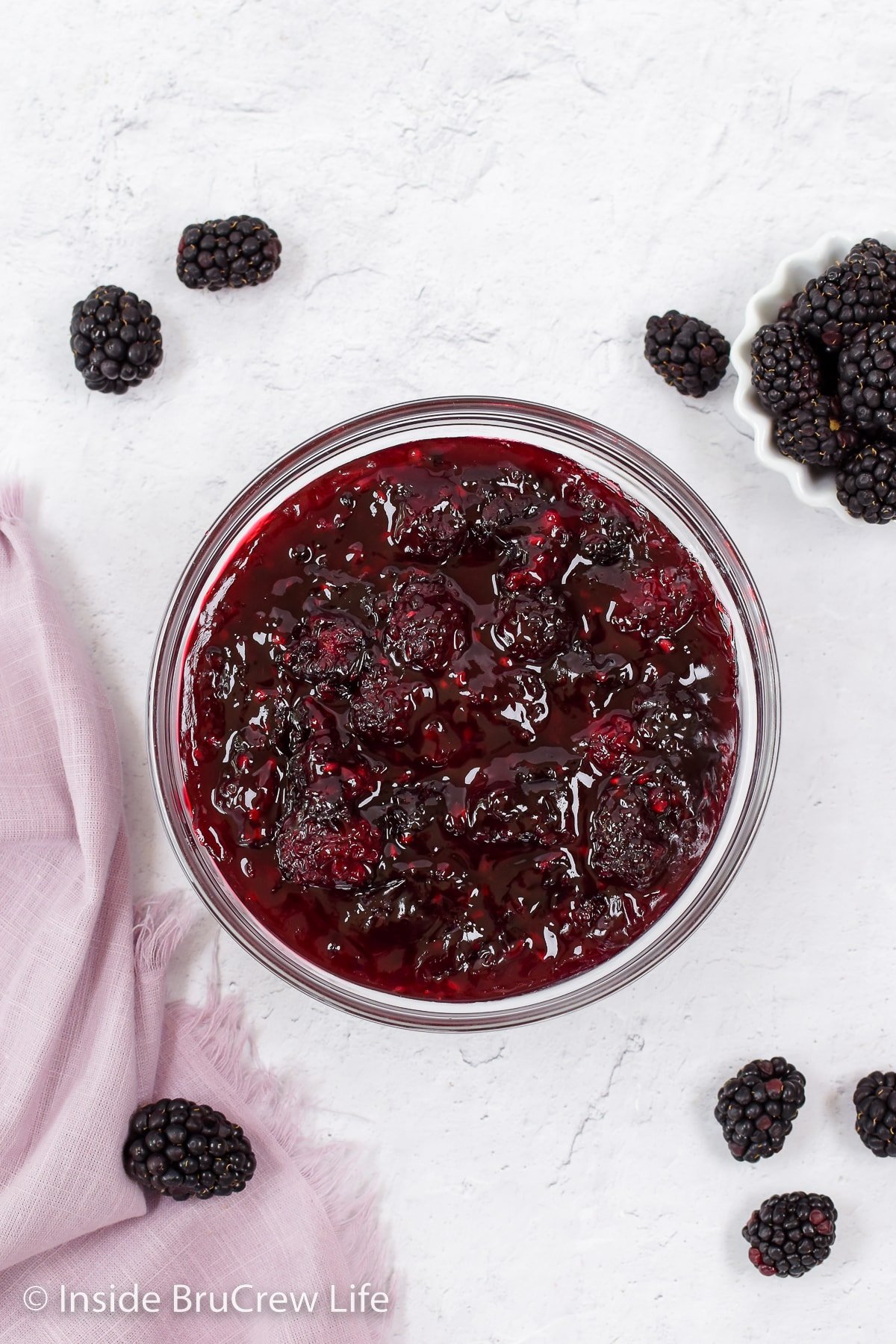 How to Use
The sweet and juicy homemade pie filling is a delicious way to use up summer berries. It has a sweet and tart flavor that everyone loves. There are so many great ways to enjoy it.
Bake a blackberry pie. Pour the cooled filling in a bottom pie crust, cover with a lattice crust, and bake for 45-50 minutes.
Add a spoonful of filling to the center of these mini puff pancakes or on top of waffles or pancakes.
Swirls of blackberry pie filling make this easy blackberry cheesecake pie so pretty and delicious.
A pan of these blackberry crumble bars and vanilla ice cream is the perfect summer dessert.
Layers of pie filling, granola, and Greek yogurt makes the prettiest parfaits.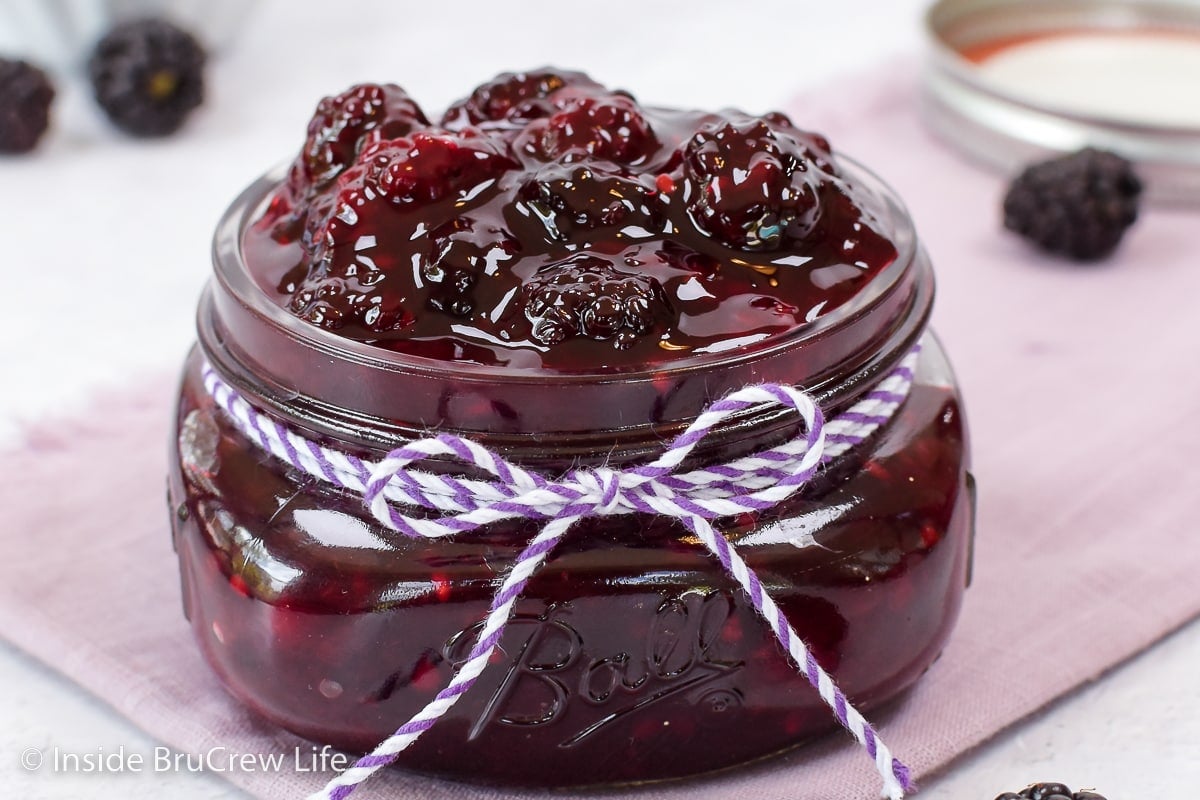 Tips and Tricks
Remove any stems or leaves from the berries before using. Gently rinse and pat dry, if needed.
Adjust the amount of sugar in the recipe if your berries taste extra sweet. You want the flavor and natural sweetness from the blackberries to be the star.
Add a teaspoon of vanilla extract or almond extract to the finished pie filling to give it a different flavor profile.
Lemon zest can also be added to the pie filling to give it a stronger lemon flavor.
The pie filling will only be slightly thick when you remove it from the stove top. It will thicken more after it cools.
Use clear-jel instead of cornstarch, if you are going to can the filling.
Recipe FAQs
How do you thicken berry pie filling?
Cornstarch is one of the most common ways to thicken a pie filling. You can also use clear-jel, flour, or tapioca. Do NOT use cornstarch if you are going to can homemade pie filling.
Can you use frozen blackberries?
If fresh berries are unavailable, you can use bags of frozen berries. Make sure to thaw the blackberries completely, then drain all the excess liquid very well before making the filling.

You may need to add a little more cornstarch to thicken the pie filling when using thawed frozen berries.
What if I don't like seeds in my pie filling?
Mash the blackberries after they pop and release their juices. Press spoonfuls of the cooked berries through a fine mesh sieve.

Use the back of the spoon to press the mixture firmly against the sieve. Remove the excess pulp and berries and repeat until all the fruit has been pressed through.

Place the juice mixture back in the pan and add the cornstarch slurry. Cook until thickened. FYI: Removing the seeds and fruit pulp will result in LESS filling.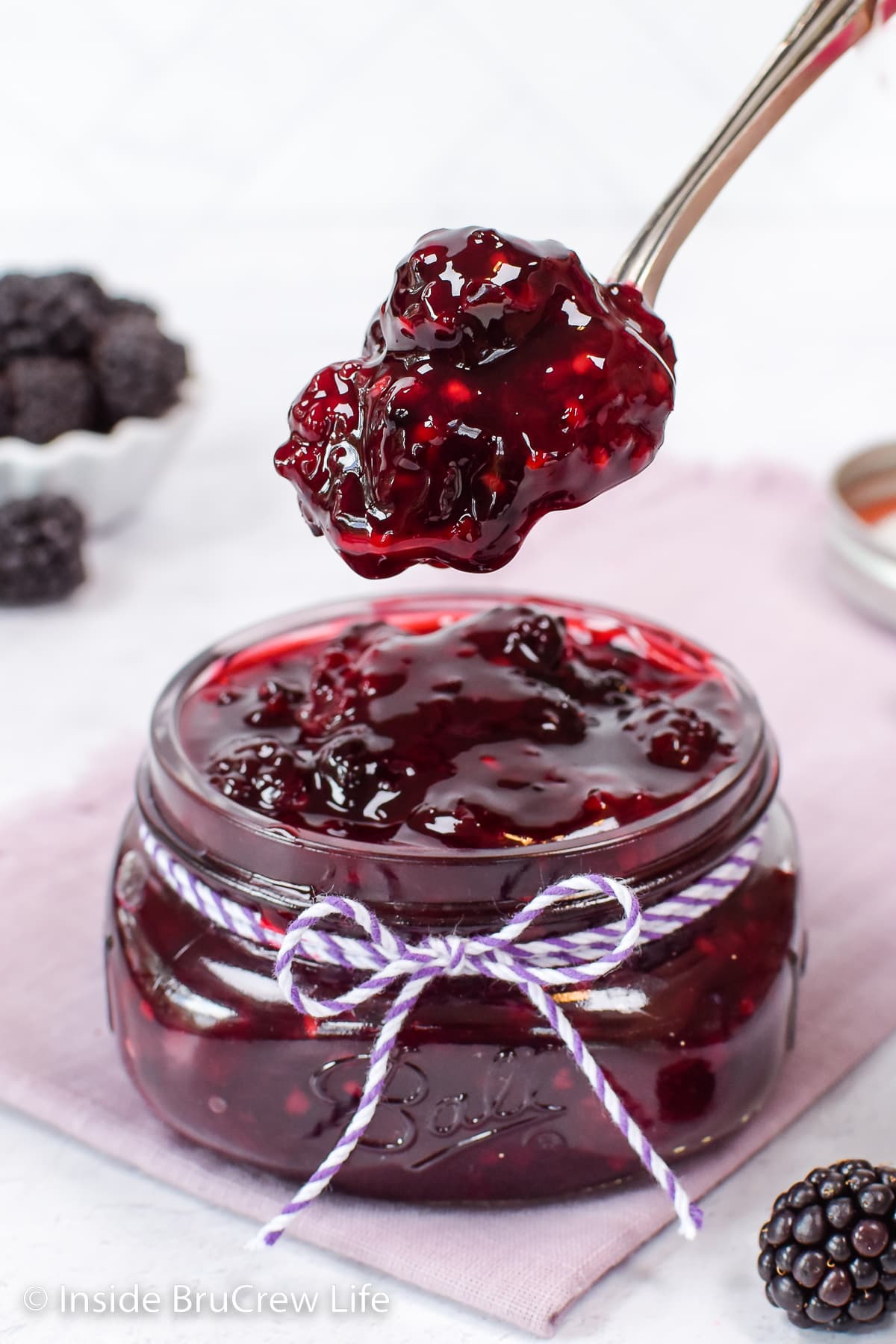 More Homemade Pie Filling
Do you love a recipe you tried from Inside BruCrew Life?
Please leave a 5-star ⭐️ rating and a review in the comments section below.