This Homemade Blueberry Pie Filling is easy to make in minutes with just a few ingredients. It is the perfect filling for pies, crisps, pastries, or even as an ice cream topping.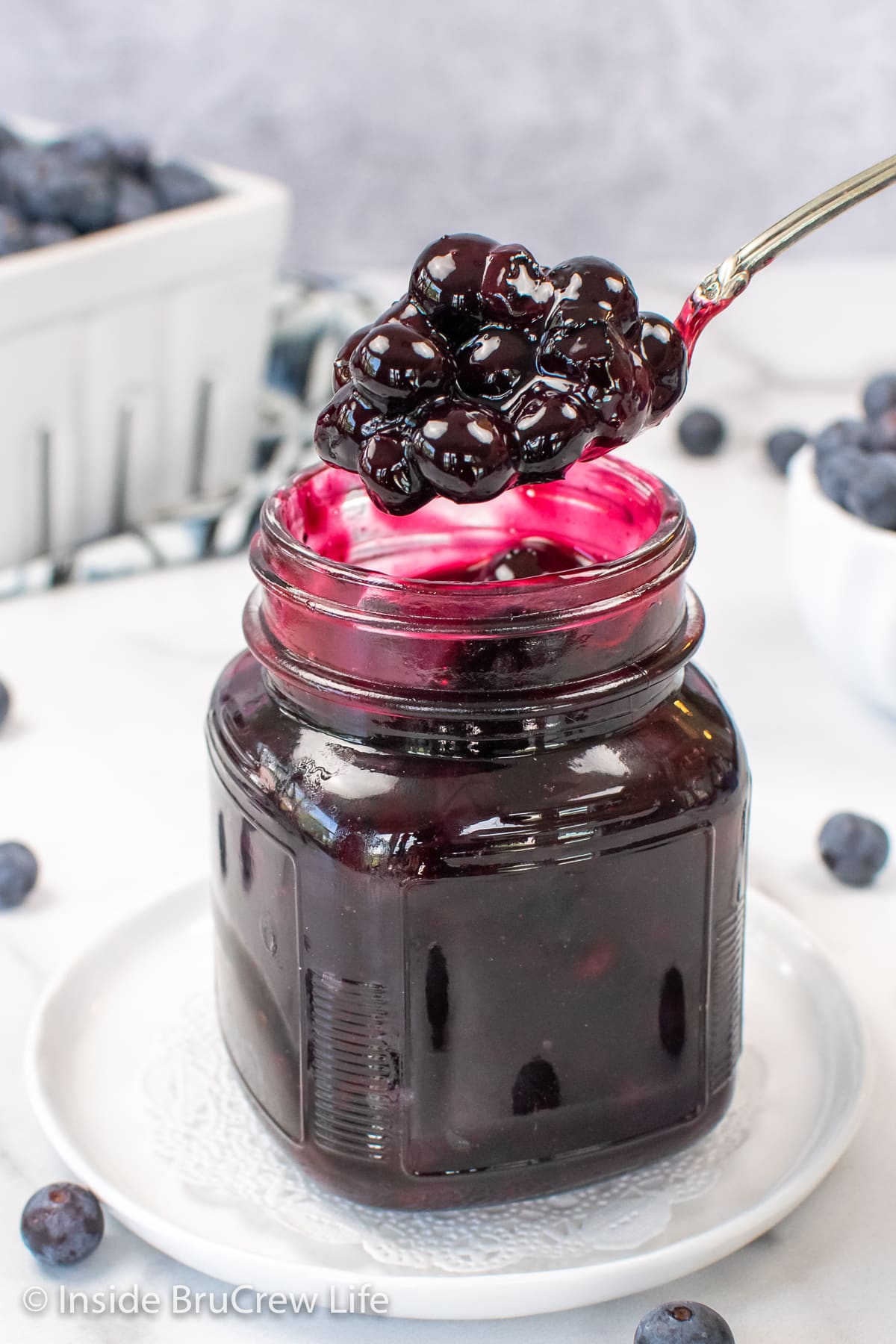 The days of buying canned pie filling are over. If your favorite recipe calls for canned goods, do not be afraid to substitute them with this homemade fruit filling.
Today I am sharing one of my favorite pie filling recipes with you. It is loaded with fresh blueberries and has the best texture and flavor. We love making this easy blueberry pie and blueberry cream cheese danish with it.
This blueberry pie filling is sweet and thick and loaded with berries. You are going to love how simple it is to make. Plus, it freezes well, so it is a great way to use blueberries when they are in season.
Why Make This
Making your own pie filling recipe is easier than you think, and it tastes so much better than anything you can buy in the store. It comes together on the stovetop in just minutes.
Simply stir everything together in a large pot and cook until thickened. It literally only takes about 10 minutes to make.
Homemade pie filling has so many benefits. You can control how many berries are in it and how sweet you want it to be.
The best thing about this recipe is how versatile it is. You can use it in pies and crumbles, or you can top pancakes, yogurt, or ice cream with it. Any way you use it will be delicious.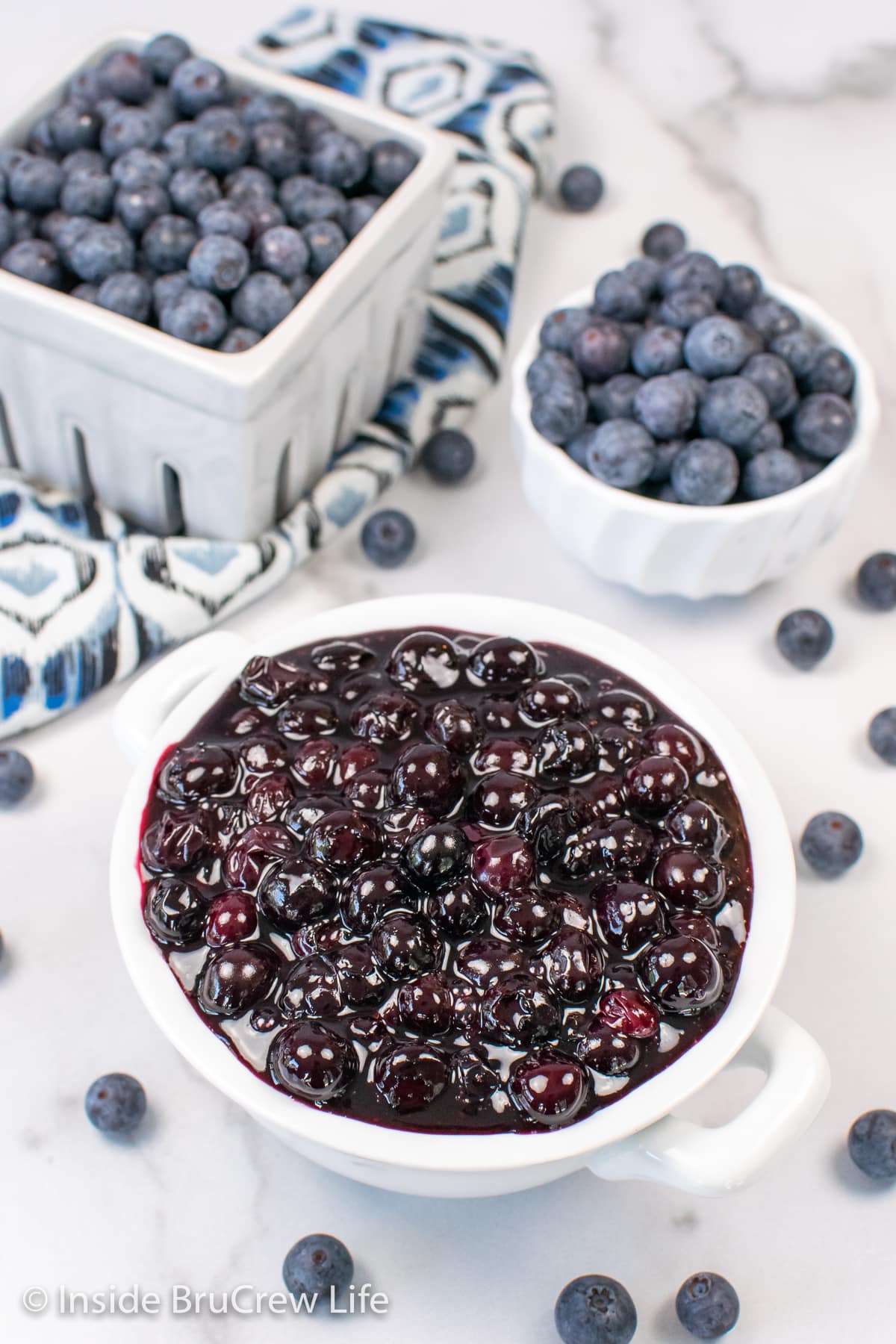 Key Ingredients
Make a batch of this blueberry filling on your stovetop with just a few simple pantry ingredients.
Granulated Sugar - You only need ⅓ cup for each batch.
Cornstarch - Helps the filling to thicken nicely.
Lemon Juice - Fresh or bottled juice is fine. It brightens the flavor of the cooked fruit.
Blueberries - 3 cups of fresh berries or an 18 ounce box is what you will need. You can also use frozen blueberries, but make sure they are thawed and drained very well.
Vanilla Extract & Cinnamon - Adds a good flavor. Make sure you use a good quality for best results.
How to Make
Homemade blueberry pie filling is easy to make in minutes. There is no special equipment or fancy skills needed. Just stir, cook, and cool. It's as simple as that.
Mix together the ingredients. Stir together the sugar, cornstarch, cinnamon, and salt in a large saucepan. Whisk in the water and lemon juice.
Cook the filling. Add the blueberries and stir until coated. Heat over medium heat for about 5 minutes or until it thickens. Reduce the heat and simmer an additional 5 minutes, stirring often. Remove from the heat and stir in the vanilla. The filling should be thick and glossy.
Cool and refrigerate. Place a piece of plastic wrap directly on top of the filling and let it cool on the counter. Then spoon into a jar or container and refrigerate until needed.
Ways to Use
Let the pie filling cool, then dig in with a spoon. There is no wrong or right way to enjoy this blueberry filling. Of course, it is perfect for blueberry pie, but we love using it so many other ways too.
Layer it in jars with Greek yogurt and honey nut granola for a delicious breakfast parfait.
Use it as a topping for vanilla bean cheesecake.
Swirl it into vanilla ice cream with crumbled graham cracker pieces.
Spoon it over slices of vanilla bean pound cake.
Fill circles of pie crust with a spoonful of pie filling and make hand pies.
Storage
Store the blueberry pie filling in an air tight container or jar in the refrigerator. It will keep for up to one week, although we have never had it last that long.
This pie filling can be frozen. Spoon it into freezer safe bags or containers. Freeze for 2-3 months. Thaw overnight in the fridge before using it.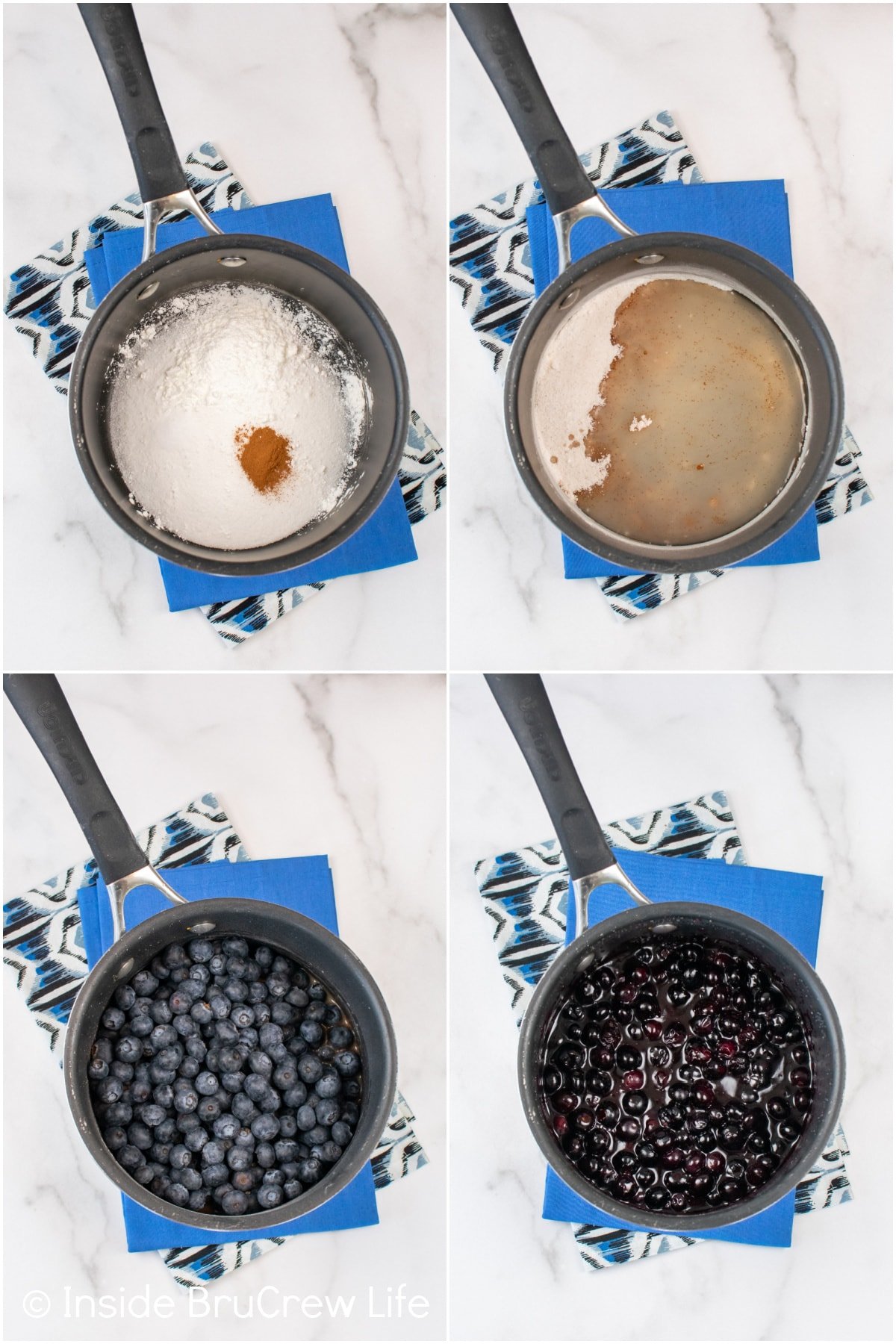 Tips and Tricks
Make sure to remove all the stems from the blueberries before stirring them into the mixture.
Feel free to use regular blueberries or wild blueberries. The wild ones are much smaller and have a sweet flavor.
Orange juice, cherry juice, or blueberry juice can be used in place of the water to add more flavor, if you like.
The filling will thicken more as it cools.
Prevent a skin from forming on the filling as it cools by placing plastic wrap right on top of the filling while it is hot.
Make sure the filling is completely cool or chilled before using it in a blueberry pie.
Add ½ cup fresh blueberries to the cooked filling to enhance the berry taste.
FAQ'S
How do you thicken blueberry pie filling?
Cornstarch is used in this recipe to thicken the fruit juices. You could also use 2 teaspoons arrow root for every tablespoon of cornstarch.
Can you use frozen blueberries?
Yes, frozen blueberries can be used. Make sure to thaw and drain them very well before making the filling.
Why is my filling runny?
Make sure you cook the pie filling long enough for the cornstarch to activate and thicken the juices. Once it thickens, simmer for 5 more minutes. The filling will also thicken more as it cools.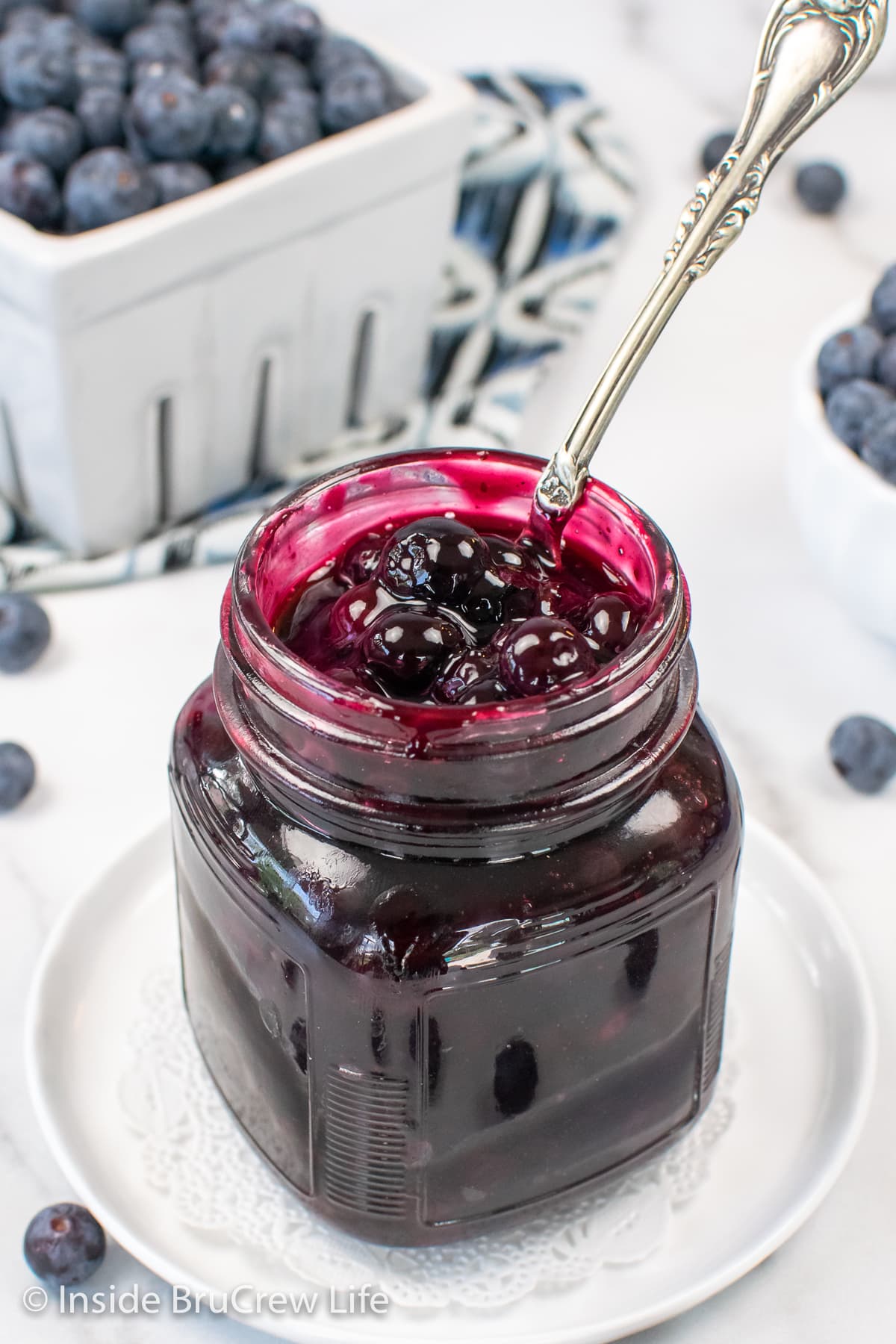 Other Pie Filling Recipes
Do you love a recipe you tried from Inside BruCrew Life?
Please leave a 5-star ⭐️ rating and a review in the comments section below.