The Best Vanilla Bean Pound Cake recipe has a dense texture, buttery flavor, and lots of vanilla bean flecks. Enjoy a slice with fresh berries and homemade whipped cream for the best summer dessert ever.
Another delicious way to enjoy this pound cake is to top it with a big spoonful of this Honey Blueberry Sauce.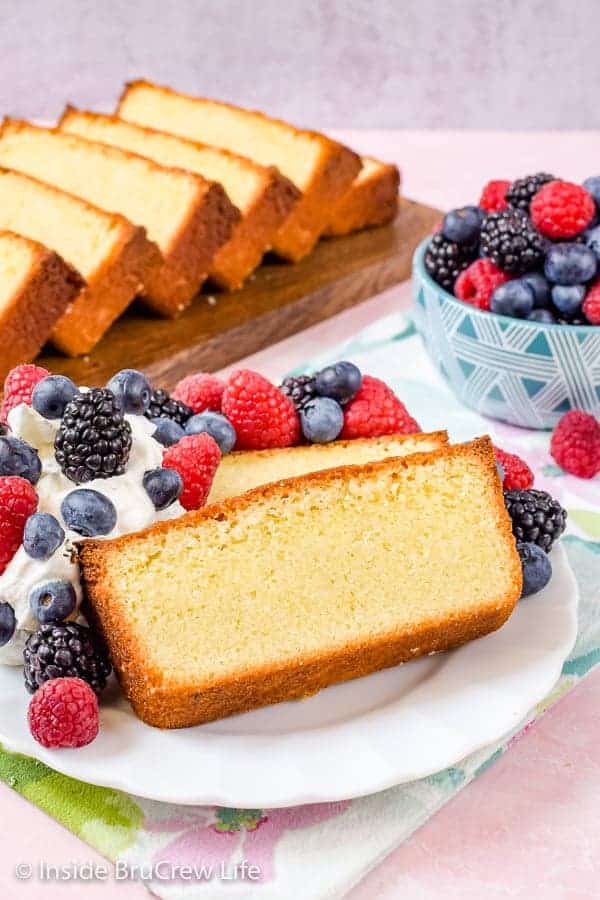 CLICK HERE TO PIN THIS RECIPE FOR LATER!
A few months ago I was looking in one of our least used cupboards when I came across two recipe boxes. These boxes are stuffed with old recipes I had written down from magazines when I was in junior high and high school.
I actually had forgotten all about them being in there, so it was kind of fun to pull them out and look through them. The only thing about these recipes is that I didn't write down the name of the magazines where I found them, so I have no idea where they came from.
But that's not going to stop me from going through the box and finding some fun new recipes to make and share.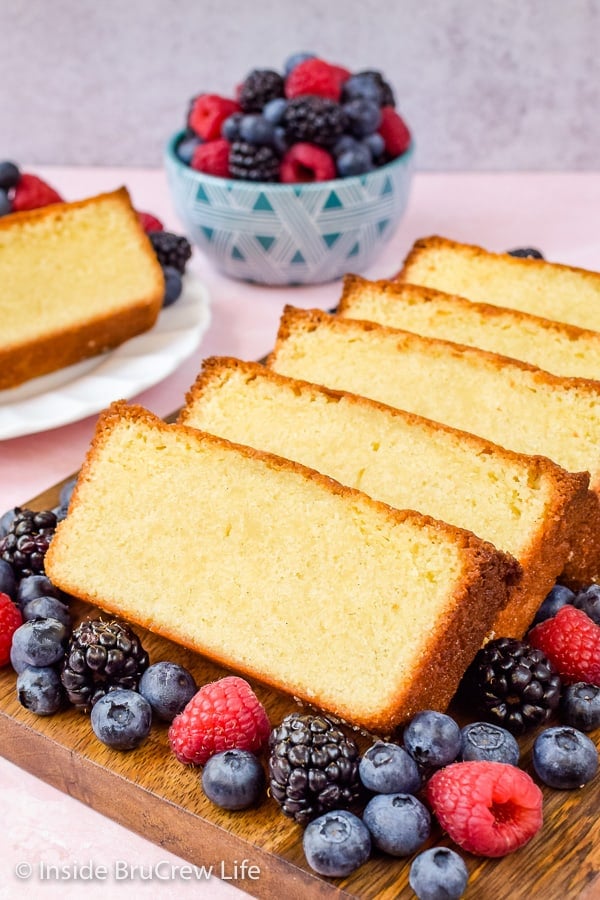 The first recipe that caught my eye was an easy recipe for pound cake from scratch. Since I have never actually made pound cake before, I decided this was happening right away.
The recipe was really easy to follow, baked up great, looked great, tasted great, but it was slightly under done and gummy in places.
So, I decided to play around with the baking temperature and baking time.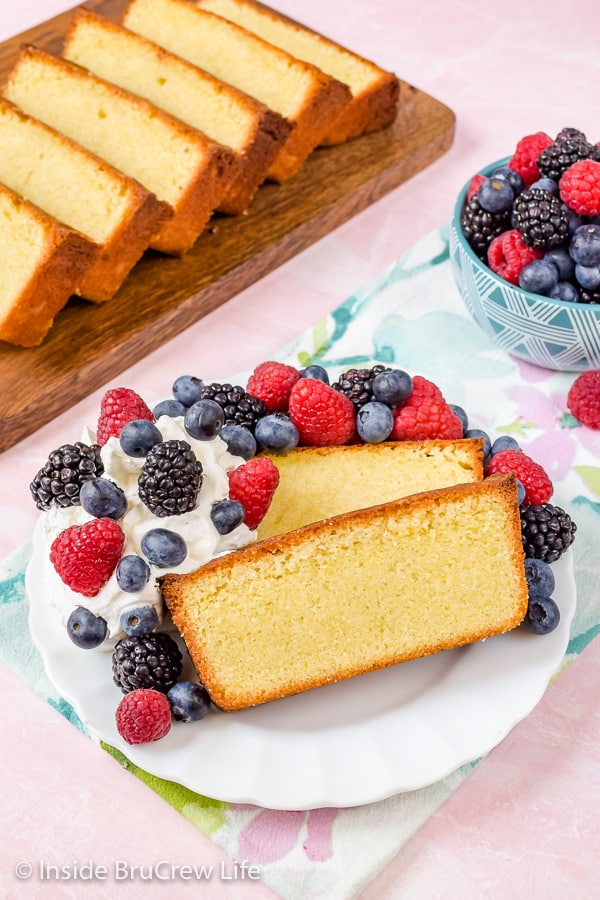 Five pound cakes later, I found the perfect heat and time for this pound cake loaf. Yes, I said 5…FIVE…5 stinking, delicious cakes later we had the winning combo.
Not that I'm complaining. This easy homemade pound cake is absolutely amazing…even when under baked.
What is a pound cake?
The name pound cake comes from the original recipe where they used a pound each of butter, sugar, eggs, and flour. You can imagine the size and density of this cake, so over time the recipe has been modified to make a smaller, lighter cake.
The ingredients for a pound cake have also been changed slightly to give the cake a different texture. Different people and countries use other extracts and favorings to give the cake unique and delicious flavors. You can also add dried fruits to it.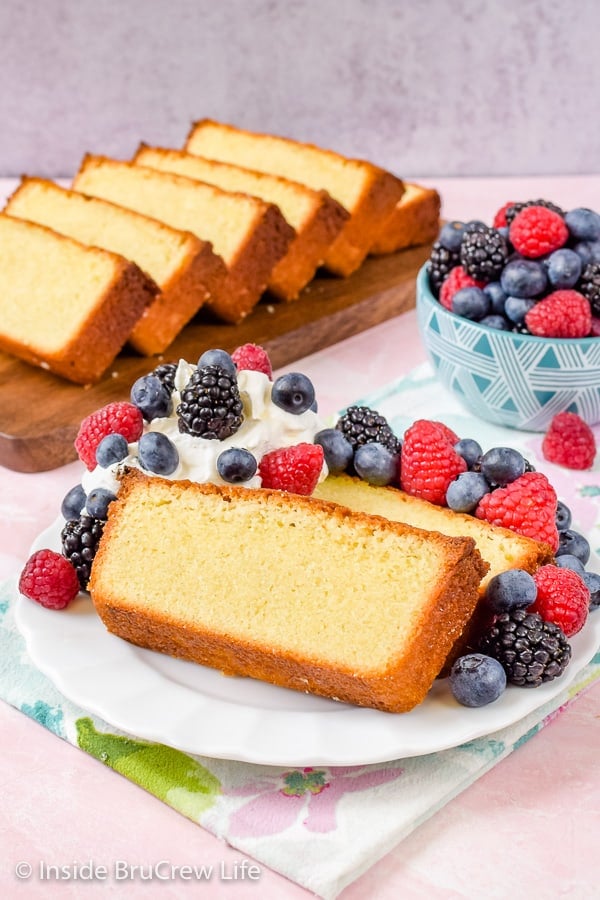 How to make the Best Vanilla Bean Pound Cake:
Prep: Preheat your oven to 325 degrees. Spray a 9×5 loaf pan with nonstick spray.
Butter: Make sure you set the butter out ahead of time. You want it to be soft and at room temperature before you beat it. This can take 30 minutes to an hour depending on how warm your kitchen is.
Sugar: Add the granulated sugar and butter into a bowl and beat on medium speed for 4 minutes. PRO TIP: Do not stop early because this is what is adding air bubbles to your mixture causing your cake to rise and bake right. The more bubbles are in your mixture, the lighter in texture your cake will be. It also gives it a finer crumb texture.
Eggs: Add the large eggs to the butter mixture one at a time. Make sure to beat each one in before adding another one.
Flour and Salt: Stir together these two ingredients in a separate bowl.
Heavy Whipping Cream: Add the flour mixture and whipping cream alternately to your butter mixture while slowly mixing it in. Do not over mix the batter. Make sure to stop beating it as soon as everything has been mixed together properly.
Vanilla Bean Paste: Using this paste will give you lots of vanilla bean specks throughout the pound cake. You can also use the same amount of vanilla extract if you do not have or do not want to buy the paste.
Bake: Spoon the pound cake batter into the prepared pan and bake it for 50 minutes. At this time, place a piece of tin foil over the top of the cake and bake for an additional 15-20 minutes.
Cool: Let the pound cake cool in the pan for 10-15 minutes, then flip it out onto a cooling rack. Make sure you flip it back upright as soon as it comes out. If you don't, you will have grid marks on the top of your vanilla bean pound cake.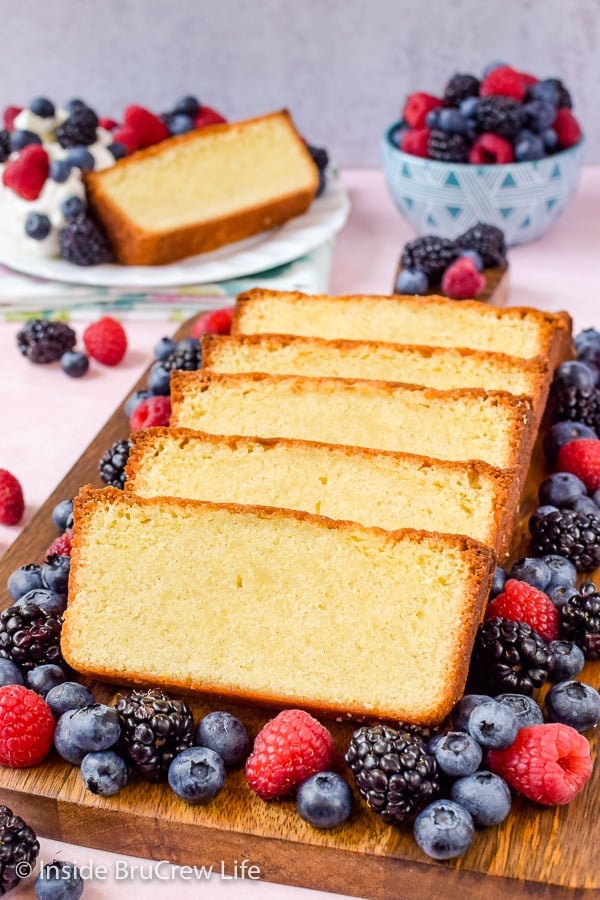 How to Serve Pound Cake:
By Itself. This pound cake is absolutely delicious as is. Trust me, we devoured five loaf cakes in no time at all. The vanilla bean paste gives it such an amazing flavor.
Whipped Cream and Fruit. You can use homemade whipped cream (or Cool Whip) and fresh berries to make this easy cake look fancy. Try this Chai Whipped Cream to add a little bit of spice to the fruit and cake. Any berry will work, so use your favorite or whatever is in season at the time.

PRO TIP:

using raspberries, blackberries, and blueberries gives this easy pound cake a fun Fourth of July look.
Ice Cream and Syrup. Add a scoop of your favorite ice cream and either a chocolate or fruit syrup to a slice of pound cake. This Honey Lime Strawberry Sauce or these Small Batch Cherry Preserves would taste great on it. You can also cut the loaf horizontally into 3 layers. Place one layer back in your loaf pan and top it with softened ice cream. Repeat the layers and then freeze for 4-6 hours or overnight.
Bananas and Pudding. Cut slices of pound cake into 1 inch cubes. Layer the cubes with your favorite flavor of pudding and sliced bananas in small cups or in one large trifle dish for a fancy summer time dessert.
Chocolate Fondue. Cut the pound cake into 1 inch cubes and serve it with your favorite chocolate fondue. You can also skewer the cubes with fruit and marshmallows for easy dipping.
More easy homemade desserts you may like:
Chocolate ganache and fresh berries on top of the Best Flourless Chocolate Cake makes it look so fancy. Trust me, it is so easy to make.
Layers of vanilla cheesecake and homemade pie filling make this Cheesecake Apple Pie the best pie for any party or picnic. Add a scoop of ice cream and caramel for an even more decadent dessert.
A homemade Dark Chocolate Layer Cake filled with a fluffy frosting and topped with hot fudge, pecans, and cherries is the perfect dessert anytime.
Vanilla Cherry Pie Cupcakes are a fun way to celebrate at any party. The surprise cherry center will make everyone smile when they find it.
A swirl of homemade chocolate whipped cream and fresh banana slices make these little Banana Chocolate Chip Cheesecakes look and taste so good.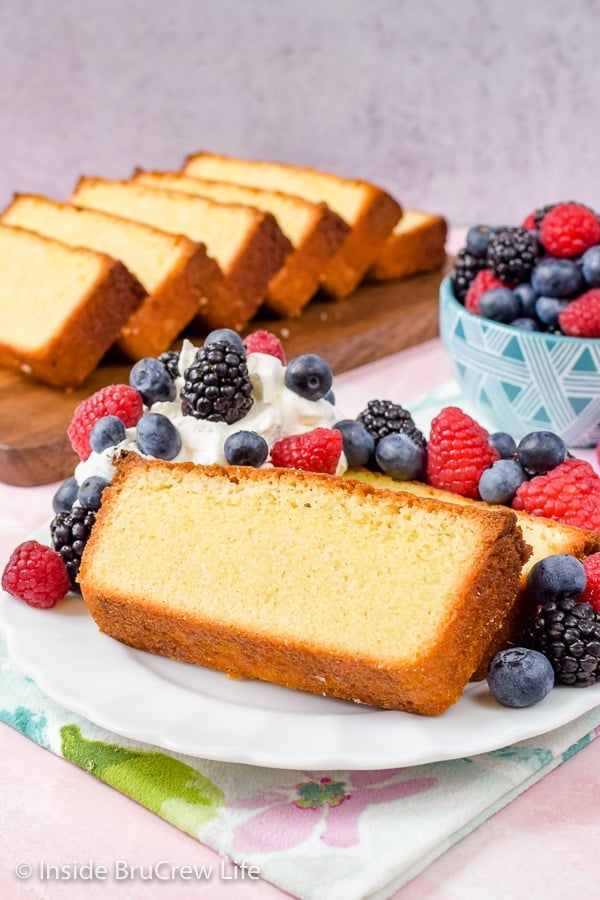 Connect with Inside BruCrew Life! Be sure to follow us on our social media, so you never miss a post.
FACEBOOK | PINTEREST | TWITTER | INSTAGRAM | BLOGLOVIN | EMAIL SUBSCRIPTION
I also created a fun new Facebook group, and I would love for you to join. It's a group where you can share your favorite recipes, ask questions, share photos, and see what's new with the BruCrew. If you would like to check it out, you can request to join HERE.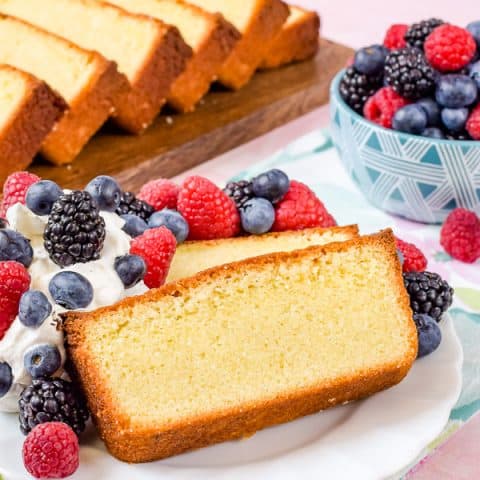 The Best Vanilla Bean Pound Cake
Cook Time:
1 hour
10 minutes
Total Time:
1 hour
30 minutes
The Best Vanilla Bean Pound Cake recipe has a dense texture, buttery flavor, and lots of vanilla bean flecks. Enjoy a slice with fresh berries and homemade whipped cream for the best summer dessert ever.
Ingredients
3/4 cup unsalted butter, softened
1 1/2 cups granulated sugar
4 large eggs
1 1/2 cups all-purpose flour
1 teaspoon salt
1/2 cup heavy whipping cream
1 Tablespoon vanilla bean paste
Instructions
Preheat the oven to 325 degrees. Spray a 9x5 loaf pan with nonstick baking spray.
Beat the butter and sugar on medium speed for 4 minutes. Do not shorten this time as it needs to be light and creamy.
Add the eggs one a time to the butter mixture, making sure to beat each one in.
Stir together the flour and salt. Add this and the heavy cream alternately to the butter mixture until everything is mixed in.
Add the vanilla bean paste and stir in gently. Spoon the cake batter into the prepared pan.
Bake for 50 minutes. Place a piece of tin foil lightly on top of the cake and bake an additional 15-20 minutes, or until a toothpick inserted in the center comes out with only a few crumbs.
Remove and cool in the pan for 10-15 minutes. Flip the cake out onto a cooling rack. Make sure to flip the cake back over, so you do not get grid marks on the top of the cake. Cool completely before serving.
Recommended Products
As an Amazon Associate and member of other affiliate programs, I earn from qualifying purchases.
Nutrition Information:
Yield:

12
Serving Size:

1
Amount Per Serving:
Calories:

316
Total Fat:

17g
Saturated Fat:

10g
Trans Fat:

0g
Unsaturated Fat:

6g
Cholesterol:

104mg
Sodium:

205mg
Carbohydrates:

37g
Fiber:

0g
Sugar:

25g
Protein:

4g