This Vanilla Pound Cake has a dense texture, buttery flavor, and lots of vanilla bean flecks. Enjoy slices of this easy pound cake recipe with fresh berries and homemade whipped cream for the best summer dessert ever.
Another delicious way to enjoy this moist pound cake is to top it with a big spoonful of this Blueberry Honey.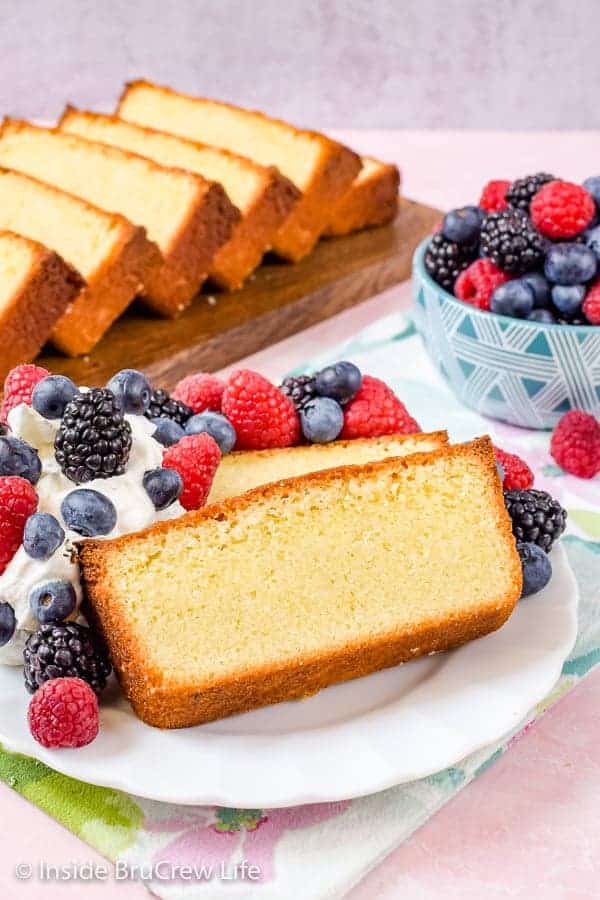 Jump to:
A few months ago I came across some boxes stuffed with old recipes I had written down when I was in junior high and high school. I actually had forgotten all about them being in there, so it was kind of fun to pull them out and look through them.
The first recipe that caught my eye was an easy recipe for pound cake from scratch. Since I have never actually made a classic pound cake before, I decided this was happening right away.
The recipe was really easy to follow, and it looked and tasted great, BUT it was slightly under done and gummy in places. So, I tweaked the baking temperature and baking time. And FIVE pound cakes later, I found the perfect heat and time for this moist pound cake recipe.
Why You Will Love This Easy Pound Cake
Soft Buttery Crumb Texture - The flavor comes from the butter, sugar, and vanilla bean paste. It tastes like a yellow cake, but has a richer taste.
Heavy and Dense - The cake batter in this old fashioned pound cake recipe bakes up so dense yet still light and fluffy. It literally melts in your mouth!
Simple yet Elegant - It is a delicious cake that can be served alone or dressed with whipped cream and berries.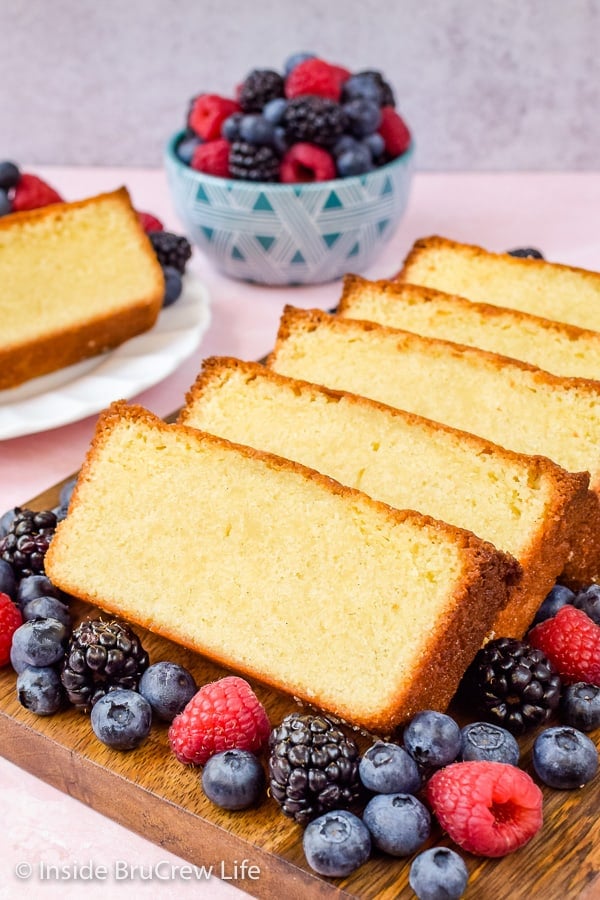 What is a pound cake?
The name pound cake comes from the original recipe where they used a pound each of butter, sugar, eggs, and flour. You can imagine the size and density of this cake, so over time the recipe has been modified to make a smaller, lighter cake.
The ingredients for a traditional pound cake have also been changed slightly to give this cake a different texture. You can use other extracts and favorings to give the cake unique and delicious flavors like in this Key Lime Pound Cake. You can also add dried fruits to it.
Ingredients Needed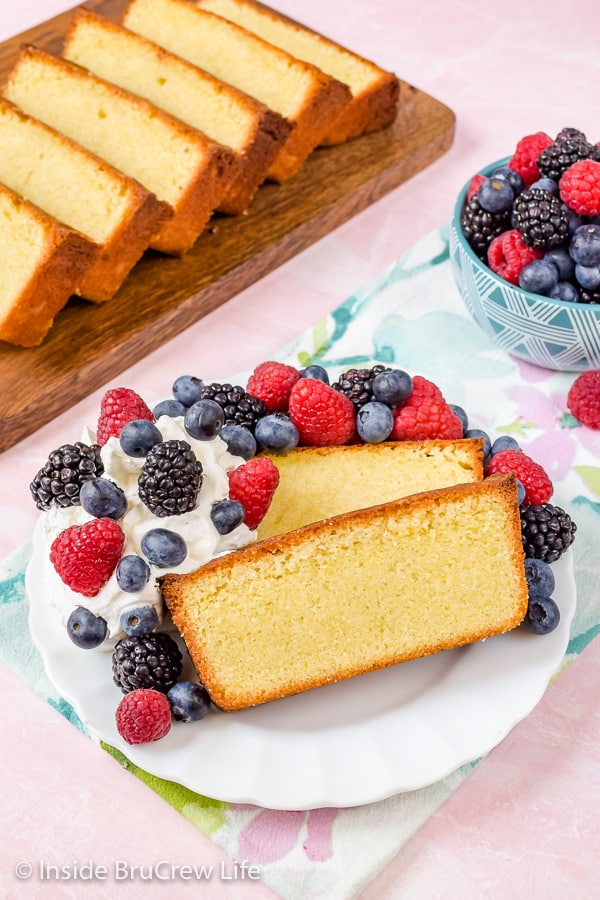 For this easy vanilla pound cake recipe you will only need a few basic pantry ingredients.
Butter - Using unsalted or salted butter will give it a rich buttery flavor.
Sugar - Sweetens the cake batter.
Eggs - Adds moisture and richness to the finished baked good.
Flour - Use the spoon and sweep method to add just the right amount of flour.
Salt - Balances out the sweetness from the sugar.
Heavy Whipping Cream - Makes the pound cake very moist and creates a light, soft crumb texture.
Vanilla Bean Paste - Adds a great flavor and vanilla bean specks throughout the cake. You can also use vanilla extract in place of this.
BruCrew Tip: You can easily change up the flavor of this cake by using other extracts. A few of our favorites are almond and lemon extract.
How to make Vanilla Pound Cake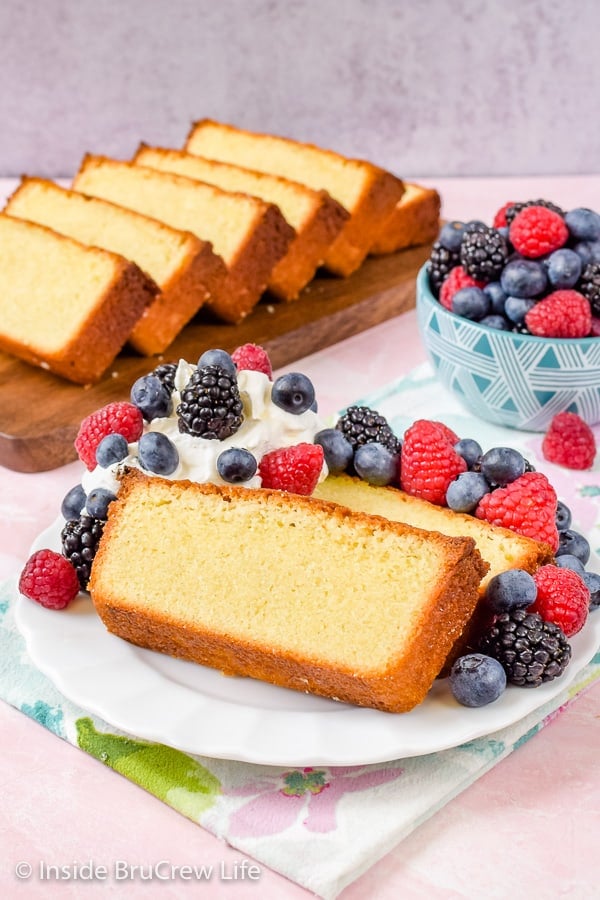 This classic pound cake is easy to make in a matter of minutes using our simple steps.
Step One: Cake Batter.
Beat the softened butter and sugar in a large bowl on medium speed for 4 minutes. Do not skimp on beating time because this is allowing air to be added so the cake rises as it bakes.
Add the large eggs to the butter mixture one at a time. Make sure to beat each one in before adding another one.
Stir together the flour and salt in a separate bowl. Add the flour mixture and whipping cream alternately to the butter mixture while slowly mixing it in.
Stir the vanilla bean paste in gently. Using the paste will give you lots of vanilla bean specks throughout the vanilla pound cake.
Step Two: Bake.
Spoon the cake batter into the prepared pan and bake for 50 minutes.
Place a piece of tin foil over the top of the cake and bake for an additional 15-20 minutes.
BruCrew Tip: Use a longer skewer to test for doneness. If there is wet batter, continue baking. If you have moist crumbs, take it out so it does not get over baked.
Step Three. Cool.
Let the vanilla pound cake loaf cool in the pan for 10-15 minutes.
Flip it out onto a cooling rack. Make sure you flip it back upright as soon as it comes out. If you don't, you will have grid marks on the top of the vanilla bean pound cake.
Tips and Tricks
Set the butter out ahead of time. You want it to be soft and at room temperature before you cream the butter. This can take 30 minutes to an hour depending on how warm your kitchen is.
Do not stop beating the sugar and butter mixture early because this is what is adding air bubbles to the batter. This will cause your cake to rise and bake right. The more bubbles are in your mixture, the lighter in texture your cake will be. It also gives it a finer crumb texture.
Use the same amount of vanilla extract, if you do not have vanilla bean paste.
Do not over mix the batter. Make sure to stop beating it as soon as everything has been mixed together properly.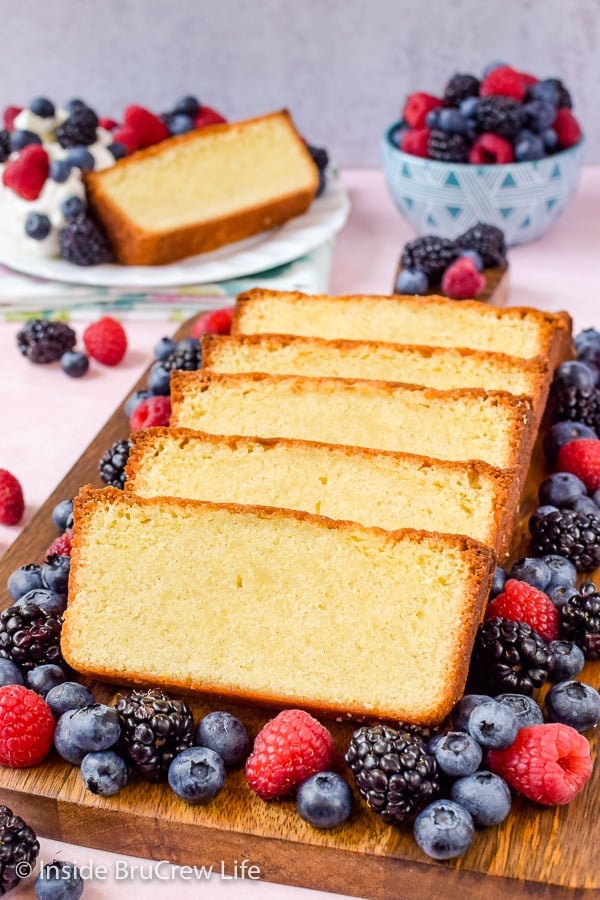 How to Serve Pound Cake
This pound cake is absolutely delicious as is. The vanilla bean paste gives it such an amazing flavor that it really doesn't need anything else.
Whipped Cream and Fruit. To make this classic pound cake look fancy, serve it with whipped cream and fresh berries. Try this Spiced Whipped Cream to add a little bit of spice to the fruit and cake. Any berry will work, so use your favorite or whatever is in season at the time. Using raspberries, blackberries, and blueberries gives this easy pound cake a fun Fourth of July look.
Ice Cream and Syrup. Add a scoop of your favorite ice cream and either a chocolate or fruit syrup to a slice of pound cake. This Strawberry Chia Jam or this Cherry Preserves recipe would taste great on it.
Ice Cream Cake. Cut the loaf horizontally into 3 layers. Place one layer back in your loaf pan and top it with softened ice cream. Repeat the layers and then freeze for 4-6 hours or overnight.
Bananas and Pudding. Cut slices of pound cake into 1 inch cubes. Layer the cubes with your favorite flavor of pudding and sliced bananas in small cups or in one large trifle dish for a fancy summer time dessert.
Chocolate Fondue. Cut the pound cake into 1 inch cubes and serve it with your favorite chocolate fondue. You can also skewer the cubes with fruit and marshmallows for easy dipping.
FAQ
Can pound cake be made ahead of time?
Yes, this vanilla bean pound cake recipe can be made ahead of time. Store it in a tightly sealed container for 3-4 days or in the refrigerator for 5-7 days.
Can pound cake be frozen?
You can freeze the baked cake. Wrap it tightly in plastic wrap and foil, then place in a freezer safe bag or container. It will keep for 4-6 months. To thaw, place in the refrigerator overnight, then unwrap and place on the counter to come to room temperature before serving.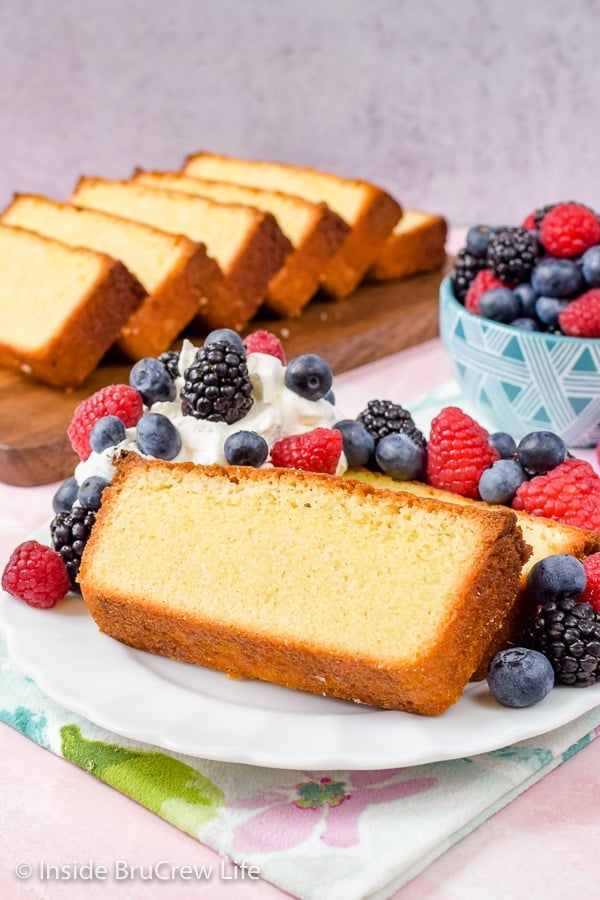 More Homemade

Cakes

Do you love a recipe you tried from Inside BruCrew Life?

Please leave a 5-star ⭐️ rating and a review in the comments section below.