Enjoy an Easy Blueberry Pie made with homemade blueberry pie filling and a flakey golden crust. This classic dessert is easy to make and your family will love it all year long.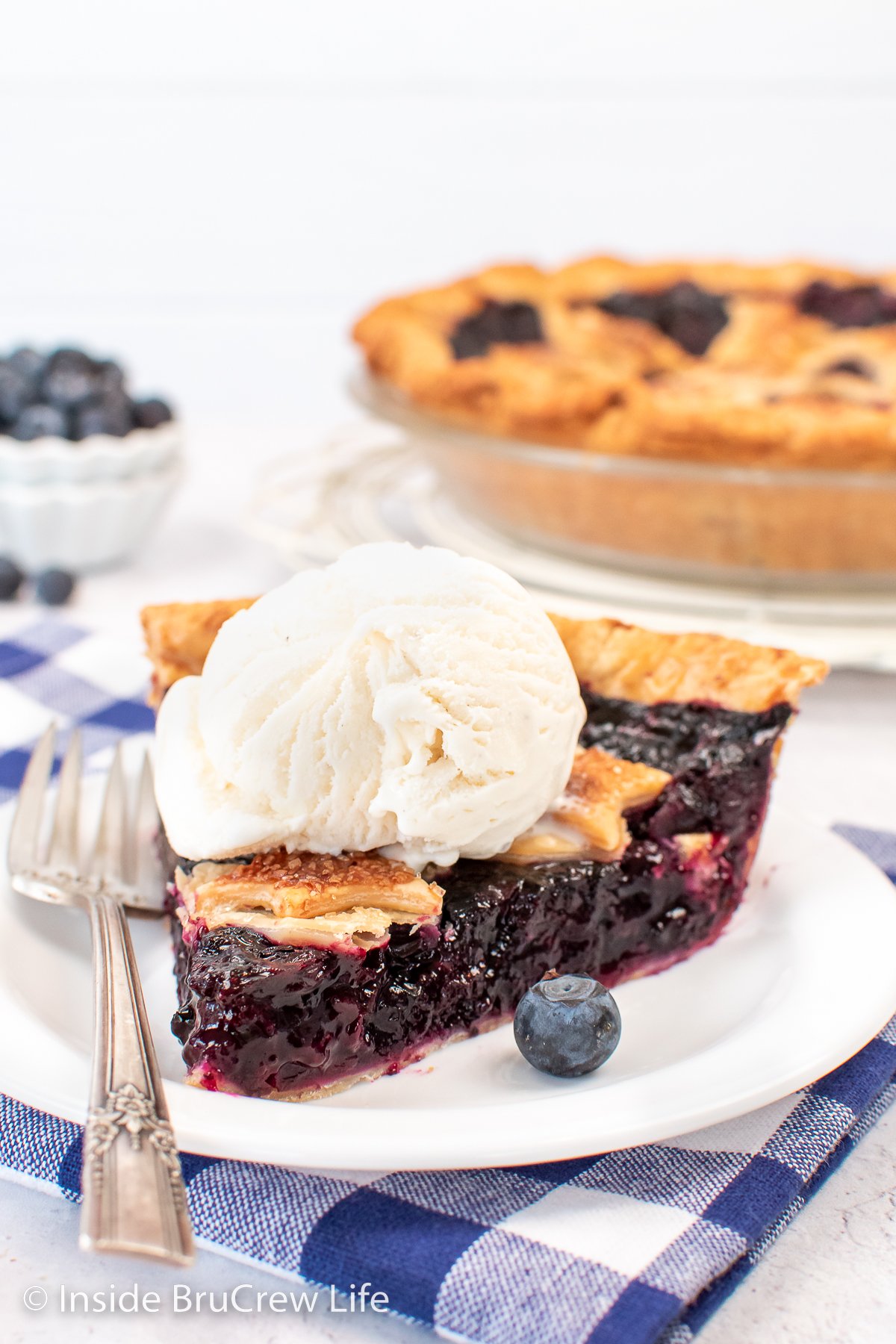 Blueberry pie and homemade cherry pie are classic desserts that are perfect all year long. We love making both of them for 4th of July and for Thanksgiving. No matter what time of year it is, there is always room for a fresh fruit pie.
The biggest problem with a homemade blueberry pie is getting the filling to bake just right. A runny pie is not good.
Blueberries are a juicy fruit, so we have found that cooking the pie filling first helps to eliminate some of the excess moisture in the filling.
Why This Recipe Works
A blueberry pie is one of the easiest desserts you will ever make. A pre-made crust keeps things easy if you are a new baker. You can make them so pretty with a lattice pie top or cutting shapes into the top crust.
The best part about this pie is that the homemade blueberry pie filling can be made ahead of time and kept in the refrigerator until you are ready to bake. The filling in this pie is so good and tastes like summer.
There is nothing better than serving slices of this easy blueberry pie with homemade vanilla ice cream. It's sure to become one of your family's favorite desserts.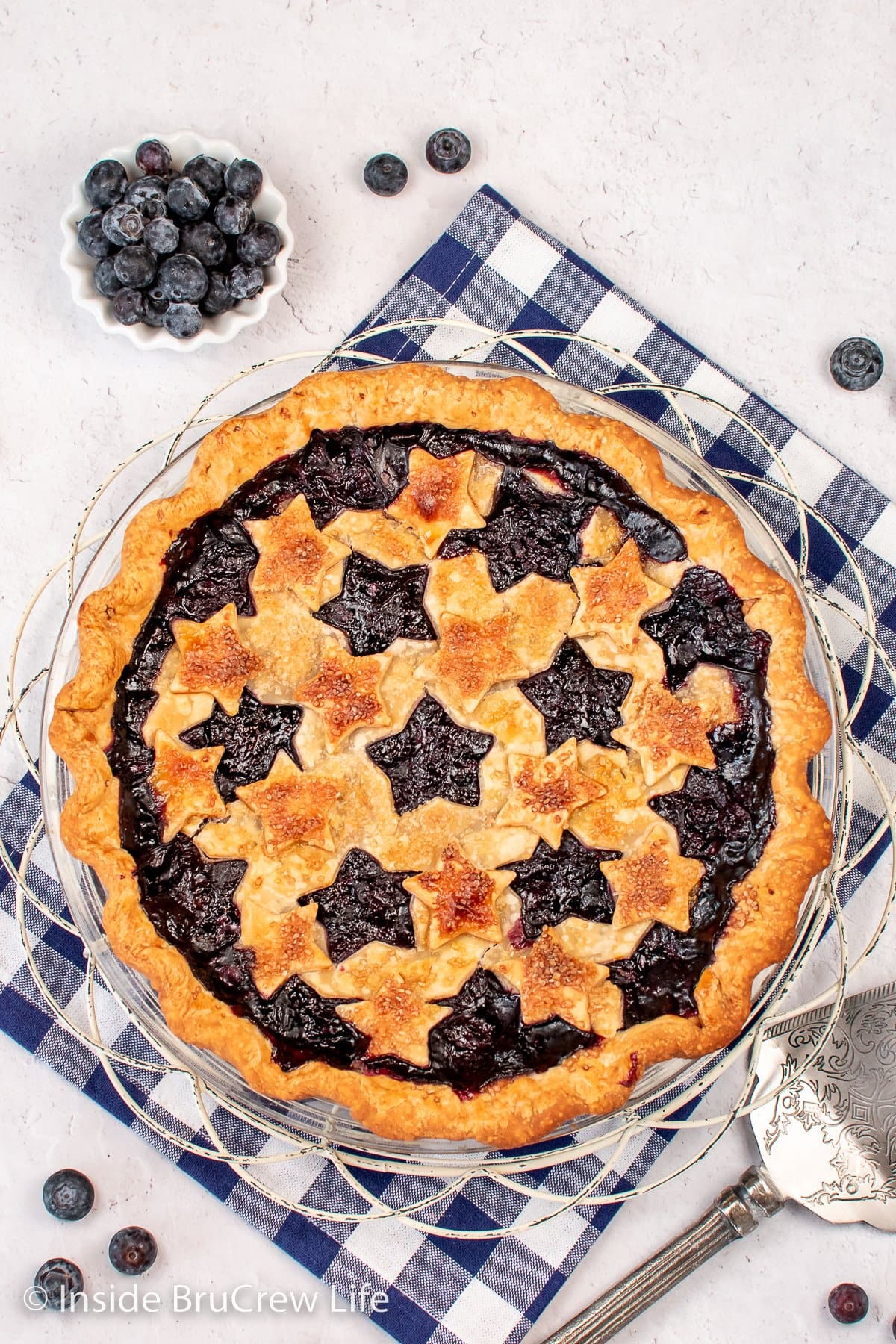 Key Ingredients
With just a few ingredients and little effort, you can have a delicious homemade pie that will impress your family and friends. This blueberry pie recipe is easy and perfect for beginners.
Double Pie Crust - Feel free to buy a store bought or make a homemade pie crust recipe if you have one you like.
Egg - Use the white to seal the bottom crust and then brush the yolk on the top crust to help it turn golden brown as it bakes.
Blueberry Pie Filling - You will need 2 cups of canned or homemade filling to get a good fruit layer.
Raw Sugar - Gives the top crust a delicious sugary crunch and pretty sparkle.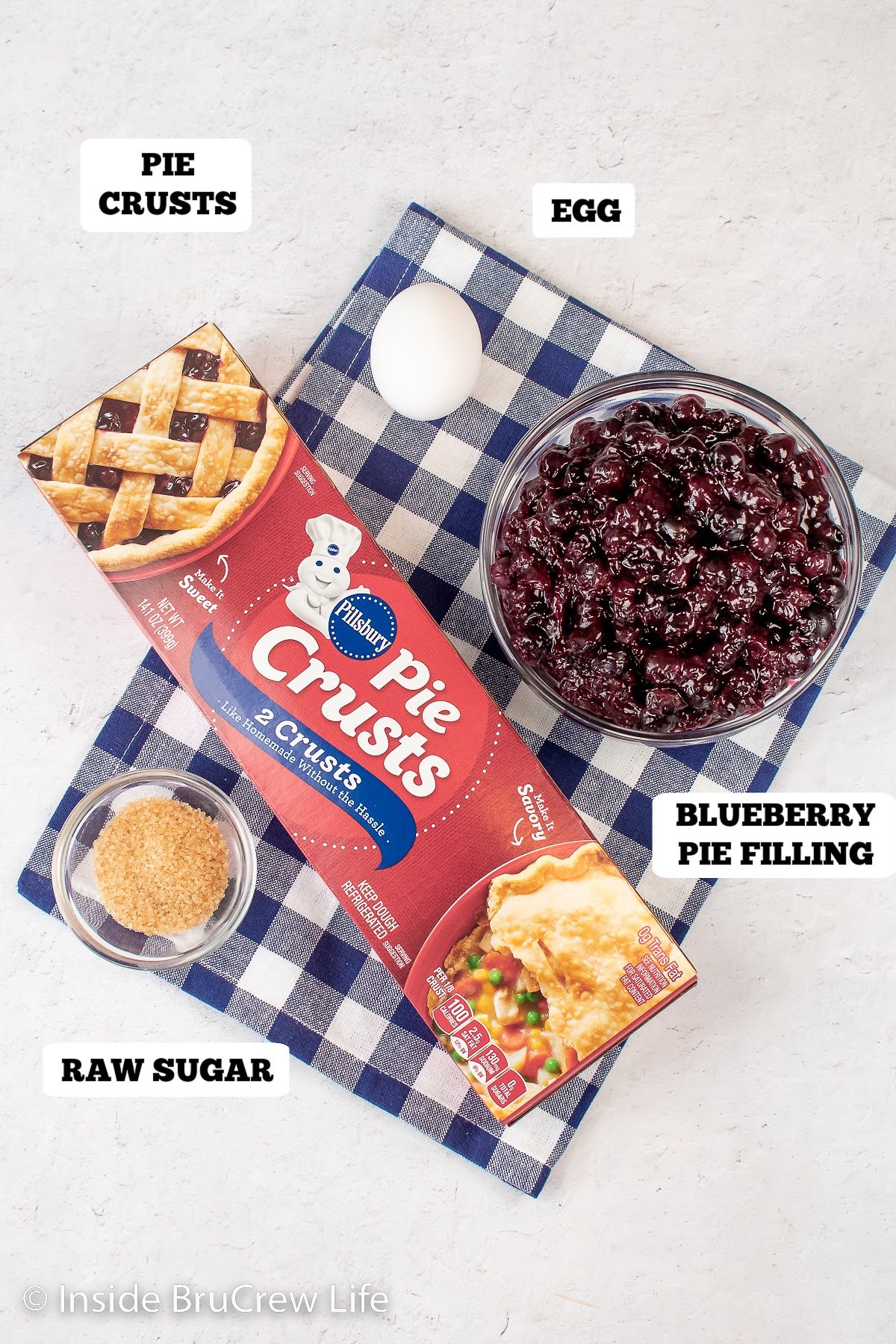 How to make Blueberry Pie
Making a blueberry pie is actually quite easy. Follow our simple steps and you can have one cooling on your counter in no time at all.
Make blueberry pie filling. Make sure you plan enough time for the the pie filling to cool to room temperature. It is best to make it ahead of time, so it has time to cool completely before making the pie.
Prepare bottom pie crust. Unroll one of the pie crusts and place it in a 9 inch pie plate. Whisk the egg white until foamy and brush a thin coat over the entire crust. Refrigerate at least 15 minutes.
Cut out top pie crust. Unroll the second refrigerated crust and use a tiny star cookie cutter to cut stars (or other shapes) out of it. You can also just use a full crust and cut slits in it.
Assemble the pie. Fill the chilled pie crust with pie filling and cover it with the cut out crust. Crimp the edges and add the additional pie crust shapes all over the pie.
Bake the pie. Whisk the egg yolk and water together and use a pastry brush to brush it lightly on the top crust. Sprinkle with raw turbinado sugar and bake until golden brown and bubbly.
Cool completely. Set the pie on a cooling rack for at least 4 hours to let the filling thicken up. Once the blueberry pie has cooled, cut it into slices and serve with vanilla ice cream or homemade whipped topping.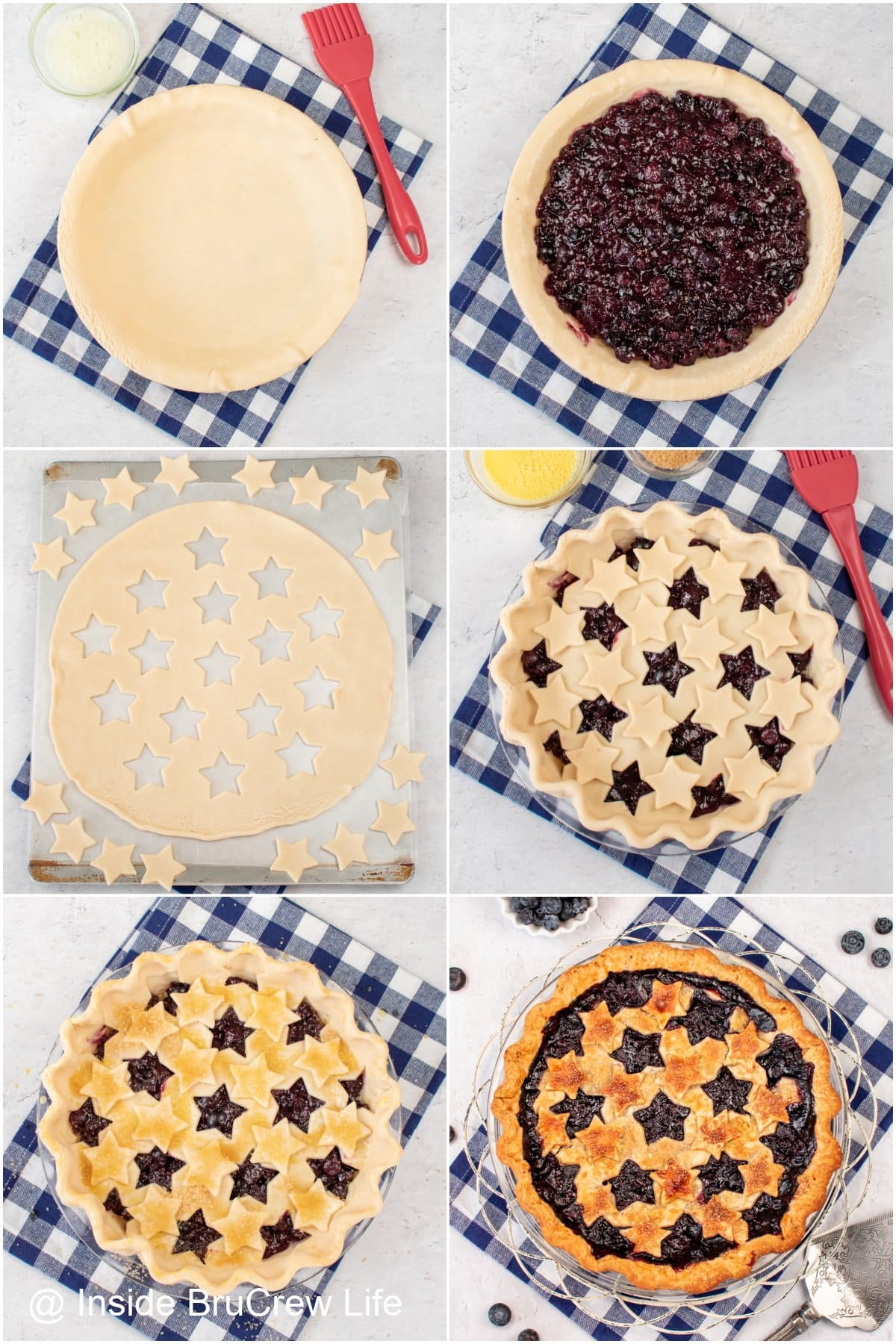 Storing the Pie
Cover the blueberry pie loosely and keep it on the counter for 2-3 days. To keep the pie longer, cover it tightly and place in the fridge for 5-6 days.
Tips and Tricks
Make the pie filling ahead of time, so it is cool when you want to make the fruit pie.
Fresh blueberries make the best pie filling. If you need to use frozen berries, make sure they are thawed and drained well before making your pie filling.
Brush the top of the pie crust with an egg wash. As the pie bakes, the crust will turn golden and crispy.
Sprinkle raw sugar over the pie crust for a delicious sugary crunch.
Start the pie at a higher temperature for 20 minutes to set the crust and to cook the filling.
Use a pie shield or tin foil on the pie crust edges to keep them from over browning or burning.
Let the fruit pie cool at least 4 hours before cutting into it. If you can let it rest overnight, that is even better.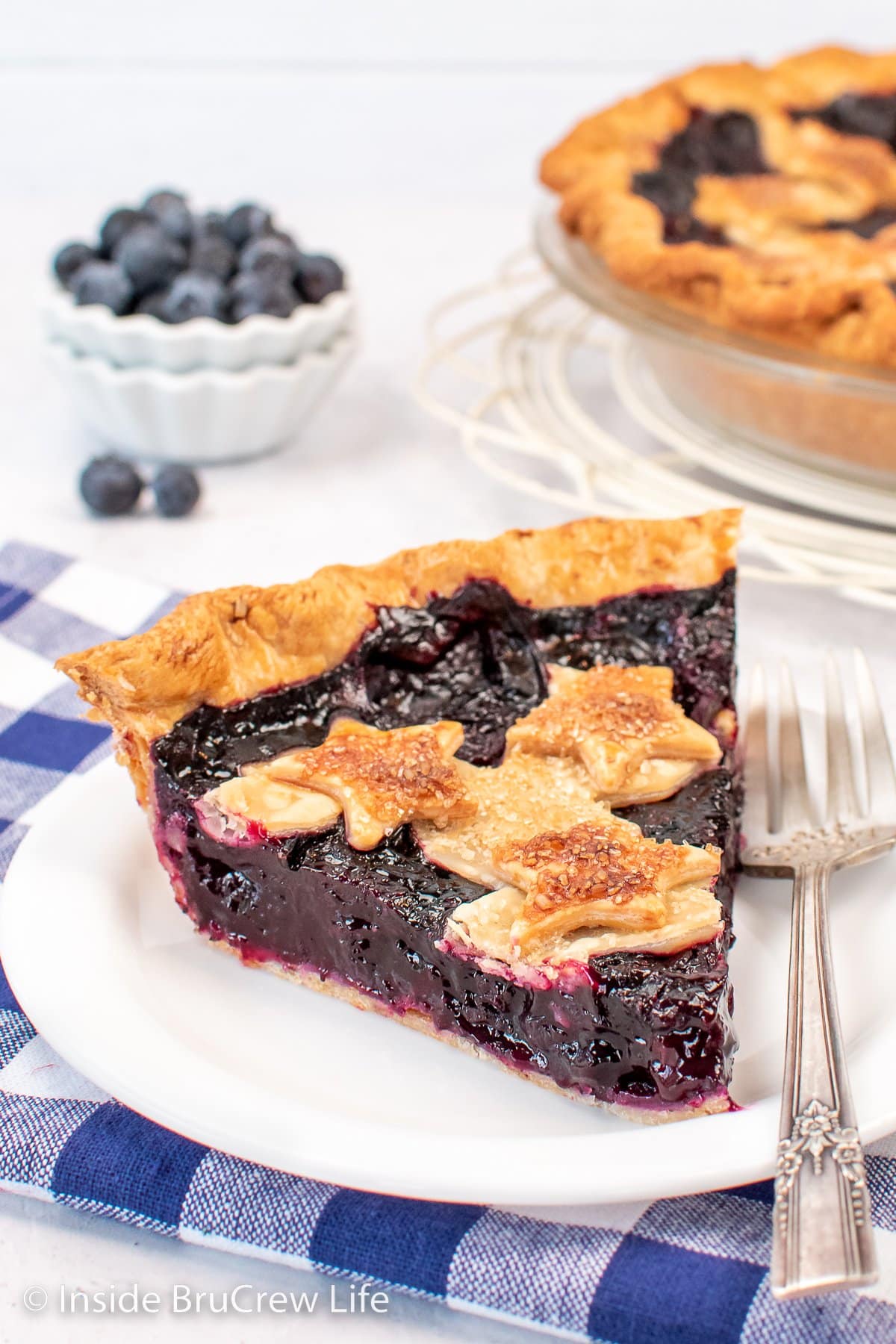 FAQs
Why is my blueberry pie runny?
To avoid a runny pie filling make sure you use enough cornstarch in the homemade blueberry pie filling and cook it an additional few minutes after it starts to thickens.

Never cut into a warm pie. It needs time to cool completely so the filling can set and thicken. A warm pie will definitely be runnier if you cut into it early.
Why is my pie crust soggy?
Keep your unbaked pie crust chilled at all times. Also brushing the crust with egg white helps to seal the crust so the fruit juices from the filling do not soak in. Baking the pie at a higher temperature to start will allow the crust to bake better.
Can you freeze a blueberry pie?
We do not recommend freezing and thawing a baked blueberry pie. The texture just isn't the same after it thaws.

You could freeze an unbaked blueberry pie. Assemble the pie and then cover tightly before baking. Freeze for 1-2 months. Thaw at room temperature for 1 hour before baking.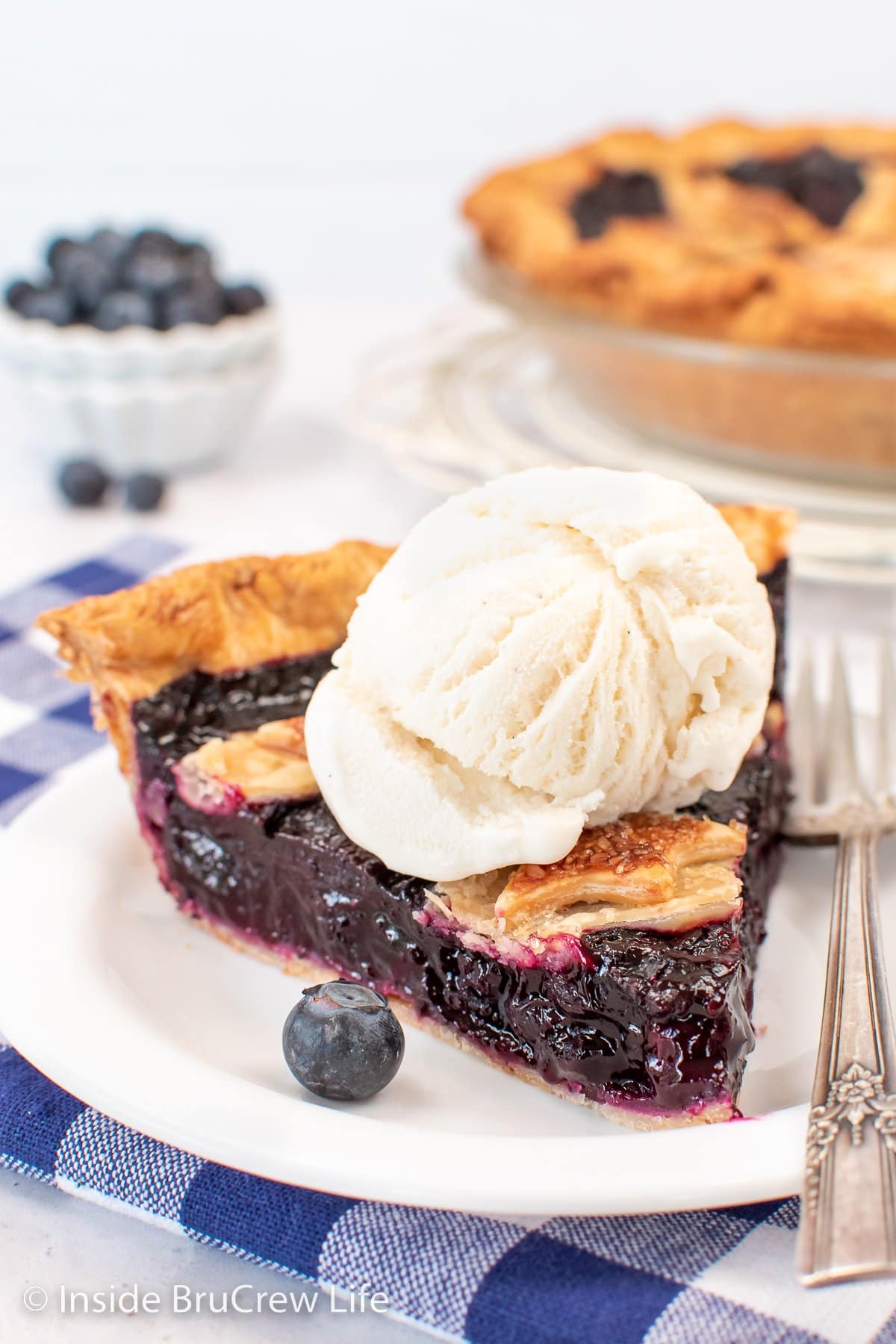 More Easy Pie Recipes
Do you love a recipe you tried from Inside BruCrew Life?
Please leave a 5-star ⭐️ rating and a review in the comments section below.