Combine your love for tater tots with your favorite buffalo chicken dip. These Buffalo Chicken Totchos are a delicious and satisfying appetizer. Perfect for game day parties.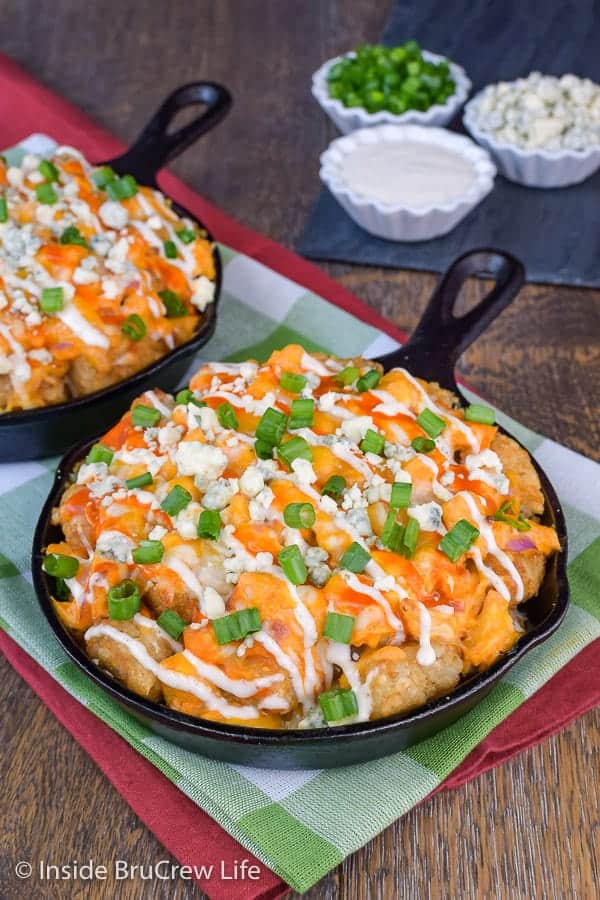 A big plate of cheesy loaded down nachos are one of my favorite appetizers. It's not something I order or make very often because of all the extras calories that are usually in them.
Usually we make these Chicken Caprese Cauliflower Nachos when I get that nacho craving, but sometimes you just need to splurge and eat the real deal. Am I right?
I also have quite a love affair with tater tots. Give me tots over fries any day.
So this weekend I decided to combine my love for nachos, tots, and buffalo chicken into one pan of awesomeness.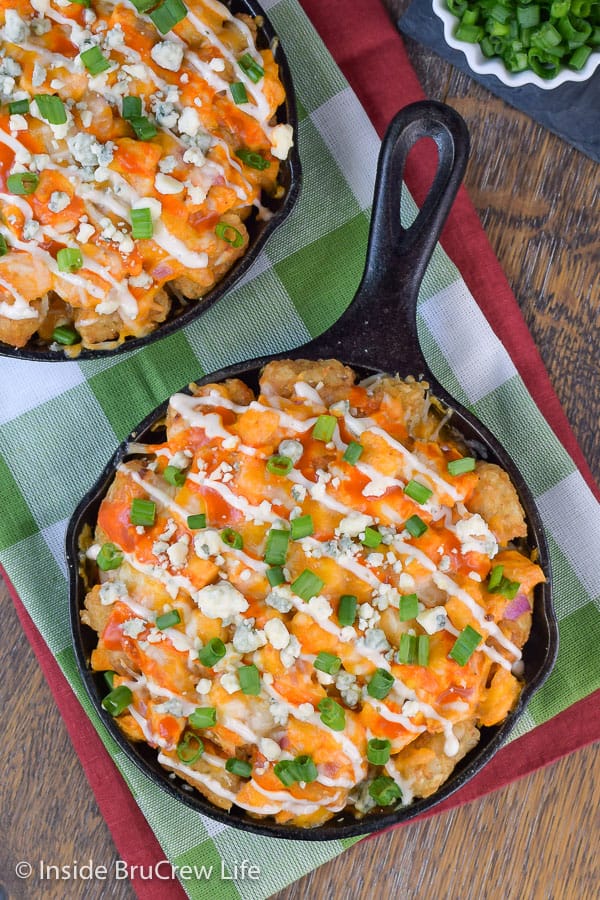 For whatever reason, I just couldn't get the idea out of my head to turn a version of this Easy Buffalo Chicken Dip into a pan of cheesy totchos.
So I had to make it happen.
What are Totchos
They are just what they sound like. Tater tot nachos.
You use tater tots in place of chips and then cover them in cheese and all the toppings.
Trust me, loaded buffalo chicken tots are awesome, amazing, and downright delicious!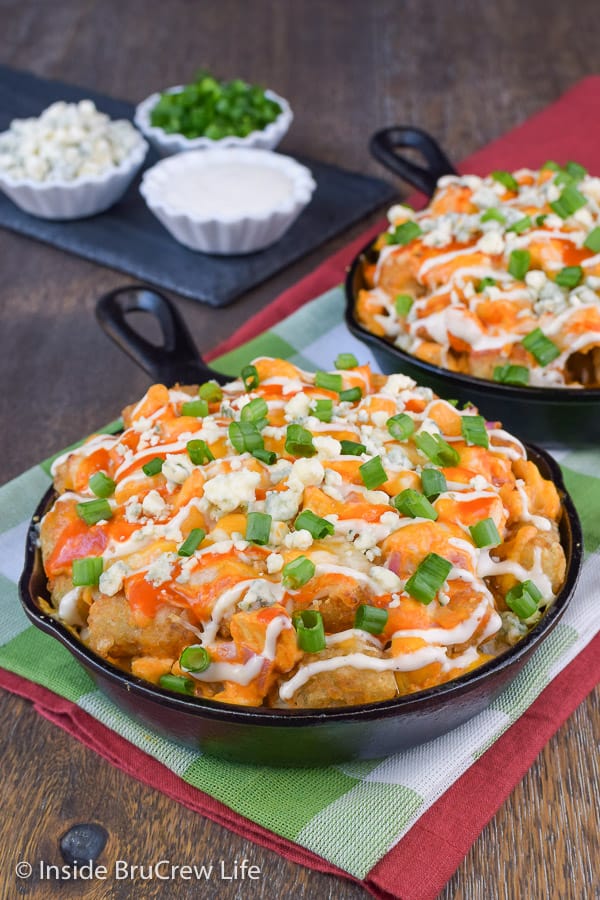 Blue Cheese Versus Ranch
Ok, so this is where I have to make a confession, and then I have to apologize.
You see, I get comments and complains all the time on this Buffalo Chicken Pasta Bake because I only use ranch dressing in it. Now obviously I use ranch because that is what our family loves.
So my confession is that I used to think that everyone who wanted or used blue cheese in their buffalo pasta was crazy. Until today...
I added blue cheese crumbles to the top of these Buffalo Chicken Tater Tots. Honestly, I did not think I was going to like it, but then I took a bite. And another bite. And another bite!!!
I was a little bit shocked because I actually liked the blue cheese on these buffalo tots. And I liked it so much that I topped these Buffalo Chicken Pepper Nachos with it too. So I'm so very sorry for thinking all you blue cheese lovers were bonkers.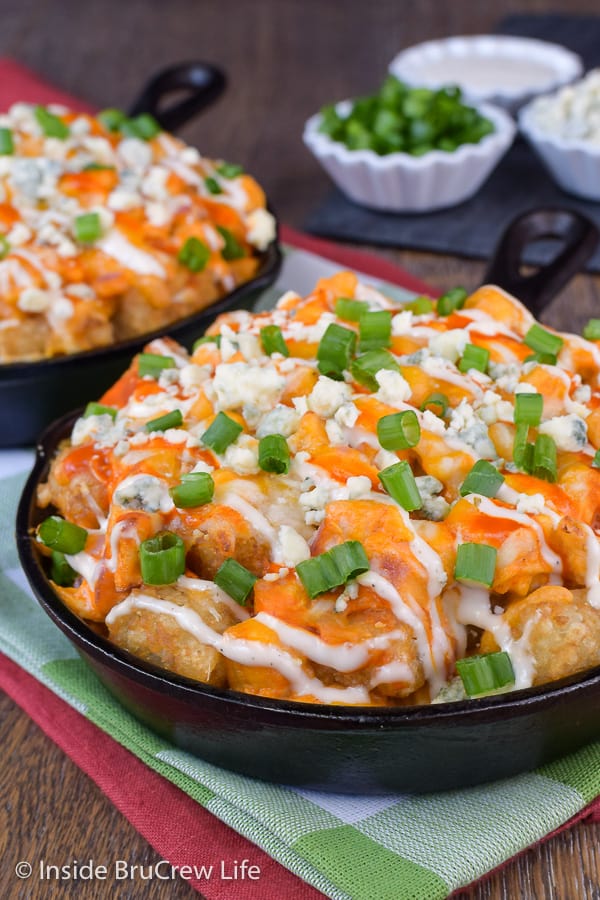 How to make Buffalo Chicken Totchos
Preheat your oven to 450 degrees. You want to bake the tater tots until nice and crispy.
Mix together the two kinds of cheese. We like a mixture of mozzarella and cheddar, but feel free to use your favorite kind.
Stir together the cooked chicken, onions, buffalo wing sauce, and ranch dressing. I like to keep bags of frozen chicken in the freezer for easy meals or appetizers. Canned chicken or rotisserie chicken would work just as well.
Place half of the tots in the bottom of two small cast iron pans. You can also use one large skillet or just layer everything on a sheet pan.
Top the tots with half the buffalo chicken and half the shredded cheese. Repeat the layers.
Bake the tater tot nachos until the cheese is melted and gooey.
Add some buffalo sauce, ranch dressing, green onions, and blue cheese crumbles to the top of each pan and dig in!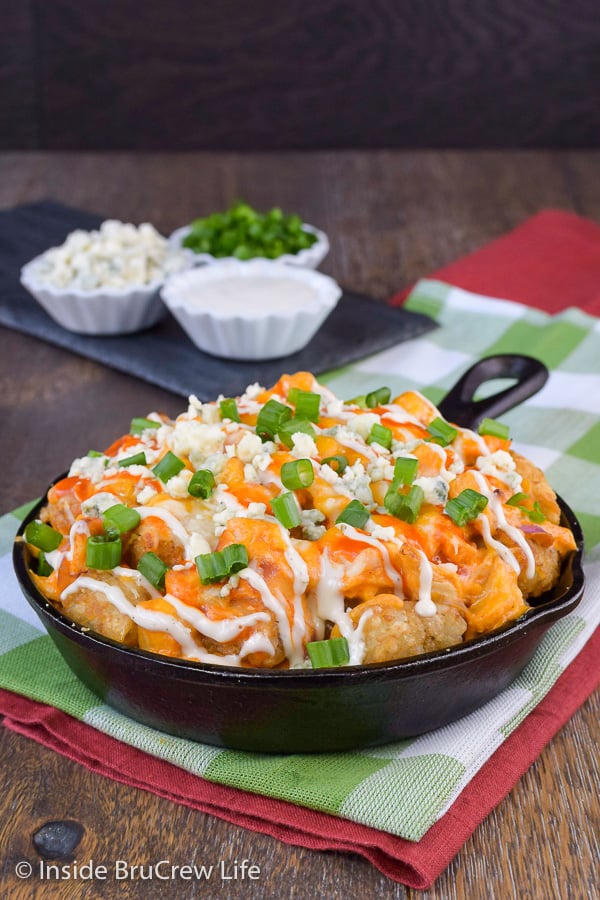 More easy game day appetizers