A pan of these Buffalo Chicken Pizza Rolls are the perfect appetizer to make for weekend snacking or game day parties. These little pizza bites are spicy, cheesy, and so easy to make.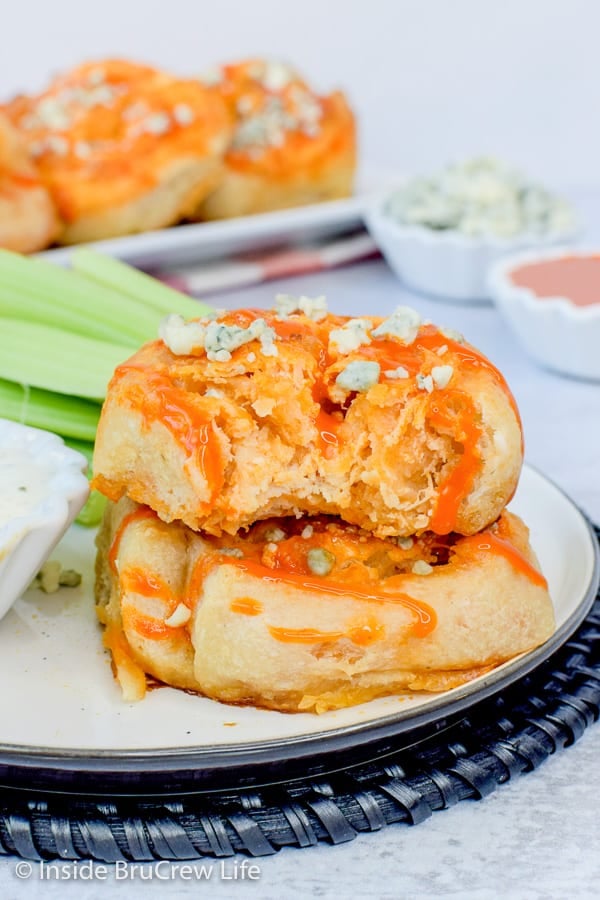 It's no secret that our family is a big fan of all things buffalo chicken. Over the past few years we have made and enjoyed this Buffalo Chicken Pasta Bake countless times.
So many of you have emailed me saying it's one of your favorite chicken dinners too. I love hearing these rave reviews from all of you. Keep them coming!
This fall I am on a mission to make and create more buffalo chicken recipes because everyone seems to love the spicy flavor in appetizer and dinners.
My family is not sad about this new goal that I have decided to take on. My husband and youngest son have been devouring all the new buffalo chicken recipes I have been trying out.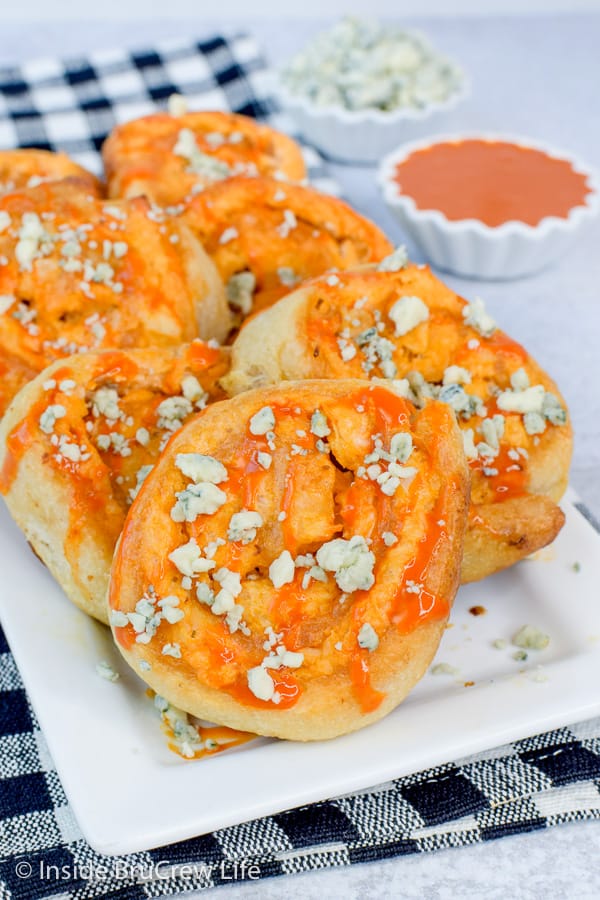 The other weekend I was chatting with a few friends about this new food goal and what has worked and what has failed. All of a sudden I realized that their husbands were intently listening in too.
One of them wanted to know what was happening with all the buffalo chicken goodness that was apparently happening in our kitchen. He wanted to make sure that nothing was being wasted.
Apparently, if the boys in my house cannot keep up with eating all the buffalo chicken appetizers, he is willing to step up to the plate and eat all the extras. LOL!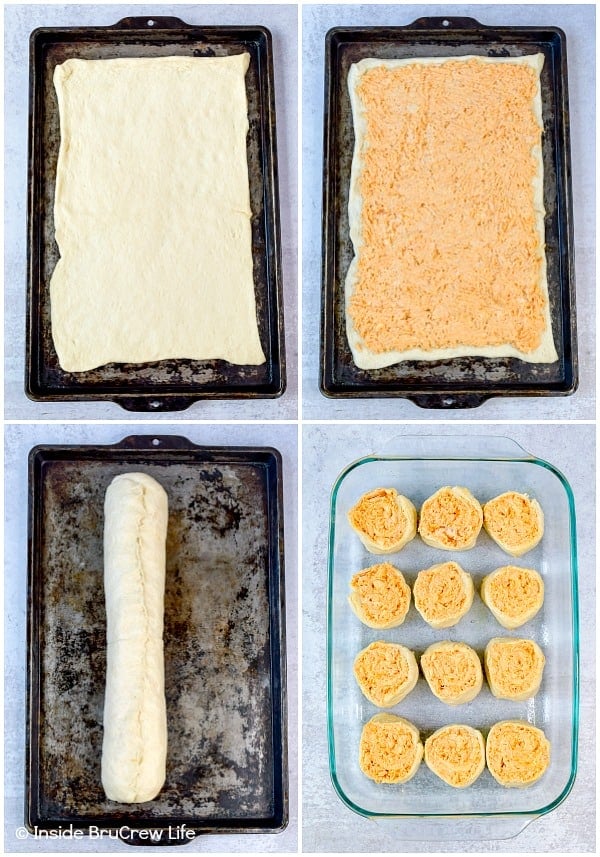 Since our family loves pizza and buffalo chicken, I decided to combine those two for the first buffalo chicken appetizer. This is an easy bite sized snack that is perfect for tailgating, weekend lunches, or after school snacks.
I used a smaller version of our Easy Buffalo Chicken Dip and a store bought pizza crust because it kept this recipe simple.
You could also make a batch of this Homemade Pizza Dough if you have time. Two dough balls means two times the buffalo chicken roll ups. Trust me, that is a very good thing.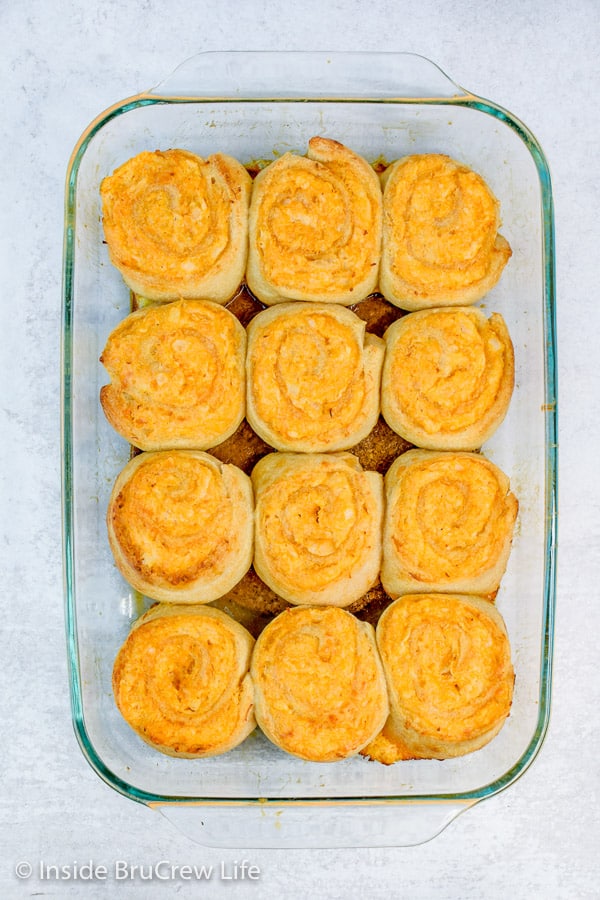 How to make Buffalo Chicken Pizza Rolls:
Mix together the softened cream cheese, garlic, diced onion, and drained canned chicken.
Add the wing sauce, ranch dressing, and shredded cheese and mix it together. Feel free to use blue cheese dressing instead if that's what you prefer.
Unroll the pizza crust onto a large baking sheet. Spread the buffalo chicken mixture evenly on top leaving a slightly border.
Roll the dough up from the long side and pinch the seams together. Roll the log over and slice into 12 even slices and place in a greased pan.
Whisk together an egg and a little bit of water. Use a pastry brush to spread this over the edges of the pizza crust before baking.
Add your favorite toppings and enjoy warm.
Topping Ideas:
Wing Sauce or Hot Sauce
Blue Cheese Crumbles
Ranch Dressing
Green Onions
All the Above
I have to admit that over the years I have come to enjoy blue cheese crumbles on top of a good buffalo chicken dish. It's definitely an acquired taste, but I now understand the obsession of blue cheese with buffalo sauce.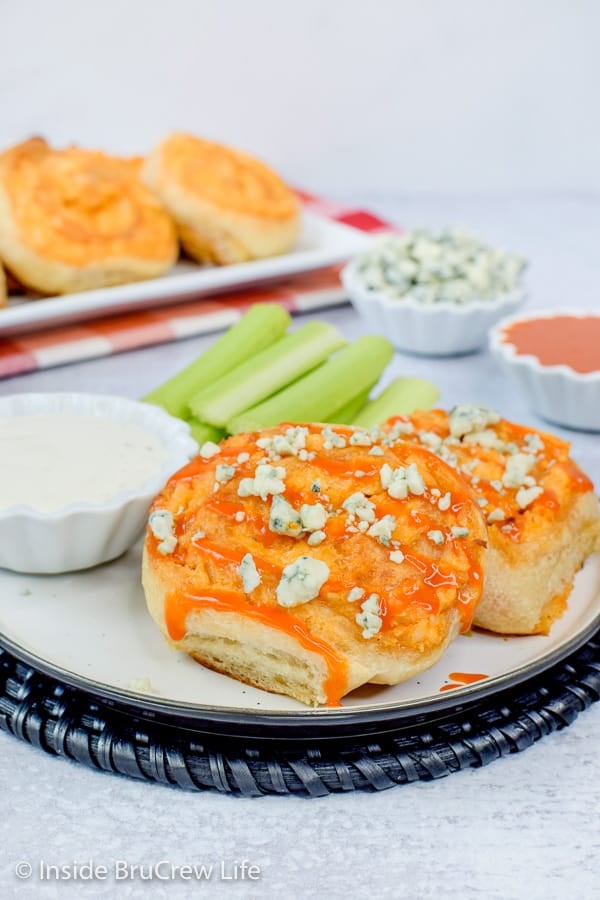 What is the difference between wing sauce and hot sauce?
Hot sauce is a thin sauce made from peppers and vinegar. The types of peppers used will determine how spicy this sauce is. We like to use Frank's Red Hot in our buffalo chicken recipes.
Wing sauce is a mixture of the spicy hot sauce and melted butter. The butter adds a creamy texture and tones down the spiciness of the sauce. You can find different varieties at the grocery store.
It's easy to make your own by mixing together 3 parts hot sauce with two parts melted butter.
Ranch Dressing versus Blue Cheese Dressing:
This is always a hot topic when it comes to buffalo chicken recipes. Honesty, it all depends on your taste buds. Feel free to use whichever dressing is your favorite.
What kind of chicken is best for buffalo chicken recipes?
You can use any type of shredded, cooked chicken for these easy pizza bites. We usually use canned chicken because it is easy to keep on hand. Remember to stir it in gently because it is more fragile than diced or shredded rotisserie chicken.
Rotisserie chicken or leftovers from a chicken dinner is perfect for this recipe too.
CLICK HERE TO PIN THIS RECIPE FOR LATER!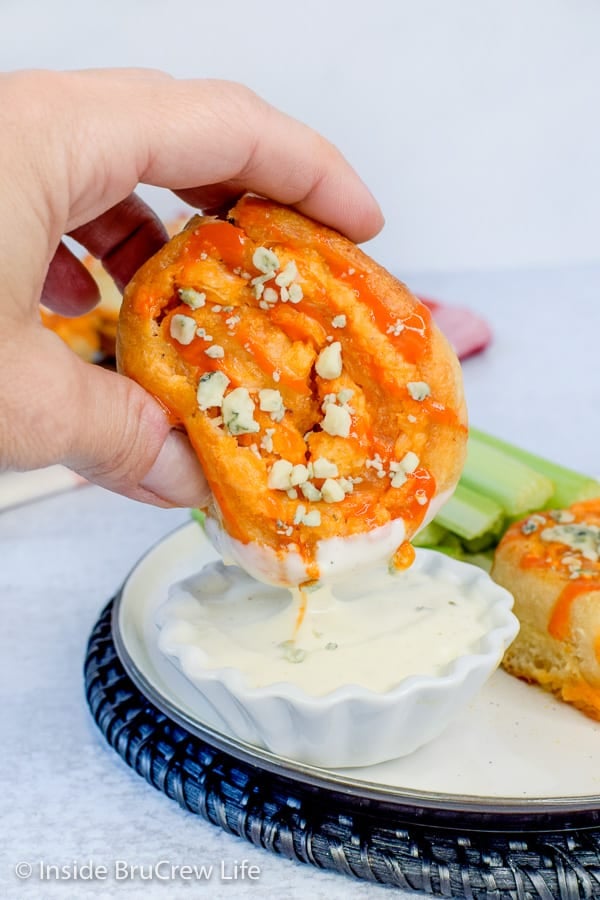 Other buffalo chicken recipes:
More Game Day Appetizers: