Get hopping and add some cuteness to your Easter celebrations with these Bunny Butt Rice Krispie Treats. These adorable bunny treats are not only festive, but they taste delicious too. Perfect for kids and adults alike, they're sure to put a smile on everyone's face.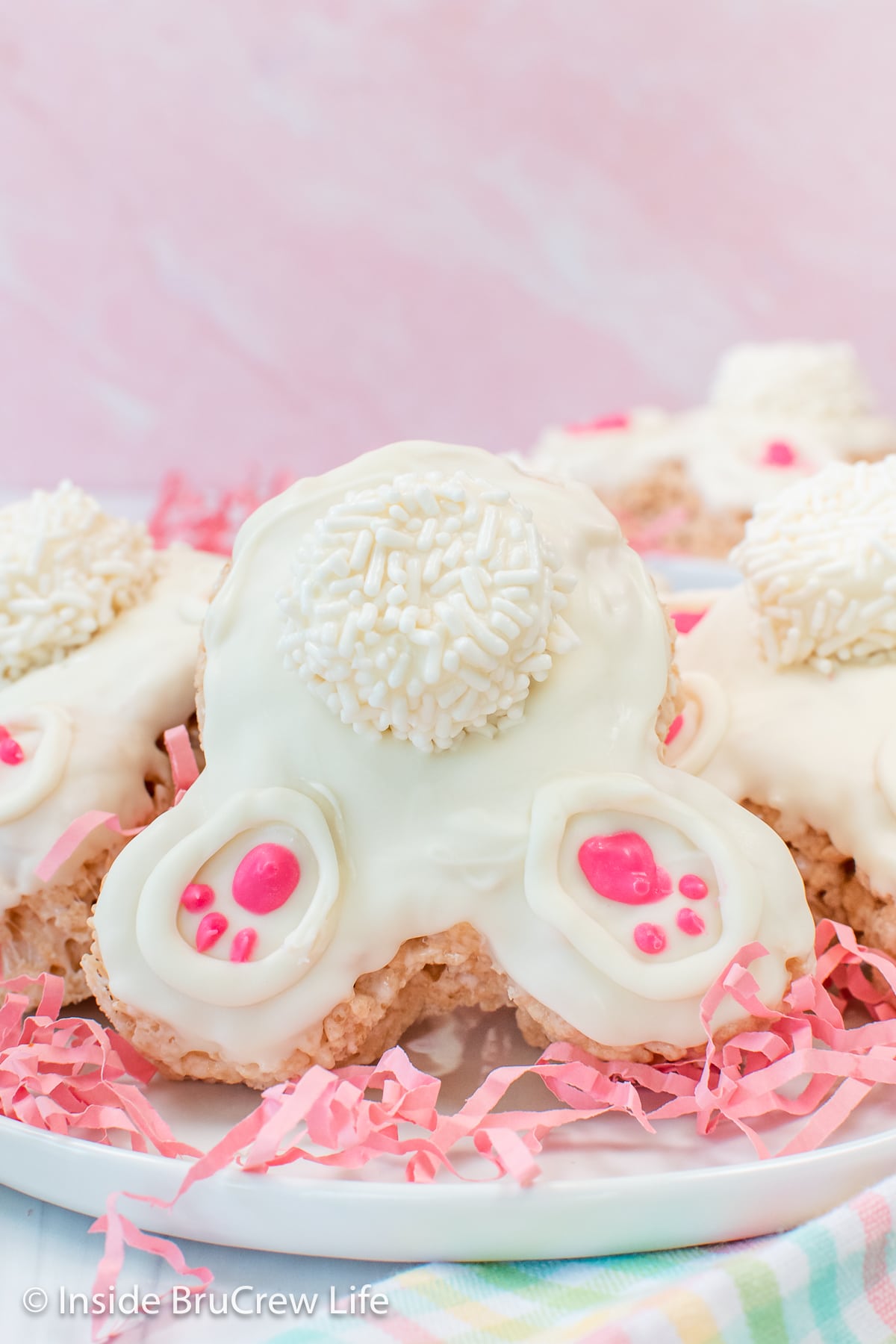 Jump to:
Disney always inspires me to get creative in the kitchen. That's exactly how these bunny rice Krispie treats came to be.
A few weeks ago, my daughter and I went to Disney World for the day. She goes for the rides, while I'm there for a Dole whip and the new snacks. With Easter just around the corner, bunny butts were everywhere.
My favorite was the bunny treat that was at each Park. I love how Disney repurposed their Mickey Mouse rice krispie treats into the cutest bunny butt just by turning the cookie cutter upside down.
Why You Should Make Easter Bunny Butts
Enjoy some Disney magic at home with these adorable bunny butt rice Krispie treats. This is a cute spin on a classic treat that adds a fun touch to any Easter dinner.
Easy to make. Even if you are not an experienced baker, you can still make Easter rice krispie treats. All you need are a few ingredients and some patience. No baking required!
Great activity to do with kids. Kids love to help in the kitchen, and these bunny treats are a great craft to do with them. They can stir ingredients, cut out shapes, and decorate the bunny tails.
Festive Easter treat. The bunny butt shape is super cute and will add a playful touch to your Easter dinner.
Travel well. If you are traveling for Easter this year, bunny rice krispie treats are a great option. They can be made ahead of time and packed in a container to take with you.
Key Ingredients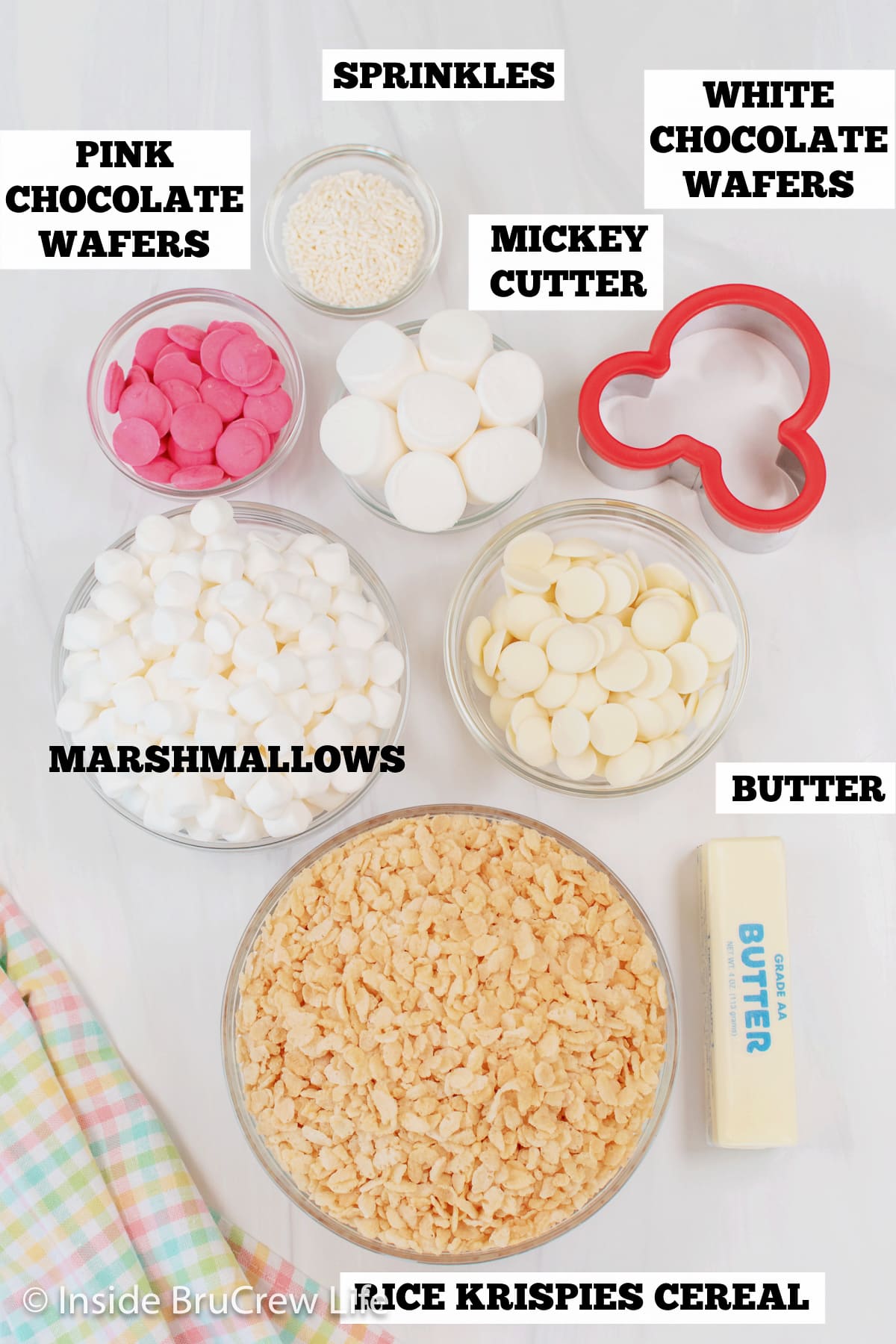 All you need to make cute bunny treats are a few basic ingredients and a Mickey Mouse cookie cutter. Let's get creative in the kitchen this Easter and make a bunny dessert.
Butter - Use salted butter to help balance out the sweetness from the marshmallows and chocolate.
Marshmallows - You will need a large bag of mini marshmallows for the treats and a small bag of large marshmallows for the tails.
Rice Krispies Cereal - One large box of cereal will give you enough for one pan of treats.
Sprinkles - White jimmies are a great way to add texture to the bunny tails. You could also use shredded coconut.
Chocolate Melting Wafers - Ghirardelli melting wafers are the best for dipping because they melt well and taste great. You can find pink chocolates at Walmart and craft stores.
How to Make Bunny Rice Krispie Treats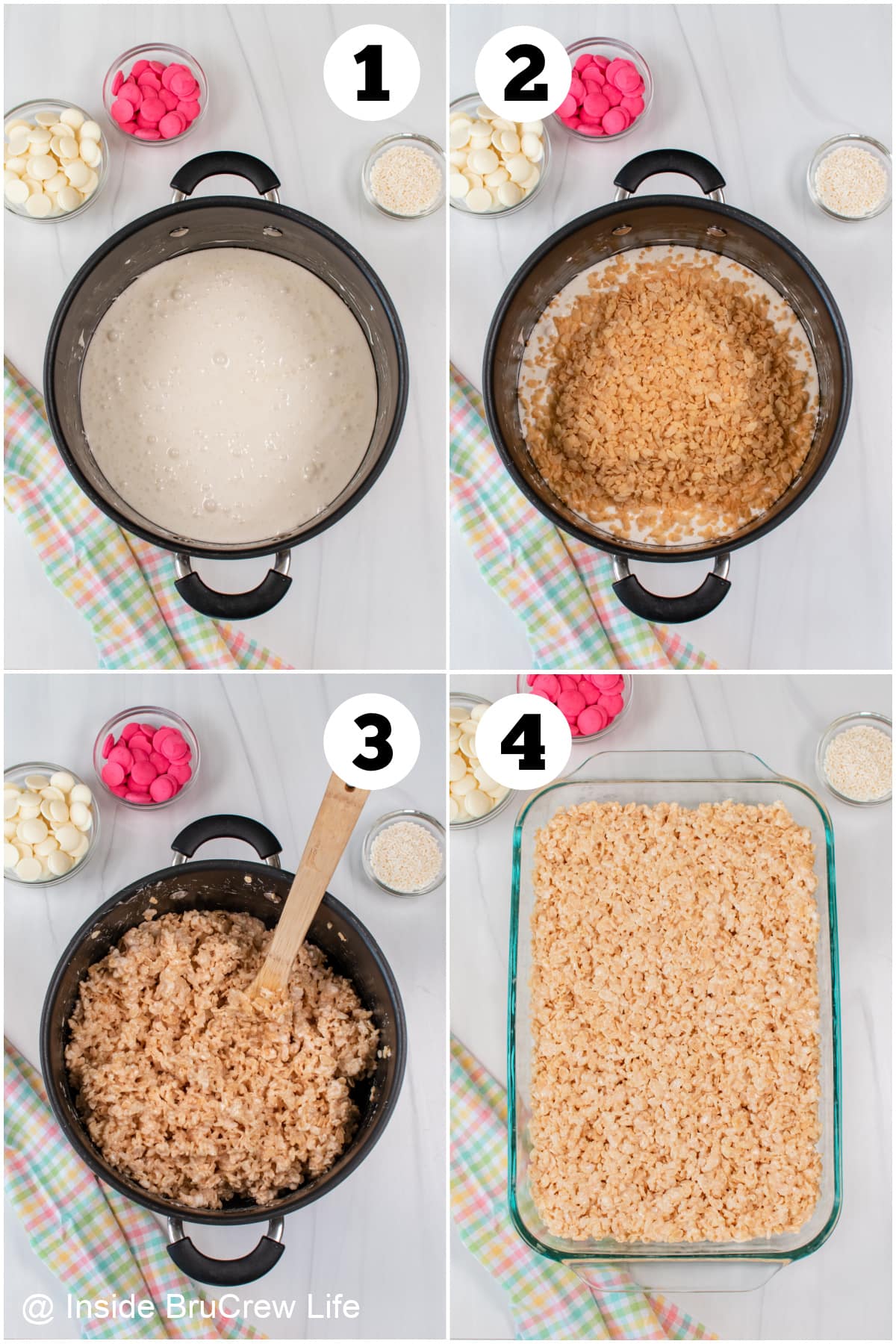 Making these cute little bunnies is quite easy. All you have to do is make rice Krispie treats, cut out shapes, and then have fun decorating your Easter dessert.
Step 1. Melt the butter and marshmallows. Melt the butter in a large pan over low-medium heat. Once melted, add the mini marshmallows and stir until creamy.
Step 2. Add the cereal. Measure the rice krispies ahead of time, so you can dump them in as soon as the marshmallow mixture is ready.
Step 3. Stir until all the cereal is coated. Make sure you stir everything very well, so you do not have extra marshmallow goo in the bottom of the pan.
Step 4. Press into a butter pan. Dump the hot cereal mixture into a prepared pan. Spray your hands with nonstick spray and press down firmly but gently.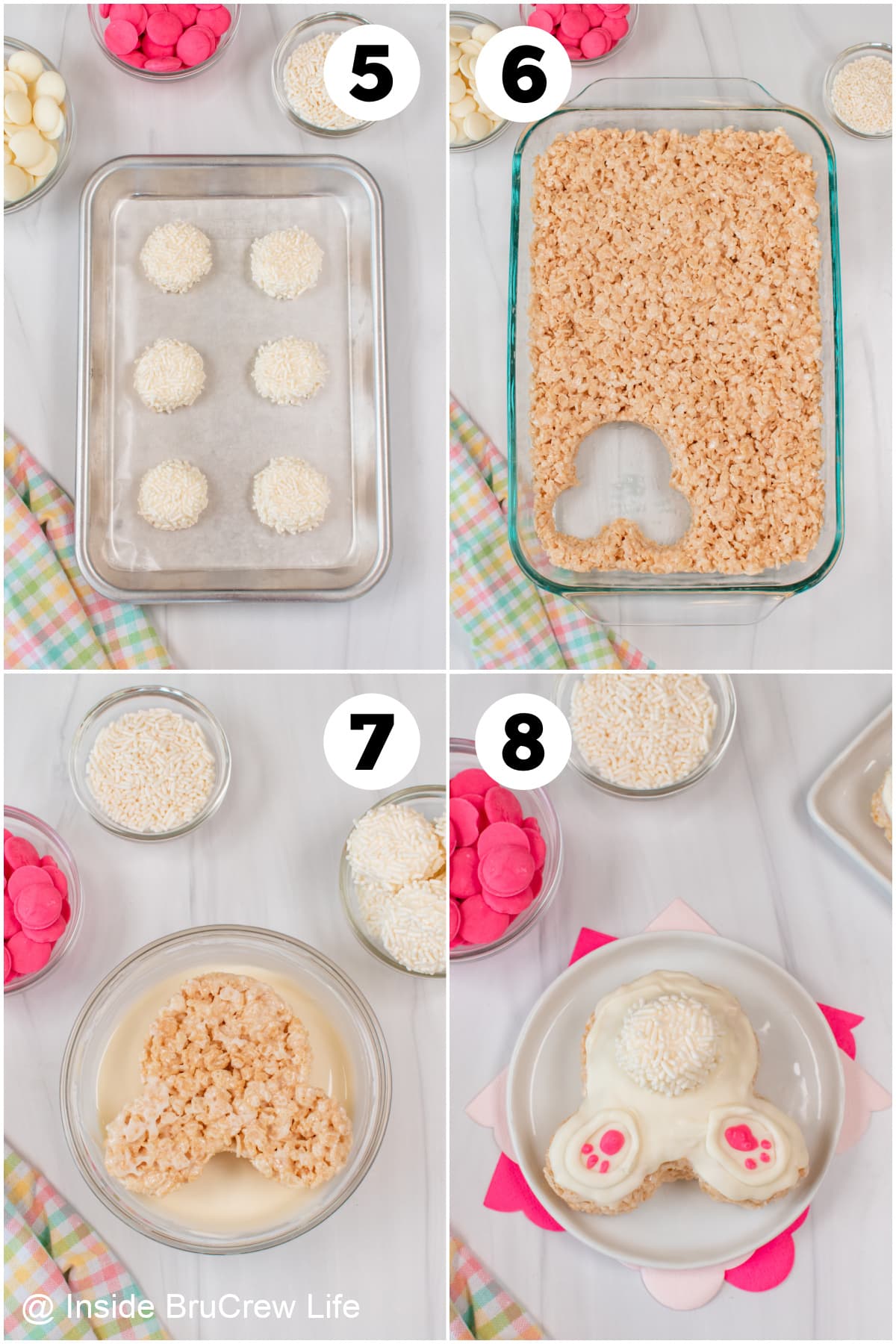 Step 5. Make bunny tails. Using clean scissors, cut 6 large marshmallows in half. Add some of the white chocolate to a bowl and melt in the microwave.
Dip each marshmallow half in the melted chocolate, place on a pan, and cover with sprinkles.
Step 6. Cut out bunny butt shapes. Turn a Mickey Mouse cookie cutter upside down and cut out 6 bunny butts.
Step 7. Dip in white chocolate. Melt the white chocolate in a microwave safe bowl. Dip bunny cutouts one at a time in the melted chocolate.
Set on a tray with the chocolate facing up. Press a bunny tail onto the centers while the chocolate is still wet.
Step 8. Decorate the bunnies. Spoon the remaining melted white chocolate into a small ziplock bag and cut one corner off. Draw ovals for the feet and let set.
Melt the pink chocolates and spoon into a bag with one corner cut off. Draw on the pink feet very carefully.
BruCrew Tip: Press the scraps together, so you can make 4 more treats. You can also press the extra pieces into the cookie cutter.
Storage Recommendations
Keep the bunny rice Krispie treats in an airtight container on the counter for 3-4 days. You can also keep them in the refrigerator for up to a week, letting them come to room temperature before serving.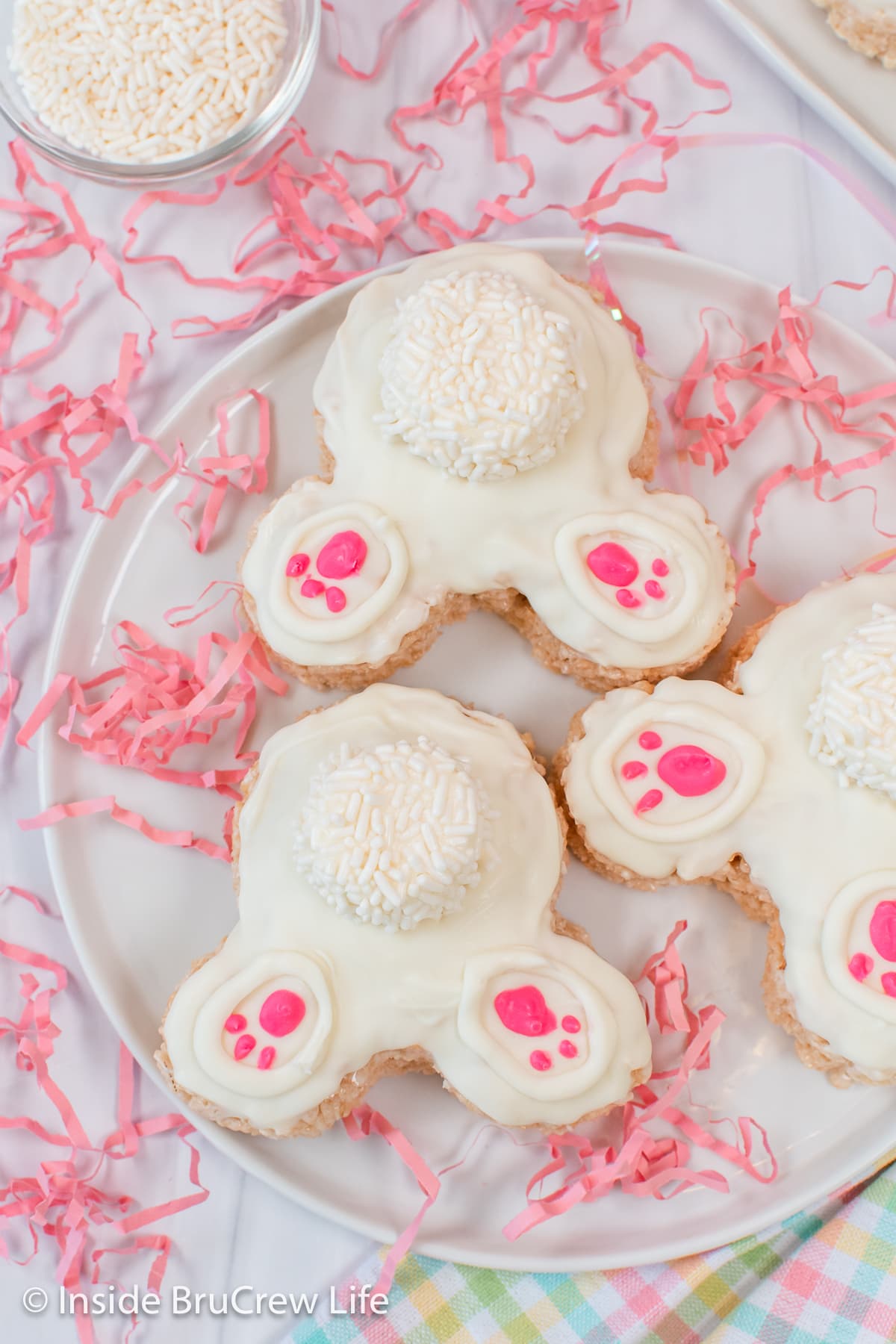 Tips and Tricks
Margarine is not recommended. For best taste and results, real butter is always best.
Use fresh ingredients. Do not use an open or old bag of marshmallows because they will not melt as well, and your treats will end up hard.
Do not over heat the chocolate. If you microwave the chocolate melting wafers for too long, it will seize or burn and become unusable.
Use a toothpick to dip the tails. Dip each marshmallow half into the chocolate. Turn to coat or use a spoon to cover it completely.
Vegan option. Look for vegan marshmallows in health food stores and coconut oil. Keep in mind the texture and flavor will be different.
Add to Easter baskets. Wrap each one in a cellophane bag and tie with ribbons.
FAQ
How do you keep rice Krispie treats from getting too hard?
To keep your treats from becoming hard, use fresh marshmallows and cereal. Also, do not over heat the butter and marshmallows because this can make hard treats. Lastly, do not press the cereal mixture too firmly into the pan.
Can I use a different cereal to make these treats?
Yes, you can use any type of cereal that you like. Keep in mind that the texture and flavor will be different from traditional rice Krispie treats.
Can I make these rice Krispie treats in the microwave?
Yes, you can make these treats in your microwave. Add the butter and marshmallows to a microwave-safe bowl and heat on high for 2-3 minutes. Stir until creamy, then add the cereal.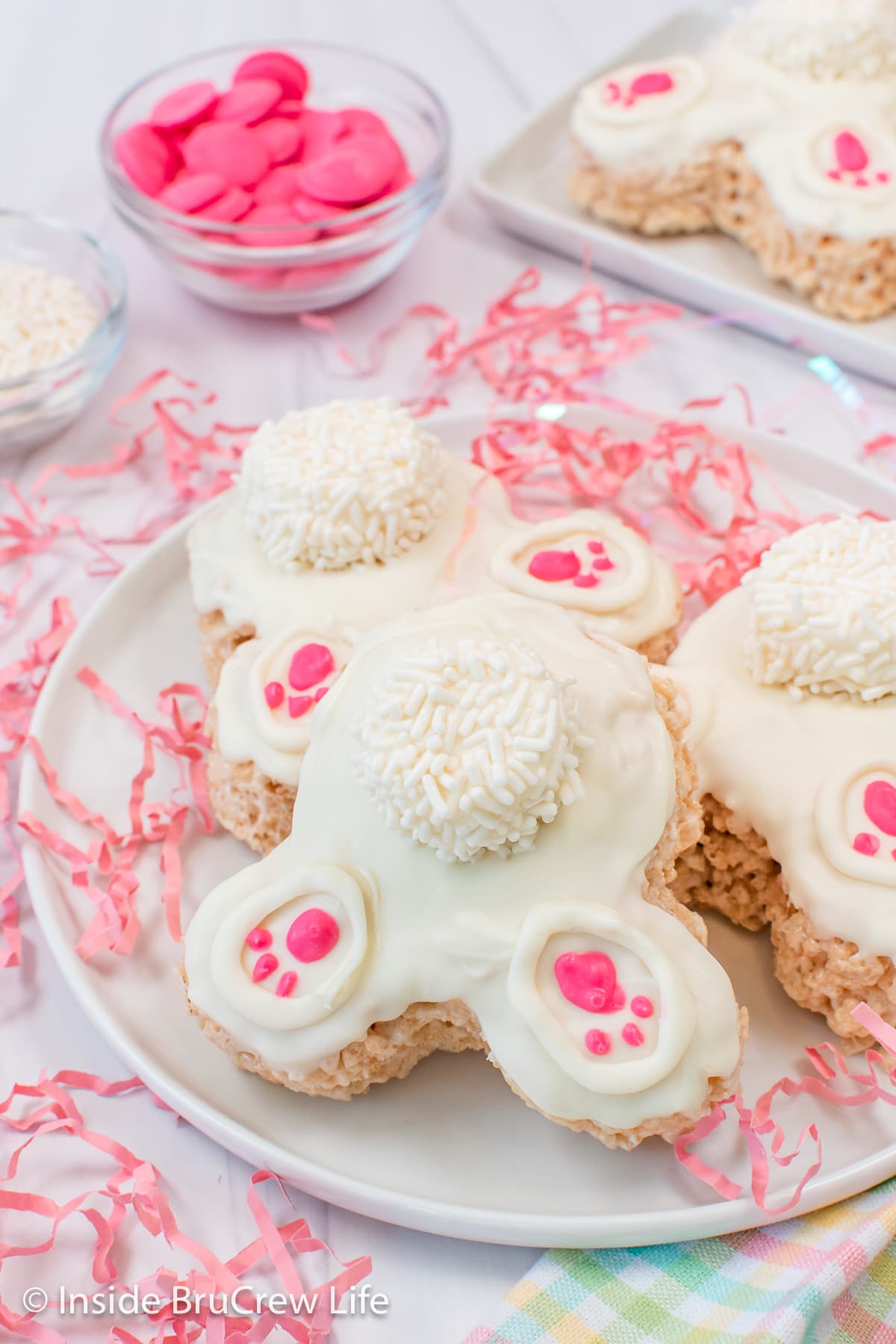 More Easter Bunny Desserts
**We participate in the Amazon Services LLC Program, an affiliate program designed to provide a means for us to earn fees by linking to Amazon.com .