This adorable and delicious Easter Bunny Snack Mix is a fun treat. Made with cereal, peanuts, candies, cookies, marshmallows, and white chocolate – you are going to love the sweet and salty combo of this easy no bake trail mix.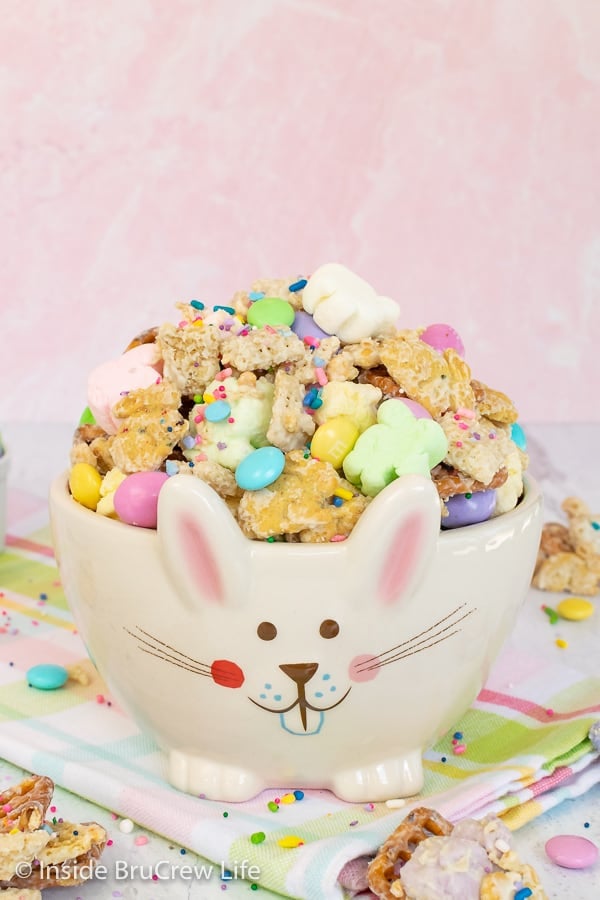 CLICK HERE TO PIN THIS RECIPE FOR LATER!
A snack mix coated in chocolate and loaded with candy will cause me to fall off the healthy eating train. Not that much healthy eating has been going on here for the past few weeks.
Trying to eat the things in your refrigerator and pantry while staying home does have certain limitations. And by limitations, I just mean that I have been eating and snacking on all the things. I pretty much single handedly ate this entire batch of Easter snack mix.
Not in one day of course, but I'm not proud of myself for the lack of self control. The name Easter crack is definitely fitting. LOL!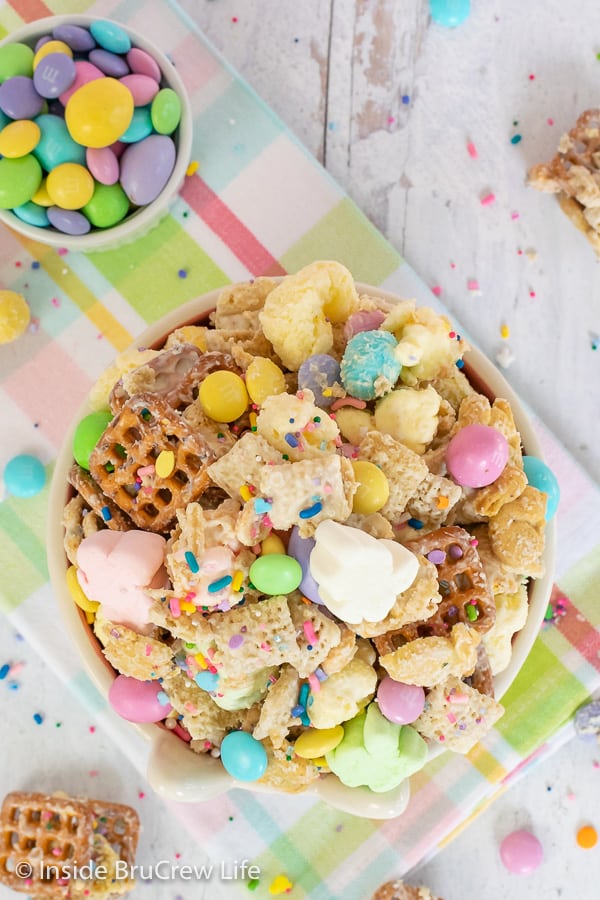 Our kids are pretty much past the stage of Easter egg hunts and all the bunny treats. But I'm not willing to let it go so quickly, so we still do a small plastic egg hunt with them every year.
Although instead of candy, we fill the eggs with change. It's how I bribe them to look for the eggs. LOL! And of course, no Easter is complete without some Decorated Peanut Butter Eggs and Chocolate Covered Marshmallow Bunnies.
Since Easter is just in a few days, I finally decided to use the bags of Easter candy and cookies that I bought awhile ago.
We also had some extra Chex cereal, pretzels, and peanuts that I pulled out of the pantry for this fun bunny snack mix.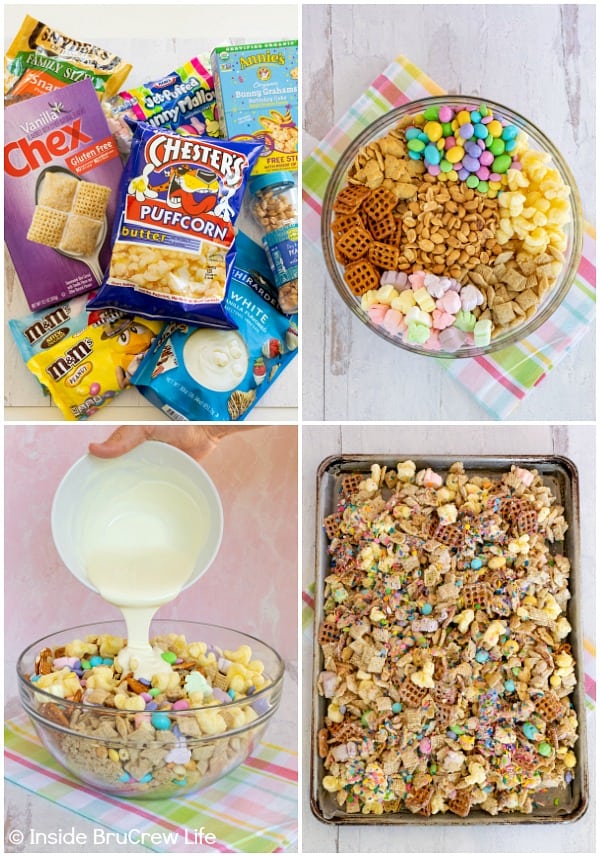 How to make an Easter Bunny Snack Mix:
Line a large sheet pan with parchment or wax paper.
Add your ingredients into a very large bowl and stir up.
Melt the white chocolate melts according to the package directions.
Pour the white chocolate onto the snack mix and stir until everything is coated.
Dump the mixture out onto the prepared pan and spread out. Add sprinkles to the top of it right away.
Place the pan in the refrigerator for 5-10 minutes or until set.
Break apart and add the extra candies and marshmallows.
Recipe Tips:
Make sure you use a very large bowl, so that when you stir everything together it does not fall out.
We like our bunny munch just lightly coated with white chocolate. If you want more, feel free to melt and use 1 1/2 or 2 bags of the melts.
Feel free to use any other snack mix ingredients that you have on hand if you don't have exactly what we used. Regular pretzels for the snaps. Popcorn instead of puffed corn. Any Easter candy instead of M&M's. You get the idea, right?
Store the Easter trail mix in a very tightly sealed container, so it stays fresh. It is best eaten within 1-2 days of making it. The longer it sits, the less crunch it will have. It's still delicious though…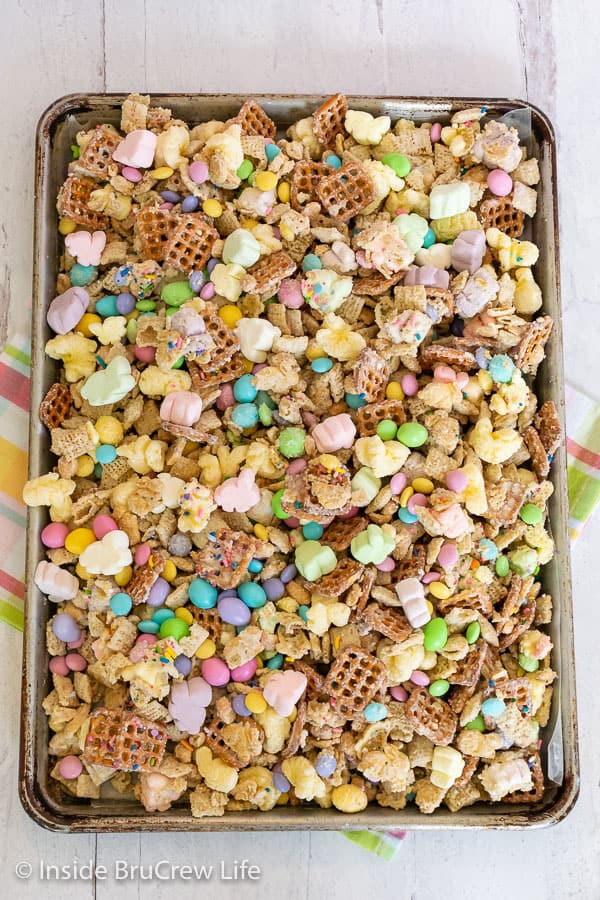 More fun Easter desserts to make with kids: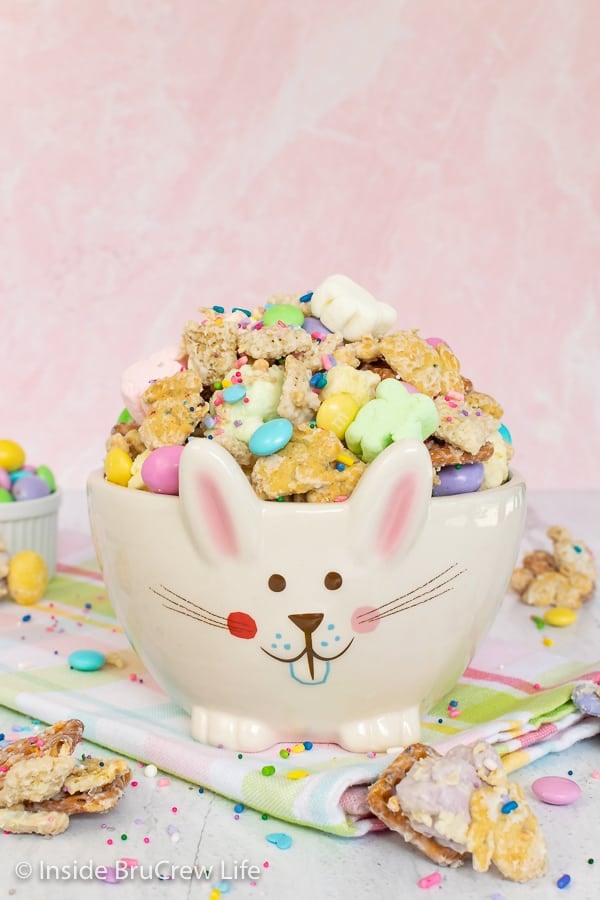 Connect with Inside BruCrew Life! Follow us on social media, so you never miss a post.
Email Subscription | Facebook | Pinterest | Twitter | Instagram | Bloglovin
I also have a Facebook group, and I would love for you to join. It's a group where you can share your favorite recipes, ask questions, share photos, and see what's new with the BruCrew. If you would like to check it out, you can request to join HERE.
Yield: 15 cups
Easter Bunny Snack Mix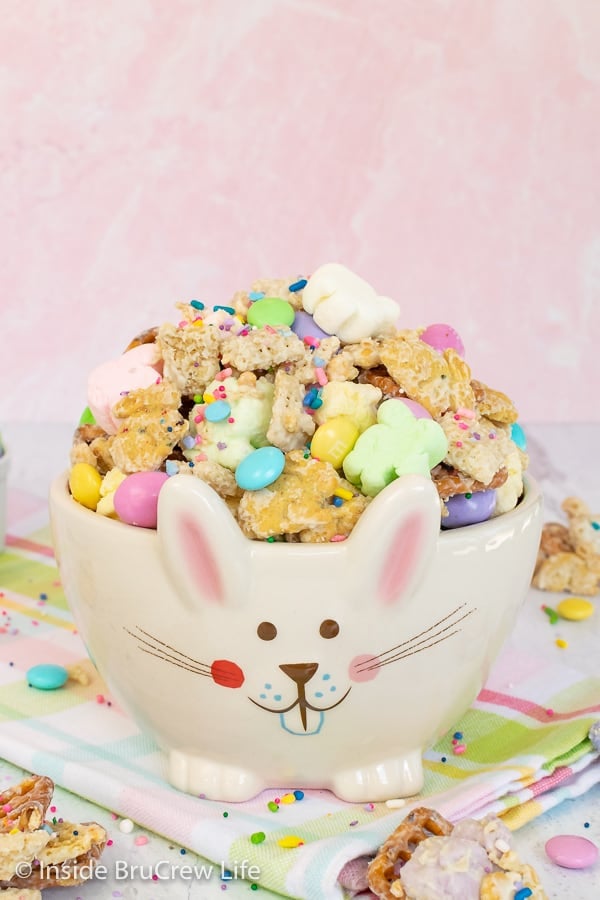 Prep Time 15 minutes

Total Time 15 minutes
Ingredients
5 cups Chex cereal
2 cups puffed corn (butter flavor)
2 cups bunny grahams
1 cup pretzels
1 cup peanuts
1 cup M&M's
1 cup peanut M&M's
2 cups bunny mallows
10 ounce bag white chocolate melts
1/4 cup Easter sprinkles
Instructions
Line a large sheet pan with parchment or wax paper.
Place the Chex cereal, puffed corn, grahams, pretzels, peanuts, 1/2 cup M&M's, 1/2 cup peanut M&M's, and 1 cup bunny mallows in a very large bowl. Stir until mixed up.
Melt the white chocolate according to the package directions. Pour onto the snack mix ingredients. Stir until everything is coated.
Dump onto the prepared pan. Add the Easter sprinkles quickly. Refrigerate the pan for 5-10 minutes or until set.
Break apart and add the additional candy and marshmallows to the mixture. Store in a very tightly sealed container or bag.
Nutrition Information:
Yield:
15
Serving Size:
1
Amount Per Serving: Calories: 440Total Fat: 19gSaturated Fat: 8gTrans Fat: 0gUnsaturated Fat: 10gCholesterol: 7mgSodium: 244mgCarbohydrates: 62gFiber: 3gSugar: 36gProtein: 8g