Adding marshmallow ears and candy eyes make these Chocolate Coconut Bunny Cupcakes an adorable treat to serve for Easter.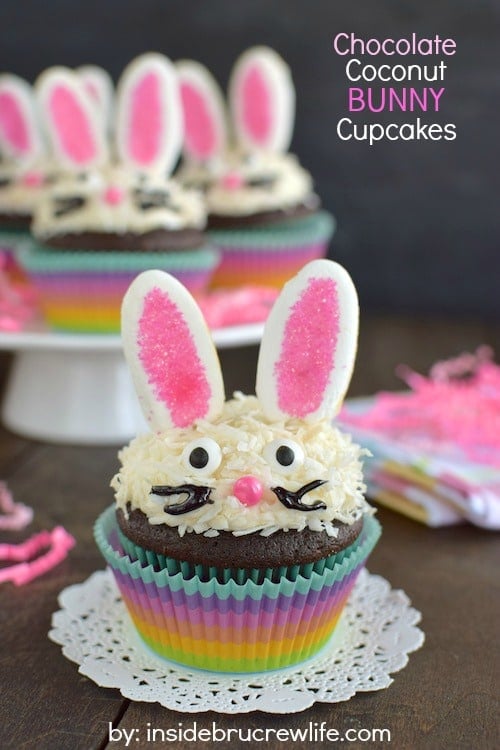 One of the running jokes in our house around Easter is all about the chocolate bunnies in the store.  You see I swear up and down that the chocolate bunnies in my Easter basket as a child were at least 2 feet tall and solid chocolate.  You would still be gnawing on that thing in July!!
But my husband says that over the years my mind has forgotten what size those bunnies really were.  He also says there is no way that a 2 foot bunny would be solid because it would cost a small fortune.  Whatever!  I know what I remember!!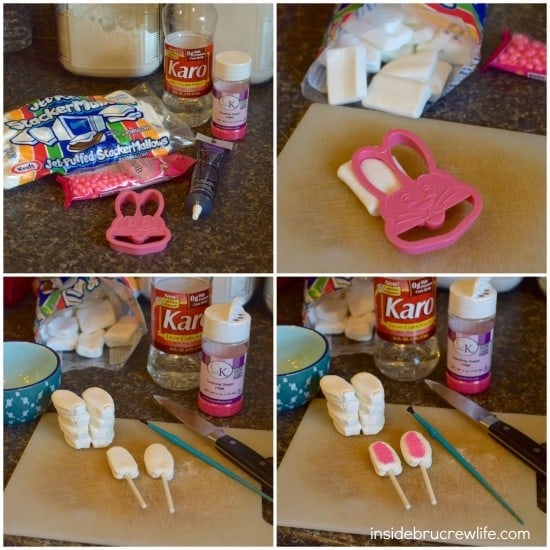 I am also still majorly obsessed with using candy googly eyes.  You had to know a fun googly-eyed bunny was bound to happen this year, right?  The Oreo Bunny Pops and Chocolate Covered Marshmallow Bunnies needed a new bunny friend.
Let me show you how easy these are to make:
 1.  Use a bunny cookie cutter to cut ears out of the flat Stacker Mallows.
2.  Use a sharp knife to cut a hole in the bottom of each ear and press a short lollipop stick in it.
3.  Spread a thin layer of corn syrup in the middle of each ear.
4.  Sprinkle with pink sanding sugar.
5.  Press the ears into the cupcakes.
6.  Add the face to the front of the cupcake.
7.  Die over how cute these are!!!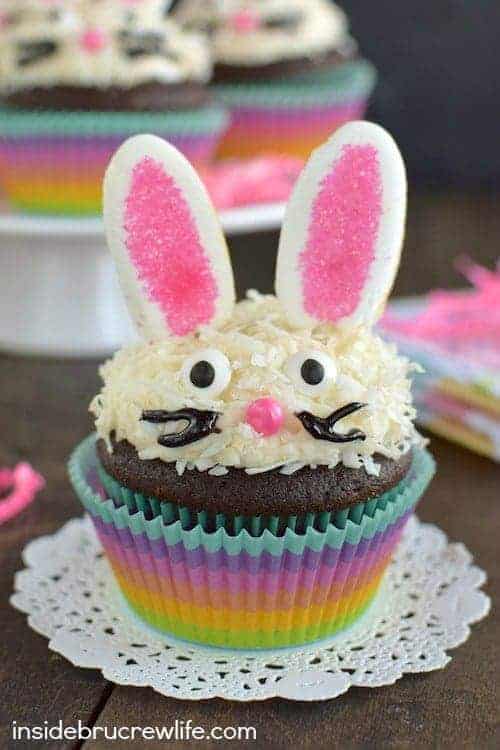 Of course, if you really want, you could serve the cupcakes plain…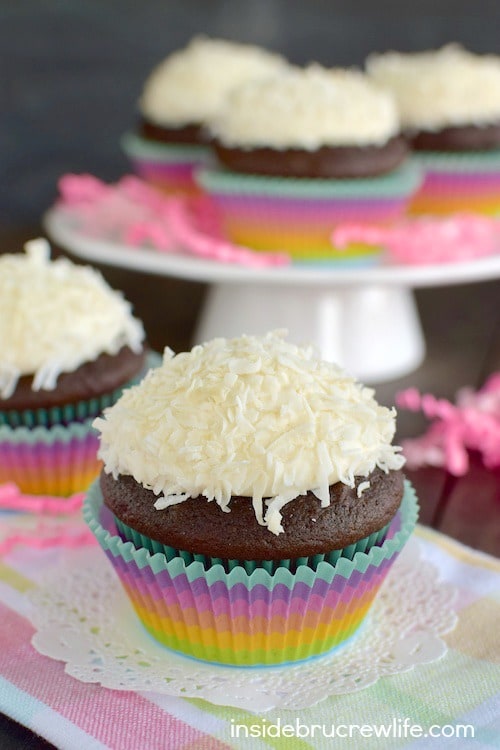 or with a few Robin Eggs on top for some color.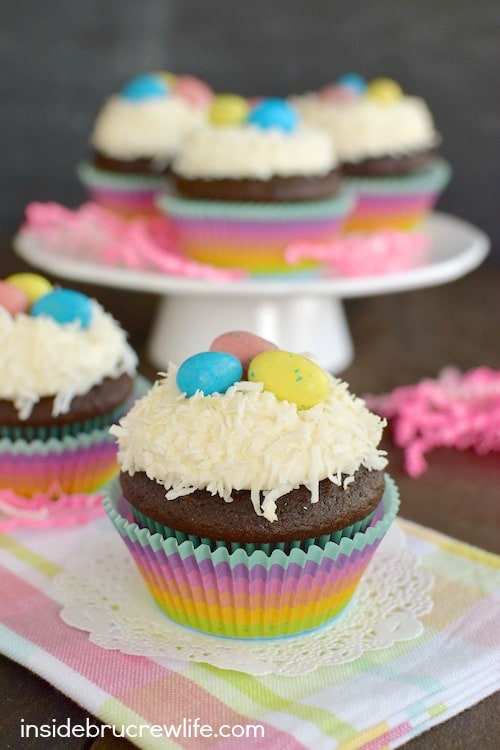 But why would you serve plain naked cupcakes when you can make marshmallow ears and have a bunny on these chocolate coconut cupcakes? You have to make these because they are SO stinking adorable!
I seriously can't wait to make more cute chocolate coconut bunny cupcakes!!!
And for more Easter fun, you have to check out these Easy Bird's Nest Cupcakes, these Cotton Candy Easter Peeps Cupcakes, and these little Sheep Cupcakes.  All three are seriously adorable!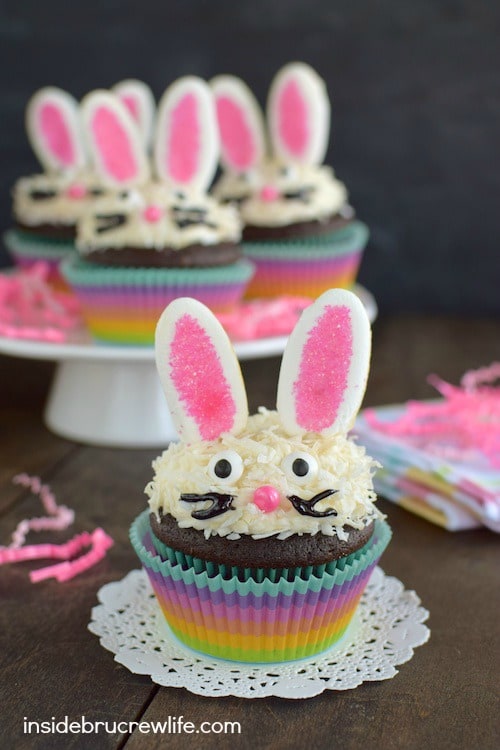 Stay up to date on all the BruCrew baking here:
FACEBOOK | PINTEREST | GOOGLE+ | TWITTER | INSTAGRAM | BLOGLOVIN
 Sign up to receive an email in your inbox for each new recipe:
EMAIL SUBSCRIPTION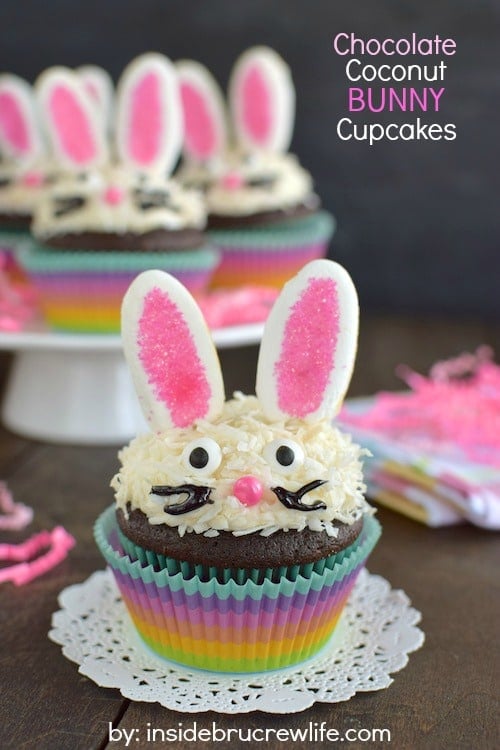 These easy to make marshmallow bunnies make these cupcakes an adorable treat for Easter or any party.
Ingredients
For the Cupcakes

1 - 15.25 ounce chocolate cake mix
1 - 3.9 ounce box instant chocolate pudding
4 eggs
1 cup water
1/2 cup oil
For the Frosting

1 cup butter, softened
1 - 7 ounce jar marshmallow cream
1 teaspoon vanilla
1/4 teaspoon salt
2 Tablespoons whipping cream
3 1/2 cups powdered sugar
1 cup shredded unsweetened coconut
For the Bunny tops

48 Stacker Mallows
short lollipop sticks
48 candy eyes
24 pink pearl candies
black gel frosting
corn syrup
pink sanding sugar
Instructions
Combine the cake mix, pudding mix, eggs, water, and oil in a mixing bowl. Beat on low for 1 minute, then beat on medium for 2 minutes.
Divide the batter evenly into 24 cupcake liners. Bake at 325 degrees for 20-22 minutes. Let cool completely.
Beat the butter, marshmallow cream, vanilla, and salt until creamy. Slowly add the powdered sugar until it is all mixed in. Add the whipping cream and beat for 2-3 minutes until light and creamy.
Spread the frosting on the cupcakes and dip each frosted cupcake in the shredded coconut.
Use a bunny cookie cutter to cut 48 ears out of the flat marshmallows. Use a knife to cut a small hole in the bottom of the marshmallow and stick a lollipop stick into the hole. (Make sure your sticks will be short enough to stick into a cupcake.)
Spread a thin layer of corn syrup on the inside of each ear and sprinkle with pink sanding sugar. Press 2 ears into each cupcake. Press 2 eyes and a pink candy into the front of the cupcake. Use the black gel to make whiskers if desired. Makes 24 cupcakes.
https://insidebrucrewlife.com/chocolate-coconut-bunny-cupcakes/
Copyright Inside BruCrew Life