Time for another fun round of the Secret Recipe Club with these easy No Bake M&M Granola Bars.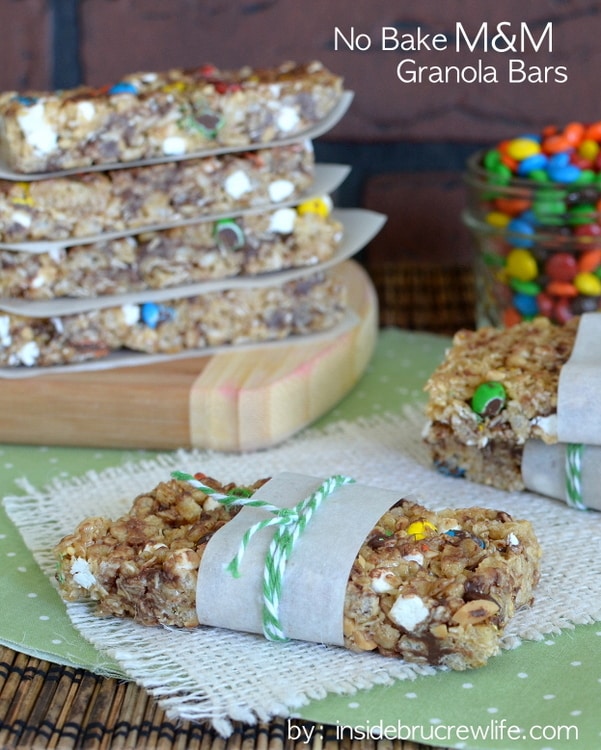 What is that you ask?
It is a group of bloggers that get together and make a recipe from their assigned blog each month!
Basically we are encouraged to blog stalk until we find the "perfect" recipe!
I have been following and reading Amy's blog for a while now…
oh and keeping up with her on facebook and instagram too!
So, I was so excited to go through some more of her posts that were "new" to me,
and to get to know her even more!!!
That girl has some awesome stuff going on over at her blog…
I seriously wasn't sure how I was going to pick just one recipe to make this month.
And I will eventually try them all, but for today
the No Bake Granola Bars won out.
Mostly because it was over 90 degrees the week I made them,
and after a day at the pool I was feeling kind of lazy like!
No bakes it is!!!
Plus, my kids eat granola bars like they are going out of style,
so I decided that making my own is cheaper and better than the processed cheap ones
I have been feeding them.
I'm not sure if I will ever buy another box from the store again!!!
These were so delicious and fresh!
And I love being able to throw whatever I have in my cupboard at the time
for new varieties!!!  So many things you could do with this recipe.
I'm thinking a peanut butter cup version needs to happen asap 🙂
Love me my pb cups!!!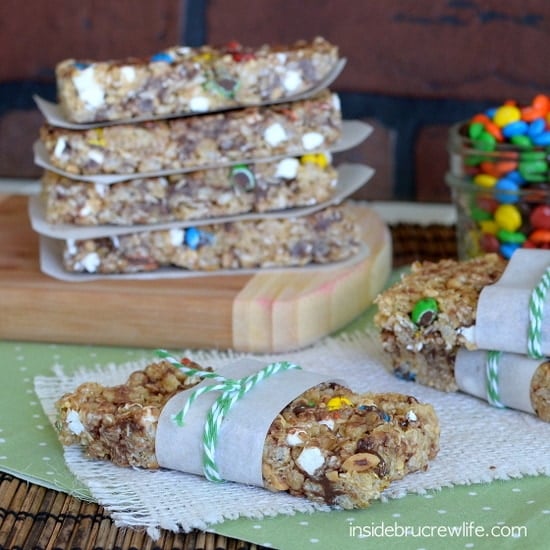 This time I pretty much stuck to the recipe…
not much you can change up except your mix-ins.
(Next time I am thinking about using coconut oil though.)
That I had fun digging through my cupboard for goodies.
I came out with mini m&m's, mini chocolate chips,
mini marshmallow bits, and chopped peanuts!!!
Why yes, I do love all things mini!
These were fantastic and I can't wait to make more,
with lots more fun flavor combo's!
Thank you Amy for so many great recipes and a fun blog to read!!!
You are the bomb girl!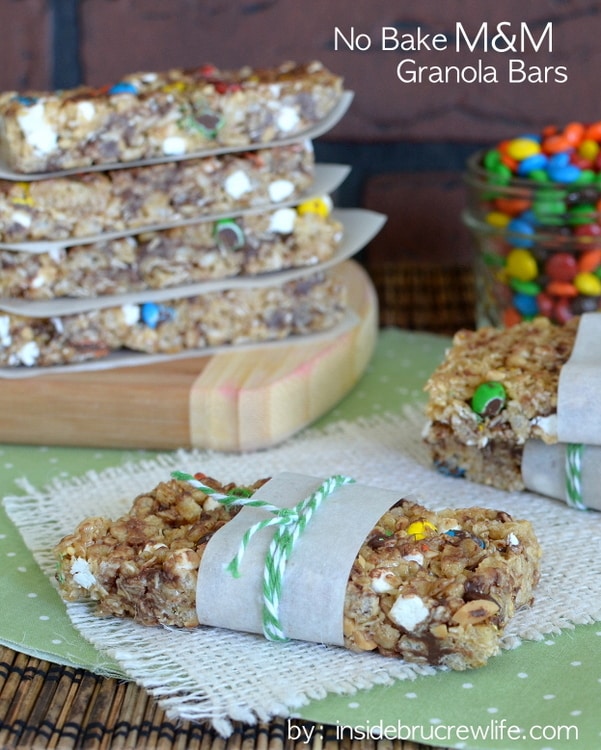 No bake granola bars are a fun way to enjoy a snack in the afternoon. Have fun with the mix ins and create your own fun flavor.
Ingredients
1/4 cup butter
1/4 cup honey
1/3 cup brown sugar
2 cups quick oats
1 cup rice krispies cereal
1/2 teaspoon vanilla
1/2 cup chopped peanuts
1/2 cup mini chocolate chips
1/2 cup mini M&M's
1/2 cup mini marshmallow bits
Instructions
Combine the oats and cereal and set aside. In a large saucepan, combine the butter, brown sugar and honey. Stir over medium heat until melted and the mixture begins to bubble. Reduce heat and cook for 2 minutes. Stir in the vanilla. Add the oats mixture and stir until coated. Let cool for a few minutes before stirring in all the mix ins.
Press into a greased 9x13 pan. Make sure you really press it down so everything sticks together. Let cool on the counter for about 2 hours before cutting into 24 bars. Store in a tightly sealed container.
Notes
https://insidebrucrewlife.com/no-bake-mm-granola-bars-src/
Copyright Inside BruCrew Life