These soft, flakey Caramel Apple Scones and a cup of hot cider is a delicious way to start the day. The buttery caramel glaze on top adds so much flavor to each bite.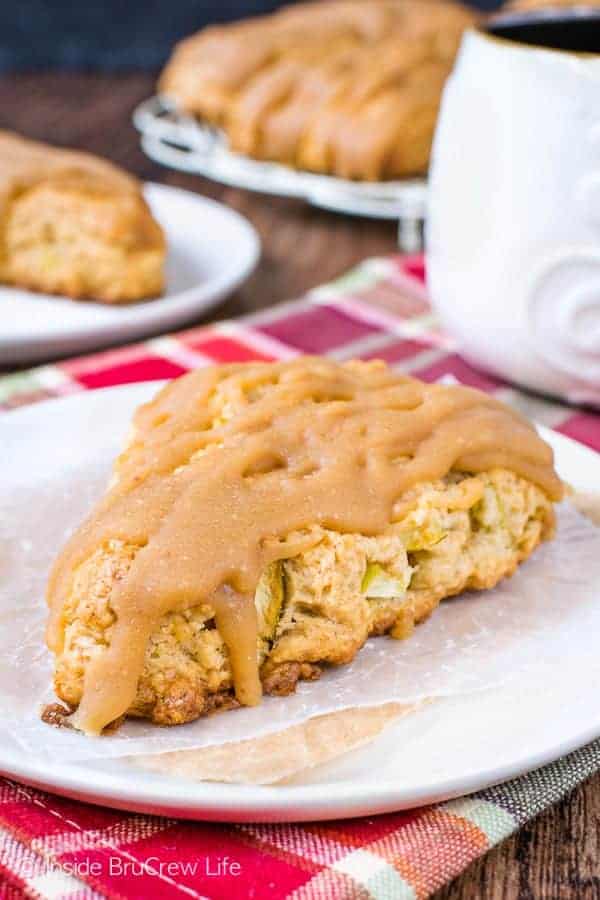 There was a time when I thought that I didn't like scones. After a few experiences with scones, I discovered that I'm actually picky about how I like my scones.
They can't be dry and crumbly. They also can't be soft like a muffin. So my ideal scone is somewhere in the middle of the two. It has to be slightly dry but with a soft buttery texture that melts in your mouth
I also used to think that scones were hard to make. In fact, it was only after years and years of baking that I first attempted to bake some scones. And you know what? I found out that they are actually pretty easy to make.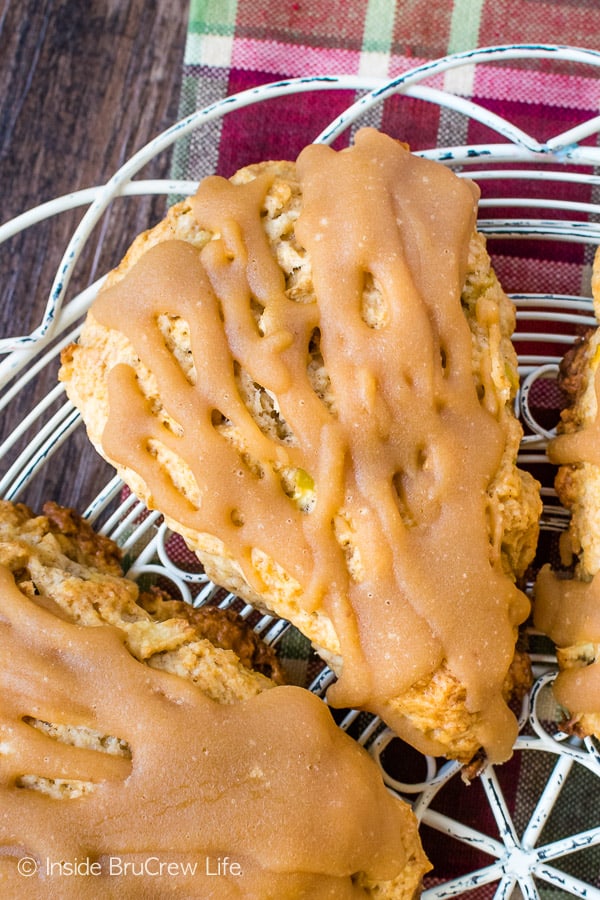 Most of the scone recipes that I have attempted only require a bowl and a fork. I love when a recipe doesn't require tools or a mixer. Just means less dishes to wash later, am I right?
This fall I have been totally and completely into all things apple. I had a few bags of apples leftover after making this Apple Praline Cake and these Mini Apple Fritter Waffle Donuts, so I decided to get adventurous and add apple chunks to some fall scones.
One bite and I was in love with how soft and flakey these apple scones were.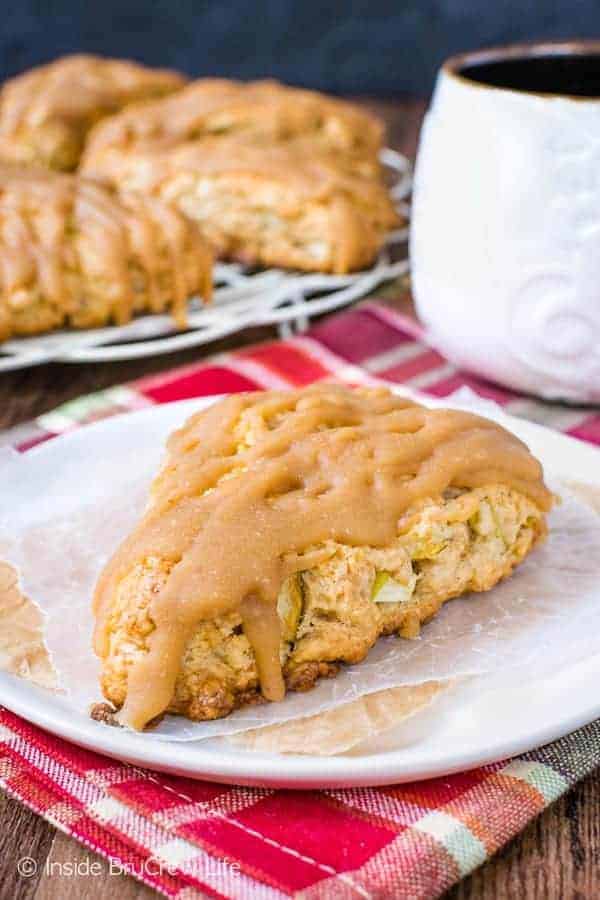 How to make Caramel Apple Scones:
Whisk together the dry ingredients. Cut in the cold butter with a fork or pastry blender. The key to good scones is cold butter. The pockets of butter in the dough will melt while baking and create delicious flakey scones.
Place the mixture back in the fridge for at least 10 minutes to chill the butter again.
Dice the apples into tiny chunks. You can use what every apple you like best, but for these I used Granny Smith apples. Add the apples to the butter mixture.
Whisk together the egg, cream, and vanilla. Stir this into the middle of the chilled butter mixture.
Use a fork to pull it all together until a soft dough forms. Be careful not to overwork the dough or let it get too warm.
Pat the dough into an 8 inch circle. Cut the circle into 8 wedges and pull them apart slightly. The dough will be sticky, so use a flat spatula underneath each one to separate them.
Place the pan in the fridge for 30 minutes to chill one more time before baking.
Bake the Caramel Apple Scones for 20 minutes. Remove and cool completely before drizzling with the caramel glaze.
How to make a Caramel Glaze:
Place the sugars and milk in a saucepan and bring to a boil. Boil for 2-3 minutes or until it reaches about 240 degrees on a candy thermometer.
Remove the pan from the oven and stir in butter and vanilla.
Let the mixture cool slightly before drizzling over the tops of the cooled scones.
If the caramel glaze hardens too much, you can add a little bit of milk and place it back on the heat until it melts again.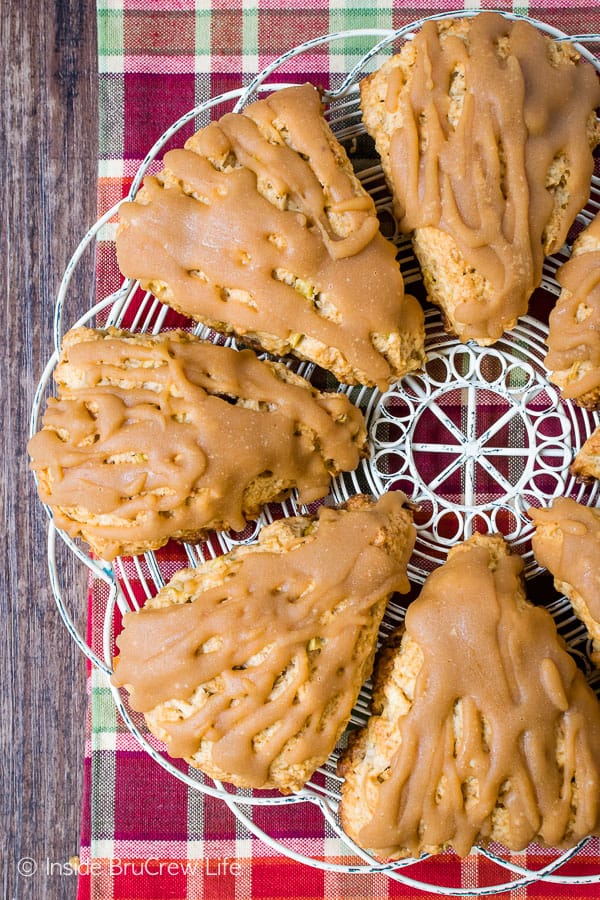 More scone recipes you may enjoy: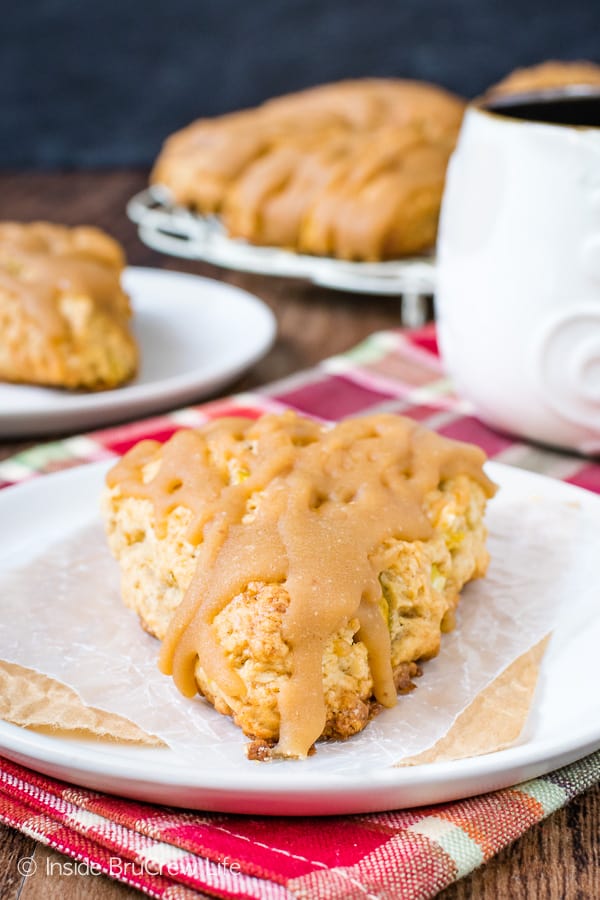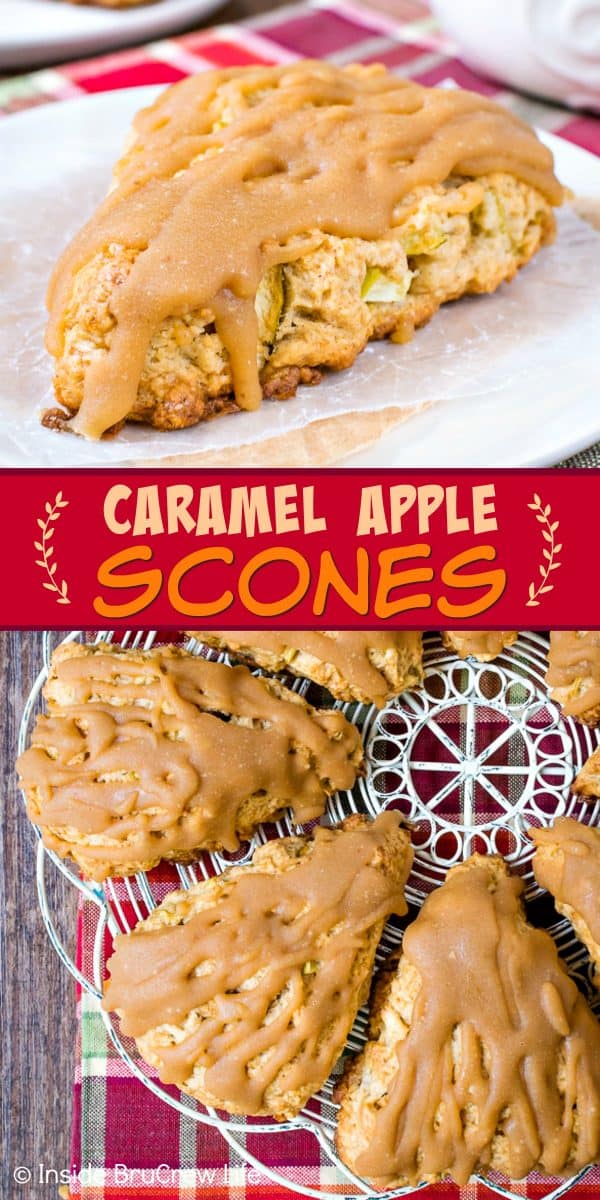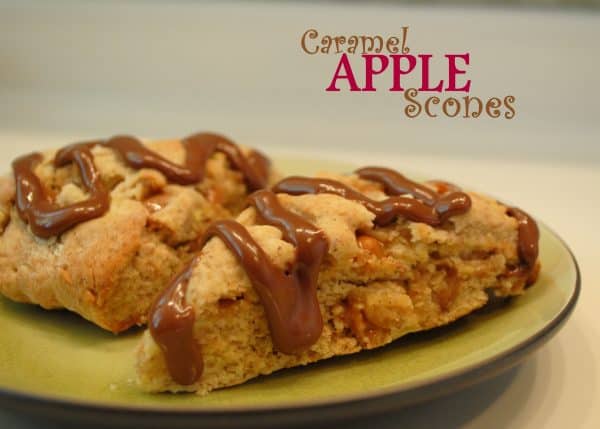 (original photo from November 2010)
*The post for the Caramel Apple Scones recipe was originally published November 23, 2010. The pictures and post have been updated and republished on October 30, 2018.