The pieces of apples and the sweet glaze on these Mini Apple Fritter Waffle Donuts will have you reaching for a few more homemade donuts in a hurry. Perfect snack to enjoy with a cup of coffee this afternoon.
*Crunch Pak apples sponsored this post. I am partnering with them as a blog ambassador creating delicious apple recipes. All opinions are 100% my own.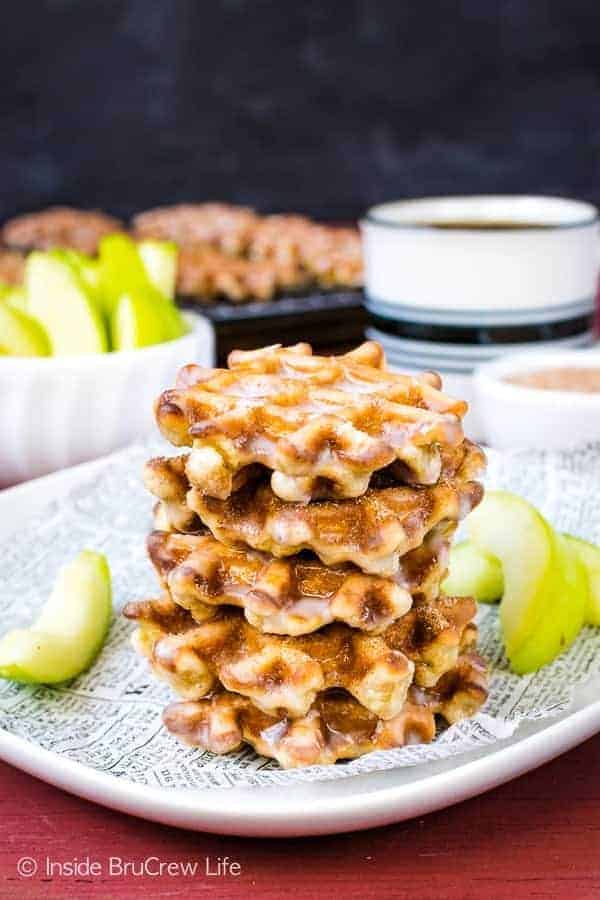 One of my all time favorite donuts is actually a warm apple fritter from a little donut shop in Indiana where we lived for 12 years. Even now, I'm totally drooling as I remember how they melted in your mouth.
The chunks of apple in a soft dough that is fried and coated in a sweet sugary glaze is hard to beat. I'm actually kicking myself right now for not stopping when we drove through there this past summer.
What was I thinking???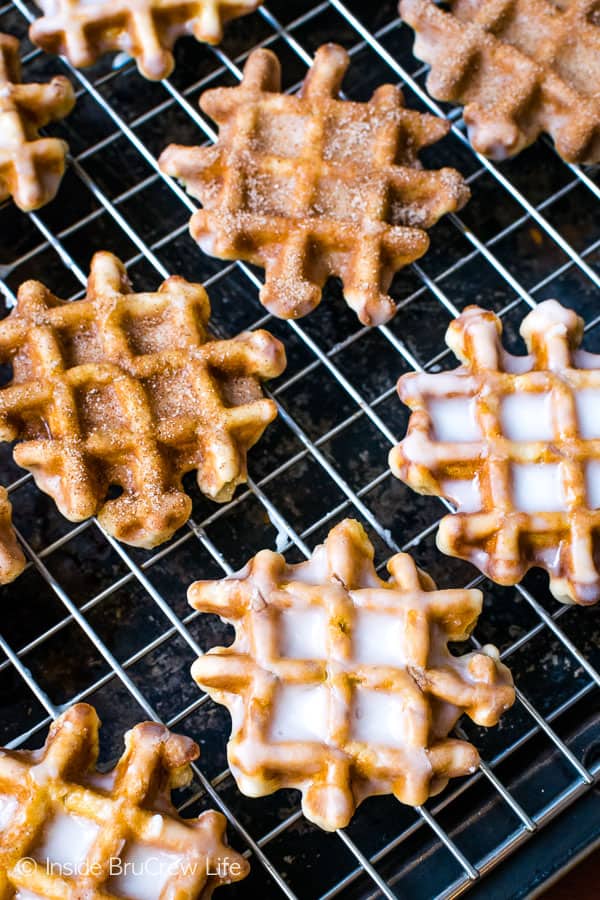 I know that fall is still a month away, but this week I jumped on the apple baking train, and I haven't looked back. There may even be some fall decorations on a few tables in our house. My husband and kids gave me a little grief for rushing fall.
Our local grocery store had bags of apples on sale this week, so I had to get started on my apple baking early. The way I see it is that they were basically forcing me to start fall baking.
As a brand ambassador for Crunch Pak apples, I always keep bags of the sliced apples in our fridge for snacks or for recipes like this Maple Apple Walnut Cake or this Apple Praline Cake.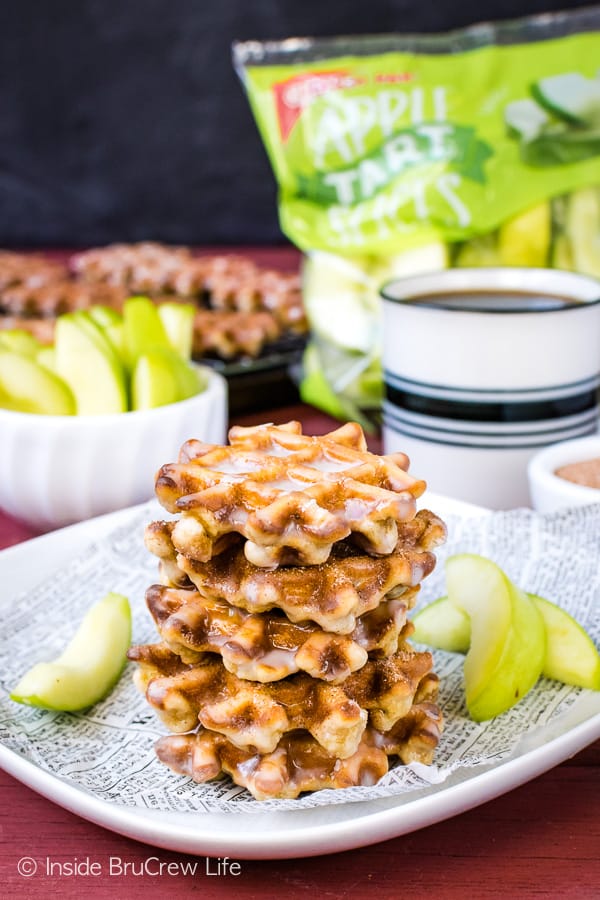 This week as I was baking, all I could think about were those amazing apple fritters that I missed out on last month. So I set out to make a homemade apple fritter recipe in our kitchen.
But then I saw our mini Dash waffle iron sitting on the counter, and I decided to combine apple fritters, waffles, and donuts into one awesome little fall treat. It was a great idea!!
Buy a mini Dash waffle iron on Amazon!
I would recommend using TWO little waffle irons, so you can finish quicker. Thank goodness I was able to multi task and do some cleaning in our kitchen while the waffle donuts were cooking.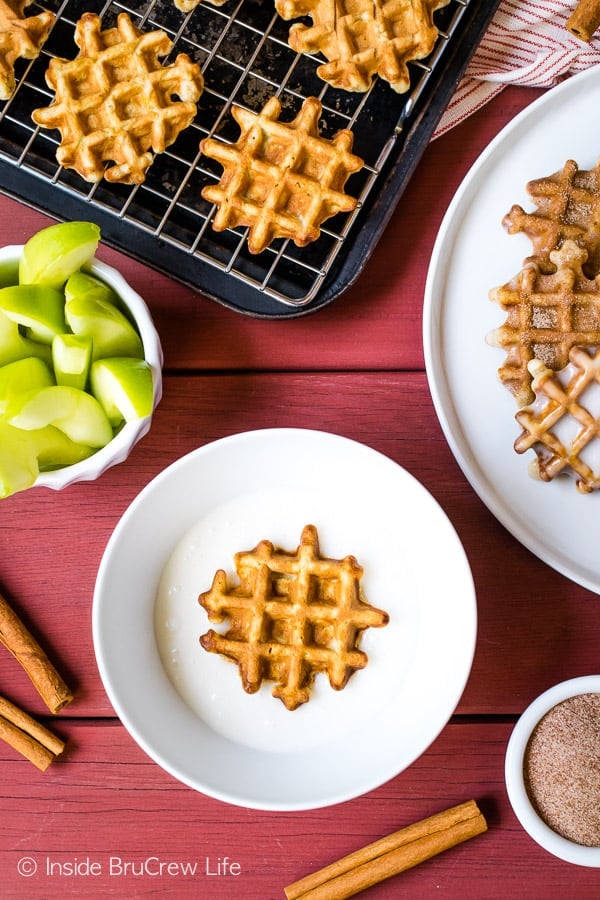 How to make Mini Apple Fritter Waffle Donuts:
Preheat your waffle iron, so that it is ready to get started as soon as the batter is ready.
Stir together the dry ingredients in a bowl.
Whisk together the egg, milk, and oil and then stir it into the dry ingredients.
Use a food processor to shred your Crunch Pak apple slices. You can leave the peels on when you do this. Stir the apple pieces into the batter.
Spray the waffle iron with non-stick spray and drop the batter by Tablespoons onto different sections of the waffle iron. Make sure to space them out a bit, so they don't cook together.
Cook the waffle donuts for 3-5 minutes depending on how hot your waffle iron gets. The little waffle iron that I used took 5 minutes to get a good crispy outside that I was happy with. Use a fork to gently remove the donuts from the waffle iron.
Let the waffle donuts cool on a wire rack while you stir together the glaze.
Drop each one into the glaze and flip it over to get the glaze into every square of the waffles. Place them back on a wire rack that is inside of sheet pan. The pan underneath will catch all the drips, so you don't have a mess on the counter later.
PRO TIP: These Mini Apple Fritter Waffle Donuts are best served the day they are made. Although, I did refrigerate the leftover waffle donuts. They were pretty delicious reheated in the microwave for a few seconds the next day.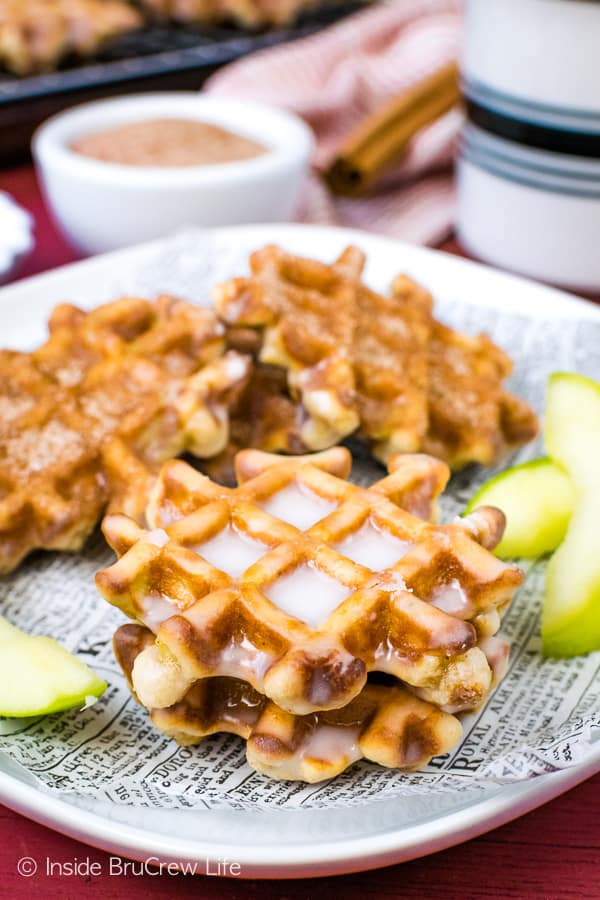 More easy apple recipes you may enjoy: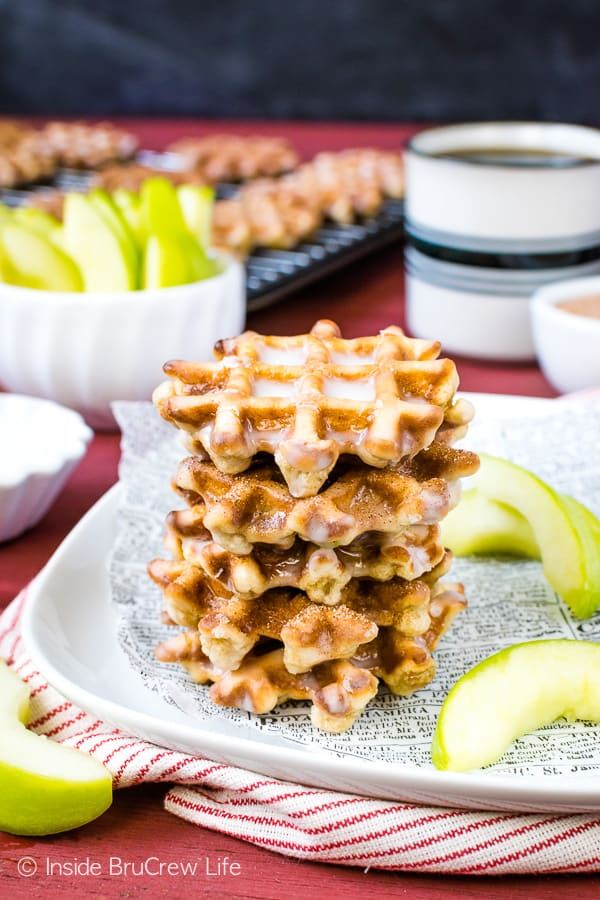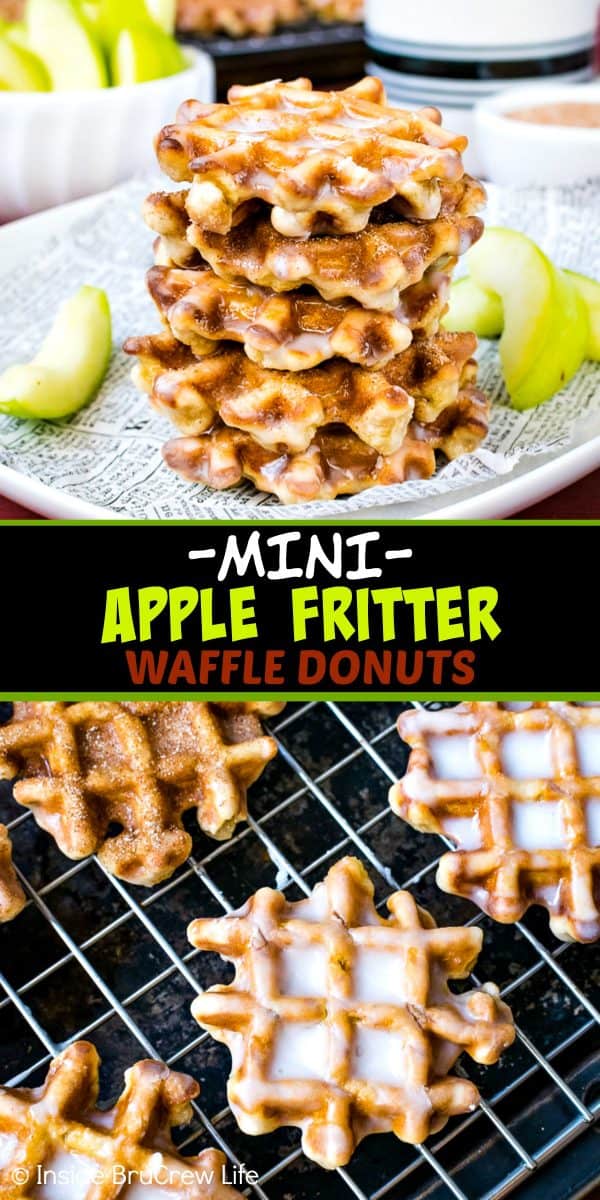 *This post was sponsored by Crunch Pak apples. I am partnering with them as a blog ambassador creating delicious apple recipes. All opinions are 100% my own.
**This post also contains affiliate links. Inside BruCrew Life may receive a small percentage from sales made through these free links. As always, these links do not cost you any extra. Thank you for letting us share products we use and love this way.