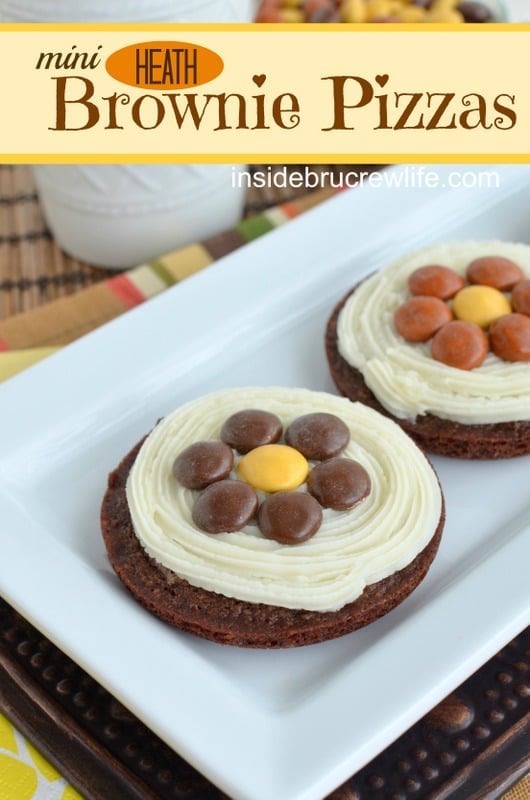 Mini desserts are definitely more fun to make and to eat. These mini Heath Brownies are very easy to make, but they have a great wow! factor when served for dessert.
The other day my youngest son wanted to bake something with me. Of course, any chance I get to bake with my little ones, I definitely fit it in. Now his only request was that they be plain brownies.
Now I don't know about you, but the word "plain" does not exist in my vocabulary in regards to baking...well, in anything really. I mean look at these Tiramisu Brownies and these Salted Caramel Brownies...definitely anything but plain comes to mind.
But I was more than willing to make some plain with him...on one condition...he got to make his half plain and I got to jazz my half up. We decided to make the brownies using a muffin top pan.
I use mine all the time for muffins and whoopie pies, so it is well worth the money. (I have a muffin recipe later this week using one too!)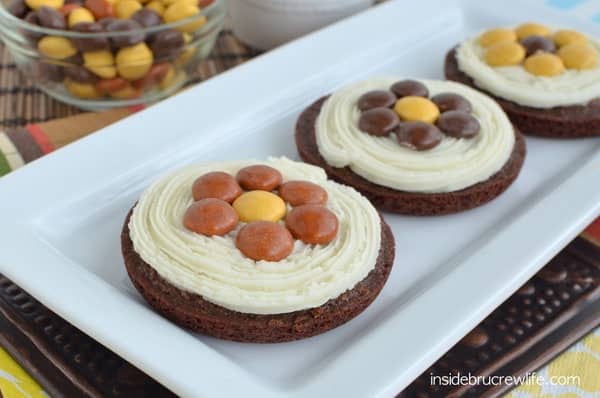 The last time I was shopping at Walmart I found these Heath pieces. They basically were screaming at me to put them in the cart, so I couldn't resist taking them home with me. And while I was there I picked up some Heath creamer...I just knew something yummy was going to happen with the two of them together.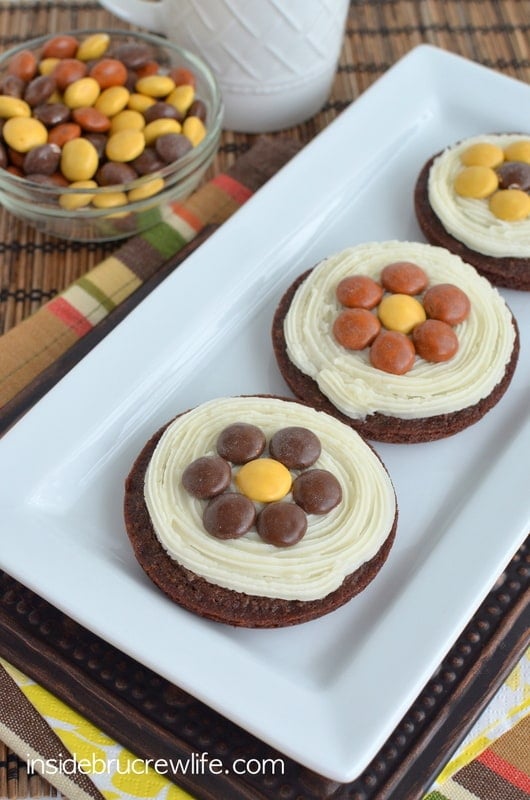 Let's get started first with some brownies. You have two options...use a box mix or bake up your favorite from scratch. I personally keep boxed brownie mixes on hand for fast easy brownies. I like to call my baking style semi homemade. Anyway, whatever you decide, just make some brownies, but make sure you substitute coffee for the liquid in the recipe. Then spoon about a tablespoon of batter into each muffin top cavity. Bake for 10 minutes and viola! Mini brownie pizzas!
Next make some butter cream using the coffee creamer in place of any milk. Try to resist eating spoonful after spoonful of the icing...it is seriously that good. The last part to these fun brownies is the flower on top. We used the Heath pieces to decorate the tops of these Heath brownie pizzas.
Easy peasy brownie pizzas in no time at all.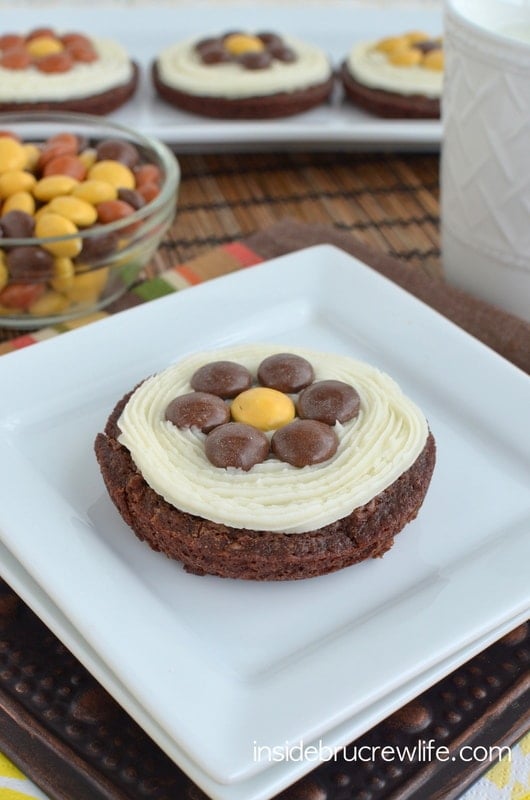 Check out some more fun jazzed up brownie recipes:
White Chocolate Oreo Brownie Parfaits
*This post does contain an affiliate link. Inside BruCrew Life may receive a small percentage from sales made through these links. Thank you for letting us share products that we use and love this way.