Craving brownies and cookies? These easy Chocolate Brownie Cookies are the best of both worlds. Try this thin and chewy cookie recipe filled with frosting or ice cream for a fun dessert.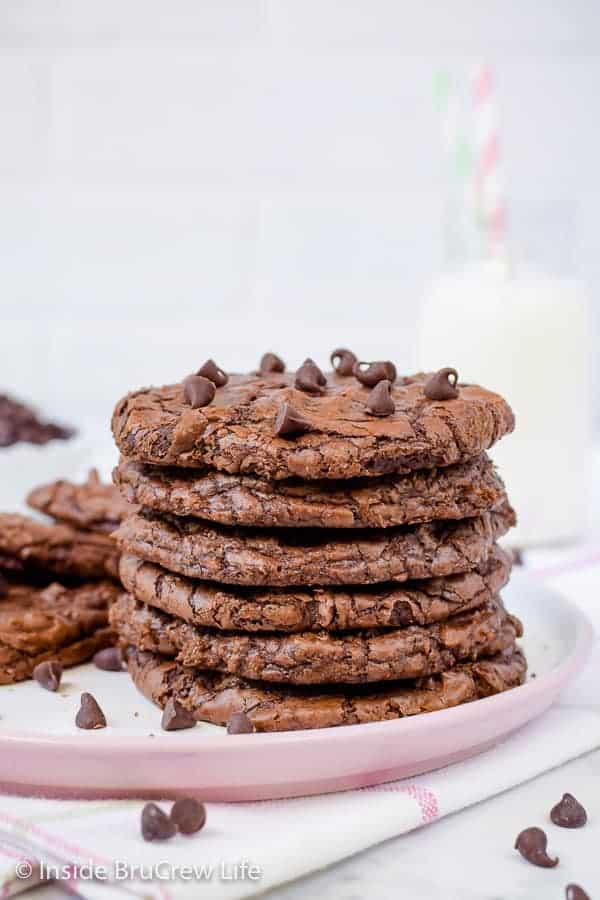 One of the things I am trying to do right now is to use up all the baking supplies in the pantry that I have hoarded over the past year. There are bag and bags of chocolate chips, candies, sprinkles, and pudding mixes just hanging out waiting for me to pick them.
In all reality though, I haven't been doing much baking this summer. Number one because I'm trying to put a stop to my sweet tooth and when I bake, I snack. Number two, it's hot in Florida during the summer.
And number three I have quite a few recipes already made and ready to share with you, so I'm working on editing and writing about those instead of baking more cookies and cakes and cupcakes.
So these brownie cookies staring back at you were actually made back in April. Yup, over three months ago I made these soft chocolate cookies and then didn't share them with you right away.
Normally, I like to make these brownie whoopie pies using a brownie mix, but since I had some chocolate chips to use up, I decided to make a plain version of these moose tracks cookies instead.
They are are so chewy, chocolatey, and delicious. My favorite way to eat them is as ice cream sandwiches because they do not get rock hard in the freezer.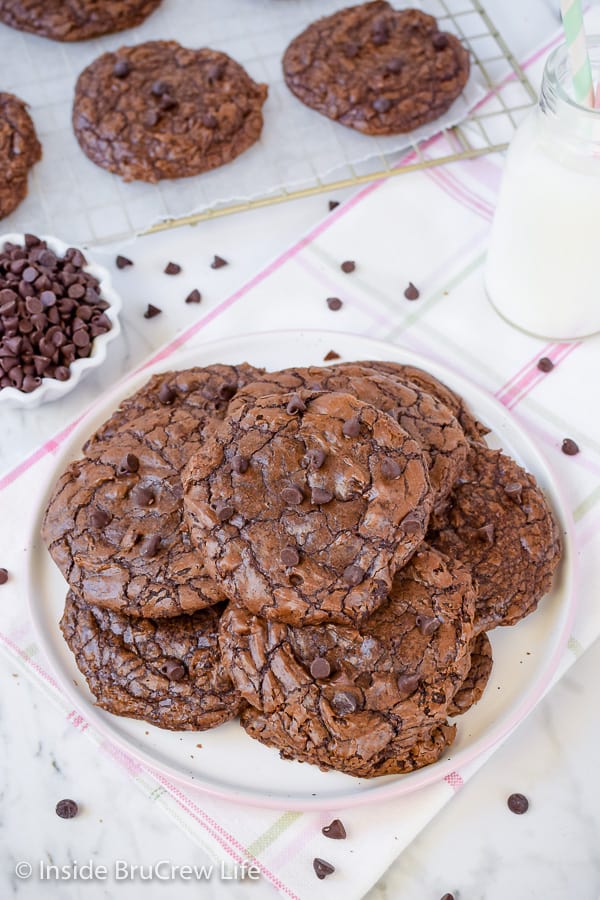 Ingredients Needed
Chocolate - this recipe uses a mixture of semisweet chocolate chips and unsweetened baker's chocolate. You could also use ⅓ cup more chocolate chips if you do not have the baker's chocolate. It will make the cookies just a little bit sweeter though.
Butter - I use unsalted butter for all my recipes, but if you have salted it will be fine in this recipe.
Sugar - I used all granulated sugar in these cookies.
Eggs - Make sure you are using large eggs. Any other size egg will affect the texture of the batter.
Vanilla and Baking Powder - adds a little bit of flavor and lift to the cookies as they bake
Flour - There is only a SMALL amount of all-purpose flour in these cookies. I haven't tried any other flours, but I think they would work fine too.
Full Recipe - scroll to the bottom of the post to see the amounts and instructions.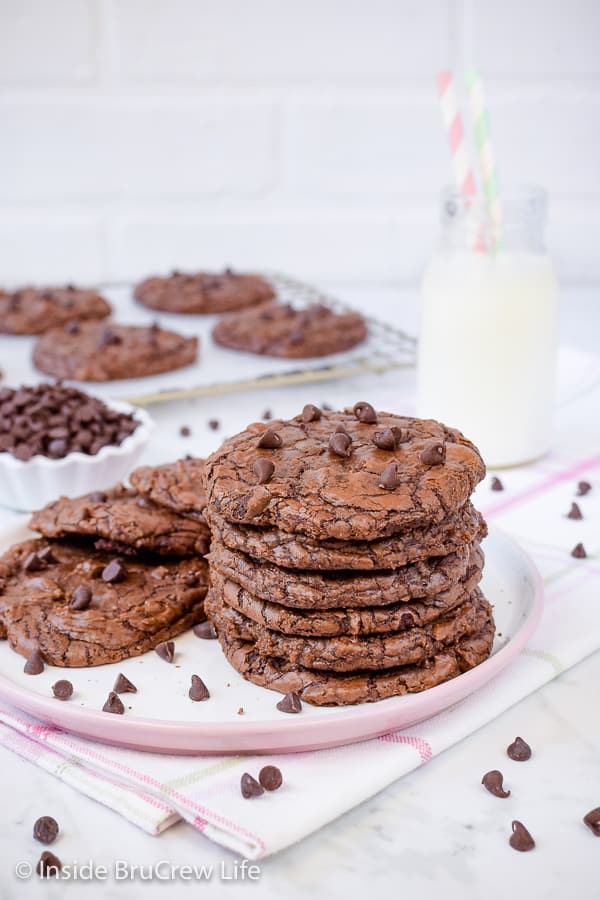 How to make Chocolate Brownie Cookies
Melt the chocolate chips, unsweetened chocolate and butter in a pan over low heat. Stir constantly until everything is melted and creamy.
Stir together the sugar, eggs, vanilla, baking powder, and flour in a bowl.
Add the melted chocolate to the sugar mixture and stir until a dough forms. The batter should be thick, not thin and runny.
Drop by teaspoon on a baking sheet. Spread the batter out into a circle. Do not spread it out too much or the edges will be crispy when they bake.
Bake for 8-10 minutes. The cookies may be slightly puffy when they come out of the oven, but as they cool they will flatten.
Let the cookies cool on the pan for a few minutes, then move to a cooling rack or wax paper to cool completely.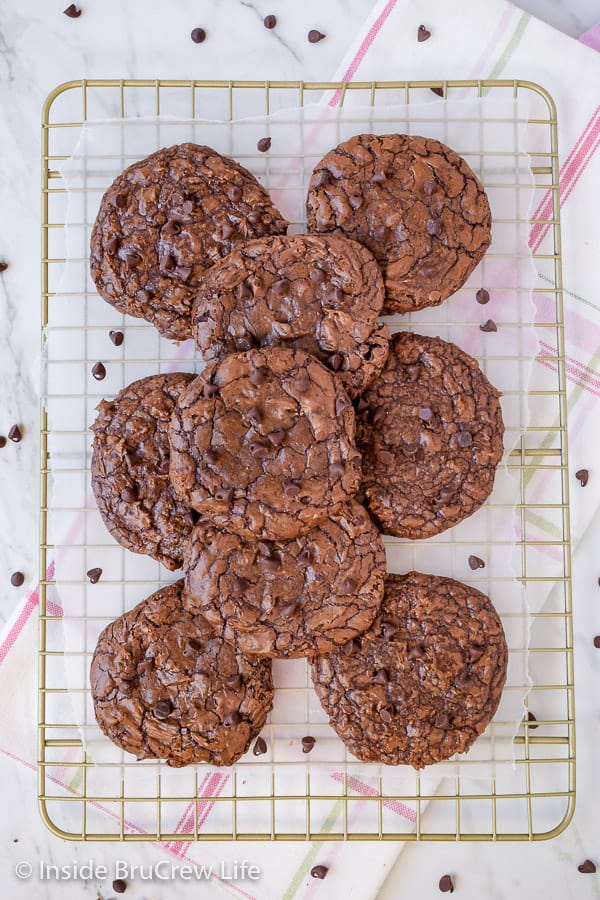 Recipe Tips
Make sure you set out all your pans and measure your ingredients ahead of time. You want to be able to stir it all together quickly and drop them on the cookie sheet in a short amount of time.
Give the melted chocolate time to cool slightly before adding the rest of the ingredients.
The batter should and will stiffen up the longer it sits, so make sure you bake it right away.
Use the back of a spoon, a spatula, or your finger to spread the thickened batter out slightly once you drop it on the cookie sheet. The cookies will bake in a nice thin shape this way.
Store the cookies in a tightly sealed container, so they stay soft for a few days. If they last that long...
Fill two of these chocolate brownie cookies with a scoop of fudge swirl ice cream for a delicious twist on a homemade ice cream sandwich. They are the perfect cookie for ice cream sandwiches, because they stay chewy even when frozen.
CLICK HERE TO PIN THIS RECIPE FOR LATER!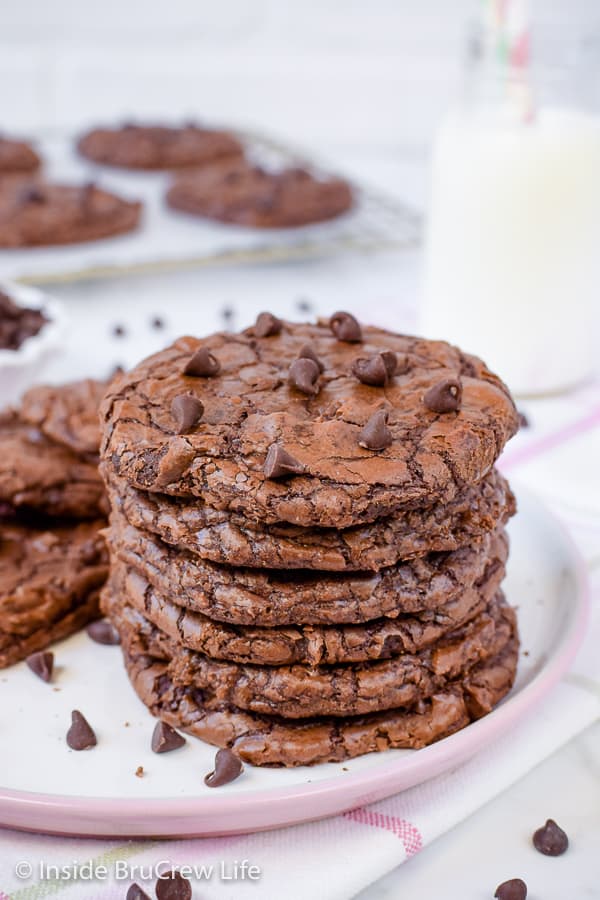 More Chocolate Cookies Recipes
The surprise center of these chocolate bon bon cookies are so delicious!
These easy mint chocolate chip cake mix cookies are loaded with mint Oreos, mint chips, and mint M&M's. So minty and so delicious!
The fudge center in these raspberry thumbprints make them a great treat to share with your family after dinner.
These chocolate marshmallow cookies have a gooey marshmallow and chocolate bar on top. Great cookie for summer picnics or parties!
A batch of these Reese's Pieces cake mix cookies are loaded with Reese's candies and peanut butter chips. These cookies never last long!!!
Double dark chocolate chip shortbread cookies will melt in your mouth because they are that good.
These salted caramel brownie cookies are soft and delicious. A caramel candy bar and sea salt makes it the perfect blend of sweet and salty.