Add these festive Chocolate Mint Pudding Cookies to your holiday cookie trays this month and watch them disappear. Soft cookies loaded with candies and sprinkles are always a fun treat to share.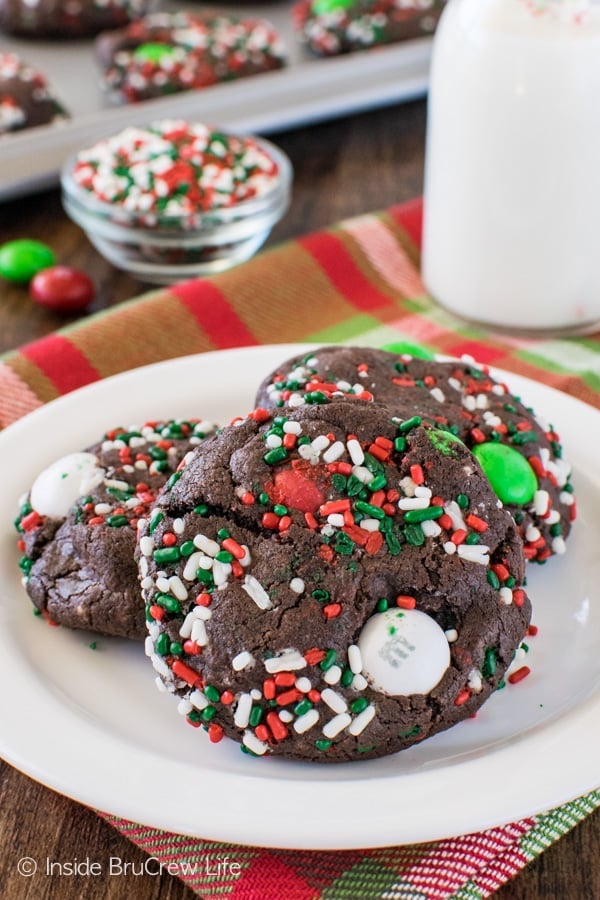 Have you started collecting the cookie recipes that you want to make this month for parties and events? Each year at the beginning of December, I start to compile "the list".
This is a list of cookies, candies, and treats that I want our family to make for the holidays. Usually we try to make about ten different things because we like to package them up and give them to friends, and our family bring them to parties.
Usually this list consists of recipes that we have made for years, but each year I also choose one or two new recipes to add to the top ten holiday treats of the month.
Right now these Christmas Blondies and these Chocolate Chip Cherry Cookies have jumped to the top of the must make holiday baking list.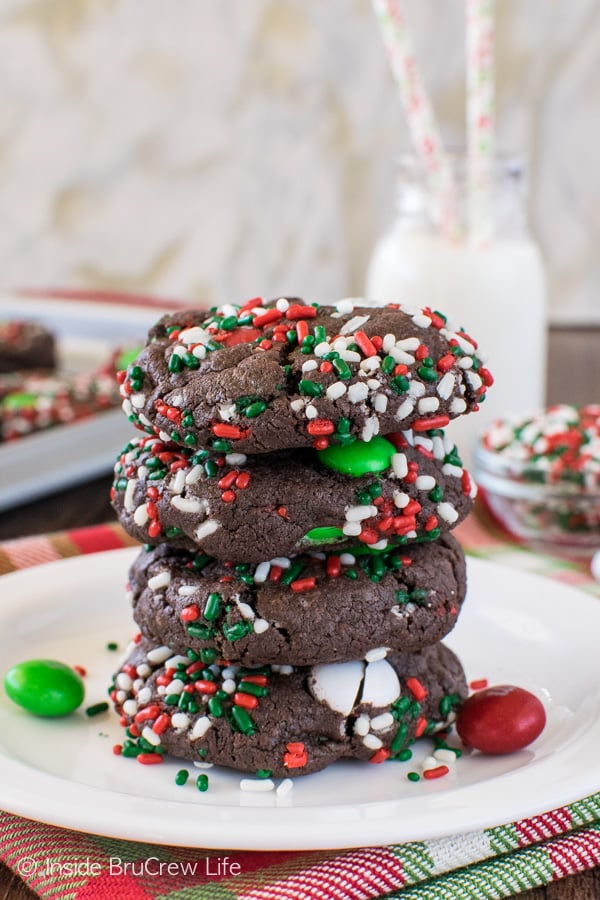 One of our favorite types of cookies are pudding cookies. They are exactly what they sound like. C0okie dough made with a box of instant pudding mix. The pudding in the dough makes the cookies so soft and puffy and delicious.
Trust me and make a batch of these Reese's Peanut Butter Pudding Cookies. They are totally amazeballs. And I love that pudding cookies stay soft for days too!
This year I used an actual cookie scoop to portion out my cookie dough, and it had me wondering where it had been all my baking life. Usually I just try to eyeball it with a tablespoon. That usually results in me having to adjust the dough balls once I have them rolled out.
It was much easier to scoop even dough balls using a tool that was designed for it. It is a definite must have for your kitchen.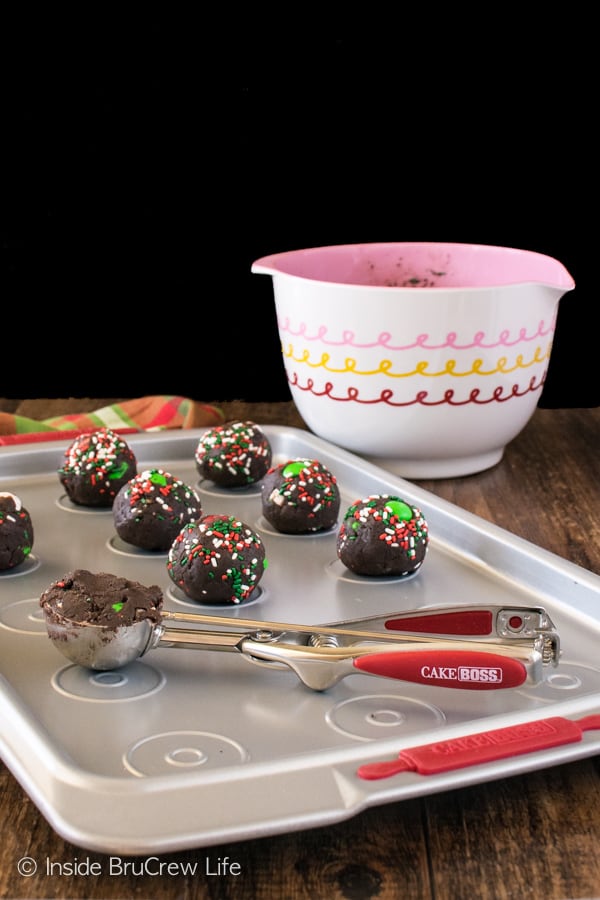 Another thing I love about pudding cookies is that you can bake the dough right away. There is no chilling required in this Christmas cookie recipe. As soon as you have the mint cookie dough ready, start scooping and baking.
Tips for making Chocolate Mint Pudding Cookies
Set your butter out at least 30 minutes to an hour before you start making the dough because soft butter is much easier to cream with the sugar.
Use a spatula to move the butter mixture and dough down from the sides of the bowl as you work.
Make sure you buy INSTANT pudding mix for these cookies. The cook and serve pudding will not work the same in the dough.
Gently stir the chocolate chips, candies, & some of the sprinkles into the dough. The dough is stiff, so be careful not to smash the candies as you stir.
Use a cookie scoop to scoop the dough because even dough balls bake better. Roll each scoop into a round ball before pressing extra candies in the top. Roll the dough ball in the remaining sprinkles too.
Bake the cookies. When the cookies come out of the oven use a flat spatula to gently press or tap each cookie to flatten it slightly.
Let the cookies cool on the pan for about 2 minutes before moving them to parchment paper on the counter.
Keep the easy pudding cookies in a sealed container because you want them to stay soft for days.
Microwave each cooled cookie for about 5-7 seconds if you want to enjoy a hot "fresh" cookie.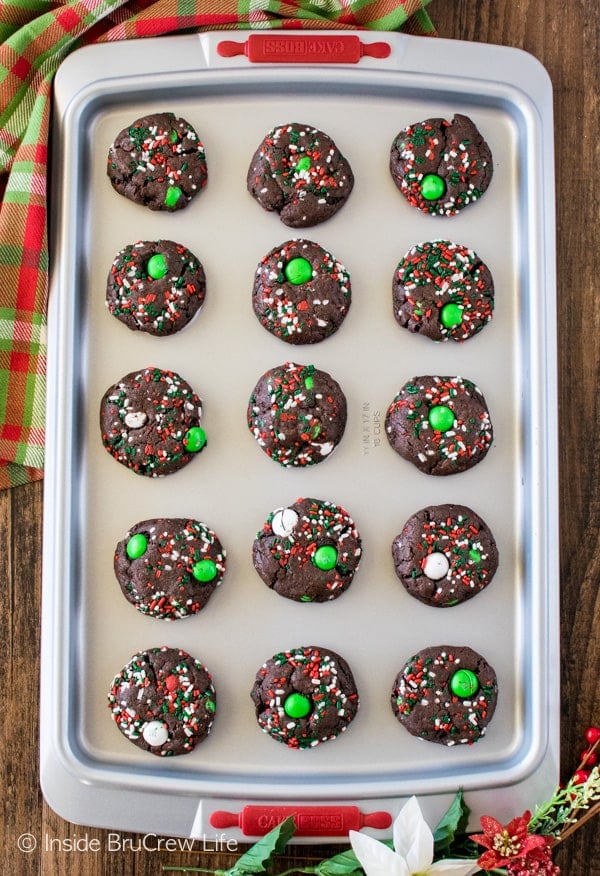 Can you freeze pudding cookies?
Yes, you can freeze these cookies. Make sure to place them in a single layer on a plate or cookie sheet for about 30 minutes in the freezer. Then place in a freezer safe bag or container for up to 3 months.
The dough can also be frozen if you want to make the cookies later. It's easiest to scoop the dough into balls and freeze them that way, but you can also just freeze an entire container of cookie dough if you like. Pull the container out of the freezer about 20-30 minutes before baking. FYI: You may need to bake the chilled dough an extra minute.
More easy Christmas cookie recipes you may like
CLICK HERE TO PIN THIS RECIPE FOR LATER!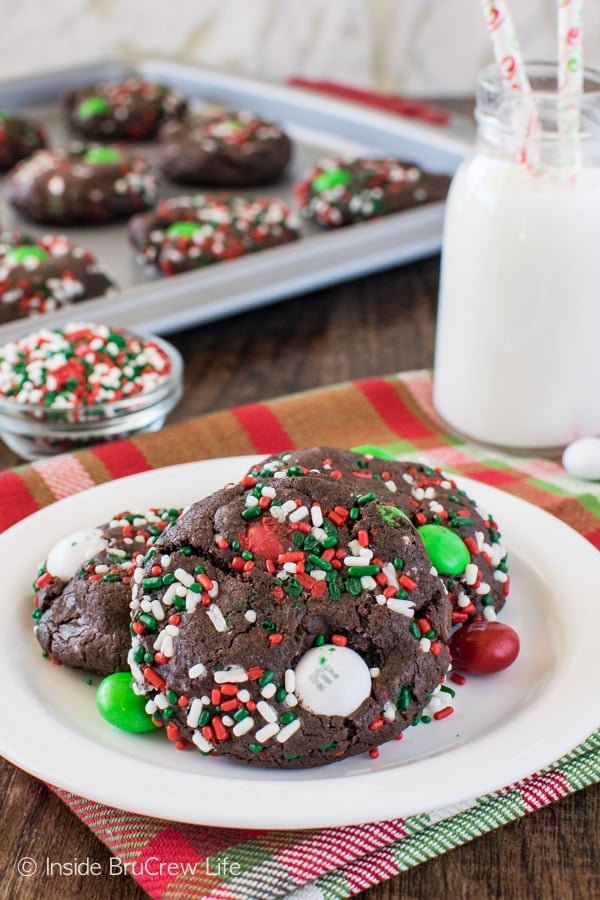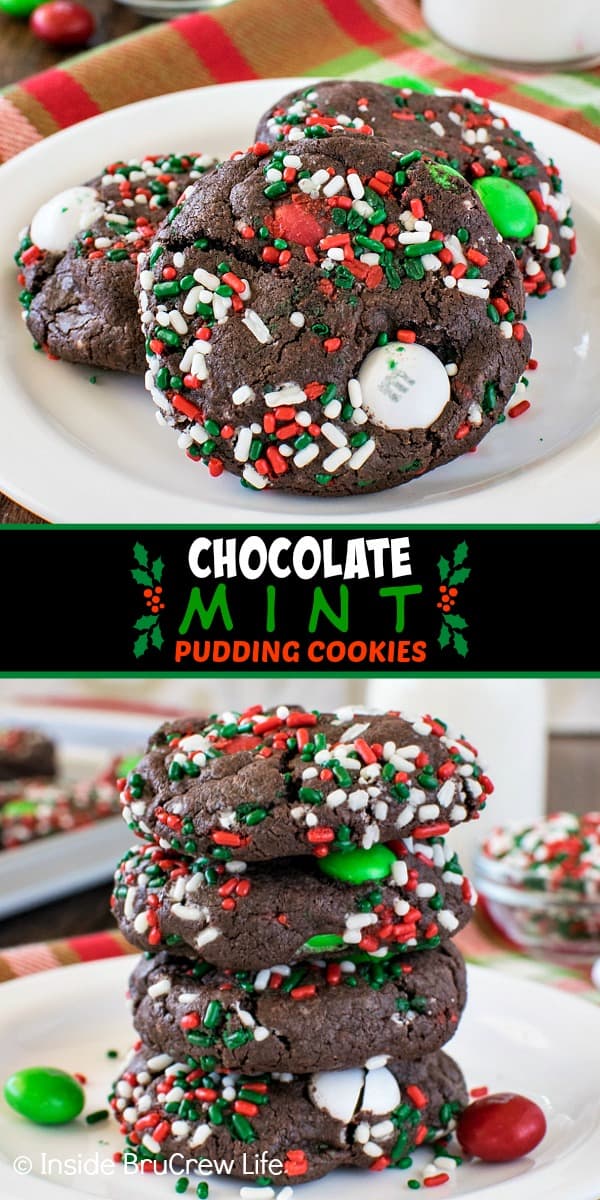 *The post for Chocolate Mint Pudding Cookies was first published on December 10, 2016. The post has been updated and republished on December 1, 2019.