This pretty Marshmallow M&M's Fudge is a great no bake dessert that can be made in just a few minutes.
The pastel candies make it a great treat for Mother's Day, bridal showers, baby showers, or weddings. Use different colors to make it work for other parties and events.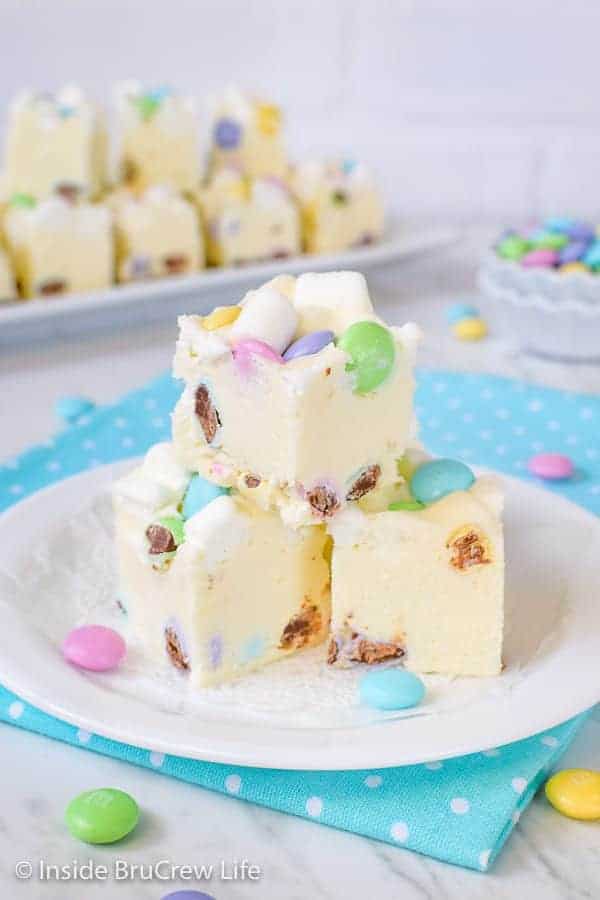 I realize that I just shared a fudge recipe with you last week, and that this easy fudge staring back at you has Easter candy in it.
Stick with me. I promise this Easter fudge makes sense. After all, you probably have just as much Easter candy lurking in your house as I do, right? We need someway to use it all up before the next holiday.
These M&M Blonde Brownies are is my favorite way to use up extra bags of those colorful chocolate candies. Ok, ok, so eating M&M's by the handfuls is actually my all time favorite way to "get rid" of chocolate. But my shorts and swimsuits would really prefer it if I didn't do that very often.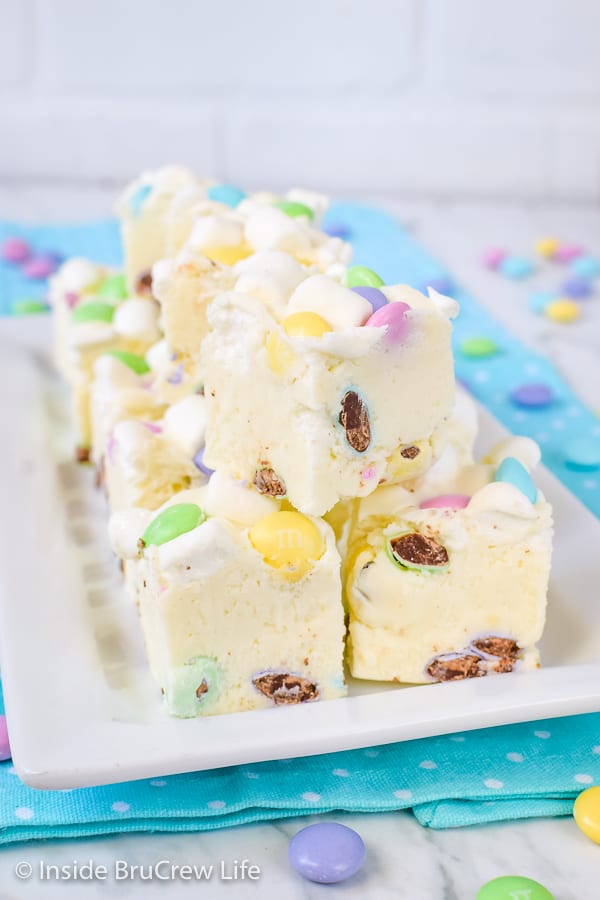 So, I usually try to find fun ways to make fun and exciting desserts with all the candy in our house.
This year I bought a few extra bags of these pretty pastel M&M's to fill Easter eggs with and to make this two ingredient fudge for a ladies event. I was in charge of making ALL the desserts for this church event, so I had to bring my A game.
Since fudge is a fun and easy dessert to make, I brought plates of this Easy Fruity Marshmallow Fudge and this Marshmallow M&M's Fudge that night. I personally think fudge should be a year round dessert, not just a holiday treat.
And if you are wondering, the answer is yes. Yes, I love adding extra marshmallows to a batch of fudge. It gives the fudge a soft pocket of goodness when you bite into it that contrasts with the crunch of the candies.
This Strawberry Rocky Road Fudge and this Caramel S'mores Fudge are another two of my favorite fudge recipes that are loaded with extra marshmallows.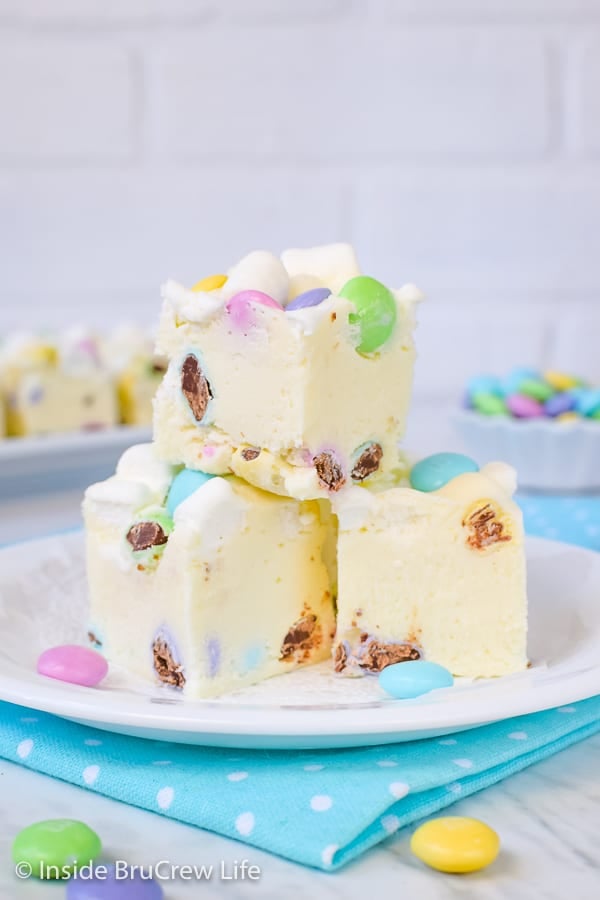 Most of the time when I make fudge, I like to use the easy two ingredient fudge method. I mean what is easier than melting chocolate chips and adding a can of frosting, right? It's easy, foolproof, and tastes delicious.
This time I changed it up by using a different easy fudge method. Chocolate chips and a can of sweetened condensed milk is another way to make two ingredient fudge.
Of course, I ALWAYS add extra things to the fudge, so I guess I should really stop saying I make two ingredient fudge because that's kind of a lie, huh?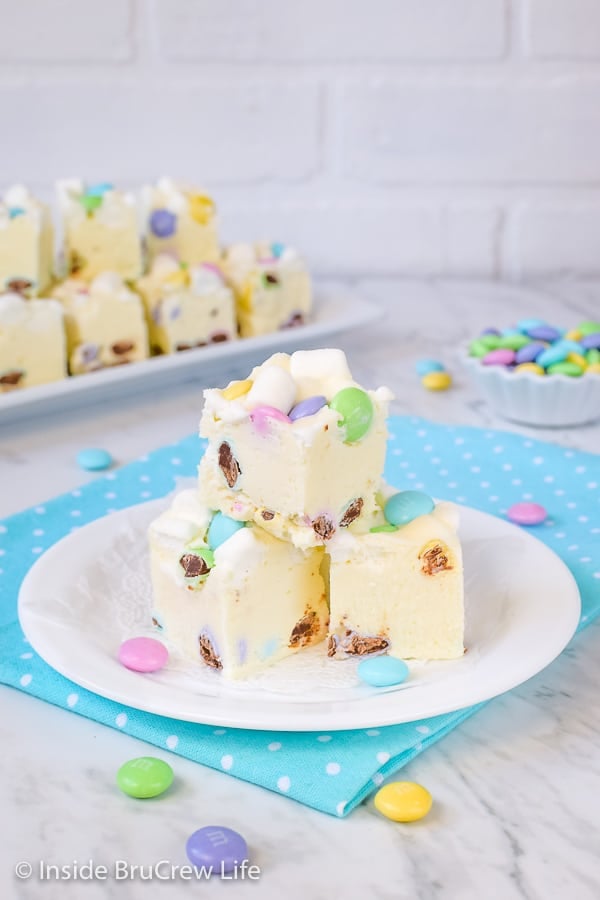 Fudge Variations
You can also use any color of M&M's candies in this marshmallow fudge to make it match your event or party.
Pastel M&M's are great for spring parties such as Easter, bridal showers, baby showers, or Mother's Day.
Buy M&M's in your school colors or favorite team colors to make this easy fudge for graduation parties or game days.
Change it up with chocolate chips and black and orange M&M's for a spooky Halloween fudge.
Red and green M&M's make this the perfect Christmas fudge during the holidays.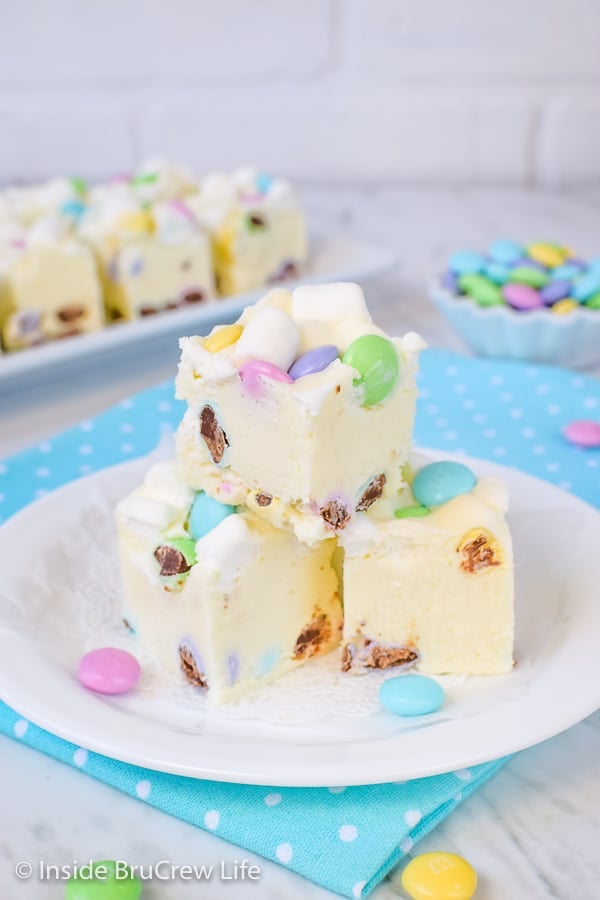 How to make Marshmallow M&M's Fudge
Line an 8x8 pan with foil and set it aside.
Place the white chips in a large pan and heat over low-medium heat, stirring constantly so they do not burn.
Once the chips have melted into a soft mixture, stir in the can of sweetened condensed milk. Continue stirring until the mixture melts and is nice and creamy.
Remove the pan from the stove top and add the marshmallow cream. Stir again until it is all mixed together.
Let the fudge mixture cool for 10 minutes, stirring occasionally. Letting the fudge cool slightly will keep the marshmallows and candies from melting and making swirls.
Add the marshmallows and M&M's and stir. Do not over stir because the candies will start to melt into the fudge if you move it around too much.
Pour the fudge into the prepared pan quickly. Press extra marshmallows and candies into the top of the fudge and let it cool completely before cutting the Marshmallow M&M's Fudge into bite sized squares.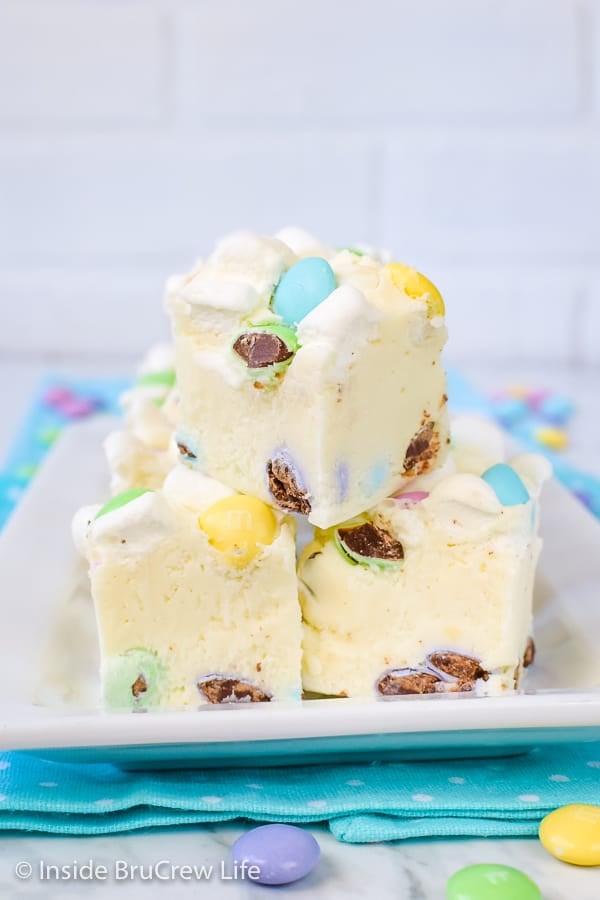 More easy fudge recipes that you may like
This Chocolate Cherry Marshmallow Fudge has little pockets of cherries and marshmallows all the way through it. It is easy to make and tastes amazing.
A cookie crust and white chocolate drizzles makes this Strawberry Shortcake Fudge a fun no bake dessert for any party!
Pockets of fluffy marshmallows, chocolate chips, and crunchy cereal makes this easy no bake Peanut Butter Avalanche Fudge a must make treat.
This easy Strawberry 3 Musketeers Fudge gets a fun twist from the candy bars and sprinkles on top.
Buckeye Fudge is what happens when you combine creamy peanut butter fudge with smooth, rich, dark chocolate fudge.
Banana Cream Fudge has a chocolate cookie crust and sprinkles on top. It's sure to get smiles from everyone.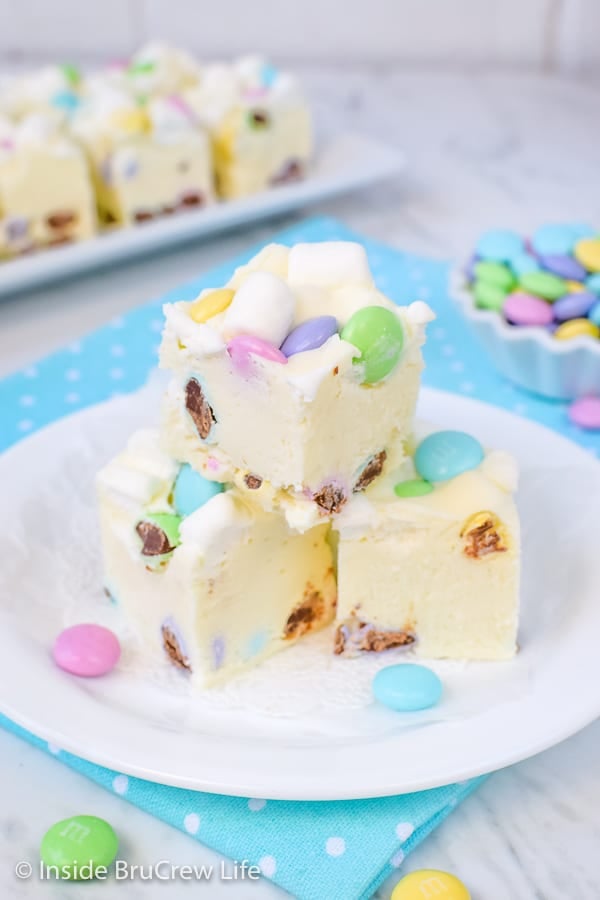 CLICK HERE TO PIN THIS RECIPE FOR LATER!
Love a recipe you tried from Inside BruCrew Life?
Please leave a 5 star ⭐️ rating and/or a review in the comments section further below.