Chocolate candy bars, graham crackers, and mini marshmallows add a fun flavor and texture to this S'mores Fudge. Such an easy no bake dessert for summer.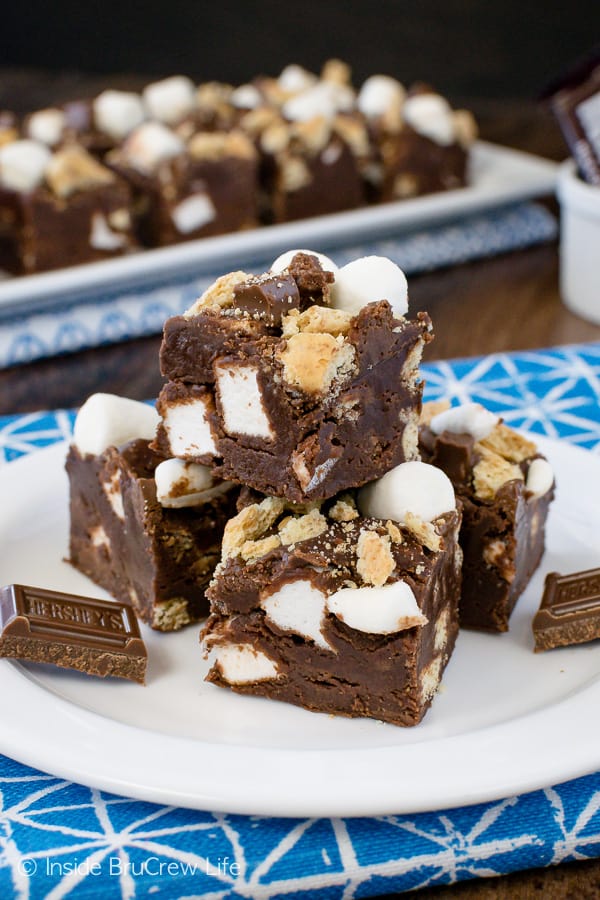 Something about summer says s'mores. There is just something about that chocolate, marshmallow, and graham cracker combo. It's a treat I could enjoy every night.
The problem is that in the middle of summer, it really is too hot to sit around a bonfire and make s'mores. My solution is to create these fun chocolate marshmallow treats in the kitchen far, far away from a blazing fire.
Some of our favorites so far are these s'more granola bars, this s'mores popcorn, and these peanut butter s'more bars.
Yummy sweet s'mores without the mess and danger of a fire in summer. Now that's the way I like it.
Why You Will Love It
S'mores fudge is a great option for hot summer months because it requires no baking or cooking. So, it is perfect when you do not want to heat up your house with the oven.
Frosting fudge is easy to make in minutes without using a candy thermometer. It is the perfect quick and easy treat for summer. You can even make fudge with potatoes. You might be surprised to find out how good potato fudge is!
In under 20 minutes you can have a pan of fudge cooling on your counter.
So whether you enjoy your s'mores made over a crackling fire or in the comfort of your kitchen, this easy chocolate fudge recipe is for you.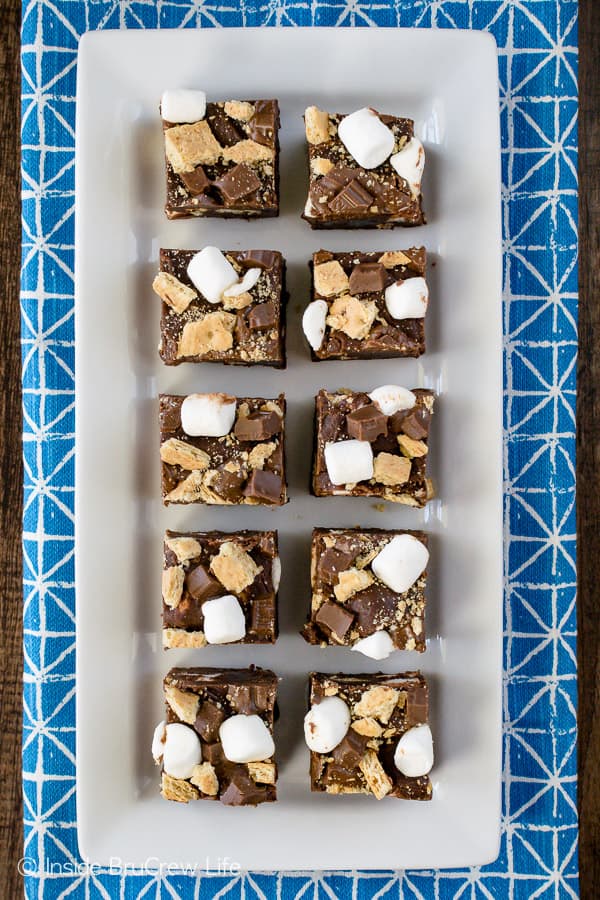 What You'll Need
With just a few pantry ingredients you can put together a pan of chocolate marshmallow fudge in minutes.
Milk Chocolate Chocolate Chip - One 12 ounce bag of chocolate chips or 2 cups is what you need for an 8x8 pan.
Butter - A little bit helps the chips melt easier and gives it a smooth texture. Salted or unsalted is fine.
Canned Frosting - A container of ready made milk chocolate frosting is the base of "milk and sugar" that you are going to melt into the fudge mixture.
Mix-ins - Mini marshmallows, crumbled graham crackers, and small Hershey's chocolate bars give this fudge a delicious s'mores look and taste.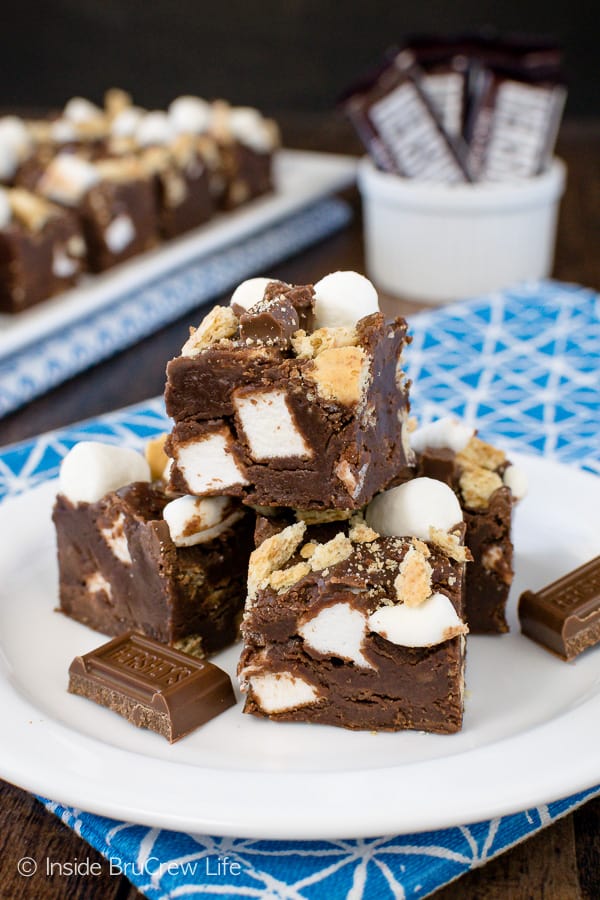 How to make S'mores Fudge
Line an 8x8 square pan with foil or foil lined parchment paper. This will allow you to lift the fudge out easily later.
Start by measuring out your marshmallows, chopping your candy bars, and breaking the graham crackers into chunks. Make sure to set aside some of each for the very top of the fudge.
Place the milk chocolate chips and butter in a large saucepan over low to medium heat, stirring constantly. Remove the pan from the heat.
Remove the foil lid from the can of store bought frosting and microwave it for 30 seconds. Give it a stir, then pour it over the melted chocolate in the pan.
Place it back on low heat and stir until it is melted and smooth. Remove it from the stove and let it cool for about 10 minutes, stirring occasionally.
Add the mini marshmallows, graham crackers, and candy bars. Stir everything together very quickly, and pour it into the prepared pan.
Press the extra s'mores ingredients into the top of the warm fudge. This is optional, but it really makes the chocolate marshmallow fudge prettier.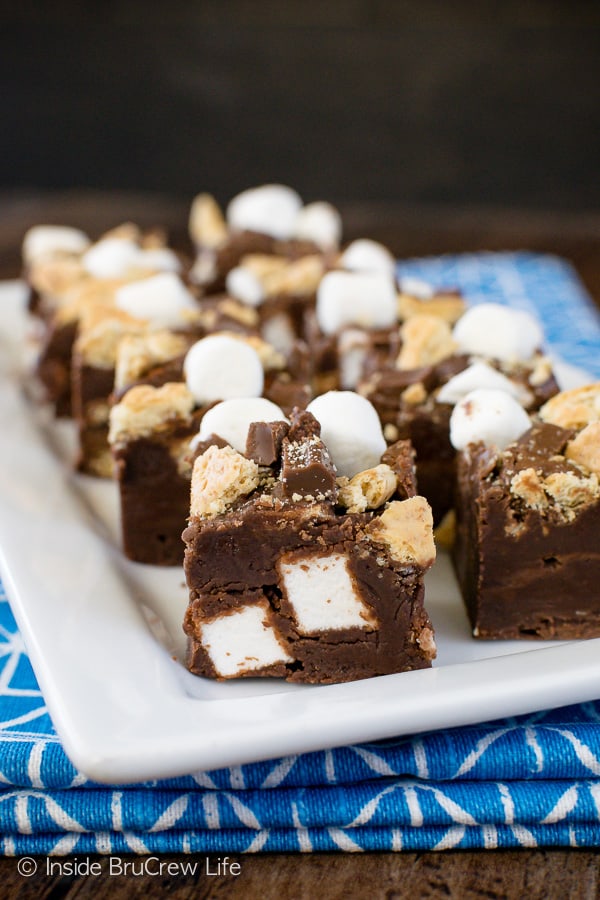 Recipe Tips
Make sure you are melting the ingredients over low to medium heat. A higher heat can burn or scorch the chocolate.
Do not skip the cooling step. If you add your chocolate bars and marshmallows to the hot fudge, they will melt into it.
Add the additional toppings right away. Once the fudge sets, they will not stick.
Use a hot knife to cut the chocolate fudge into squares. Run it under hot water and dry it off between cuts.
FAQ'S
Why is my fudge soft?
Different brands of chocolate chips can affect how the fudge sets up. Also, adding too much butter can make it set up softer.
How do you store fudge?
Place squares of fudge in an air tight container. It will keep for 5-7 days on the counter or 1-2 weeks in the refrigerator.
Can you freeze fudge?
Yes, you can. The best way to freeze fudge is to wrap the uncut block of fudge in plastic wrap, then place in a freezer safe bag. Freeze for 1-2 months. Thaw in the fridge overnight; cut into squares before serving.
More Easy Fudge Recipes
Do you love a recipe you tried from Inside BruCrew Life?
Please leave a 5-star ⭐️ rating and a review in the comments section below.