Caramel and coffee layers come together in a fun new fudge recipe.  This Caramel Coffee Fudge is perfect for making and eating when you need a special treat.  I do suggest giving most of it away though because it is extremely delicious.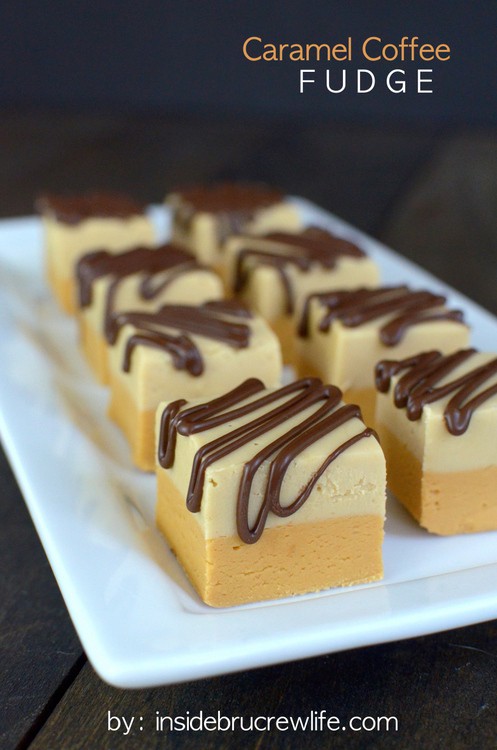 I have decided that I cannot make fudge without layers.  Seriously, it just doesn't happen without the layers!
Every time I go to make fudge it ends up having 2-3 layers in it.  This fudge was going to be just caramel, but then I started thinking of all the ways I could make it more interesting.
My first thought was salted caramel because…well, because I seriously have been addicted to that goodness ever since I made these Salted Caramel Mocha Brownie Cups.  Then that got me thinking and dreaming for the Starbuck's Salted Caramel Mocha! Fingers crossed that comes back very, very soon!
So, I had to add a coffee layer to the caramel fudge then.  I mean I just had to, right?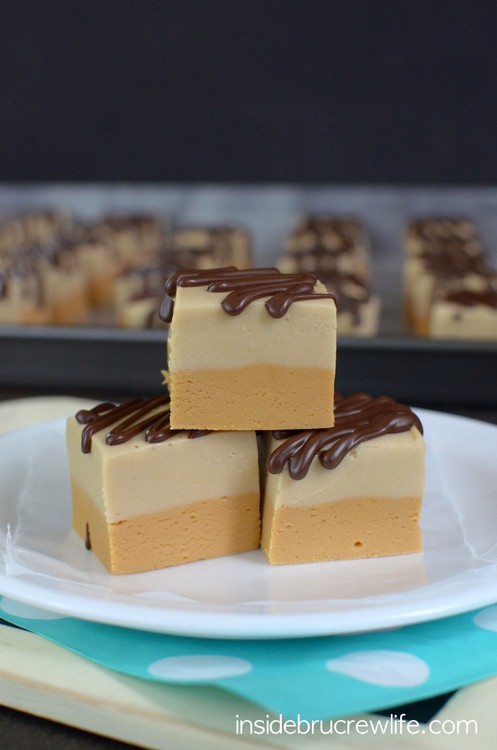 So here we are with a fun fudge that has two layers now.  But even that still wasn't enough for me.  A drizzle of chocolate gave it just the last layer of perfection that it needed.
Crazy much?  Yes, I know that I am! 🙂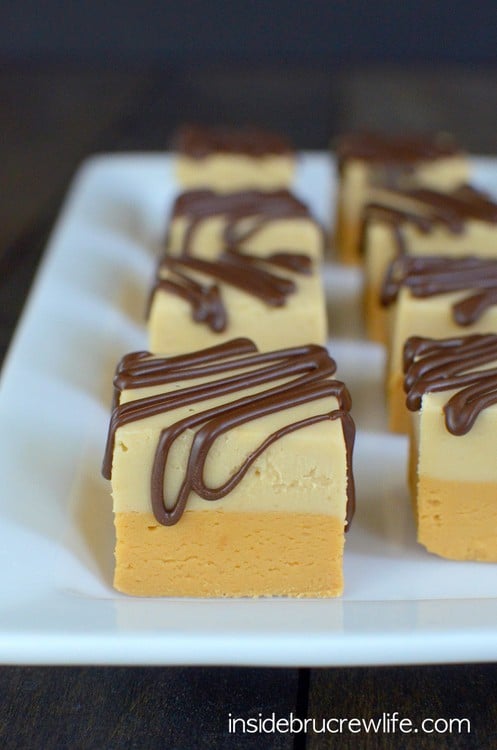 I seriously could not stay out of this fudge!
Yes, I know I'm supposed to be staying strong on this whole no sugar thing, but dang it!  It was Caramel Coffee Fudge!  I had to try it…then I had to have a little bite more, which led to needing more "bites".  You know where this is going, right?  Wrong!!!
Lucky for me I had a reason for making a fun new treat!  Our church takes a special lunch over to the elementary school for the teachers every quarter.  This week we wanted to say thank you for all the work you will do this year with the students from our community.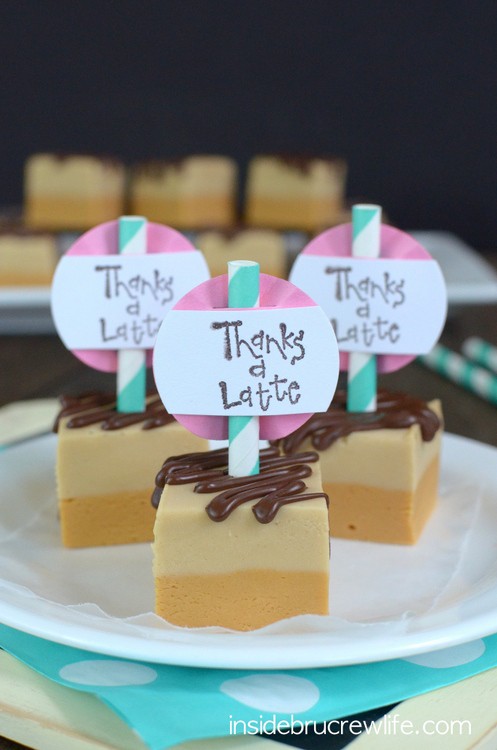 I pulled out my die cut machine and the Party Flag Inserts die cut pack from WR Memory Keepers/Life Style Crafts and used the smallest round die to make a cute label for each piece of fudge.
The little slit that the die cut makes is just perfect for sliding these labels onto a paper straw.  I knew this striped paper straw obsession I have would come in handy for more things than just pictures of cute food.
Delicious layered fudge…check.
Fun and cute labels…check.
Getting the fudge out of the house before eating it all…check, check, check!!!!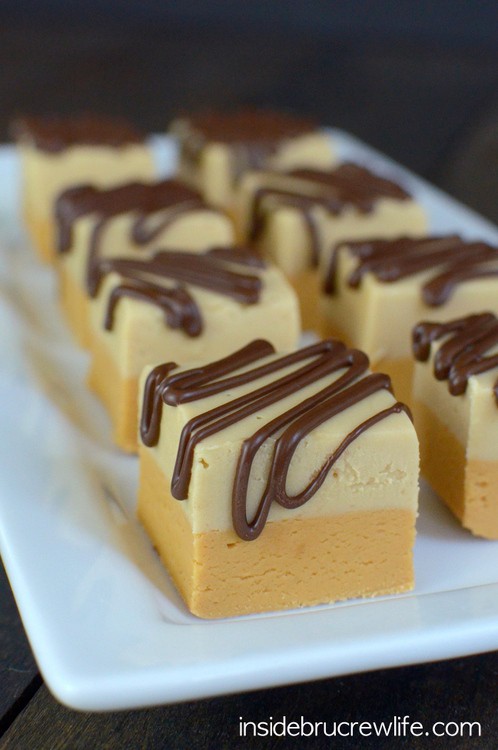 Stay up to date on all the BruCrew baking here:
FACEBOOK | PINTEREST | GOOGLE+ | TWITTER | INSTAGRAM | BLOGLOVIN
 Sign up to receive an email in your inbox for each new recipe:
EMAIL SUBSCRIPTION
Yield: 36 fudge squares
Caramel Coffee Fudge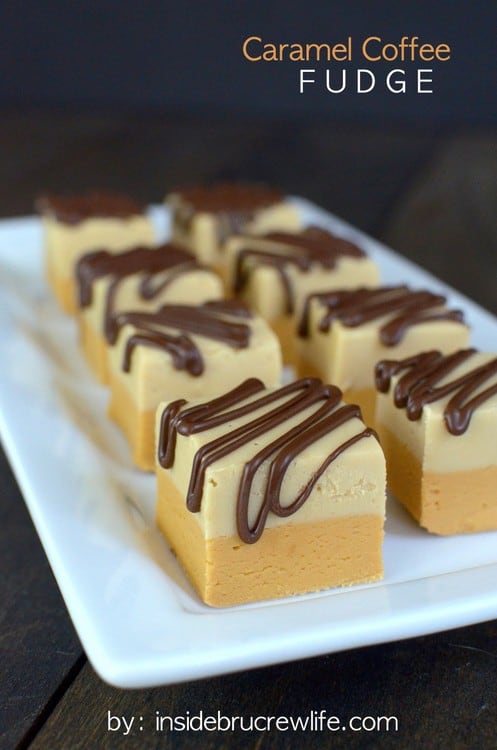 Caramel and coffee layers make this fudge a delicious and pretty fudge to serve at any party. The drizzle of chocolate on top gives it a latte look.
Ingredients
For the Caramel Layer
2 cups white chocolate chips
2 Tablespoon butter
3/4 cup Dulce de Leche
1/2 cup marshmallow cream
For the Coffee Layer
2 teaspoons instant coffee
1 teaspoon hot water
1/2 cup sweetened condensed milk
2 cups white chocolate chips
2 Tablespoons butter
1/2 cup marshmallow cream
For the Topping
1/4 cup dark chocolate chips
1/2 teaspoon shortening
Instructions
Line an 8x8 baking dish with foil. Set aside.
Place the white chips and butter in a saucepan over low to medium heat. Let melt.
Stir in the Dulce de Leche and stir until creamy. Add the marshmallow cream and stir until creamy again.
Pour into the prepared pan. Place in the refrigerator for 30 minutes.
Stir together the hot water and instant coffee until dissolved. Stir into the sweetened condensed milk very well. Set aside.
Place the white chips and butter in a clean saucepan over low to medium heat. Let melt.
Stir in the coffee sweetened condensed milk and stir until creamy.
Add the marshmallow cream and stir until creamy again. Pour over the set caramel layer. Place in the refrigerator until set. (4 hours or overnight)
Remove the foil and fudge from the pan. Peel off the foil. Use a hot knife to cut the fudge into 36 squares. Let come to room temperature.
Heat the dark chocolate chips and shortening in the microwave for 1 minute. Stir until creamy.
Spoon into a small ziplock baggie and cut one tip off. Drizzle over the fudge squares.
Let set. Store in a sealed container on the counter. Makes 36 pieces of fudge.
Nutrition Information:
Yield:
36
Serving Size:
1
Amount Per Serving:
Calories:

161
Total Fat:

9g
Saturated Fat:

5g
Trans Fat:

0g
Unsaturated Fat:

3g
Cholesterol:

11mg
Sodium:

43mg
Carbohydrates:

20g
Fiber:

0g
Sugar:

19g
Protein:

2g
 More fun recipes to enjoy caramel and coffee together: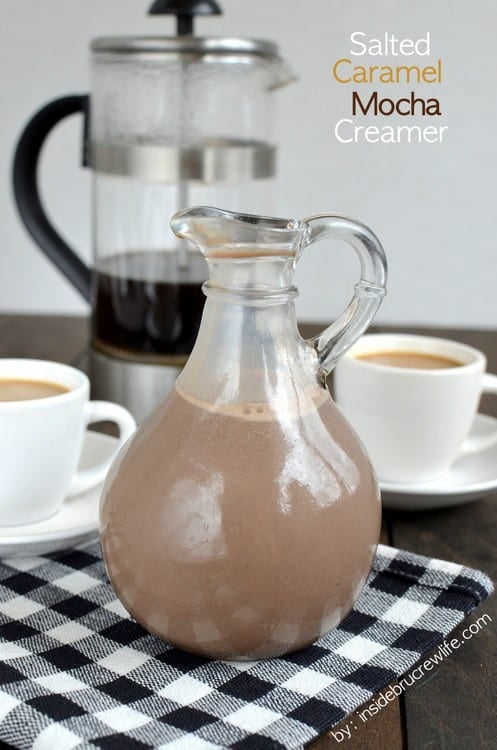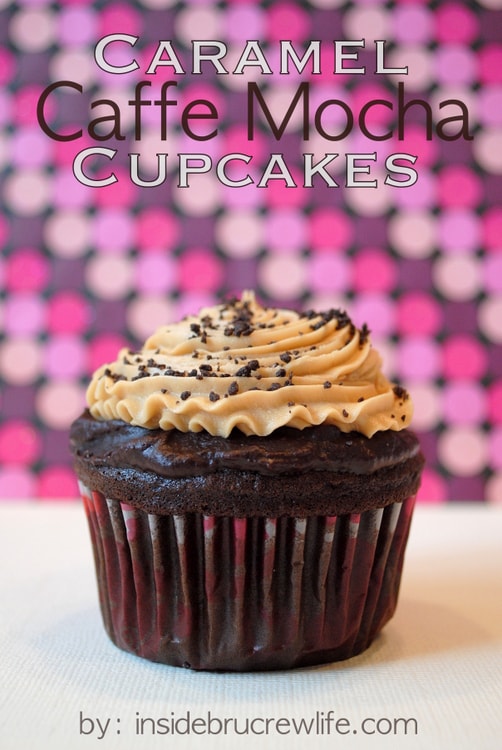 *I am a studio member for We R Memory Keepers/Lifestyle Crafts. I am sent products in exchange for sharing fun projects on my blog. No other compensation is given. All opinions are 100% my own.