Chocolate drizzles add a fun and tasty flair to the best Caramel Coffee Fudge. The caramel and coffee layers are easy to make and taste incredible together.
I do suggest giving most of this sweet treat away because it is hard to resist.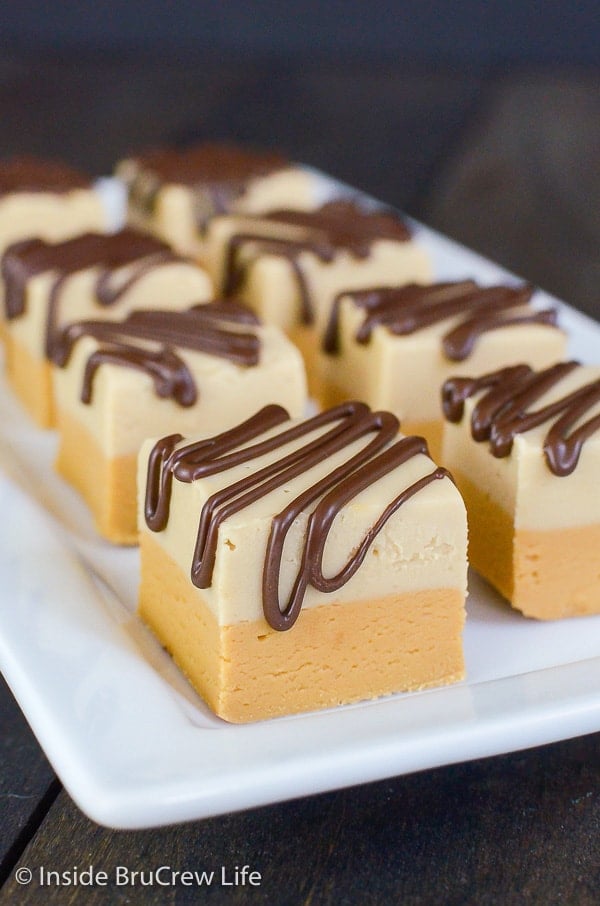 I have decided that I cannot make fudge without layers. Seriously, it just doesn't happen without the layers!
Lately, every time I make fudge it ends up having 2-3 layers in it. This fudge was going to be just caramel, but then I started thinking of all the ways I could make it more interesting.
My first thought was salted caramel fudge because, well, because I seriously have been addicted to that goodness ever since I made these Salted Caramel Mocha Brownie Cups.
Then that got me craving a homemade Salted Caramel Mocha Latte! So, I had to add a coffee layer to the caramel fudge then. I mean, I just had too, right?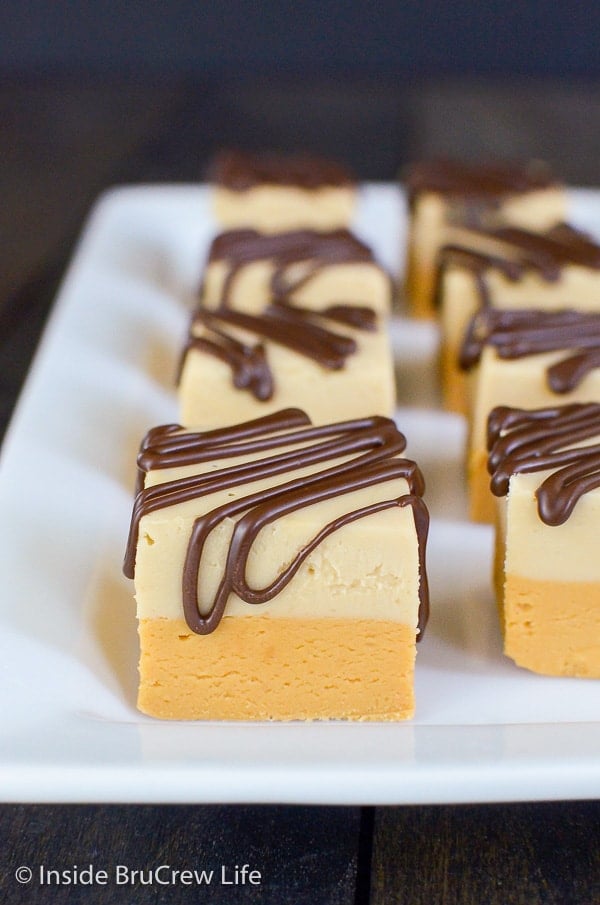 So here we are with another easy fudge recipe that has two layers now. But even that still wasn't enough for me.
A drizzle of chocolate gave it just the last layer of perfection that it needed. Crazy much? Yes, I know that I am! Crazy about chocolate (and fudge) that is!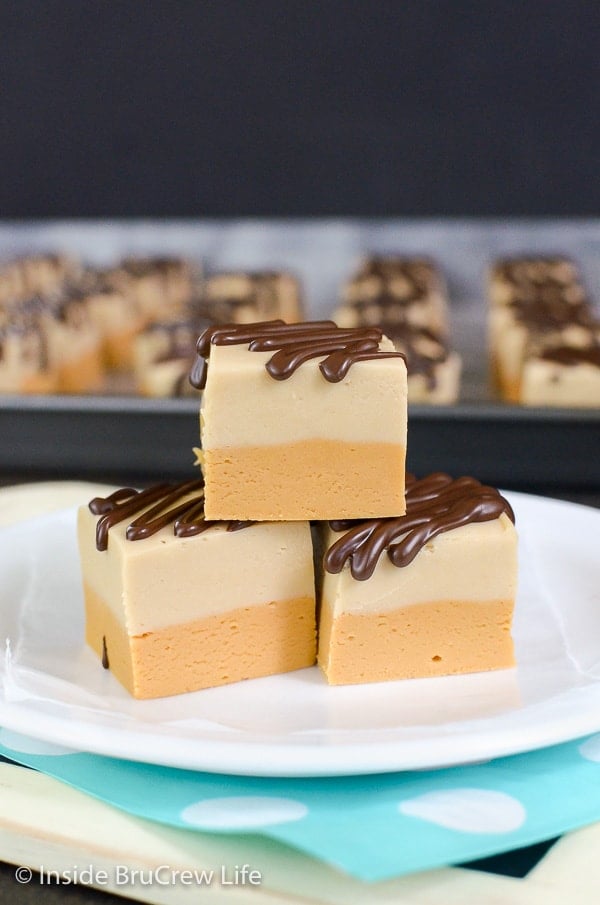 I seriously could not stay out of this coffee fudge! It was just as good as this Cappuccino Fudge!
Yes, I know I'm supposed to be staying strong on this whole limiting sugar thing, but dang it! It was Caramel Coffee Fudge! I had to try one little bite, which led to needing more "bites". You know where this is going, right?
Lucky for me I had a reason for making this amazing layered coffee fudge recipe! Our church takes a special lunch over to the teachers at our local elementary school every quarter. This week we wanted to say "thank you for all the work you will do this year".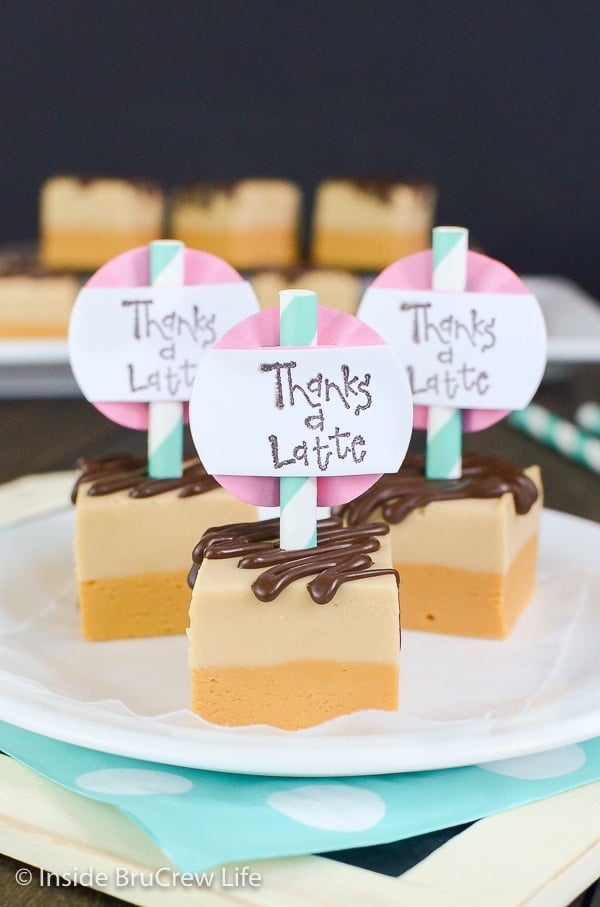 How to make the Best Caramel Coffee Fudge:
Line an 8x8 pan with foil. This will make it easier to remove the fudge later and cut it into nice neat squares.
Melt the butter and white chips in a saucepan over low heat. Stir until melted and creamy.
Stir in the dulce de Leche and marshmallow cream and stir again.
Pour into the prepared pan and refrigerate for 30 minutes.
Whisk together the water and instant coffee. Stir it into the sweetened condensed milk and set aside.
Melt more white chips and butter in a clean pan until melted and creamy.
Stir in the coffee condensed milk and marshmallow cream and stir until creamy.
Pour gently on top of the caramel layer and spread out.
Refrigerate for a few hours or overnight before cutting into squares.
Drizzle with melted chocolate to add a little bit of pizzaz. (see the full recipe below)
Pro Tip: To cut this fudge in clean neat squares, run a sharp knife under hot water, then dry it off. Do this between each cut.
To decorate the Caramel Coffee Fudge for the teachers, I pulled out my craft making supplies and created a cute label for each piece of fudge. (This particular die cut isn't available anymore, but there are lots of fun straw toppers that you could use instead.)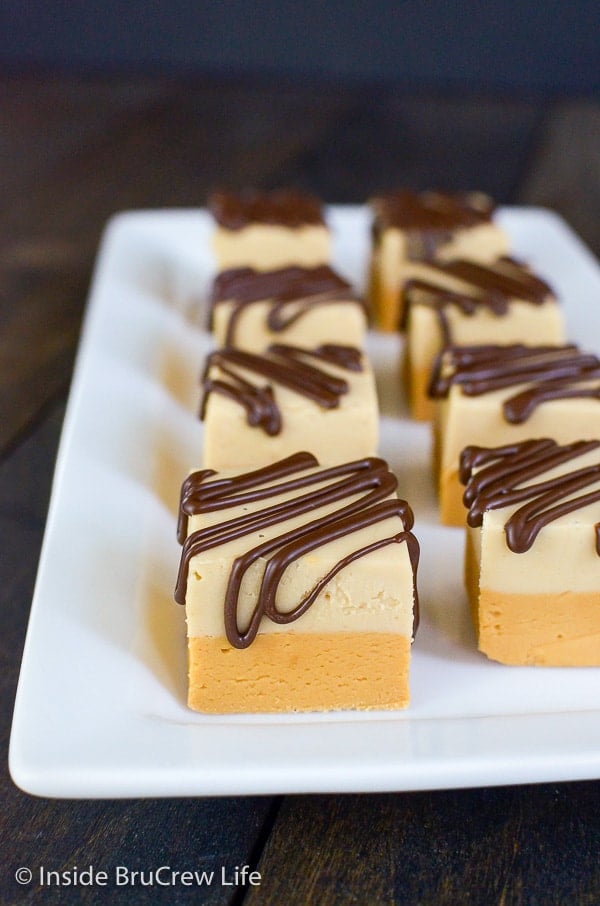 More of the Best Fudge Recipes you may enjoy:
Pretzels and candy bars swirled in this easy Caramel Peanut Butter Pretzel Fudge add a fun crunch and chew to each creamy square.
This fun swirled No Fail Orange Creamsicle Fudge will add a pretty flair to your holiday dessert tables.
White Chocolate Peanut Butter Cup Fudge has two layers of fudge and lots of peanut butter cups!
This easy Strawberry Rocky Road Fudge is loaded with marshmallows, pecans, and chocolate chunks.
A pan of this easy Chocolate Peppermint Fudge will steal the spotlight at any party when you show up with it on your cookie trays.
This Key Lime Fudge recipe is the perfect blend of sweet and sour!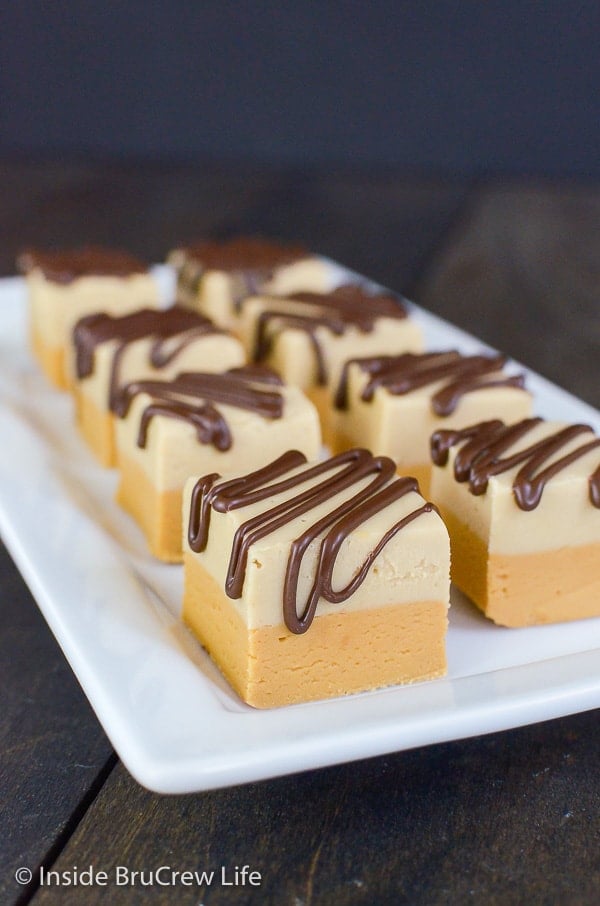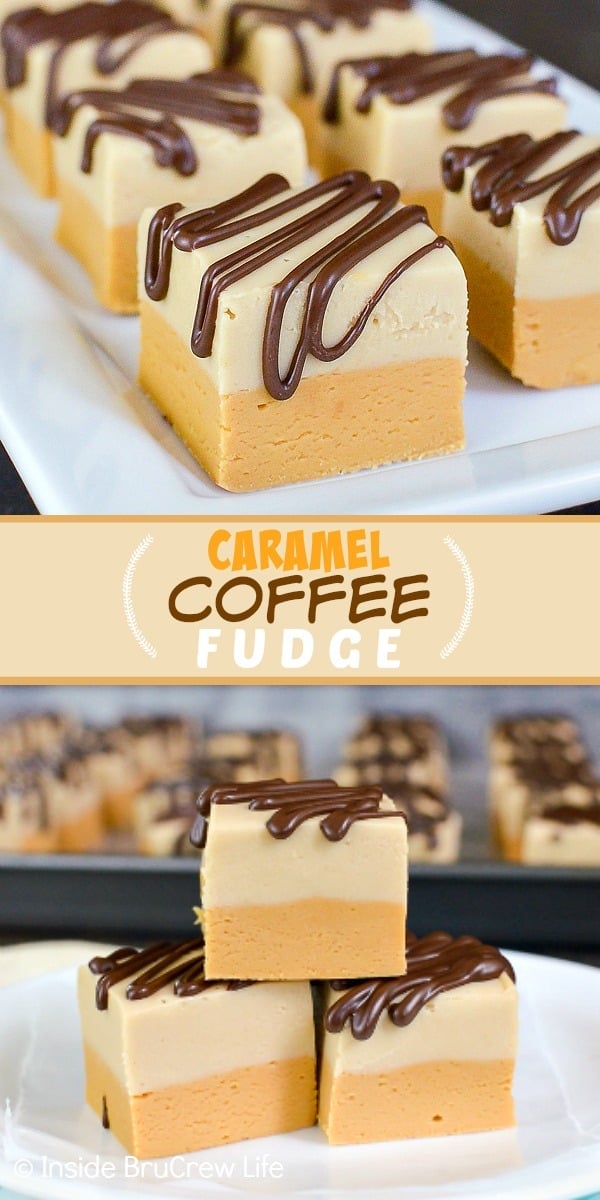 *The post for this Caramel Coffee Fudge was first published on August 26, 2014. The photos were updated on October 1, 2019, and the post was republished on December 17, 2019.