The crunchy sugar coating on these Chocolate Pumpkin Spice Donut Holes will have you reaching for more in a hurry. These are such a fun breakfast treat for fall mornings.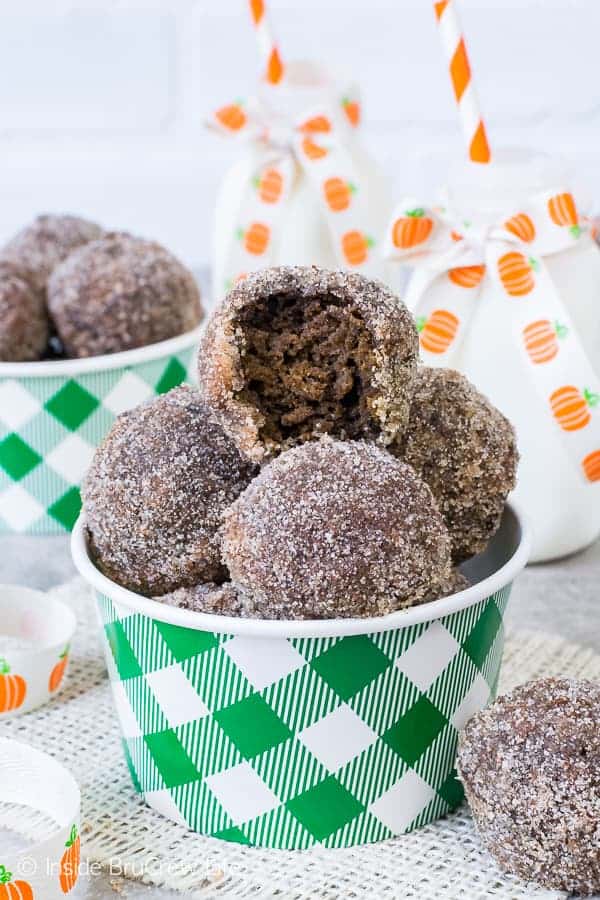 You guys, all I want to do is pumpkin spice ALL the things right now! The problem is that my chief pumpkin eater is away at college. Our other two kiddos just don't appreciate the pumpkin treats as much he does. I have a feeling they are aliens!!!
The baking struggle is real right now. My stomach says pumpkin spice it all. My thighs say step away from the cans in the pantry because I don't need the extra calories.
But the pumpkin spice is winning the battle. So far I have made these little chocolate pumpkin spice donut holes two times, a pumpkin spice bread, and this pumpkin cheesecake brownie pie. Oh, and let's not forget about the batch of pumpkin pie cinnamon roll cups and the pumpkin potato corn chowder.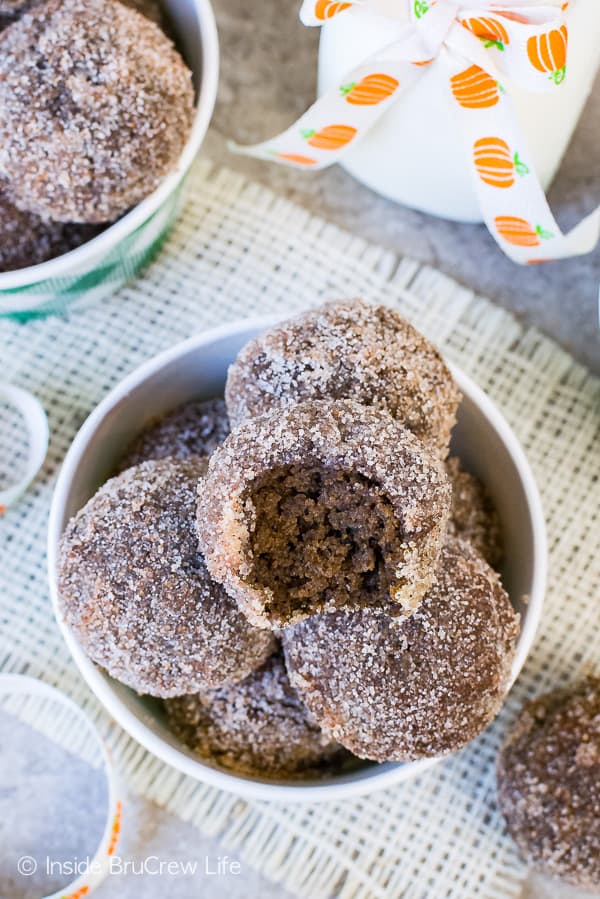 I should probably slow down the pumpkin baking because there is no way I can eat all of these treats. Or I could just find some else to share the pumpkin love with, so I CAN keep baking.
I was talking to our son the other night, and he said I need to make sure to have lots of pumpkin goodies waiting for him when he comes home for Thanksgiving break.
So, I'm just going to call all this pumpkin baking my "test phase". I mean, I need to make sure the recipes are good enough to make again for him, right?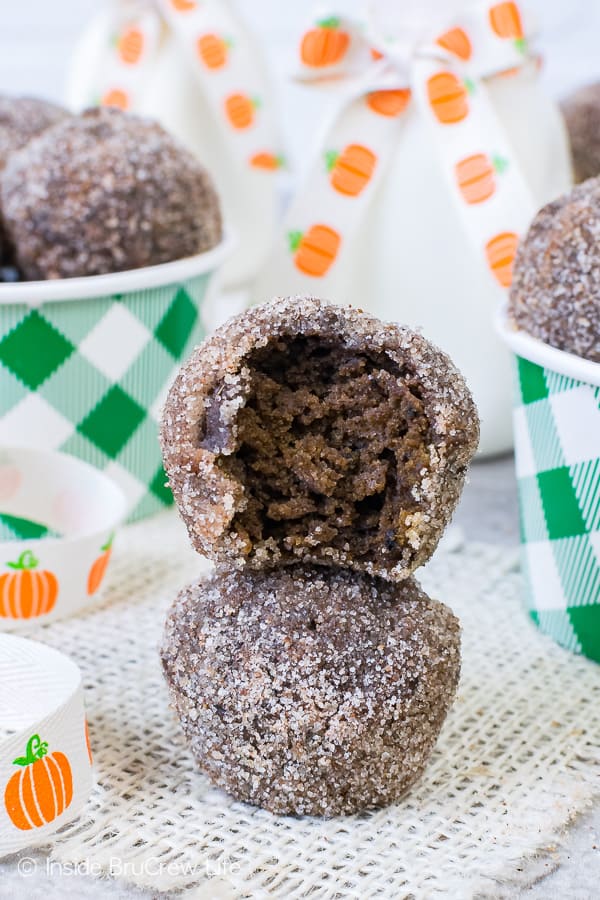 Last fall I made these little cinnamon sugar apple donut holes and the kids went cray cray for them. Seriously! The first batch was gone in less than a day. That crunchy butter and sugar coating on the outside and the soft apple donut on the inside had the kids devouring them in a hurry.
I'm planning on making more of the apple ones, but since orange is running through my veins right now, I knew I needed to make a pumpkin version first.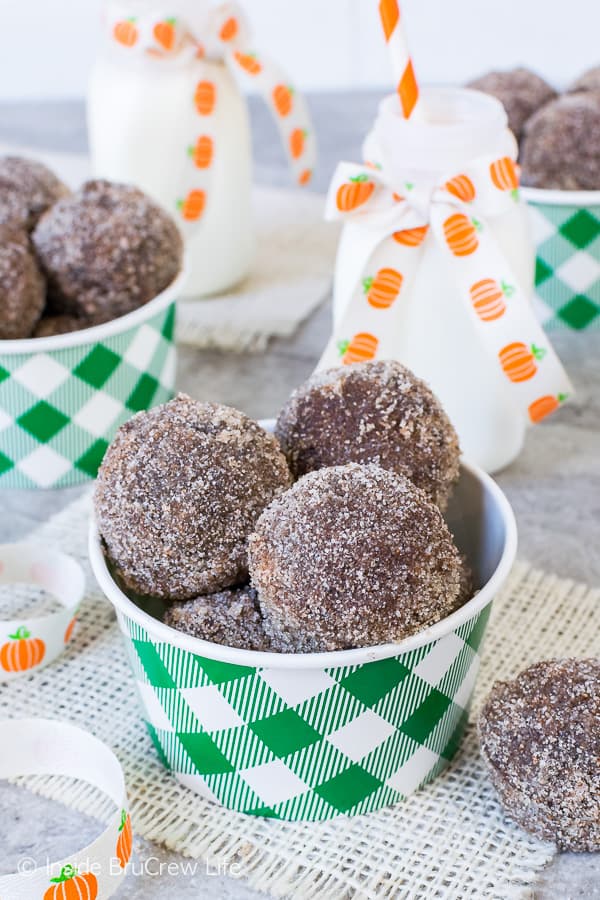 I went ahead and tweaked these glazed chocolate chip pumpkin muffins with some cocoa powder because I was craving chocolate.
Then I dunked the cooled chocolate pumpkin spice donut holes in melted butter and pumpkin spice sugar! It's crazy how that extra coating makes them look like donut holes.
Oh, my goodness! These were so good! Like melt in your mouth good. I ate way more than I really should have and had to do extra time in the gym. But you know what? It was totally worth it!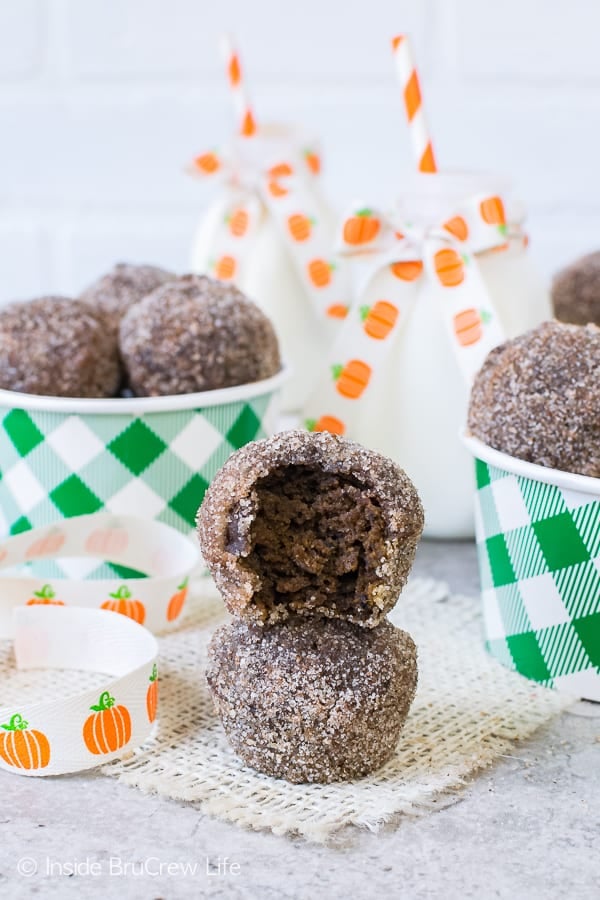 More delicious pumpkin recipes to bake this fall: