Mornings seem to go so much better when you start out with a great breakfast. These Triple Chocolate Donuts will wake you up in no time.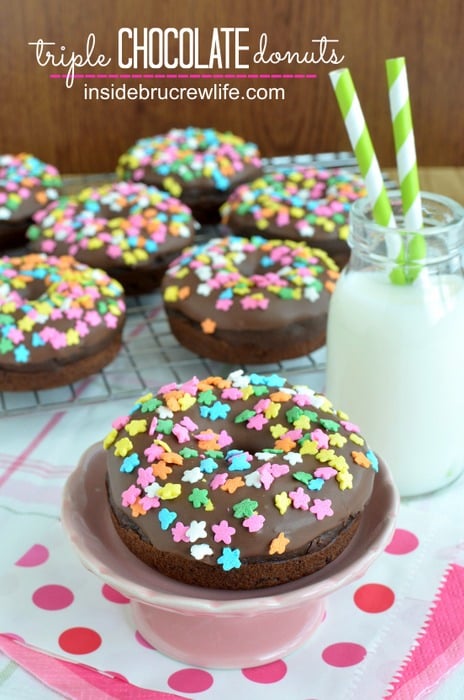 My husband just laughs every time I made donuts and say they are for breakfast. He says donuts are wrong because they are not an acceptable breakfast since it is basically cake.
Well, if that's wrong, I never want to be right 🙂 I love my donut pan and have had so much fun creating fun breakfasts for our kids. Let's be honest...most times those donuts don't make it to breakfast anyway. So, we should just call them snack.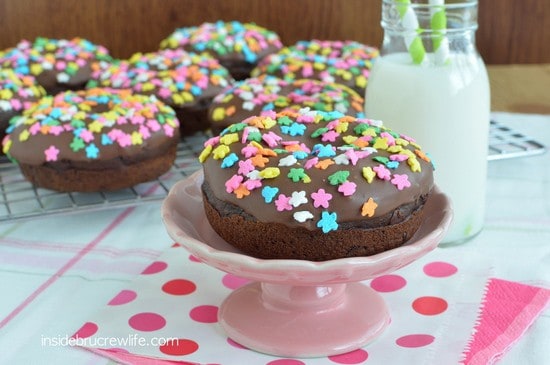 I realized the other day that I hadn't made donuts in a while. Since Spring had forgotten about us and snow was coming down like crazy, I decided it was a donut kind of a day. These Triple Chocolate Donuts are a combination of two recipes I made a few years ago - Chocolate Mint Donuts and Chocolate Zucchini Donuts. Both of those are excellent donuts to go with too BTW.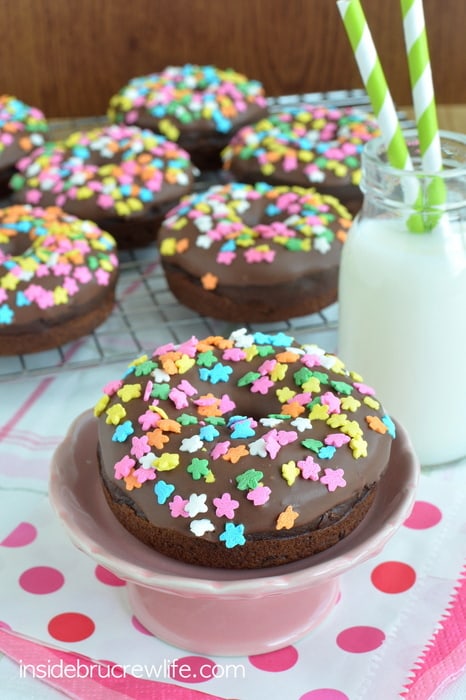 My youngest has all of a sudden become the pickiest eater. He doesn't like anything that he used to. In fact, all he wants to eat is Ramen...and we all know how healthy that is. Yuck! But if that means he is actually eating something, then I will let him. Most mornings he refuses to eat breakfast because he isn't hungry. Then he eats half his sandwich at recess because he is starving. I'm not sure what to do with him. One week he likes something, and then the next week he won't touch it.
I am claiming a small victory because he actually ate one of these for breakfast. They have yogurt in them, so it has a sight health benefit, right? Maybe I just need to offer chocolate coated health food more often 😉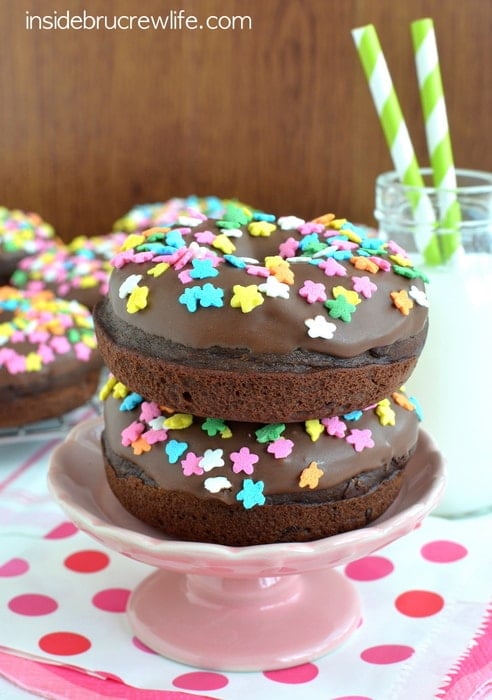 These donuts are so easy to mix up and bake. Once you make your batter, spoon it into a big ziplock bag and cut one corner off.
It makes it so much easier to fill those donut cavities with a bag instead of a spoon. You also want to make sure they are filled at least ¾ full. They will bake up and be this nice puffy cake donut.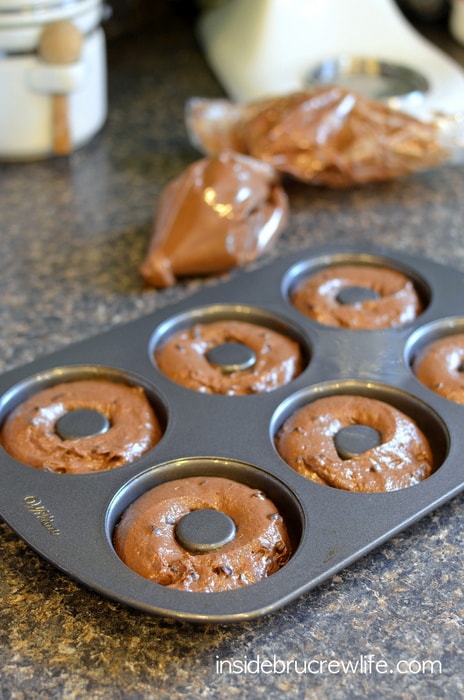 One thing to note: these chocolate donuts are even better the next day. Keep them stored in a sealed container and they will absorb the moisture from each other making them more dense. When they come out of the oven on the first day, they will be light like a muffin. So definitely give them a day to "ripen". That is if you can resist the urge to eat them. I like to make them up the night before, so they are ready to be eaten first thing in the morning.
So, do you feel like donuts now? I know I am feeling the urge to go make another kind today.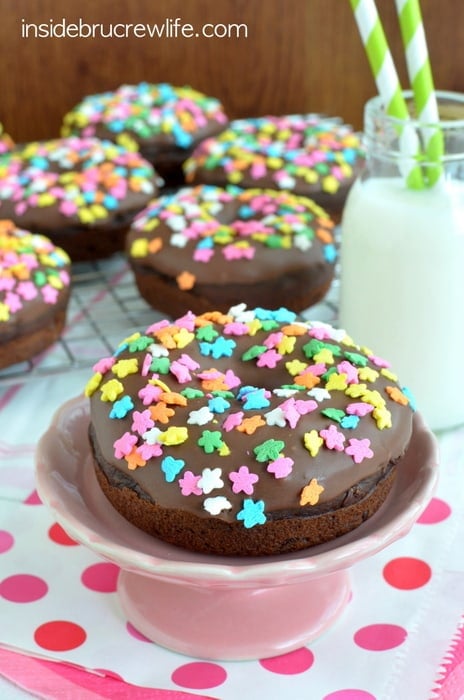 Stay up to date on all the BruCrew baking
by following here:
BLOGLOVIN | FACEBOOK | PINTEREST | GOOGLE+ | TWITTER | INSTAGRAM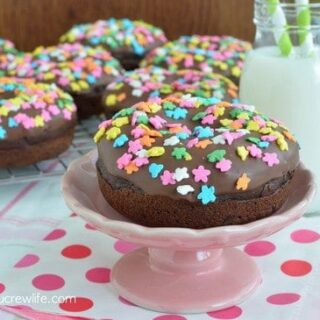 Triple Chocolate Donuts
Chocolate donuts with chocolate chips and a chocolate glaze will wake you up in the morning.
Ingredients
½ cup butter, softened
⅓ cup brown sugar
⅓ cup sugar
2 teaspoons vanilla extract
1 egg
⅔ cup plain Greek yogurt
⅔ cup strong brewed coffee, cooled
1 ½ teaspoons baking powder
1 ½ teaspoons baking soda
½ teaspoon salt
½ cup cocoa powder
¼ teaspoon nutmeg
2 cups flour
½ cup miniature chocolate chips
1 - 10 ounce bag milk chocolate melts
sprinkles
Instructions
Preheat oven to 375 degrees. Spray a donut pan with nonstick spray.
In a mixing bowl, beat the butter and sugars until creamy. Add the vanilla, egg, and yogurt and cream again.
In a large bowl, stir together the baking powder, baking soda, salt, cocoa, nutmeg, and flour.
Alternately add the flour mixture and coffee into the butter mixture and beat until everything is incorporated.
Stir in the chocolate chips by hand. Spoon the batter into a large ziplock bag. Cut the tip off one corner and squeeze into the donut pan cavities. Fill at least ¾ full.
Bake for 9-10 minutes. Let cool in the pan for 2-3 minutes before removing to a wire rack. Cool completely.
Melt the chocolate according to the package directions. Dip the tops of the donuts in the melted chocolate and add sprinkles. Let set. Store in a sealed container on the counter for 3-4 days.
Recommended Products
As an Amazon Associate and member of other affiliate programs, I earn from qualifying purchases.
Nutrition Information:
Yield:

15
Serving Size:

1
Amount Per Serving:
Calories:

302
Total Fat:

14g
Saturated Fat:

9g
Trans Fat:

0g
Unsaturated Fat:

4g
Cholesterol:

34mg
Sodium:

319mg
Carbohydrates:

38g
Fiber:

2g
Sugar:

22g
Protein:

5g
*This post contains an affiliate link. We may receive a small percentage from sales made through these referral links. As always, these do not cost you any extra. Thank you for letting us share products we use and love this way.