Looking for a delicious new treat to celebrate fall coming?  Make a Pumpkin Cheesecake Brownie Pie and watch everyone smile as they cut into the gooey layers.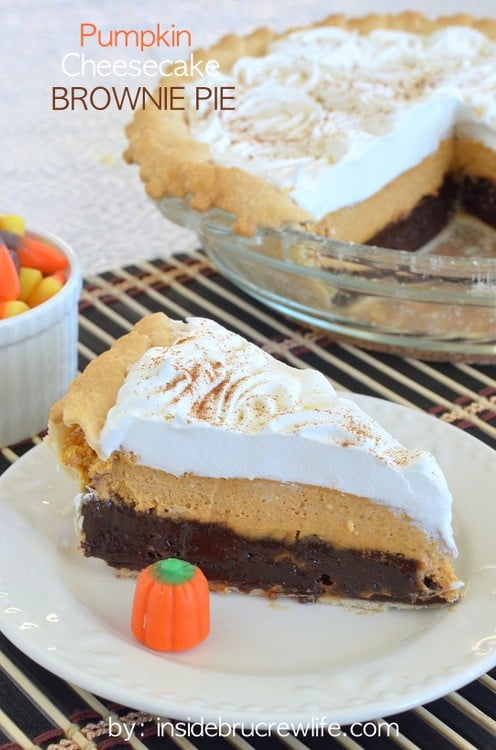 Why is it that you get so nervous when you realize a police car is right behind you?
The other day I was driving along and I happened to look in my rear view mirror, and there was a police car following right behind me.
Every single time that happens, my heart drops into my stomach, and I instantly look at my speedometer to make sure I'm not speeding. I hadn't gone through a red light that day, and I wasn't trying to text and drive. So was I so jumpy?
I did the same thing another day when we went past the park, and sure enough in the turn around was a cop car.
My eyes dropped right to my speed. This time I was going about 10 over. I thought for sure I was going to be busted. Butterflies were making my stomach all jittery! And of course, the kids were in the van with me.
Thank goodness, no red lights and sirens came after me.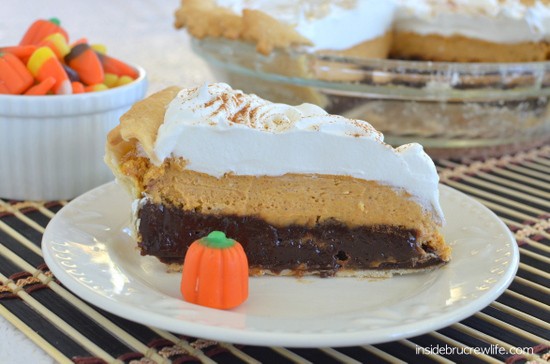 Quite honestly, this pie is going to give you the same jumpy feelings in your stomach because you will not be able to stop looking at it.
You will keep opening the refrigerator door just to stare at it again….and again. And bite after bite will disappear into your mouth when you cut that first piece!!!
So, apparently I lied the other day when I said I was on the downward slope of pumpkin baking goodness.
Because then I made a Salted Caramel Pumpkin Latte, this Pumpkin Potato Corn Chowder, and then this Pumpkin Cheesecake Brownie Pie. What???  There was pumpkin left in the fridge, so I didn't want to be wasteful.
I literally begged my husband to take this brownie pie to work with him after I made it. I could NOT be trusted around a decadent pie like this!!
It was everything a fall pie should be.

Pumpkin Cheesecake Brownie Pie
Deep rich mocha brownie layer that is so ooey and gooey and so wrong, but oh so right.
Pumpkin cheesecake that tastes like pumpkin pie with a light cheesecake twist.
Cool Whip, you can't forget the fluffy, white goodness on a pie like this. I like my Cool Whip with a side of pie.  LOL!
You are going to want to make this one soon. Like this weekend soon. Or just put it on your Thanksgiving day pie list, but I really think you will want to make it before that.
Have you looked at those layers? Even your thighs are begging you to make this one.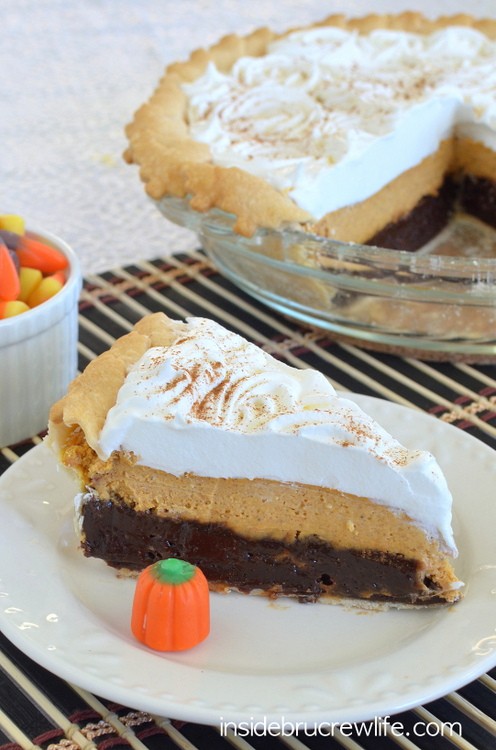 Stay up to date on all the BruCrew baking here:
FACEBOOK | PINTEREST | GOOGLE+ | TWITTER | INSTAGRAM | BLOGLOVIN
Sign up to receive an email in your inbox for each new recipe:
EMAIL SUBSCRIPTION
Yield: 12 slices
Pumpkin Cheesecake Brownie Pie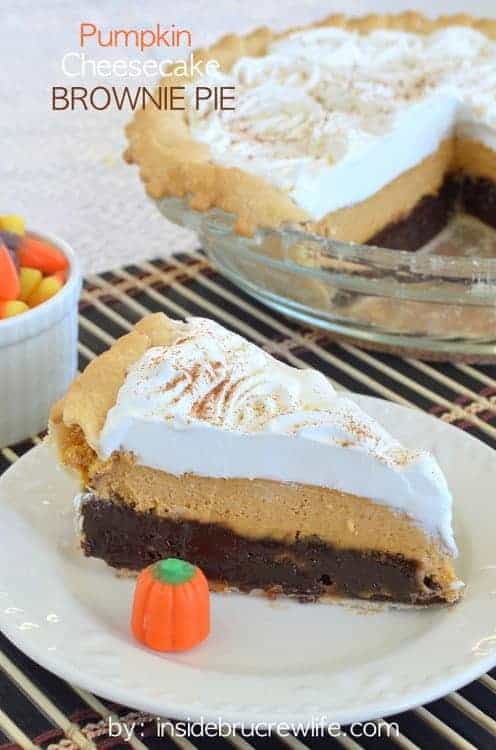 Grab a fork and dive into the gooey layers of this Pumpkin Cheesecake Brownie Pie. It's a must make recipe for fall parties.
Total Time
1 hour
15 minutes
Ingredients
1 sheet refrigerated pie crust
1 brownie mix
1/4 cup oil
1/4 cup water
1 Tablespoon instant coffee, optional
2 eggs
1 - 8 ounce package cream cheese, softened
1/4 cup sugar
1 teaspoon vanilla extract
1 teaspoon cinnamon
1/2 teaspoon nutmeg
2 Tablespoons flour
3/4 cup pumpkin puree
1 - 8 ounce container Cool Whip, thawed
Instructions
Preheat oven to 350 degrees. Roll out the refrigerated pie crust. Place the crust in a 9.5 inch deep dish pie plate.
In a mixing bowl, combine the brownie mix, oil, water, coffee, and one egg. Beat until combined. Carefully spread in the bottom of the pie crust. Bake for 30 minutes.
While the brownie layer is baking, beat the cream cheese, sugar, and vanilla until smooth. Add the egg and pumpkin and beat again. Slowly add in the cinnamon, nutmeg, and flour.
When the brownie layer is finished, remove from the oven and carefully spread the cheesecake on top of the brownie layer. Place back in the oven and bake another 25 minutes.
Remove from the oven and set on a cooling rack. Let cool for an hour. Place in refrigerator and cool completely.
Spread the Cool Whip on top and sprinkle with extra cinnamon if desired.
Notes
*If you do not like mocha flavored brownies, feel free to leave out the instant coffee.
Recommended Products
As an Amazon Associate and member of other affiliate programs, I earn from qualifying purchases.
More fun ways to enjoy pumpkin this fall: