This Coconut Key Lime Rum Cake has a fluffy coconut frosting that adds a sweet topping to this delicious citrus cake!
*I am partnering with the Cake Boss Baking Site to bring you this recipe.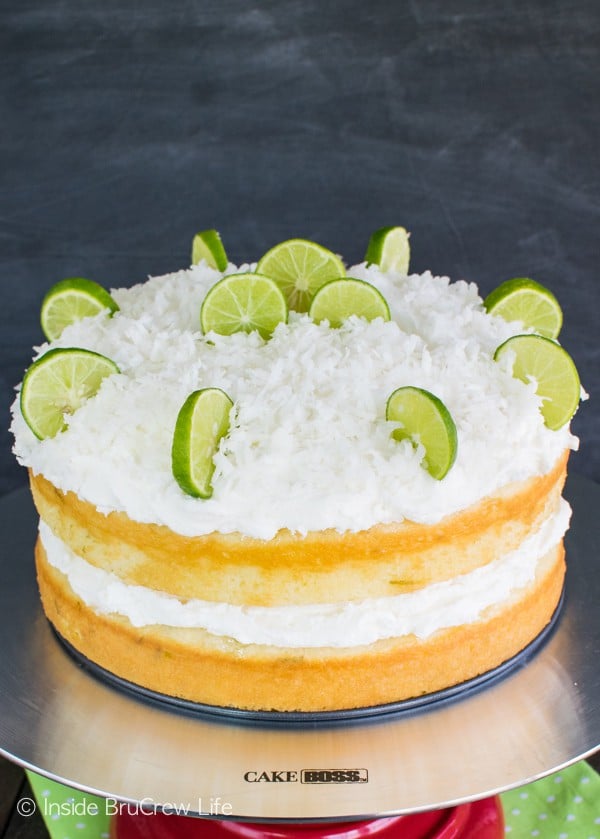 PIN IT NOW TO SAVE FOR LATER!
I have rediscovered my cake love.  Oh, don't get me wrong….I never left my cake love.  Eating cake is something I do best.  What I mean is that I have been baking more cakes lately.  This is the 10th cake I have made since this strawberry mousse cake happened.
Another thing I have discovered is that I kind of like the "naked" cake look. They are so different and pretty looking…not to mention a whole heck of a lot easier to frost! I made this fun dark chocolate layer cake this way, and now I'm all about adding more nakedness to my life…but only in cake form, of course!  LOL!
No more trying to get the sides and tops of the frosting perfectly smooth.  No way, jose!  Just slap some frosting on and plop the next layer of cake on top!   Easy, peasy!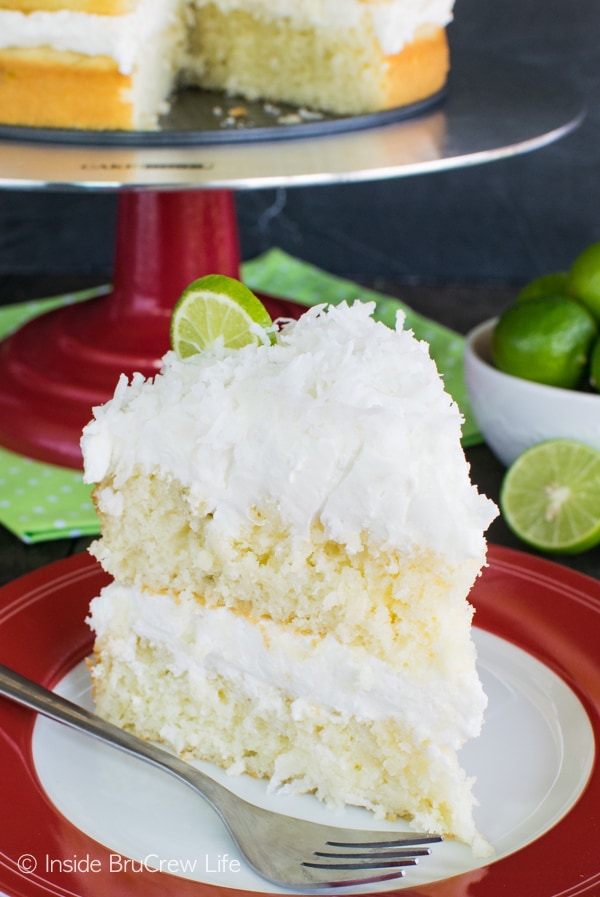 This month I was given the opportunity to create a recipe to share on the Cake Boss baking site. As I thought through the different cake ideas I could make, key lime kept coming back to me.
One of my favorite things to do is to take an easy box mix and jazz it up with fun ingredients.  Gotta love giving treats that gourmet look and taste with less work, right?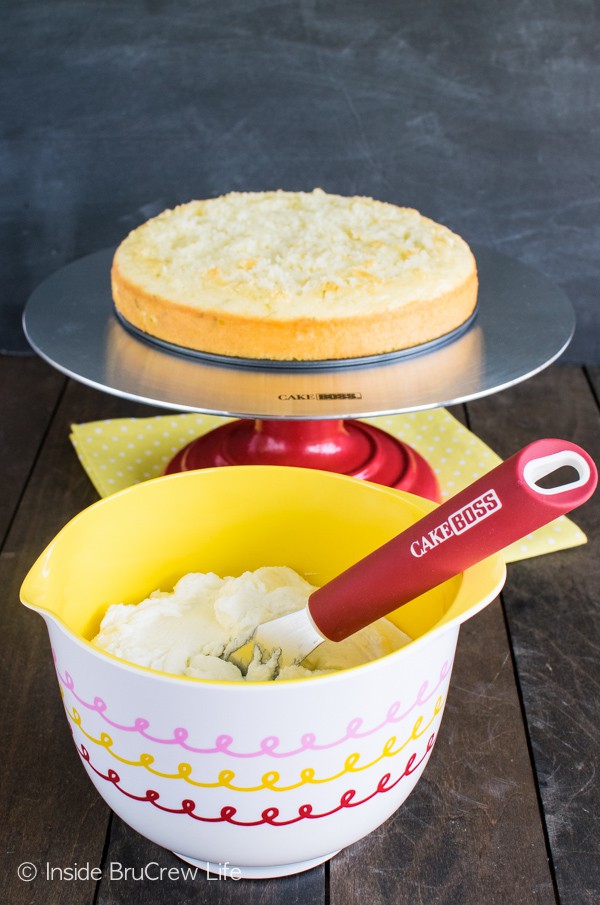 Want to know something else that is my favorite?  Cute kitchen products!
Look at that fun mixing bowl with the colorful icing swirls on the side!!! This one is the smallest bowl in a set of three.  They are perfect for frostings, batters, and sauces.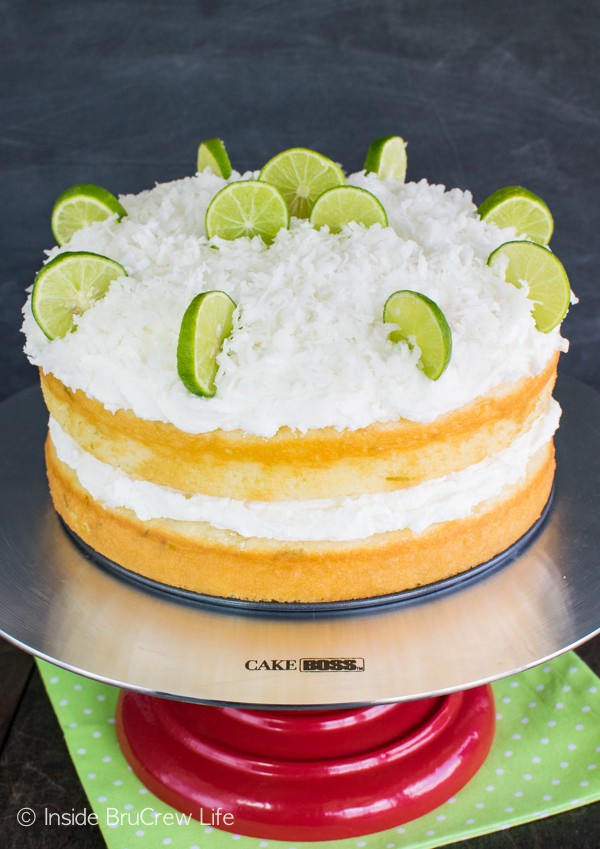 I also had the chance to try out this fun turntable. The spinning top makes it so much easier to maneuver your cake around as you frosting it.  Plus, it doubles as a pretty cake stand!
For the cake, I substituted a little bit of key lime juice for the liquid that the box mix called for.  As the cakes were baking, I started thinking back to our honeymoon in Key West.  Both times we have been there, we have had key lime pie from a little shop on the island.
The other thing we always do is walk around the shops. The rum cake shop that offers free samples is one of our favorites. All of a sudden, I knew a rum glaze was the extra little something this cake needed!
Here are some fun tips to remember as you make this cake:
While the cakes are still warm, poke them with a fork to create holes for the rum glaze to seep into.
 Flip the cakes out gently onto a plate, then place another plate on top and flip them right side up. (this will keep them from cracking and splitting apart)
Use a sharp knife to very carefully level the tops of the cake before frosting.
Divide the frosting in half and layer it with the cakes.
Sprinkle the top of the cake with shredded coconut.
Add fresh key lime slices right before serving.
Share the cake with others, so you do not inhale all of it.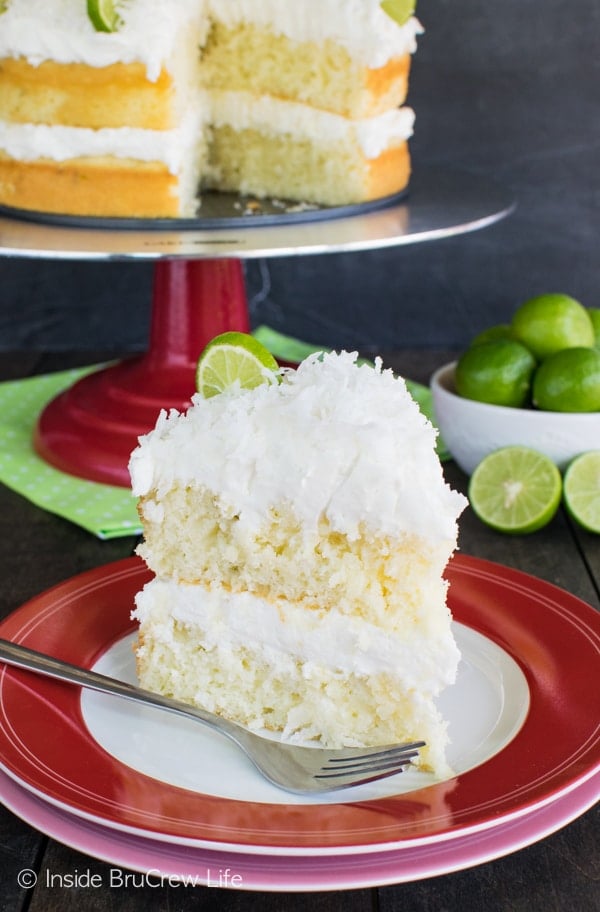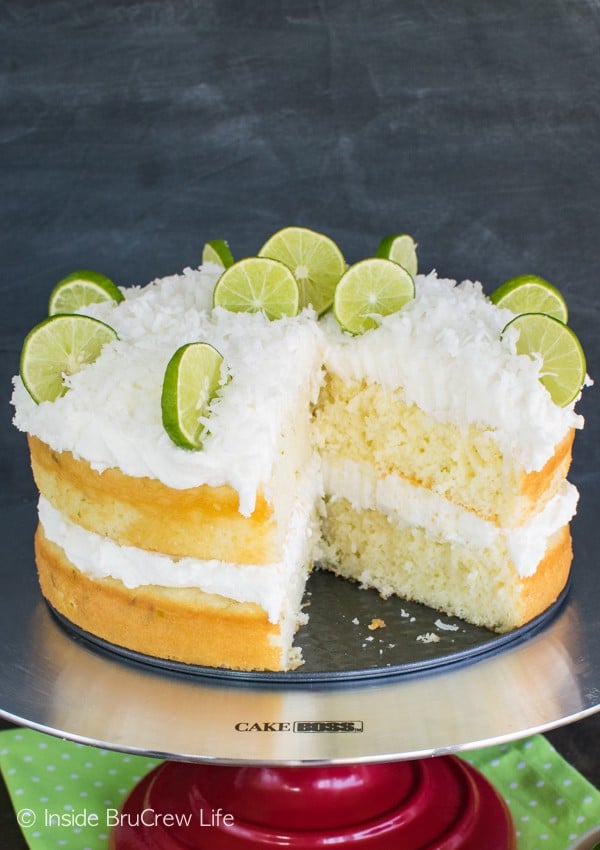 Make sure you visit the Cake Boss baking site to print this Coconut Key Lime Rum Cake recipe in full.
Connect more with Cake Boss:
Website | Twitter | Pinterest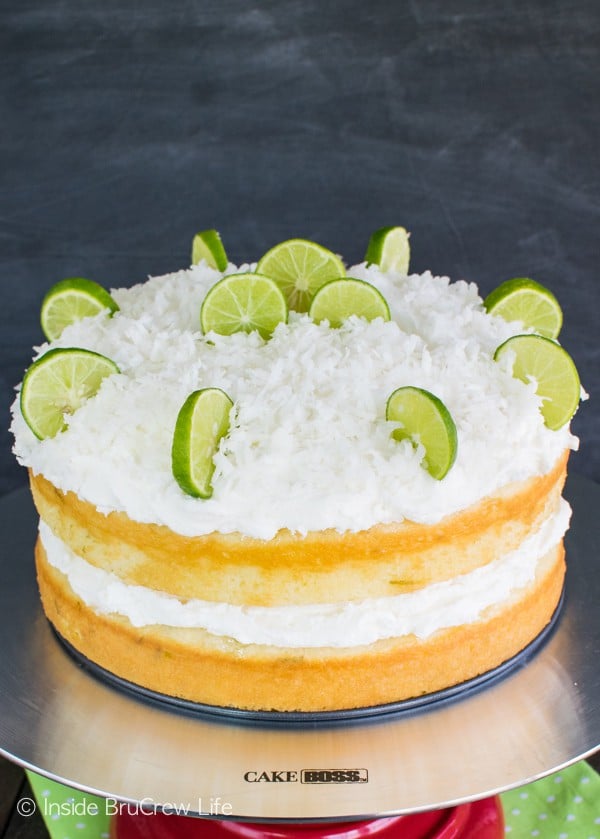 This Coconut Key Lime Rum Cake has a fluffy coconut frosting that tops the citrus cake.
Ingredients
!For the Cake
1 white cake mix
3 eggs
1/2 cup oil
1/2 cup sour cream
1/4 cup key lime juice
3/4 cup milk
2 tablespoons key lime zest
!For the Glaze
1/4 cup butter
1/4 cup sugar
2 tablespoons key lime juice
1/2 cup light rum*
!For the Frosting
1/2 cup butter softened
1/2 cup vegetable shortening
1 teaspoon coconut extract
1 teaspoon light rum*
1/2 teaspoon salt
4 cups powdered sugar
1/2 cup cream of coconut
3/4 cup sweetened shredded coconut
key lime slices
Instructions
Find the instructions for this cake on the Cake Boss Baking Site
Notes
*Substitute 2 Tablespoons rum extract and ¼ cup water for the rum in the glaze, if desired. *Substitute rum extract for the rum in the frosting, if desired.
https://insidebrucrewlife.com/coconut-key-lime-rum-cake/
Copyright Inside BruCrew Life

*Inside BruCrew Life was sent product to review and was compensated to create a recipe for the Cake Boss Baking site. As always, all opinions are 100% my own.