This Key Lime Cake is topped with a coconut frosting that makes it taste absolutely amazing! The rum glaze and homemade coconut frosting makes this the best tropical tropical cake. Such an easy cake recipe to make for spring or summer parties or events.
Make this Fruit Punch recipe to serve with this coconut layer cake.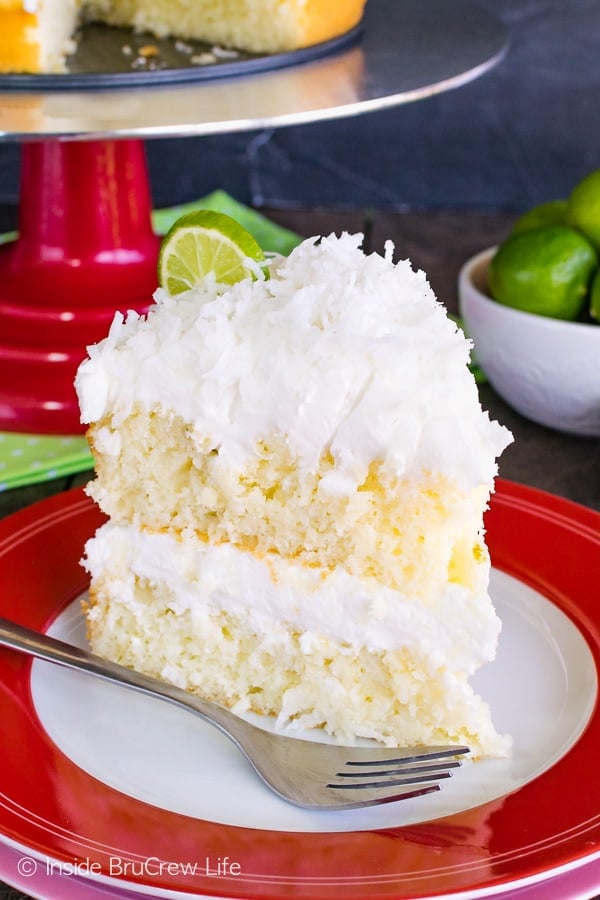 I have rediscovered my cake love. Oh, don't get me wrong. I never left my cake love. Eating cake is something I do best.
What I mean is that I have been baking more cakes lately. This is the 10th cake I have made since this Strawberry Cake happened.
Have you seen the "naked" cakes? They are so different and pretty looking, not to mention a whole heck of a lot easier to frost! Just slap some frosting on and plop the next layer of cake on top! Easy, peasy!
I made this fun Dark Chocolate Cake this way, and now I'm all about adding more naked cakes to my baking life! LOL!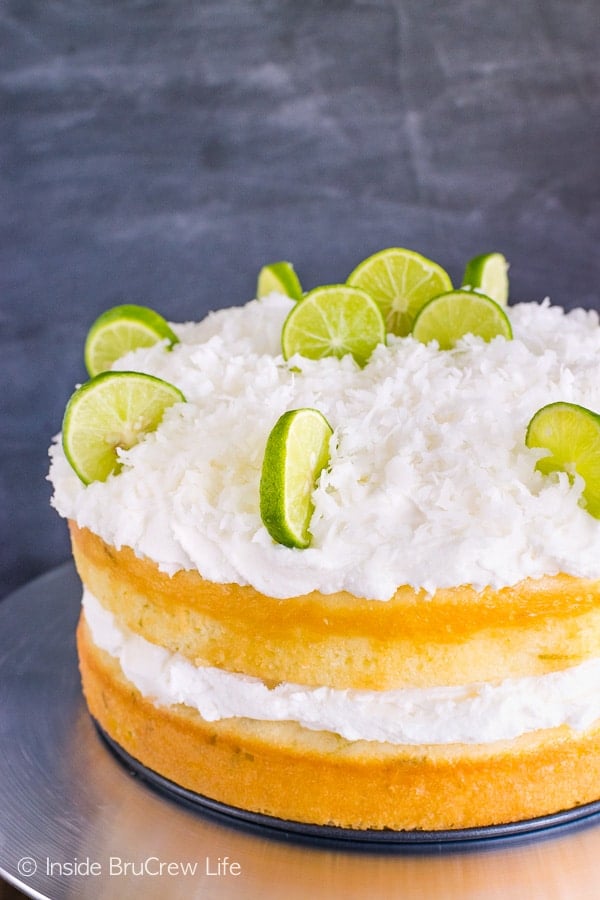 One of my favorite things to do is make a doctored cake mix and jazz it up with fun ingredients. Gotta love baking treats that look and taste like they came from a bakery, right?
How to improve boxed cake mix:
Replace water with some kind of dairy like milk or buttermilk.
Add an additional egg to make the cake richer.
Use other liquids instead of water. Coffee, juice, or soda add a fun flavor to a box mix.
Add a box of dry instant pudding mix to give the cake a denser, moist texture.
Add extracts to boost the flavor.
For this citrus cake, I substituted a little bit of key lime juice for the liquid that the box mix called for.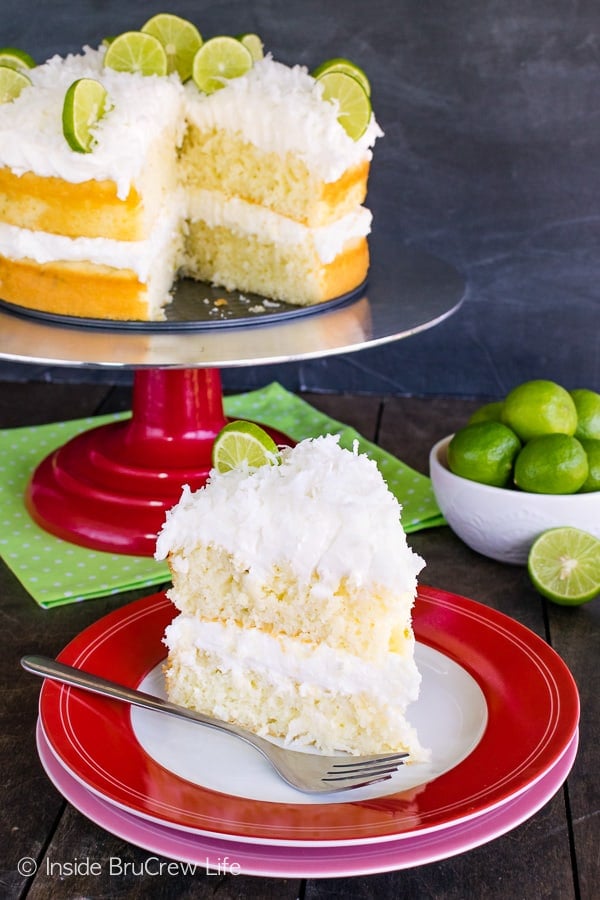 As the cakes were baking, I started thinking back to our honeymoon in Key West. Eating chocolate covered key lime pie is one of my favorite memories.
While we were Exploring Key West in a Day last summer, I had to have another slice of this key lime pie from the little shop on the island.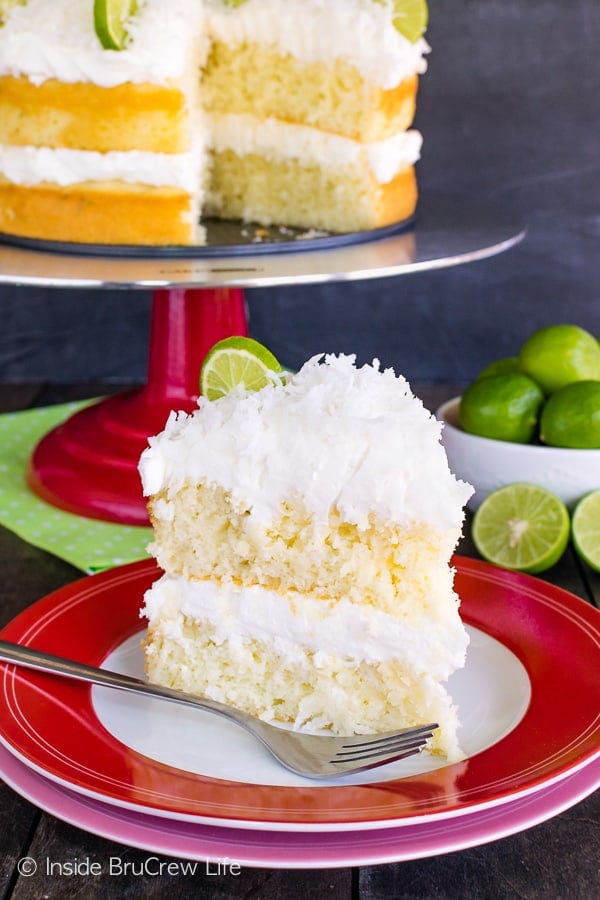 The other thing we always do when in Key West is to walk around the shops. The rum cake shop that offers free samples is one of our favorites.
All of a sudden, I knew a rum glaze was just what this key lime cake needed!
The rum glaze added so much flavor and moisture to this easy coconut cake.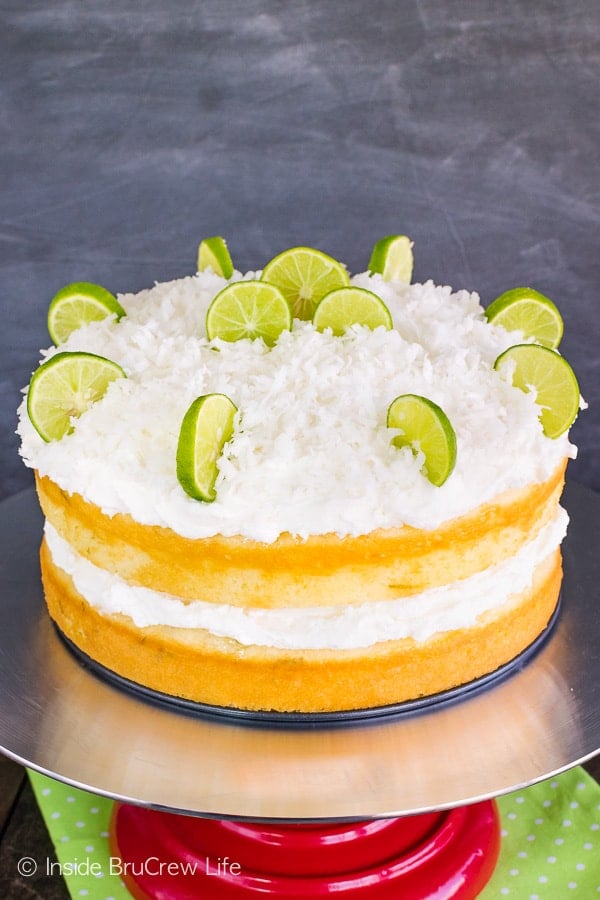 How to make a Key Lime Cake with Coconut Frosting:
Mix together the cake mix, eggs, oil, sour cream, key lime juice and zest, and milk.
Pour evenly into 2 - greased 8 inch cake pans and bake.
Let the cakes cool 10 minutes in the pan, then poke them with a fork.
Heat the butter, sugar, and juice in a sauce pan until melted. Bring to a boil, then stir in the rum and simmer one minute.
Slowly pour the rum glaze over the tops of the cake.
Flip the cakes out of the pan onto a plate, then place another plate on top and flip them right side up, so they do not crack and split. Let the cakes cool completely.
Use a sharp knife to level the tops of the cooled cakes before adding frosting.
Divide the coconut frosting in half and layer it with the cakes.
Sprinkle the top of the cake with shredded coconut.
Keep refrigerated until you are ready to serve the key lime cake.
BRUCREW TIP: Right before serving add fresh key lime slices all around the top of the frosted layer cake.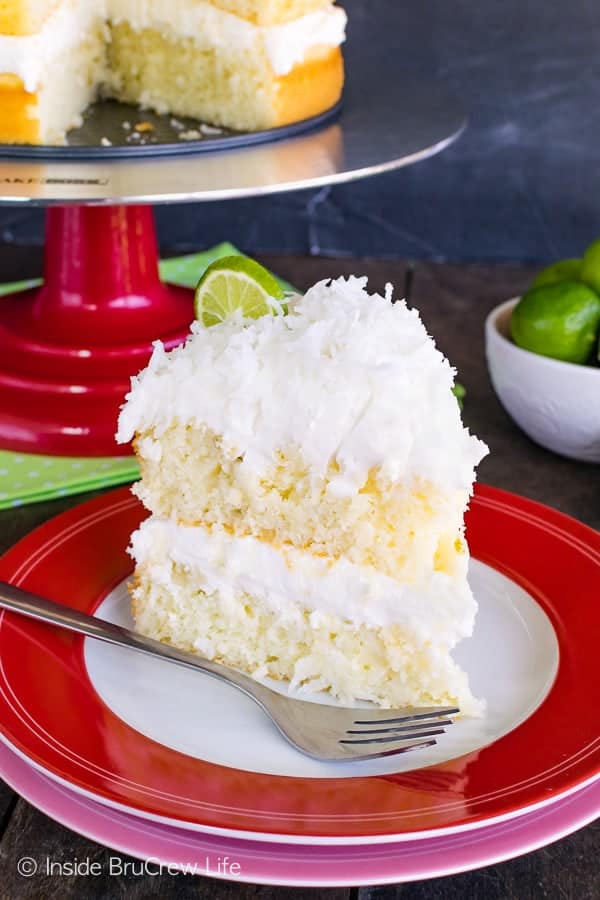 Other coconut cake recipes:
This Strawberry Poke Cake is made with three kinds of milk and is frosted with a creamy topping and shredded coconut. It's the perfect spring dessert.
This creamy Chocolate Coconut Cake will get rave reviews from the coconut lovers in your life. Make a pan and watch it disappear!
Pineapple and coconut add a fun summer twist to this easy Pina Colada Cake. It's a great dessert for summer picnics or barbecues.
The Best Coconut Pound Cake is tender and fluffy enough for the perfect crumb, sweet but not overly sweet, with just the right amount of coconut flavor in every bite.
This Coconut Cream Cake is easy to make and enjoy. Three times the coconut in it makes the flavor shine through.
The easy layers in this no bake Eclair Cake will satisfy all the chocolate and coconut lovers in your life.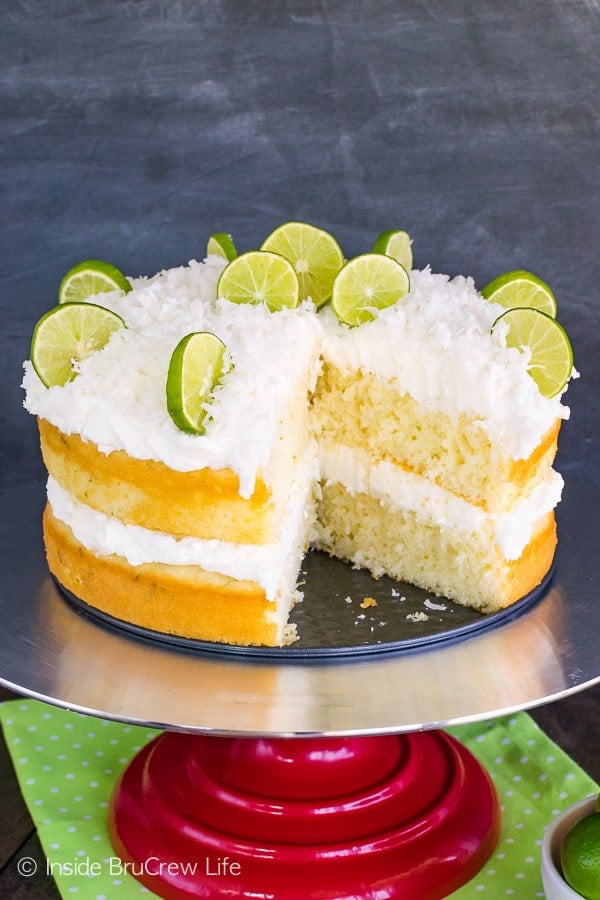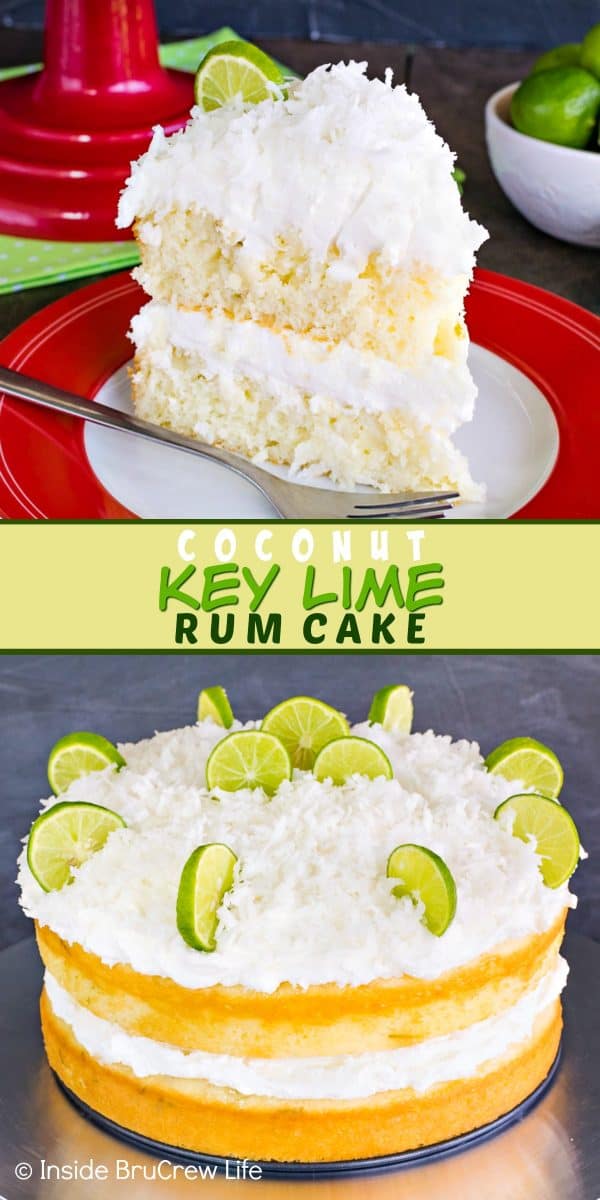 *The post for this Coconut Key Lime Rum Cake was first published on April 18, 2016. The photos have been updated and it was republished on April 17, 2019.