Two layers of ice cream and a fudgy cookie center make this Coffee Cookies and Cream Ice Cream Cake a delicious and stunning dessert. It's so easy to customize with your favorite flavors too.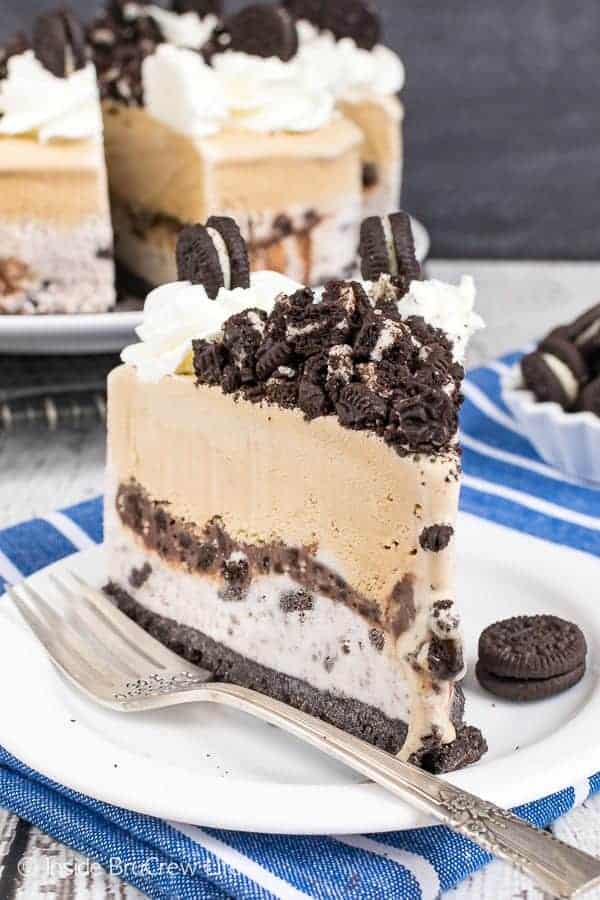 The humidity officially found us. Oh, it's been hot and humid here in Florida for a while, but this week seems extra sticky to me. Maybe it's just because we were traveling for a few weeks, and I just "forgot" about the humidity.
Whatever the case, I'm cranking our air conditioning and staying inside until this heat wave passes. Oh, and I think stocking the freezer with another ice cream cake sounds like an awesome plan.
Although, that would require me to leave the house because all the ice cream has been devoured by the kiddos. Hhhhmmm! Maybe I'll just make another batch of this Brownie Batter Coffee Ice Cream instead because I think we have all the ingredients in the house.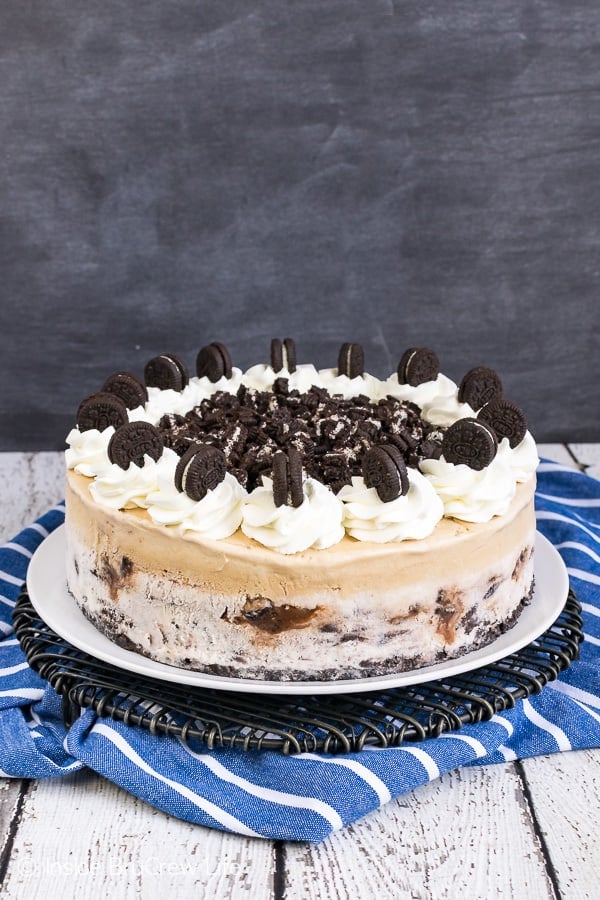 Homemade Ice Cream Cake
Let's talk ice cream cakes for a minute. My husband's favorite cake is a Dairy Queen ice cream cake, and he has passed that love onto our daughter. For the past few years she has requested ice cream cakes for her birthday.
I'm ok with buying one of those store bought cakes every once in a while. But I also like the option to customize the flavors in homemade ice cream cakes because it's just more fun and delicious that way. Plus, it's really not that hard to make an ice cream cake like Dairy Queen. Am I right?
Over the years my daughter has helped me pick out the flavors for her birthday cakes. A few years ago she came up with the idea for this Vanilla Mint Chip Ice Cream Cake.
Then a few weeks later she and I came up with this Chocolate Chip Cookie Dough Ice Cream Cake just because it was hot and another easy ice cream cake sounded like a good idea.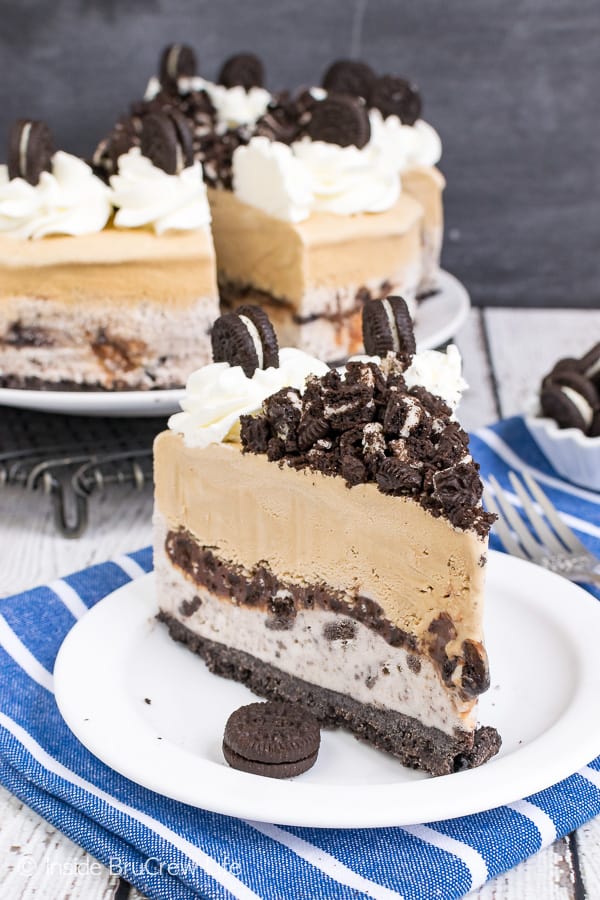 So it was no surprise to me when said she wanted an ice cream cake with Oreos for her birthday this year. That girl loves her ice cream and everything cookies and cream.
I'm kind of surprised she didn't ask for these Chocolate Chip Cookies and Cream Cookies too. Can you imagine those cookies with ice cream in the middle? Yeah, that might need to happen this summer too.

How to make a Coffee Cookies and Cream Ice Cream Cake:
Crush your cookies into crumbs and mix it with melted butter. Press this mixture firmly into the bottom of the pan and refrigerate it.
Set out the cookies and cream ice cream for about 10-20 minutes. You want the ice cream to soften but not melt, so just keep an eye on it. If you house is cooler, it will take a little longer to soften up. Stir it and then spread it out on the prepared crust. Place the pan in the freezer for about 30 minutes.
Stir together a jar of hot fudge and some Oreo cookie chunks. You may need to heat the hot fudge for a few seconds. Just don't heat it up too much because we don't want it to melt our ice cream layers. Spread this cookie mixture on top of the ice cream in the pan and then place it back in the freezer.
Set out the coffee ice cream to soften and then spread it on top of the fudge layer. Cover the top with plastic wrap and freeze for 4-6 hours or overnight.
To get the sides of the springform pan to open easily, you will need to run a hot knife around the sides. Place your knife under hot water and then dry it off before doing this. You will need to clean it off multiple times.
Open the pan and gently lift the cake out. (You could also line the sides of the pan with parchment before adding the ice cream at the beginning if you want to skip this step.)
Right before serving, swirl some homemade whipped cream around the edges of the Coffee Cookies and Cream Ice Cream Cake and fill the center with the extra Oreo cookie chunks.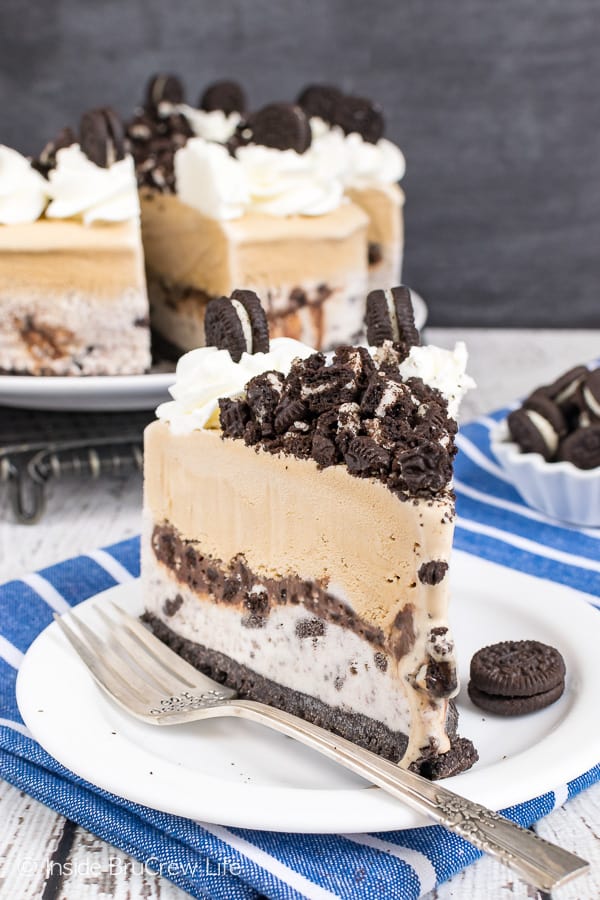 Other easy ice cream desserts you may enjoy:
Coffee Cookies and Cream Ice Cream Cake recipe: