This Coffee Toffee Popcorn is loaded with candy bits and chocolate covered coffee beans. It's a fun and easy snack mix to munch on while you watch tv.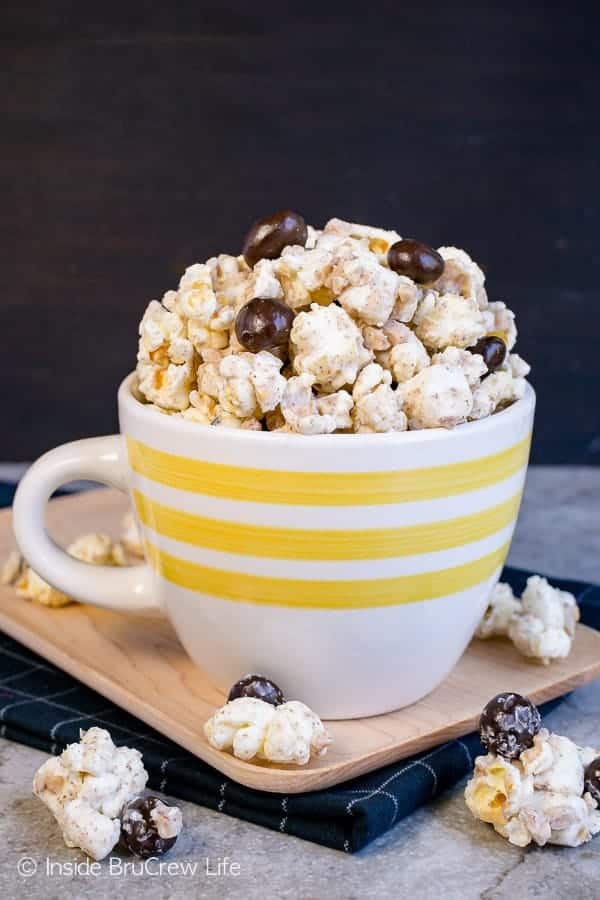 (photos updated April 2018)
It was a sad day on Sunday. Our Keurig coffee maker decided to die. We still have no idea what happened to it. My husband made his coffee first, and everything was working fine. But when I came out an hour later to brew coffee for a Coconut Nutella Latte, nothing was working.
We tried unplugging it for a few minutes but it still wouldn't turn on. We tried unplugging it for over an hour and still nothing worked. Then we tried cleaning it out, but that was a no go. I tried jiggling the plug hoping for a miracle. We even tried calling Keurig but because it was over a year old, they were no help.
My hubby tried smacking the side of it. There was a flicker, and then nothing. We think it is dead for good. Boo! Thank goodness for an awesome hubby who made a Starbucks run for me at this point. It's a good thing I had some chocolate covered coffee beans and a slice of
Java Chip Bundt Cake
to hold me over until he got back.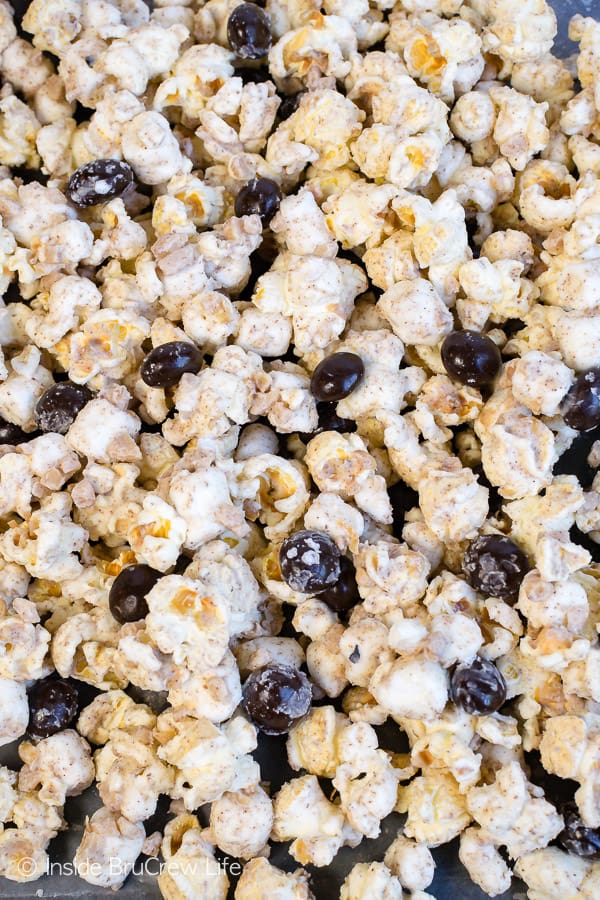 Chocolate covered coffee beans are a coffee lover's dream. As I was munching on a few, I had this brilliant idea to add them to a fun chocolate covered popcorn.
Then I stirred espresso powder into the melted white chocolate, and it was love at first bite. Bring on the caffeinated sugar high!!! I am all about that!
I totally recommend making large batches of this Coffee Toffee Popcorn. The coffee buzz will get you through just about anything!! Even your coffee maker dying.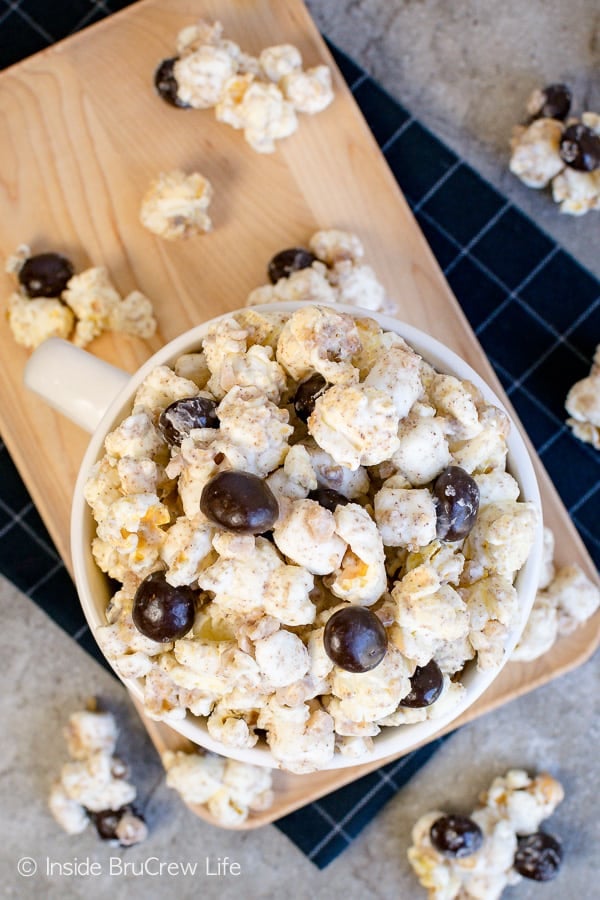 Tips for making this easy chocolate covered Coffee Toffee Popcorn:
Pop up your favorite popcorn and make sure you remove any kernels that didn't pop. No one wants to bite into a seed and break a tooth.
Mix together the popcorn and marshmallows in a big bowl.
Melt your white chocolate melts and stir in some instant espresso powder. Pour this over the popcorn and stir it until everything is coated.
Pour the chocolate covered popcorn onto a tray lined with parchment or wax paper. Sprinkle it with toffee bits and half the chocolate covered coffee beans and toss.
Refrigerate the popcorn for 5 minutes and then remove and break into chunks. Add the rest of the coffee beans and toss again.
Let's talk about espresso powder and the proper ways to use it. Please do not be like my husband and try to make an actual espresso from it. Although, it was pretty funny to watch him take the first sip.
So what is espresso powder and what is it used for?
Espresso powder is a dark concentrated instant coffee. These coffee crystals dissolve in liquid quickly. Instant espresso powder will give you a better and darker flavor than instant coffee. Bakers love to use it in chocolate recipes to give a darker, richer flavor to the chocolate.
If you do not have espresso powder, you can substitute instant coffee. Just add a little bit more, but make sure you test it as you go. Too much instant coffee can have a harsher taste.
You can also stir instant espresso powder into melted white chocolate to give it a delicious coffee flavor. After one bite of this Coffee Toffee Popcorn, I was in love. It's a very good thing I gave it away because I really wanted to eat it all.

More desserts for coffee lovers:
Tools used to make this Coffee Toffee Popcorn:

*This post contains affiliate links. Inside BruCrew Life may receive a small percentage from sales made through these free links. As always, these links do not cost you any extra. Thank you for letting us share products we use and love this way.
SaveSave
SaveSave
SaveSave
SaveSave
SaveSave