Make a pot of this Creamy Italian Tomato Soup this fall to feed your hungry family.  You can have this warm soup on your table in just under 30 minutes.
*I am partnering with Red Gold® as a brand ambassador this fall creating recipes using canned tomatoes. As always, all opinions are 100% my own.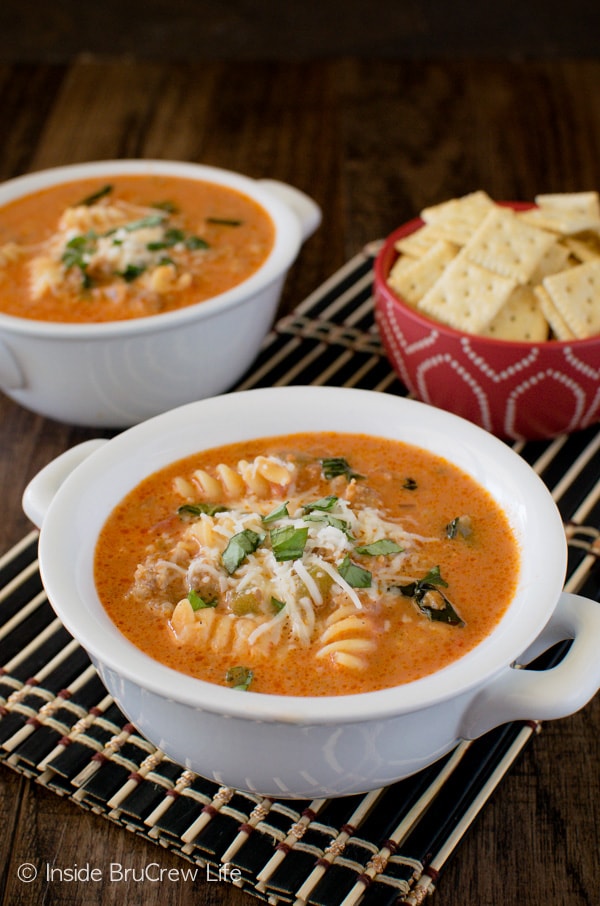 CLICK HERE TO PIN THE RECIPE FOR LATER:
Our kids come home each and every day and head right for the refrigerator.  You would think they had not eaten all day long based on the way they grab at anything and everything edible.
I try to fend off those hungry beasts by telling them dinner will be ready in less than an hour.  That is met with moans and groans and claims of starvation.  Most days I cave and let them have a tube of yogurt, a peanut butter banana popsicle, or veggies & fruit.
They grumble a little more because they really want the cookies and candies they know I'm stashing in the pantry, but they will take any food at that point.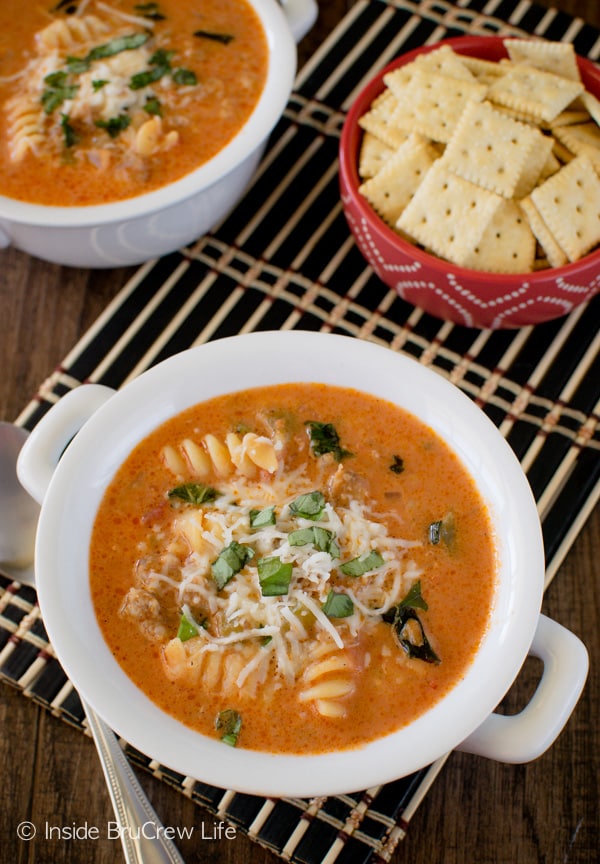 What I do know is that my children have absolutely no idea what it is like to be truly starving.  They have been fortunate to live in a home that has always had food in the cupboards and refrigerator. They may not like what we are having for dinner, but they always have dinner on their plates every night.
We live in a world where so many homes do not have that kind of food available.  Did you know that 1 in 7 households across our nation do not know where their next meal will be coming from?  That's a sobering thought that makes me rethink all the food I throw away.
This year I am partnering with Red Gold® to bring you recipes using their awesome canned tomatoes.  I have had the privilege to visit one of the family farms in the Midwest and to watch the life of a tomato from farm to can.  The care that this family-owned company provides to and for their farmers helps to produce the highest-quality, freshest and best tasting tomatoes.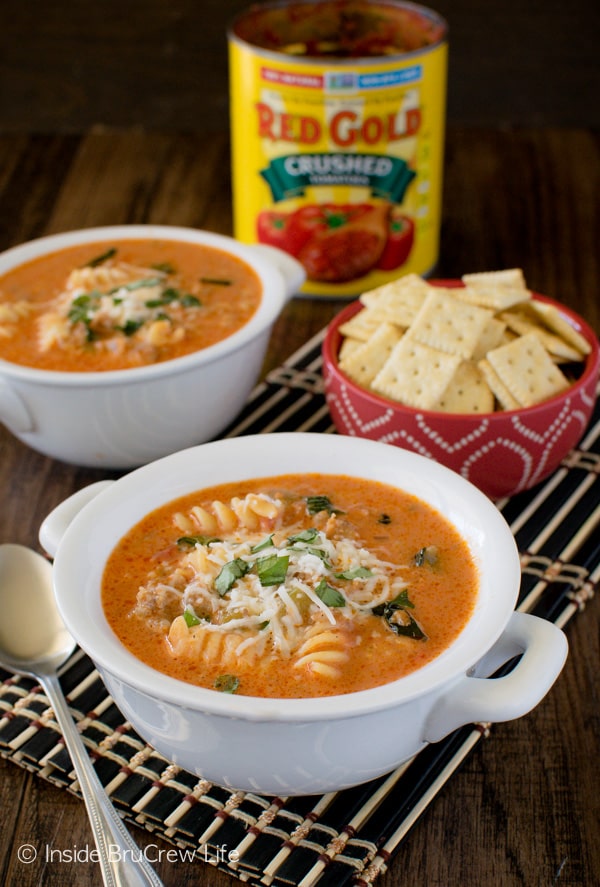 This October, Red Gold is partnering with Feeding America® to launch the Red Gold Crush Hunger campaign.  They are encouraging families to share a meal to help crush hunger.  Each time you purchase a Red Gold product in the month of October, Red Gold will donate a meal to someone in need.  What an amazing opportunity to help someone else this year!
Encourage your family and friends to join you in this food campaign by sharing your purchases and meals on your social media channels using #HelpCrushHunger
Each time you share your tomato experience you will be entered to win a Red Gold Family Meal Kit and $100 to donate to your local food bank.  Visit Help Crush Hunger for more information!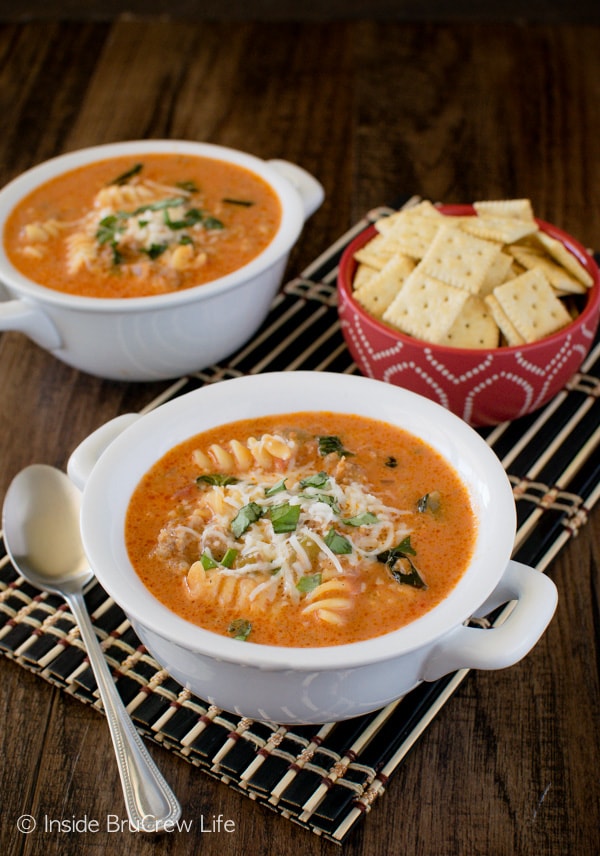 Now that the evenings are starting to cool down, I am ready to break out the boots and sweaters and make all the comfort foods I can.  During the cooler months, I love to make a big pot of soup to warm us up at dinner time.
A pot of this creamy Italian tomato soup can be on your dinner table in less than 30 minutes.  When the "starving" kids get home from school, easy meals that can be made in a hurry or can be ready ahead of time are what I look for.  Plus, you are going to love that everything is made in one pan because that means less dishes for you to wash later.
Something about a hot steamy bowl of soup comforts the soul and makes everything seem all right.  My goal this fall is to definitely add more easy soup recipes to our meal times.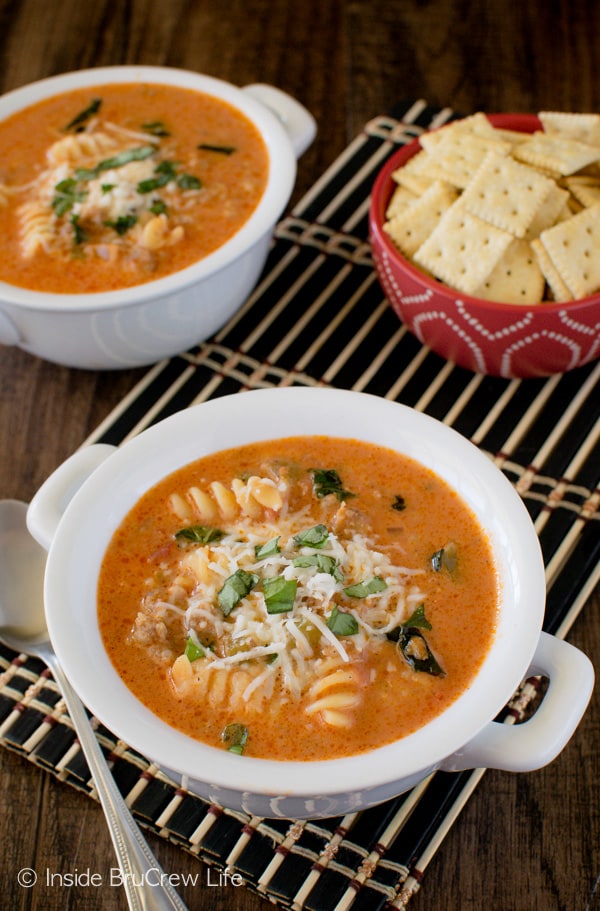 Connect more with Red Gold®:
Facebook | Twitter | Instagram
Yield: 6 servings
Creamy Italian Tomato Soup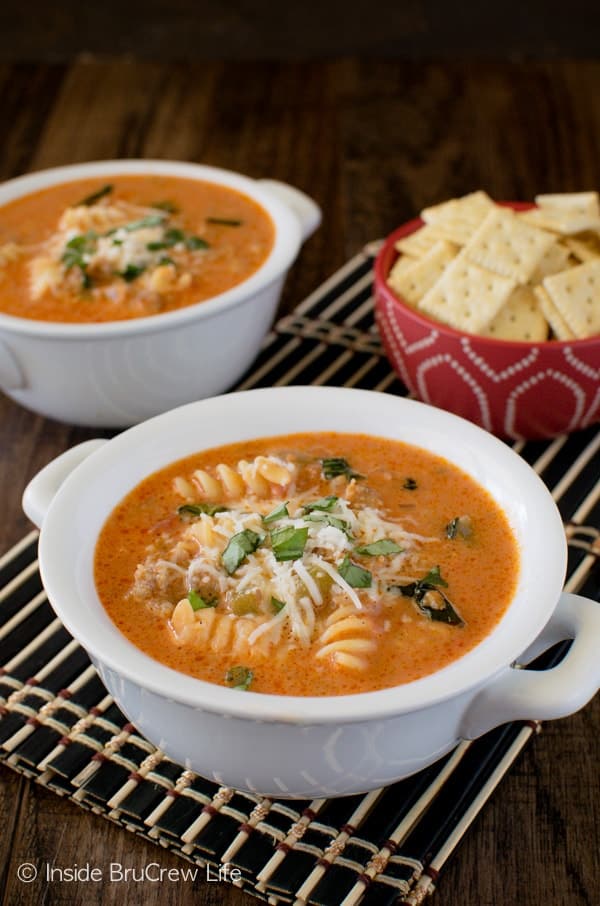 A pot of this Creamy Italian Tomato Soup will warm you up on cool nights. This easy meal can be on the dinner table in 30 minutes. Great comfort food for busy nights!
Ingredients
1 pound Italian sausage
1/2 cup diced onion
1 cup diced green pepper
1 - 28 ounce can Red Gold crushed tomatoes
4 cups chicken broth
2 cups water
8 ounces uncooked rotini pasta
1/2 cup heavy cream
1/4 cup chopped fresh basil
1/2 cup grated Parmesan cheese
1/2 cup shredded Italian cheese
salt and pepper, to taste
Instructions
Add the sausage to a large pot and cook until completely cooked through. Drain any excess grease that may be in the bottom of the pan.
Stir the onions and peppers into the sausage and cook for 1-2 minutes or until veggies start to soften.
Pour in the tomatoes, broth, and water. Bring to a boil.
Add the pasta and bring the mixture back to a boil. Keep the soup at a low boil for the amount of time your pasta calls for.
Stir in the heavy creamy, basil, and cheeses and stir until melted and mixed in. Season the mixture to taste with salt and pepper.
Simmer on low until ready to eat. Serve with fresh basil and cheese, if desired.
Nutrition Information:
Yield:
6
Serving Size:
1
Amount Per Serving:
Calories:

531
Total Fat:

35g
Saturated Fat:

16g
Trans Fat:

0g
Unsaturated Fat:

20g
Cholesterol:

86mg
Sodium:

1700mg
Carbohydrates:

31g
Net Carbohydrates:

0g
Fiber:

4g
Sugar:

10g
Sugar Alcohols:

0g
Protein:

26g

*I was compensated for my time creating this recipe as a brand ambassador for Red Gold. All opinions expressed in this post are 100% my own. Thank you for letting me share the brands and products we use and love.