Make a pot of this easy Creamy Italian Tomato Soup to serve on chilly winter nights. You can have this hearty tomato soup recipe on your dinner table in under 30 minutes.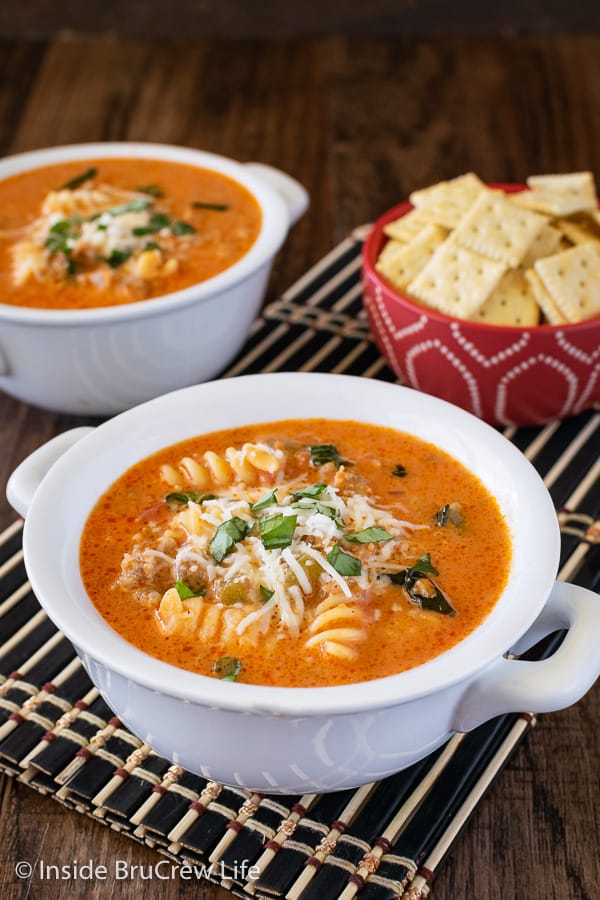 Our kids come home each and every day and head right for the refrigerator. You would think they had not eaten all day long based on the way they grab at anything and everything edible.
I try to fend off those hungry beasts by telling them dinner will be ready in less than an hour. That is met with moans and groans and claims of starvation. Most days I cave and let them have a tube of yogurt, a few Peanut Butter Banana Popsicles, or veggies & fruit.
They grumble a little more because they really want the cookies and candies they know I'm stashing in the pantry, but they will take any food at that point.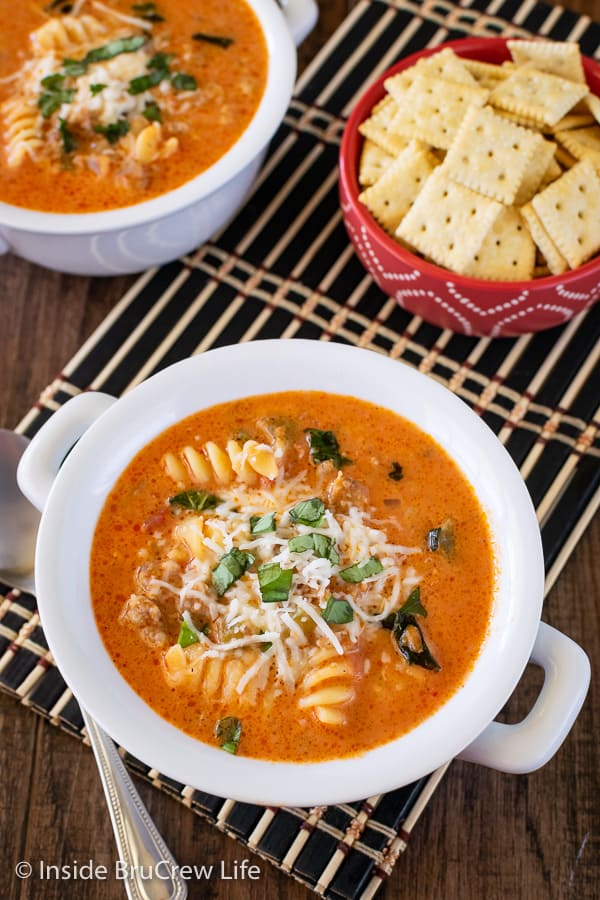 Now that the evenings are starting to cool down, I am ready to break out the sweatshirts and sweaters and make all the comfort foods I can. During the cooler months, I love to make a big pot of soup to warm us up at dinner time.
Our kids regularly request the Best Creamy Tomato Soup and this Broccoli Cheese Soup when it is cold outside.
I took our homemade tomato soup recipe and changed it up to make this Creamy Italian Tomato Soup for dinner one night. I love that it can be on the dinner table in less than 30 minutes.
When the "starving" kids get home from school, easy meals that can be made in a hurry or can be ready ahead of time are what I look for. Plus, you are going to love that this soup recipe is made in one pot because that means less dishes for you to wash later.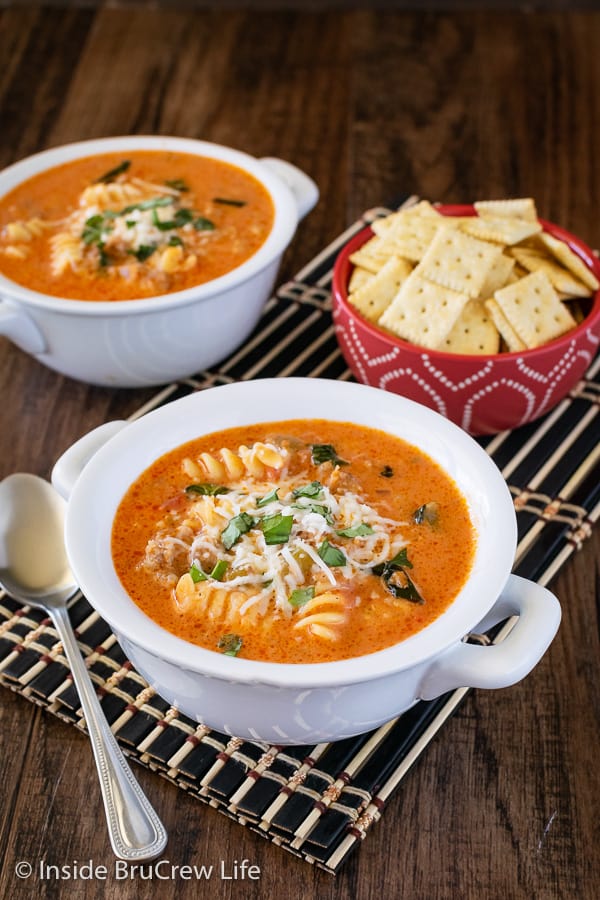 Something about a hot steamy bowl of homemade tomato soup comforts the soul and makes everything seem all right. My goal this year is to add more easy soup recipes to our meal times.
How to make Creamy Italian Tomato Soup:
Cook the Italian sausage in a large pot. Drain off the excess grease. (full recipe at bottom of post)
Stir in chopped onions and peppers and cook for a few minutes. You can prep these the night before to save time the next day.
Add the canned tomatoes, broth, and water and bring to a boil.
Dump in your favorite pasta noodles and cook for the time that the box calls for.
Pour in heavy cream, basil, and cheese and stir until melted and creamy.
Season with salt and pepper and simmer until ready to serve.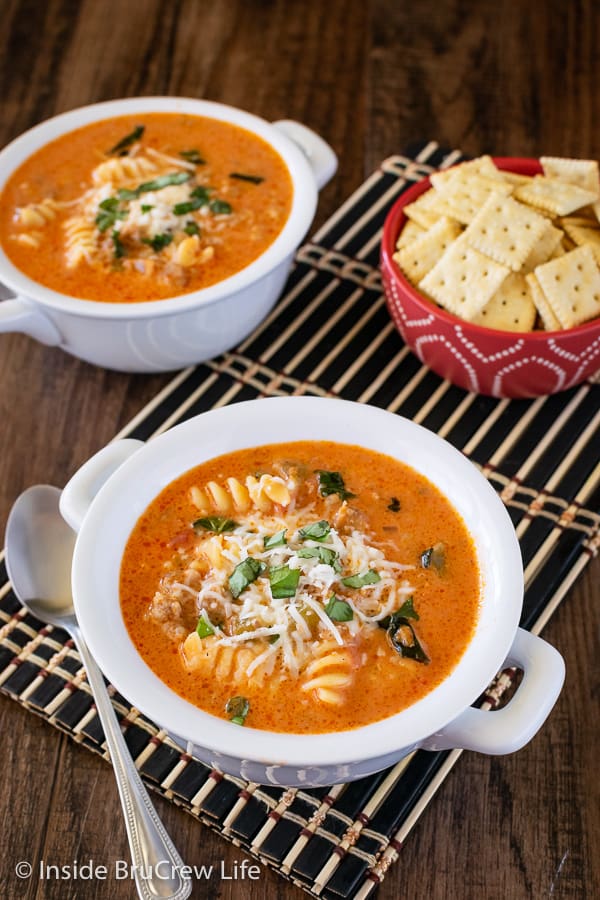 Other easy soup recipes you may like: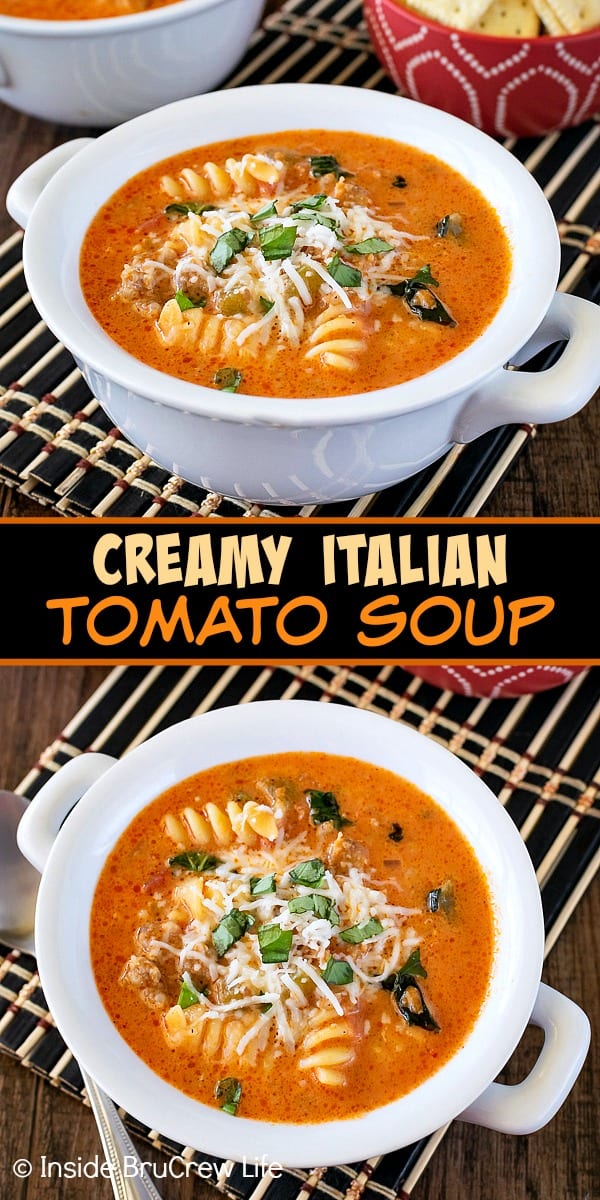 *The post for this Creamy Italian Tomato Soup was first published on September 28, 2016. The photos and post were updated and republished on January 5, 2020.