Our chocolate Dirt Pie is made with an Oreo crust, filled with creamy chocolate pudding, and topped with crushed Oreos and gummy worms. This easy, no-bake dessert is both fun to make and delicious!
*I am partnering with Dixie Crystals to share this dirt pie recipe with you.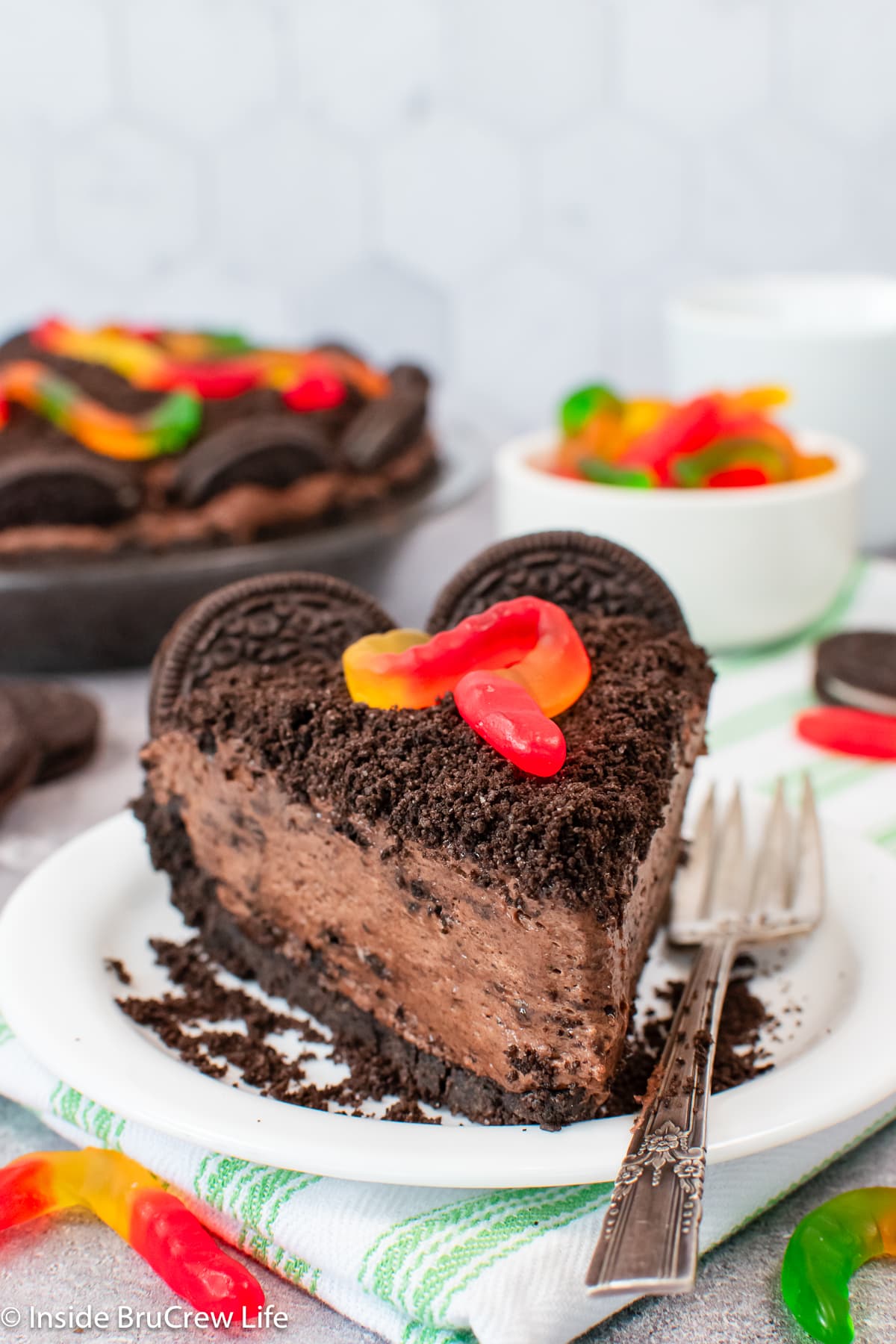 If you're looking for an easy dessert that will delight kids of all ages, look no further. Our worms and dirt pie is a guaranteed crowd-pleaser that will have everyone asking for seconds!
You wouldn't believe how amazing it tastes, and it's incredibly easy to make. Trust me. There's nothing quite like the experience of indulging in a bit of dirt.
We've used Oreo cookie dirt on these Halloween marshmallows and dirt cupcakes for years. It's always fun to see everyone smile when dirt and worms are involved in dessert.
Jump to:
What is Oreo Dirt Dessert?
Oreo dirt dessert, also known as dirt cake or mud pie, is a classic no-bake dessert. It's a popular treat at potlucks, parties, and family gatherings, especially among kids and those who are young at heart.
Why You Will Love This Fun Dirt Pie Recipe
This chocolate pudding pie is great for birthdays, Halloween parties, or just enjoying a sweet treat. It will make you smile and laugh.
No-bake dessert. No oven time is needed! Make it without breaking a sweat, especially on hot summer days. All the magic happens in your fridge.
Kid-friendly. This dessert is perfect for birthday parties, picnics, or Halloween. It's a fun, chocolatey adventure that lets kids get messy while enjoying a sweet treat.
Different ways to make it. You can turn this delicious dessert into a pie, a layered chocolate treat, or individual dirt cups.
What You'll Need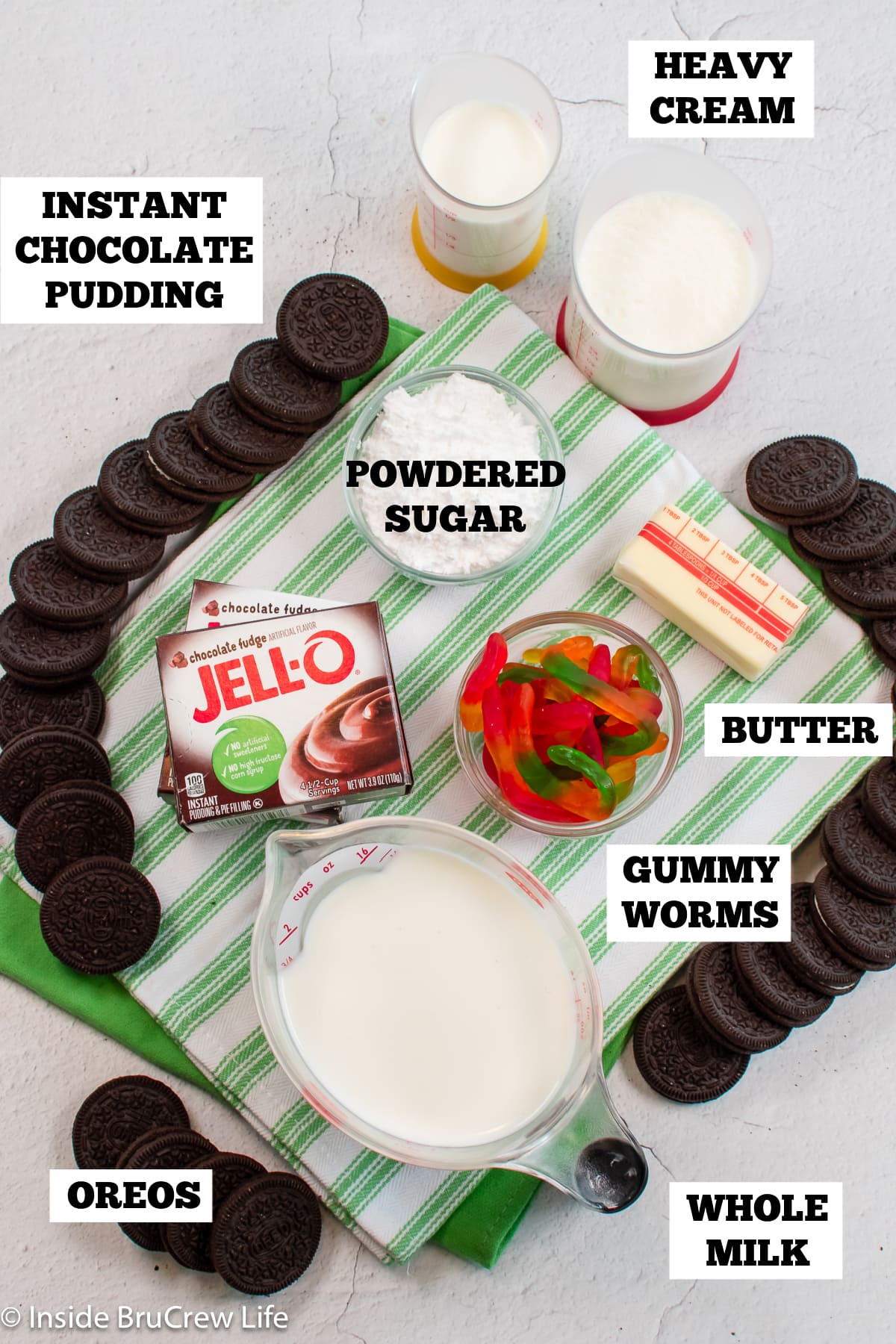 If you want to make this quick and easy Oreo dirt dessert, you only need six simple ingredients.
Oreo Cookies - You'll need a family-sized pack of cookies to make the Oreo cookie crust, filling, and garnish.
Heavy Whipping Cream - This cream has a higher fat content, which results in quicker and longer-lasting topping. For best results, make sure it is cold.
Powdered Sugar - Sweetens the cream and helps it whip up nice and fluffy.
Instant Chocolate Pudding - It's crucial to use instant pudding mix for the filling to set correctly.
Milk - Choose a milk that has a higher fat content. I recommend whole milk, but 2% will work, too.
Gummy Worms - These add a touch of fun to the pudding dessert. They're chewy, fruity, and the perfect decoration for the cookie dirt.
Tools - Spatula, food processor, whisk, bowls, electric mixer, 9-inch pie plate
How to Make Dirt Pie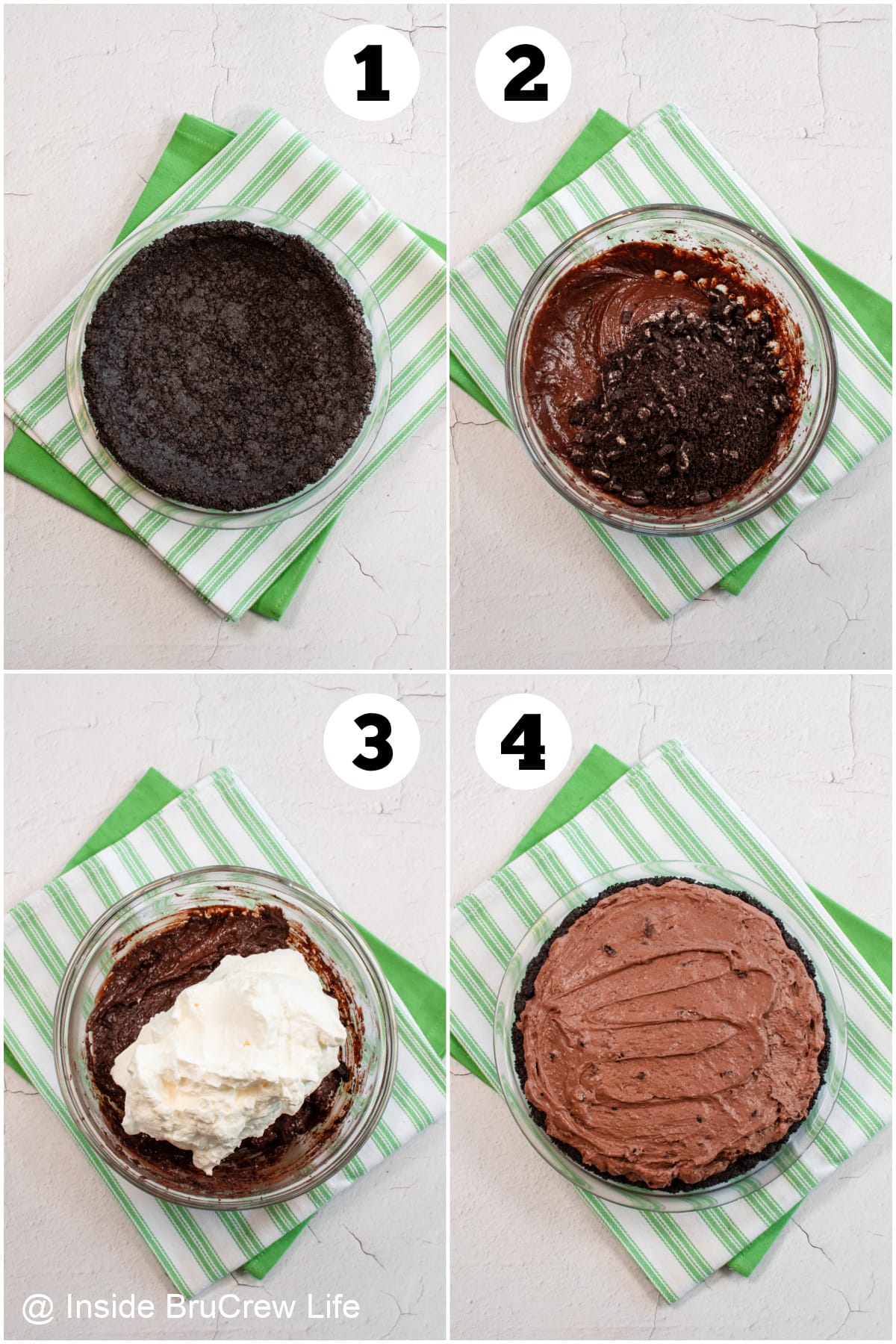 This recipe is not only easy to make but also a great way to bond with your kids. You'll have a lot of fun in the kitchen together.
Make the crust. Pulse 20 sandwich cookies in a food processor until they resemble crumbs. Add melted butter to the Oreo crumbs and stir until combined. Press the mixture firmly on the sides and bottom of a 9-inch pie pan, then place in the refrigerator.
Whip the cream. In a chilled mixing bowl, beat the heavy cream and powdered sugar until stiff peaks form. Refrigerate.
Make the pudding. In a separate bowl, whisk the milk and instant pudding mixes until thick. Stir in 5 crushed cookies and 5 chopped cookies. Gently fold the whipped cream into the pudding mixture until no white streaks are visible.
Assemble the pie. Spread the chocolate filling in the chilled Oreo cookie crust. Use a spatula to spread the pudding out evenly. Cover with plastic wrap and refrigerate for 4-6 hours.
Garnish and serve. Place halved cookies around the outside edges, then crush five cookies and sprinkle evenly over the pudding layer. Add gummy worms right before serving.
See the Full Recipe
I am sharing the complete ingredient list and directions for this dirt pie recipe on Dixie Crystals site.
Storage Recommendations
Keep the pie tightly wrapped or in an airtight container in the refrigerator for 2-3 days. The cookies and crumbs will soften the longer it is in the fridge.
This pie can be sliced and frozen in a freezer-safe container for 1-2 months. Let it sit at room temperature for 10 minutes before serving.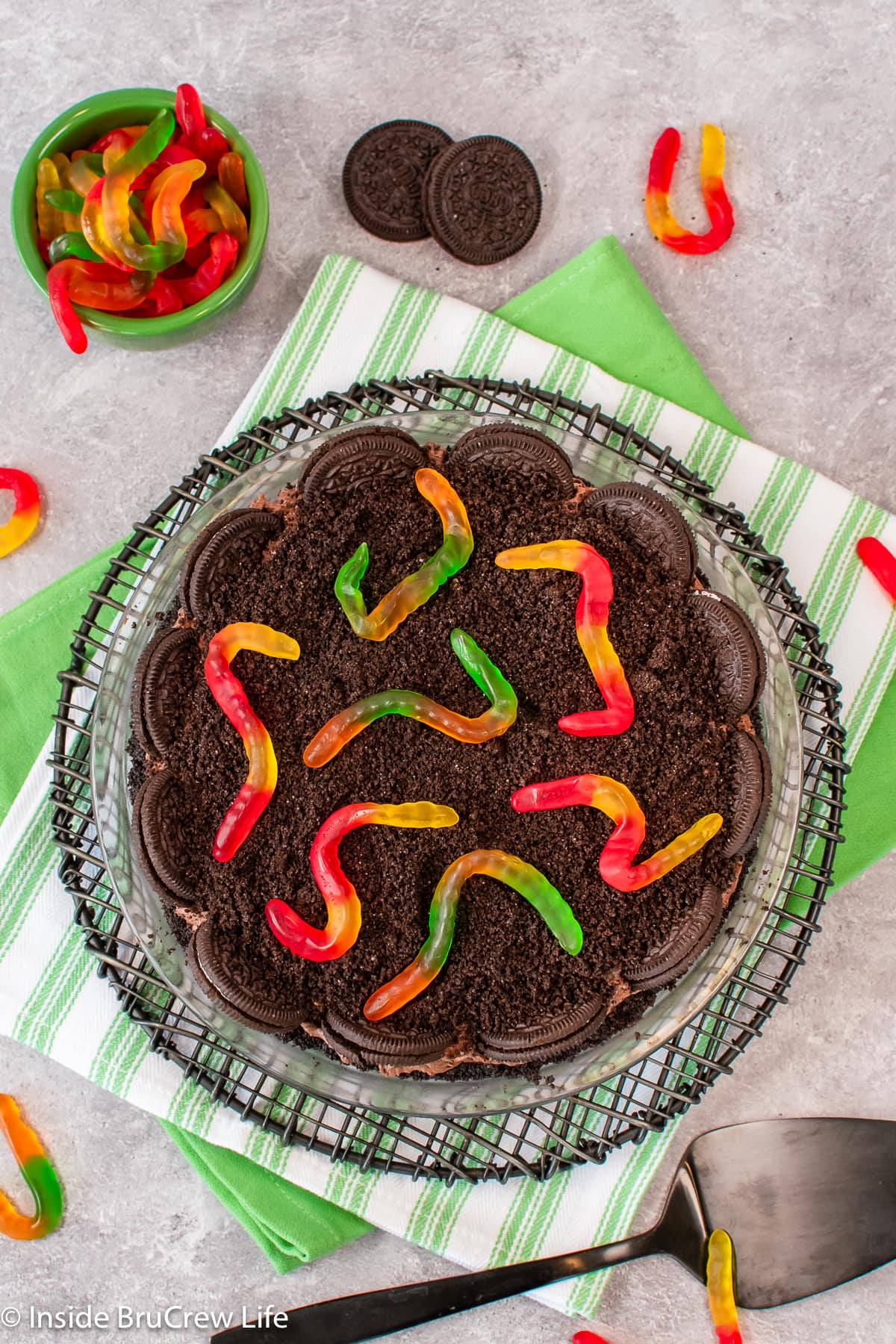 Tips and Tricks
Use a food processor. This is the easiest way to crush cream-filled cookies into fine crumbs quickly. If you don't have a food processor, you can crush the cookies in a baggie using a rolling pin.
Buy instant pudding mixes. The instant mix sets up faster and works the best in this recipe. If you buy cook and serve, it will be runny and not work either.
Let it chill. This pudding pie recipe must be refrigerated for at least 4 hours but longer is better. This gives it time to thicken and set up correctly.
Try other Oreo flavors. Mint or chocolate Oreos are a fun way to change up the delicious dessert.
Fun Variations
This Oreo dirt pie recipe is very versatile and can be served on multiple occasions. Here are a few different ways to decorate it for other party themes.
Garden Party - Serve the pudding in a large clay flower pot or several mini pots. Decorate with edible flowers or a silk flower and serve with shovel spoons.
Carrot Patch - Decorate the top of the pie with orange chocolate-covered strawberries and edible candy grass. Don't forget the bunny Peeps.
Beach Party - Substitute golden Oreos for sand and instant vanilla pudding for the recipe. Serve in a large, clean sand bucket or several small buckets. Top with candy shells, gummy starfish, and a paper drink umbrella.
Halloween Graveyard - Press the crumb crust into an 8x8 pan, then garnish the dirt dessert with Milano cookies, pumpkin candies, and ghost Peeps.
Individual Dirt Pudding Cups - Add crushed Oreo cookies to the bottom of individual cups. Spoon pudding into a ziploc bag, fill the cups with the chocolate pudding filling, then garnish with crumbs and worms.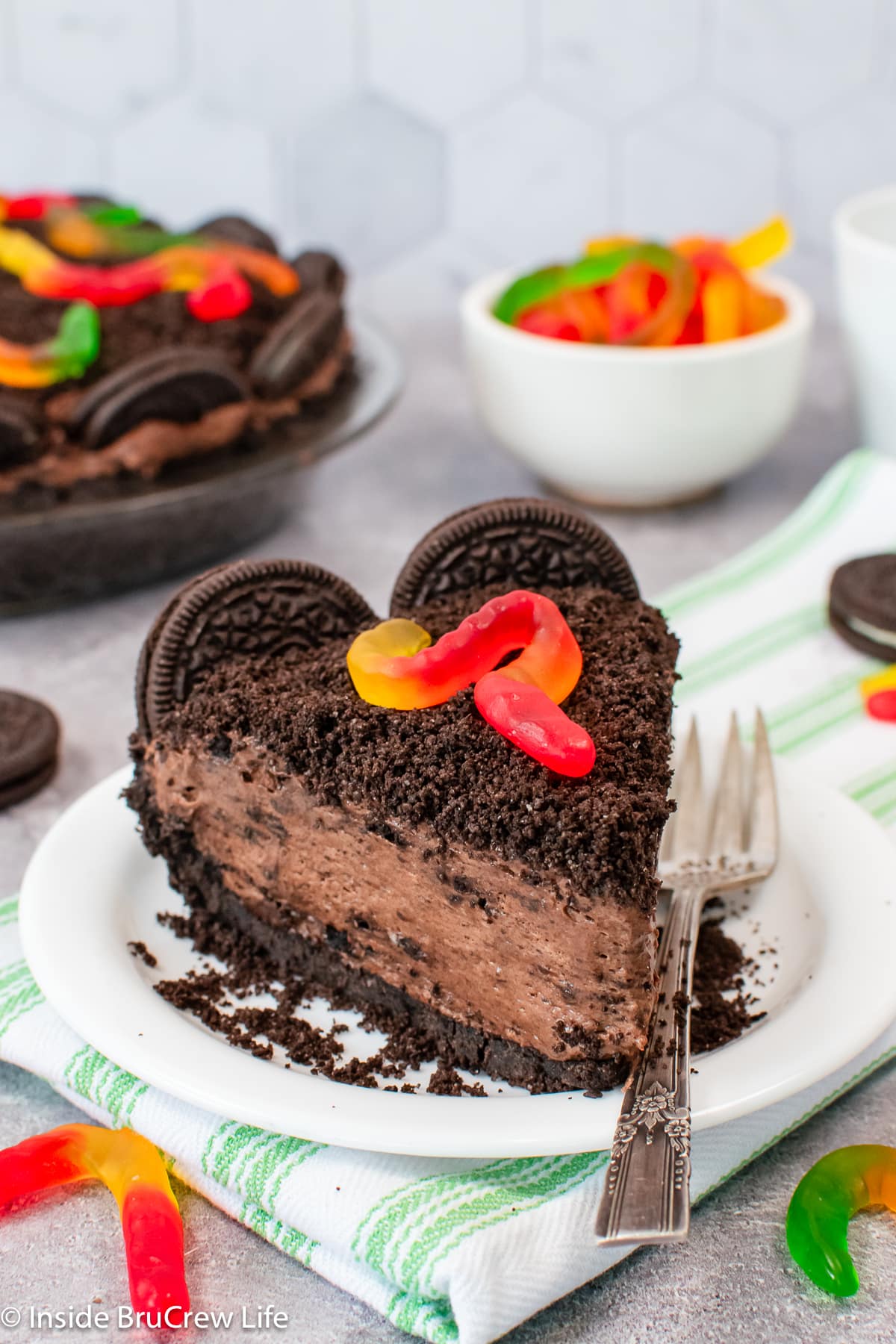 FAQs
Can I use Cool Whip instead of making homemade whipped cream?
Yes, you can use one 8-ounce container of thawed Cool Whip instead of the homemade whipped topping.
How long does dirt dessert last?
This pie needs a few hours to set correctly and is best if served within 24 hours of making it. It will keep for 2-3 days in the refrigerator, but the cookies will start to soften.
Can I freeze this pudding pie?
Yes, this particular dirt pudding pie freezes well. Slice the pie and place each slice in a freezer-safe container. Freeze for up to 2 months. Before enjoying, let the piece sit at room temperature for 10 minutes.
More Easy Dessert Recipes
Do you love a recipe you tried from Inside BruCrew Life?
Please leave a 5-star ⭐️ rating and a review in the comments section below.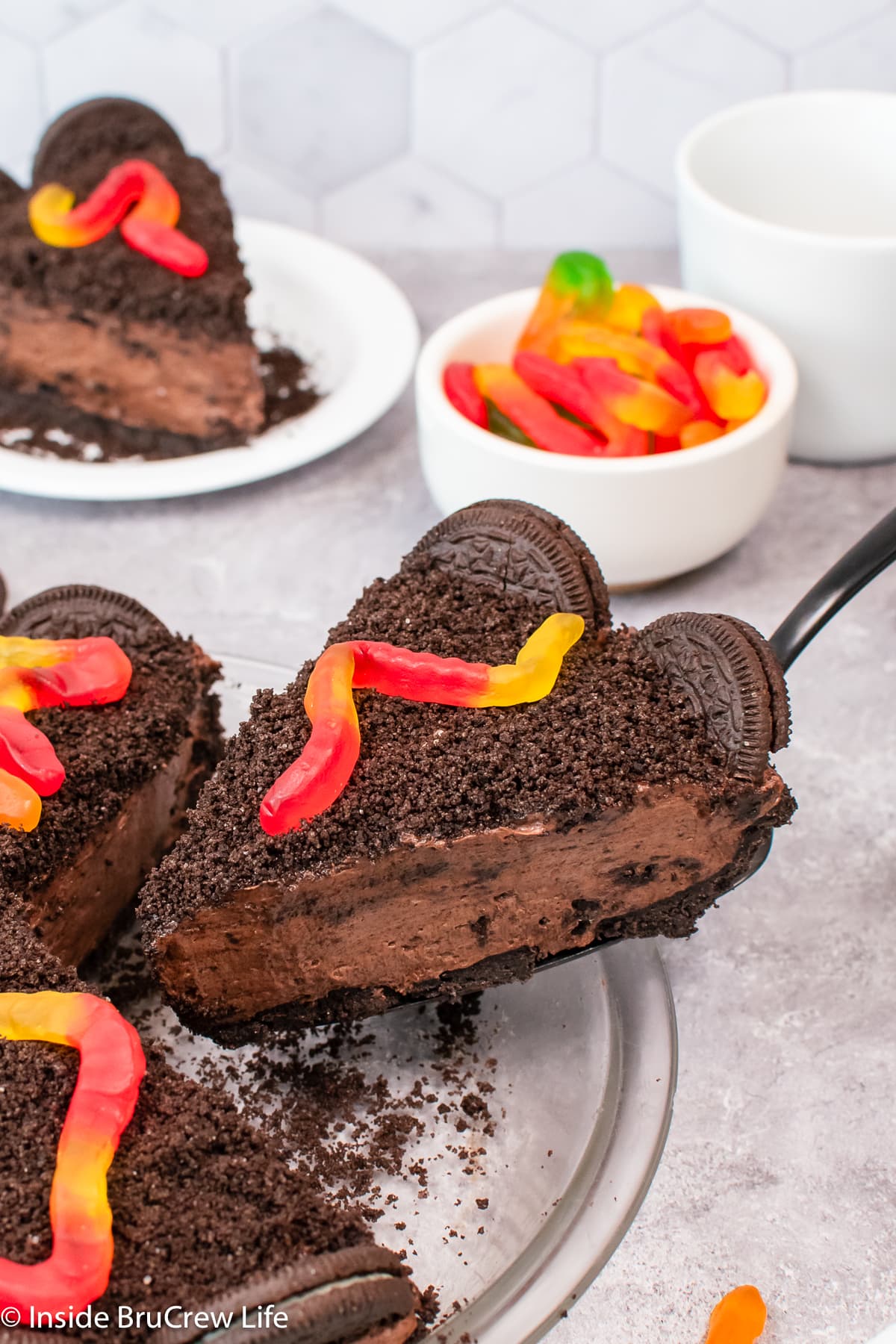 *Dixie Crystals sponsored this recipe and post. All opinions expressed are 100% my own. Thank you for letting me share products and brands that we use and love. See my disclosure policy for more information.*