Dr Pepper Cake is a dream come true for chocolate lovers. This classic chocolate cake recipe is made with soda and topped with a sweet boiled chocolate frosting that melts into the top. It might just be your new favorite dessert.
*I am partnering with Dixie Crystals to bring you this Dr Pepper cake recipe.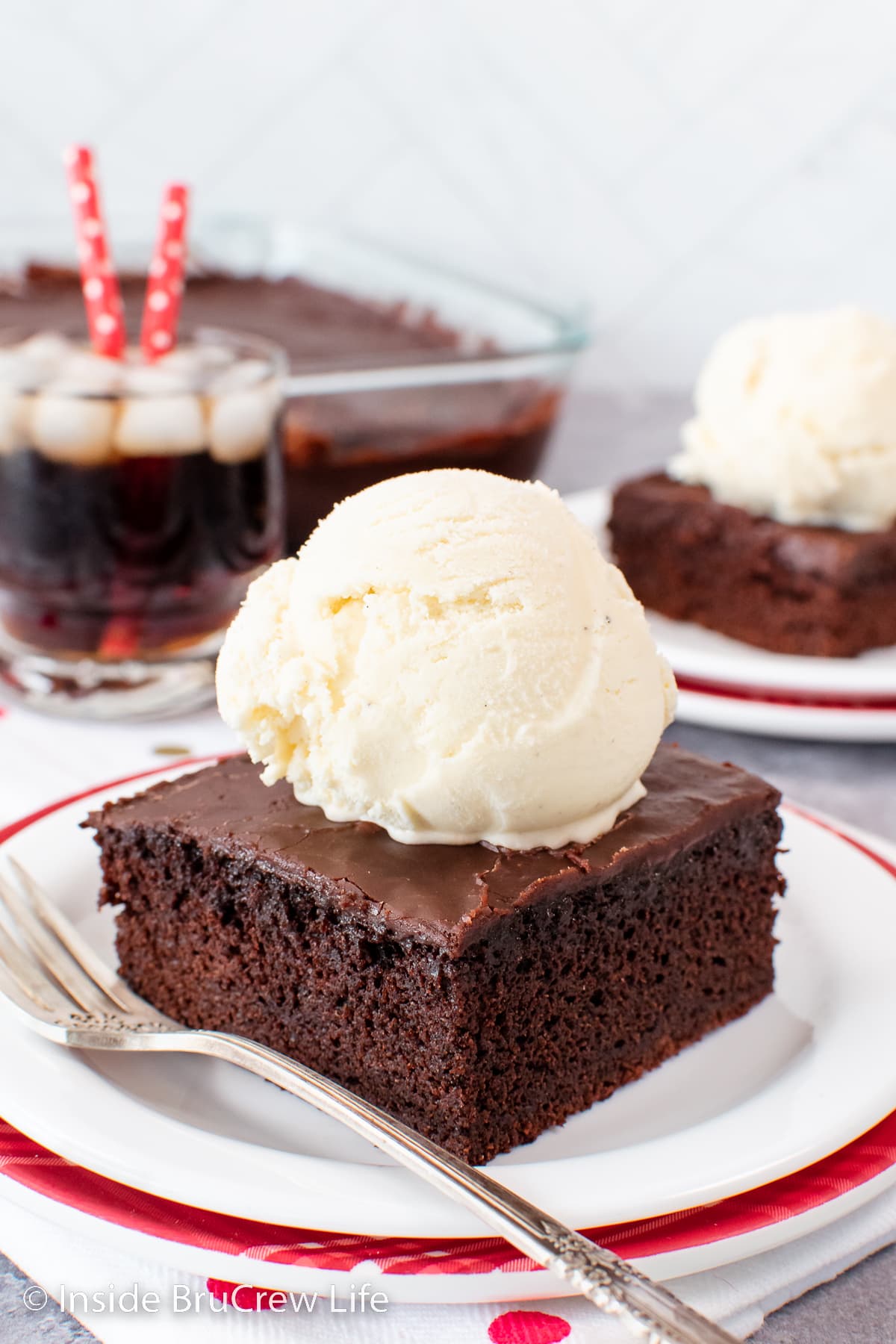 There is just something amazing about a rich chocolate cake that satisfies every sweet tooth. I love that there are so many ways to make one.
Your cake can be fancy like this dark chocolate layered cake. Or you can keep it simple with a Texas sheet cake.
One of my favorite ways to make cake is with soda. Did you know that you can add a can of soda for the liquid in some cake recipes? It's a fun way to add a unique flavor.
Jump to:
Why Make a Soda Cake
This Dr Pepper cake recipe is a classic chocolate cake but has been jazzed up with the 23 delicious flavors of Dr Pepper. Here is why you will love this easy recipe!
So, if you are looking for a homemade chocolate cake with amazing texture and flavor this is the recipe for you.
A soda cake is easy to make with just a few ingredients.
Great dessert for crowds, potlucks, or family gatherings.
It is made similar to a Texas sheet cake.
The unique flavor of Dr Pepper enhances the chocolate.
This cake is rich, moist, and topped with a cooked chocolate frosting.
Looking for more homemade cake recipes to make? Try our chocolate chip cake or easy coconut cake.
Key Ingredients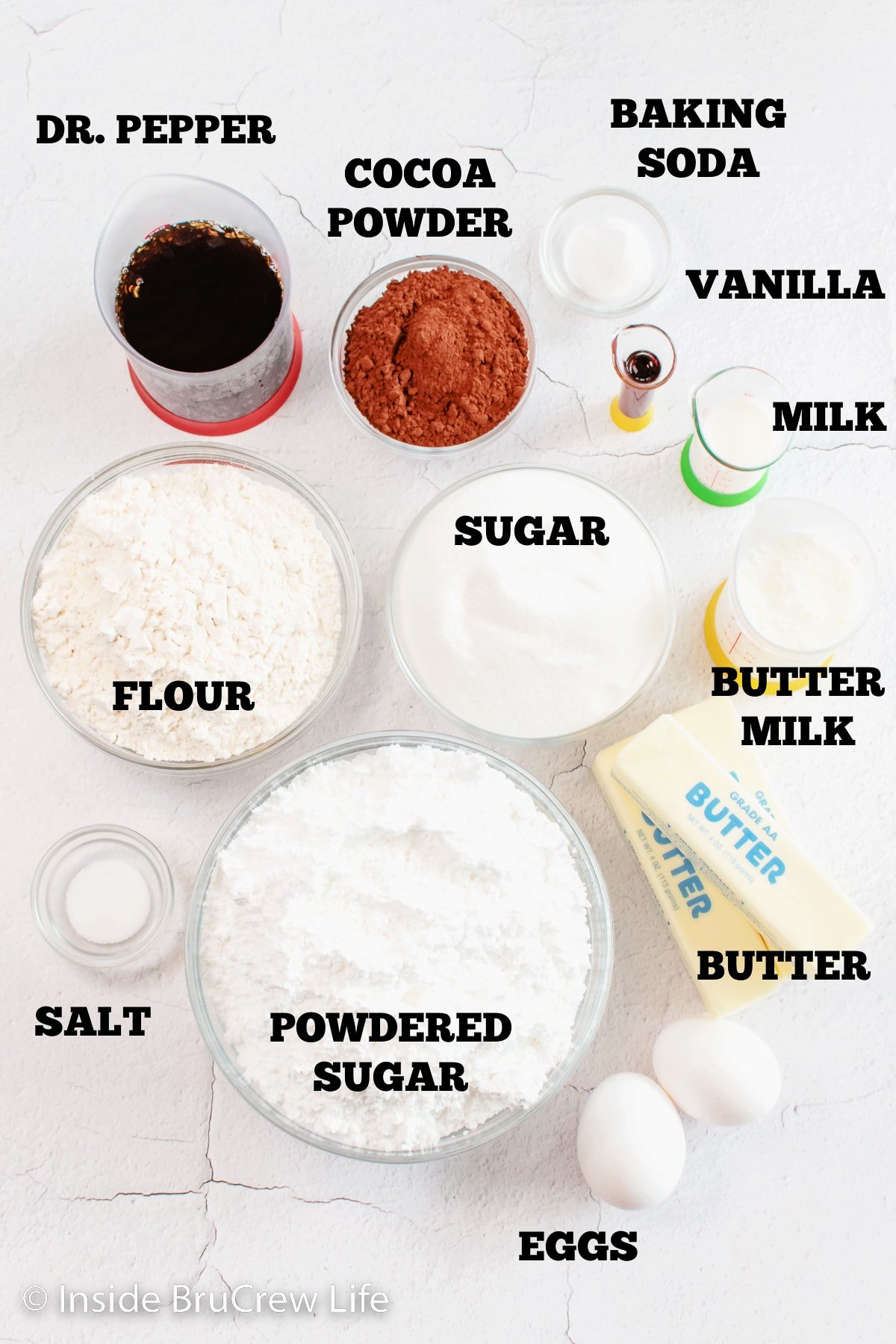 This chocolate cake recipe is made from scratch without having to pull out crazy ingredients. Basic pantry and fridge ingredients are all you need.
Dr Pepper - Adds liquid to the dry ingredients, and the carbonation helps it bake up light and fluffy. TIP: Do NOT use diet or zero sugar soda.
Butter - Unsalted butter is best and can be used straight from the refrigerator.
Cocoa Powder - Hershey's Dark cocoa powders adds a deeper chocolate flavor. Regular cocoa can be used but the final cake will be a little lighter in color.
Eggs - Helps the cake to rise and adds richness.
Buttermilk - Gives this chocolate cake a light and moist texture.
Sugar - Adds some sweetness to the dark chocolate.
Baking Soda - Helps the cake to rise.
Flour - Adds the primary structure of a cake. Make sure you are measuring flour properly for best results.
How to Make Dr Pepper Cake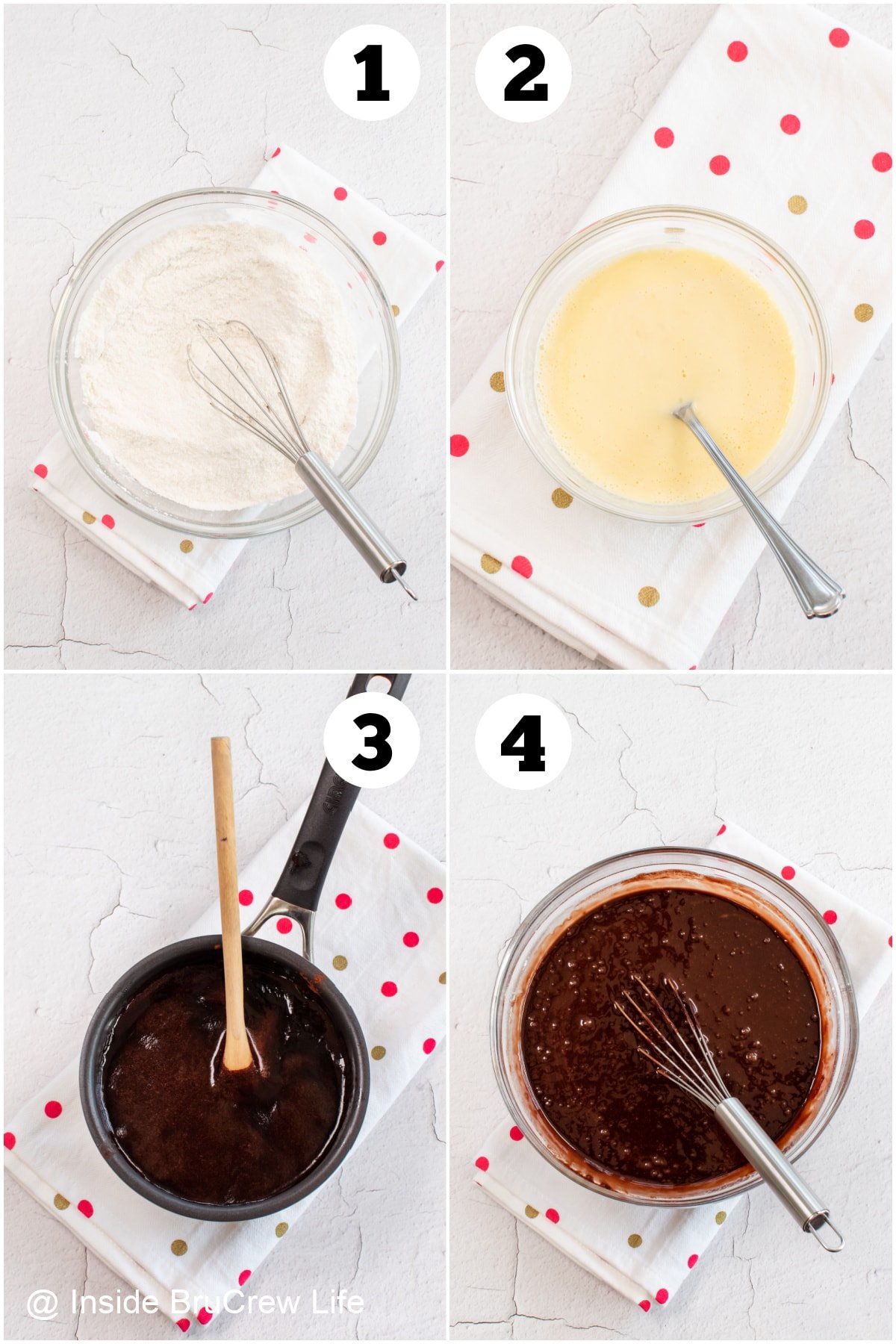 Follow these simple steps for the homemade cake and boiled frosting. See the measurements and full directions for this Dr Pepper Cake at Dixie Crystals Sugar.
For the Cake
1. Add flour, sugar, baking soda, and salt to a large mixing bowl and whisk everything together.
2. In a smaller bowl whisk together the eggs, buttermilk, and vanilla.
3. Place butter, cocoa powder, and Dr Pepper in a saucepan over medium-low heat. Stir until the butter melts, and the mixture is smooth. Remove the pan from the heat.
4. Pour the warm chocolate mixture into the dry ingredients. Slowly whisk it until everything is combined. Add the egg mixture and whisk again until combined.
Pour the cake batter into a greased 9x13 cake pan and bake until a toothpick inserted in the center comes out with a few moist crumbs on it.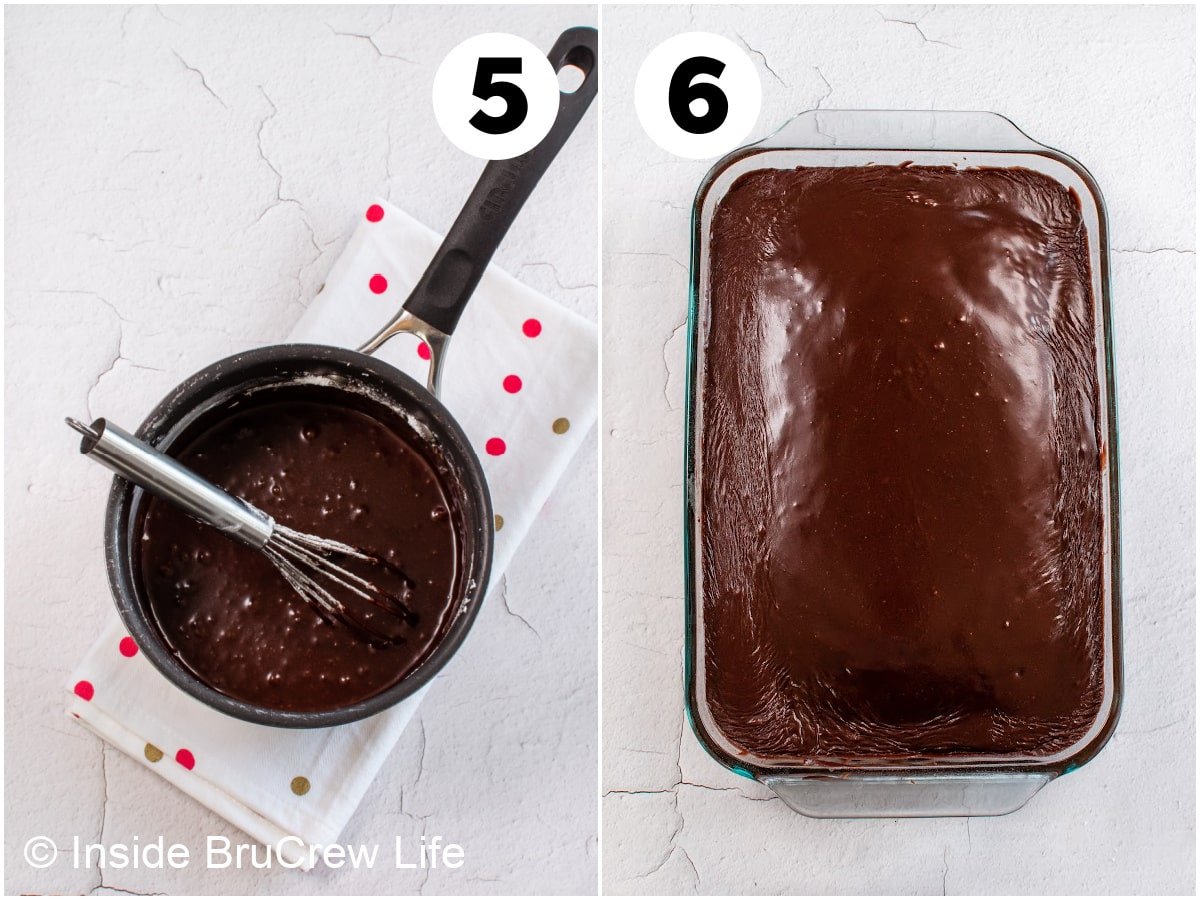 For the Frosting
5. Melt butter, cocoa powder, milk, and soda over low heat until melted. Bring everything to a low boil, then remove from heat. Slowly whisk in the powdered sugar, vanilla, and salt.
6. Immediately pour the Dr. Pepper frosting over the hot cake slowly. Spread it out evenly with a spatula, then let it cool before serving.
Storage Recommendations
To Serve: Let the frosting set completely before cutting the cake into squares. If you do not let it completely cool, the frosting will run off when you cut into the cake.
To Store: This cake can be tightly covered and kept for 3-4 days on the counter.
To Freeze: Wrap the entire cake or individual squares in two layers of plastic wrap then one layer of foil. Freeze for 1-2 months. Thaw at room temperature before serving.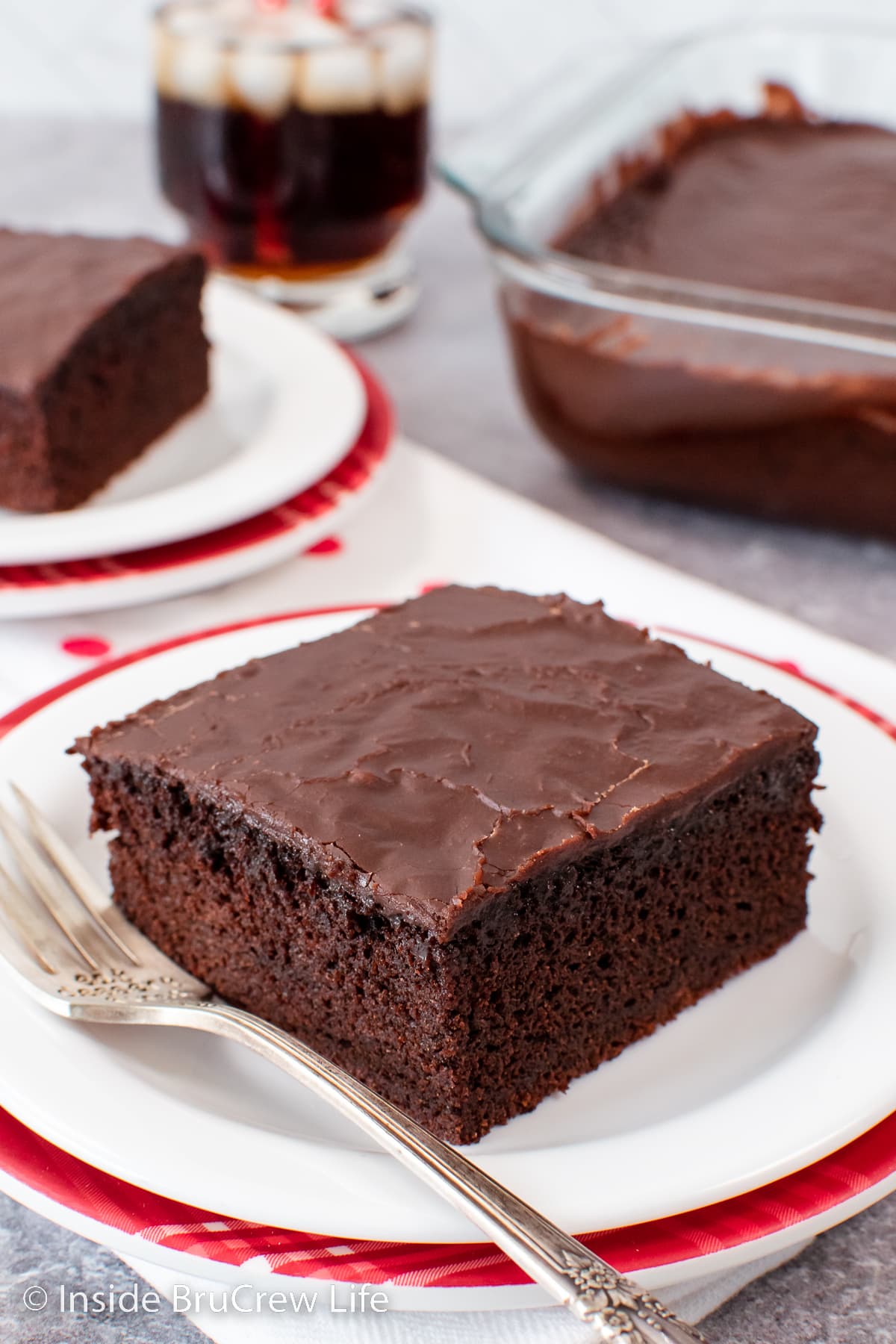 Tips and Tricks
I know you want to make the best chocolate cake, so here are some tips to ensure your cake is perfect.
Make sure you heat the wet ingredients for the cake and frosting before whisking in the dry ingredients. This is an important part of having a moist and fudgy chocolate cake.
Use cherry Dr Pepper for yummy and delicious flavor twist.
Sift the powdered sugar to remove any lumps giving the frosting a smooth texture.
Do NOT let the cake cool completely before adding the frosting. It is best to pour the warm chocolate frosting onto the warm cake. This will let the frosting "melt" into the cake and give it that moist texture.
If you would like to add nuts or sprinkles to the top of the cake, be sure to add them before the frosting sets up. This will help them stick to the cake better.
This cake is amazing by itself, but I honestly think it tastes even better served with a scoop of vanilla ice cream.
Recipe FAQ'S
Does this chocolate cake taste like soda?
Not at all. The 23 flavors in the Dr Pepper enhances the flavor of the chocolate for a one of a kind taste.
Can I use other soda?
Yes you can. Try using Coke, Sprite, Root Beer, or even 1 cup of coffee for a rich flavor.
Why is my chocolate frosting lumpy?
This boiled chocolate frosting should have a smooth and creamy texture. Be sure to sift the powdered sugar before adding it to the heated mixture. This will help remove any lumps.
Other Chocolate Cake Recipes
*Dixie Crystals sponsored this recipe and post. All opinions expressed are 100% my own. Thank you for letting me share products and brands that we use and love. See my disclosure policy for more information.*