A Berries and Cream Chocolate Cake Roll is a delicious and beautiful dessert to share with friends and family. This sweet chocolate cake recipe is filled with a strawberry whipped cream and lots of juicy, fresh berries. So easy and simple to put together.
*I am partnering with Dixie Crystals to bring you this cake roll recipe. Click HERE to see the full recipe.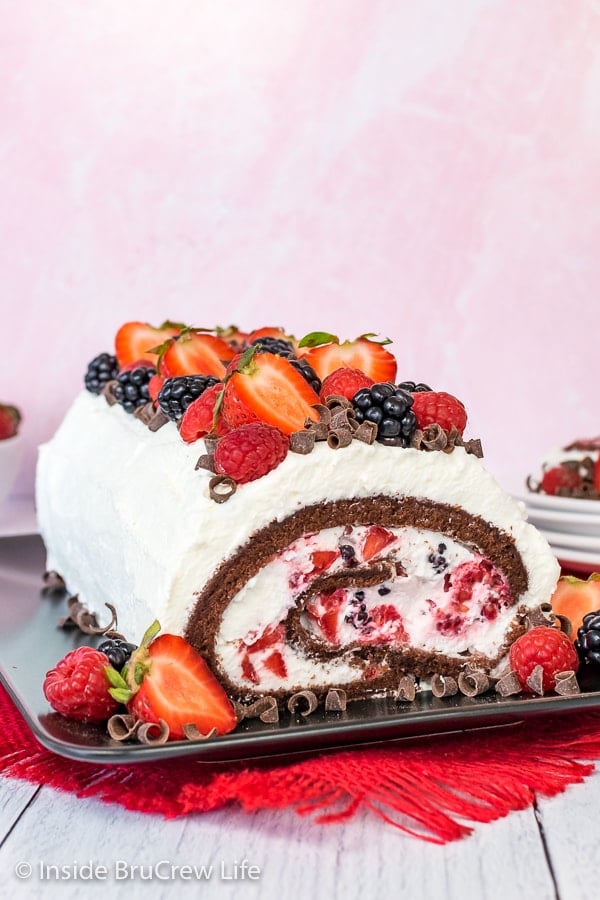 I have officially fallen in love with making cake rolls. There is something so satisfying about rolling the cake and filling together and seeing that sweet swirl of goodness in the center.
Of course, adding pretty decorations to the top of the cake is another thing I really enjoy doing. Extra berries and chocolate curls on top made this chocolate cake roll look like it came from a bakery!
The next time you need a fancy dessert that is easy to make, you have to make this cake roll. Trust me, you CAN do this!! Once you master this one, you can make this Peaches and Cream Cake Roll and this S'mores Pumpkin Roll.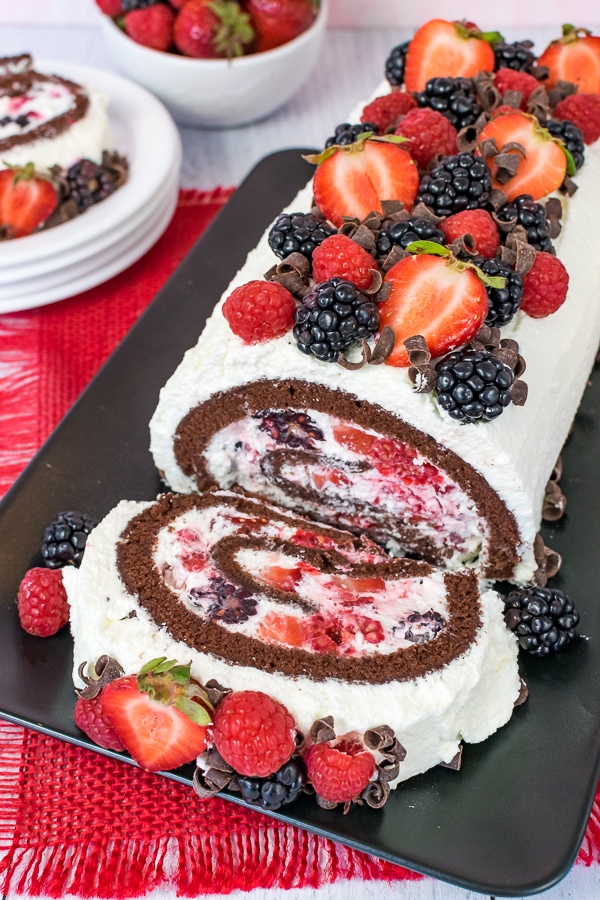 This cake really is easy to make, and everyone will be so impressed when you tell them you made it yourself. Let's get started...
How to make a Berries and Cream Chocolate Cake Roll:
For the Cake
Beat eggs, sugar, and extract until pale and thick.
Stir together dry ingredients. Add the dry ingredients and milk alternately until batter forms.
Spread in sheet pan lined with parchment paper and bake.
Remove from oven and let cool in pan for a few minutes.
Place a sheet of parchment on top of the chocolate cake and flip it out onto a cooling rack.
Place another sheet of parchment paper on the cake. Roll up from the short side, and let it cool completely.
The best pan to use for this cake roll is a 15x10 inch pan. A larger pan will create too thin of a cake, while a smaller pan will make a cake that is too thick.
Another important thing to consider is the stability of the pan you are using. If your pan is flimsy, it will warp and twist in the hot oven as the cake bakes. This will result in a cake that is thinner in some areas.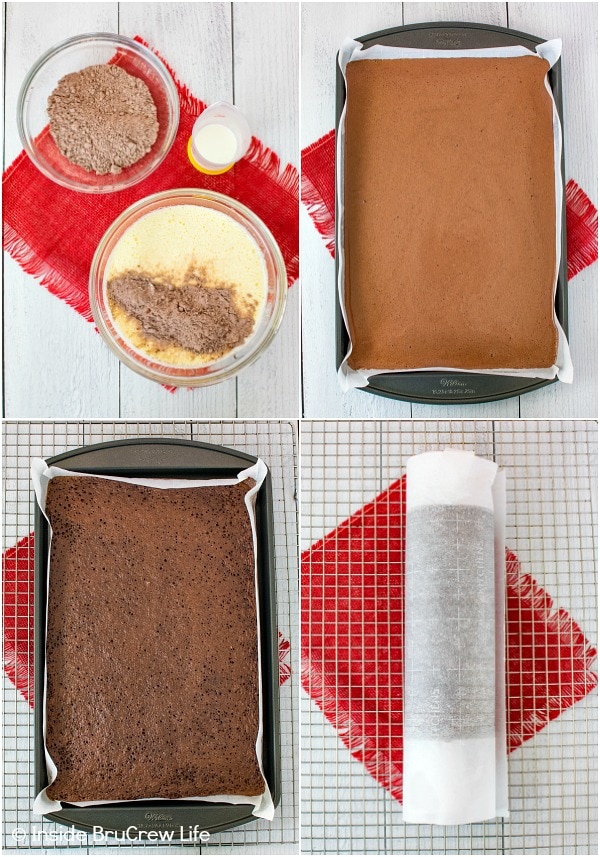 This Homemade Whipped Cream is so easy to adapt and change based on what you are doing with it. To give it a slight strawberry flavor, use strawberry extract instead of vanilla.
For the Strawberry Whipped Cream:
Chill a bowl and wire whisk in the freezer for at least 10 minutes.
Pour the heavy cream, powdered sugar, and strawberry extract into the chilled bowl.
Beat on high until stiff peaks form.
Remove half the whipped cream and stir fresh strawberries, raspberries, and blackberries into the rest.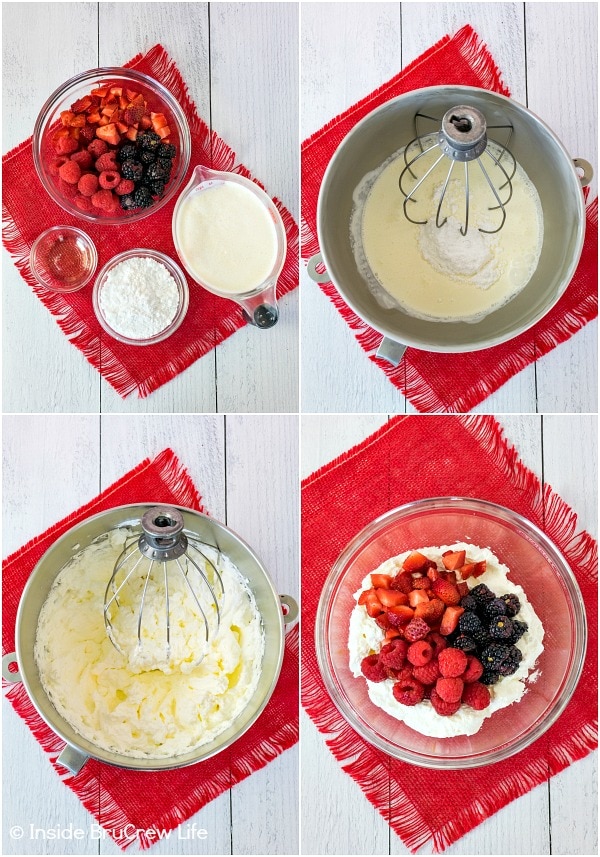 How to assemble a Chocolate Cake Roll:
Unroll the cooled cake roll and spread the strawberry whipped cream on it.
Slowly roll the cake up from the short end and place seam side down on a serving plate.
Use a spatula to cover the cake with the rest of the strawberry flavored whipped cream.
Decorating the cake roll:
Place fresh berries on the top of the cake. You can also add a few to the sides if you like.
Add chocolate curls around all the berries and on the side of the cake.
CLICK HERE TO PIN THIS RECIPE FOR LATER!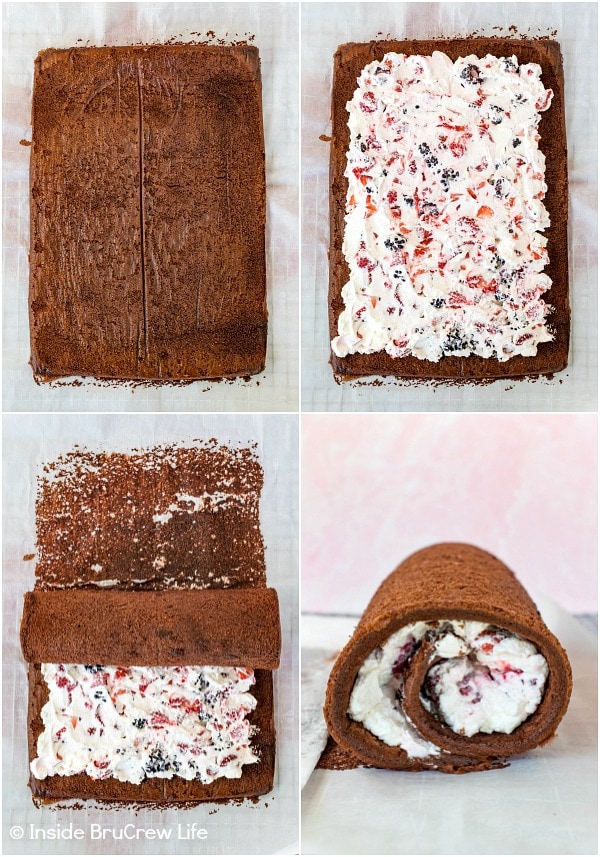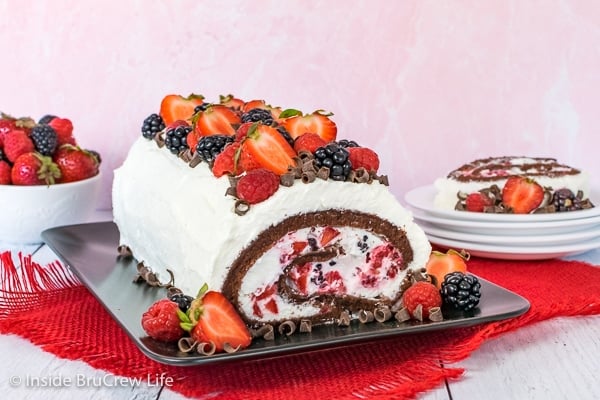 FYI: I am sharing this recipe over at Dixie Crystals today. Click on Berries and Cream Chocolate Cake Roll to see the full recipe.
Recipe Tips and Tricks:
Spray a sheet pan with nonstick spray and press parchment paper into the pan, so the cake is easy to remove later.
Make sure to beat the eggs, sugar, and vanilla for the full 5 minutes. The egg mixture should be thick and pale.
Be sure to peel the old parchment off the cake and top it with a new sheet before rolling it up.
Do not unroll the cake until it is completely cool.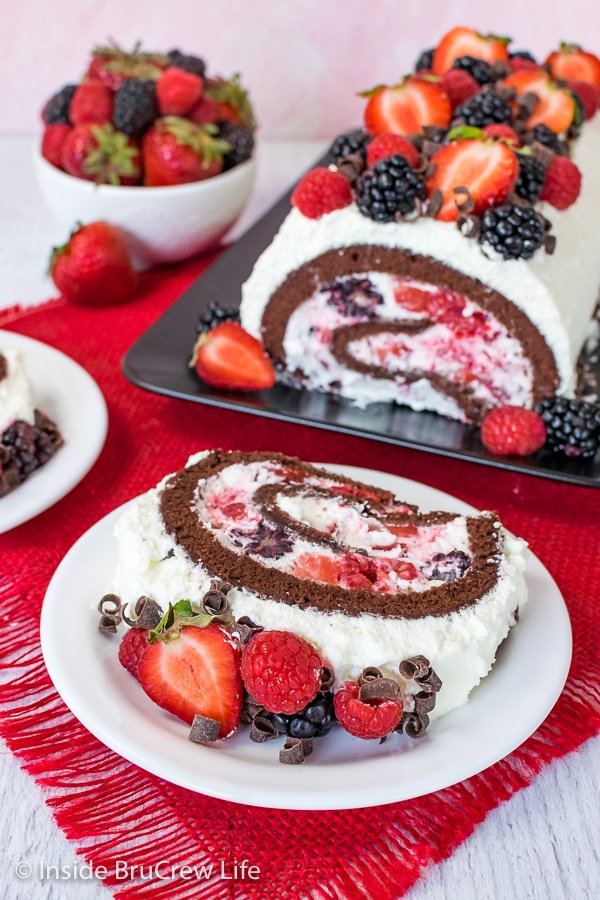 More chocolate cake recipes: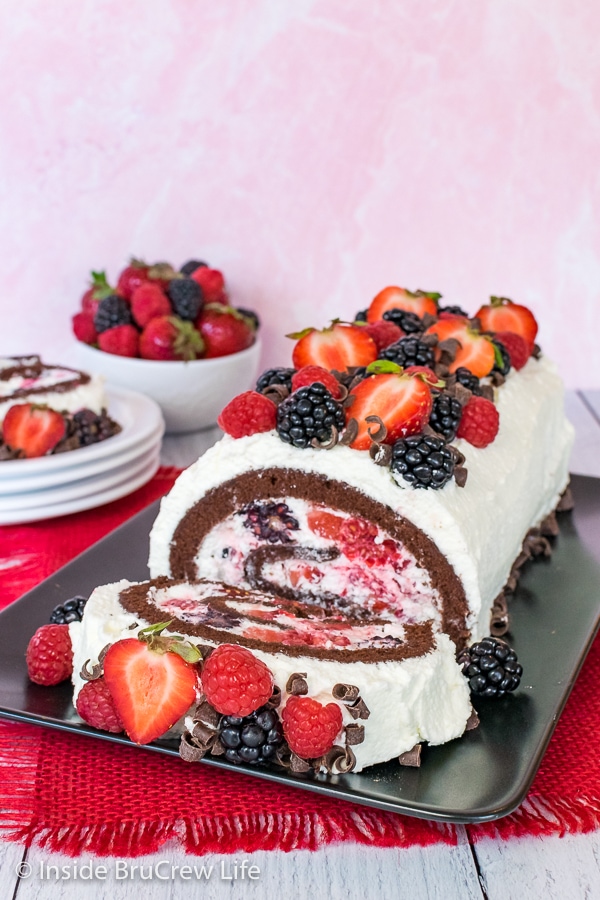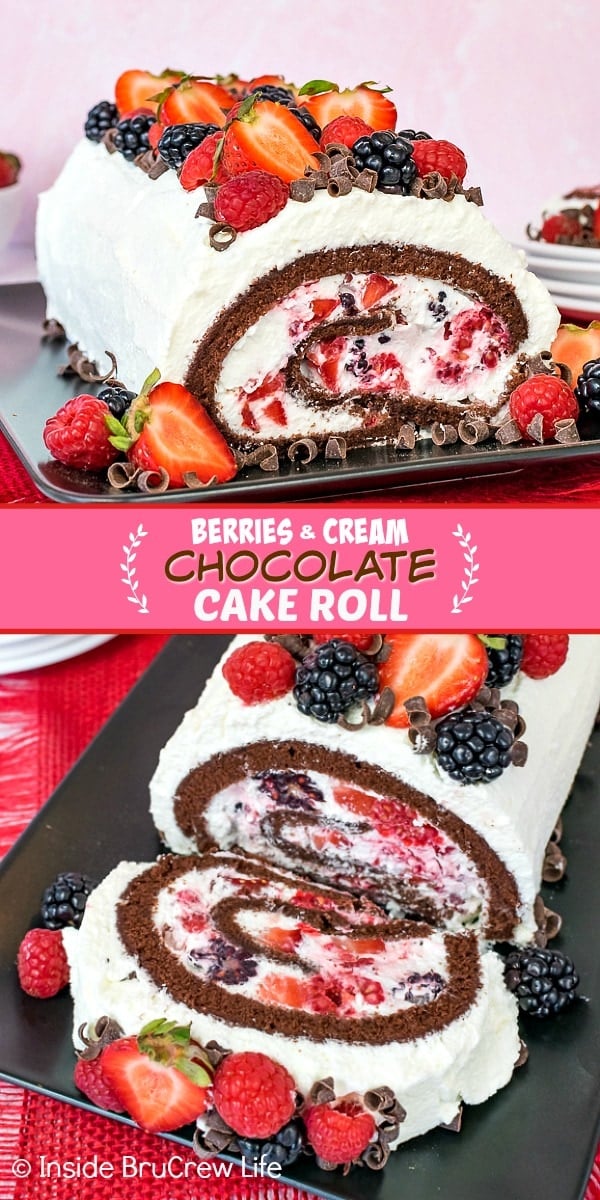 *Dixie Crystals has sponsored this recipe and post. All opinions expressed are 100% my own. Thank you for letting me share products and brands we use and love. See my disclosure policy for more information.*