Chocolate lovers rejoice! The Best Flourless Chocolate Cake is the perfect dessert for any occasion.
A chocolate ganache and fresh berries on top make this chocolate cake look so fancy, yet it is so easy to make.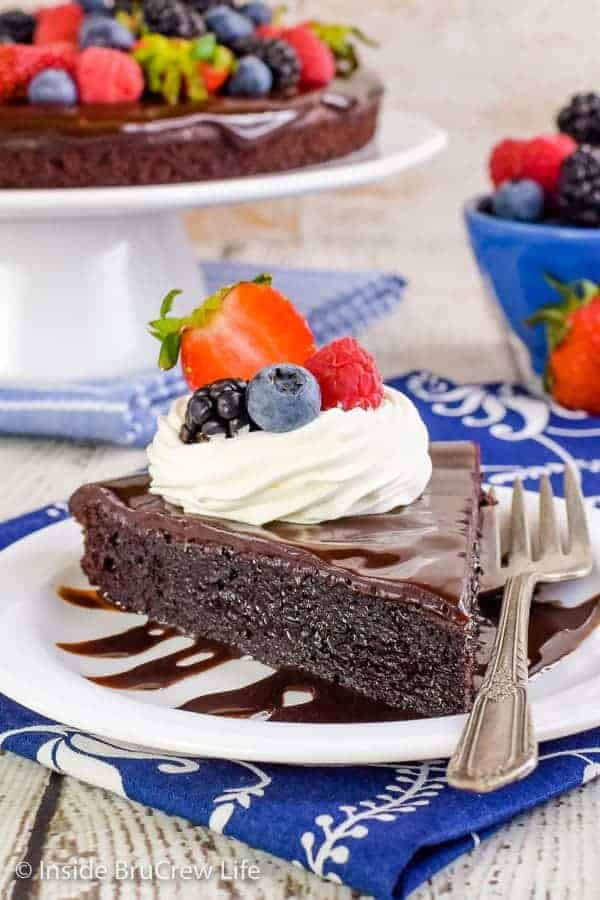 CLICK HERE TO PIN THIS RECIPE FOR LATER!
I have never been able to understand when someone says a dessert is "too sweet" or is "too chocolatey". You can just go ahead and pass that dessert right on over to me. I would be happy to take care of that for you because I'm a fan of all things sweet.
Apparently, my sweet tooth has a bigger tolerance for things like Cookie Dough Cheesecake Brownie Pie, Coffee Cream Brownies or my favorite Dr Pepper Cake. In all my time making and eating desserts, I can only think of one thing that made me say it was a little too sweet.
I like to think of that as a challenge to keep sampling desserts. So, I'm on a mission to find something too sweet. LOL! Just kidding, that's just my excuse to keep eating chocolate desserts.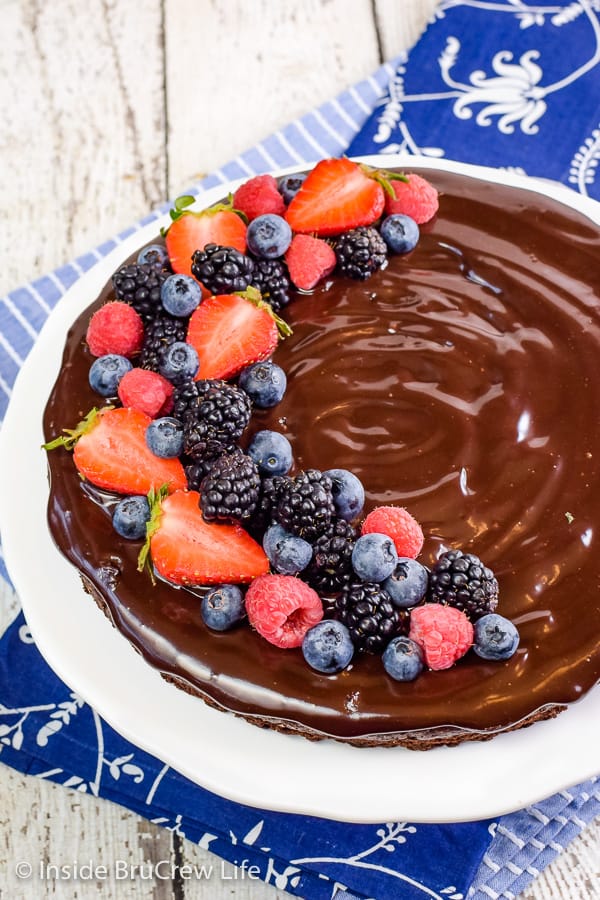 Last month we went to a dinner event with a few of our friends from church. Imagine my delight when I saw slices of flourless chocolate cake sitting at each place setting.
Trust me. It took all the will power in me to resist the urge to dig into that slice of chocolate goodness first. Who wants chicken and veggies when there is chocolate in front of you? Am I right?!?!
I restrained myself though and waited until dinner was over. Then it was game on. One bite and I was in love. Right then and there I decided it was my goal in life to make the Best Flourless Chocolate Cake in my own kitchen very soon.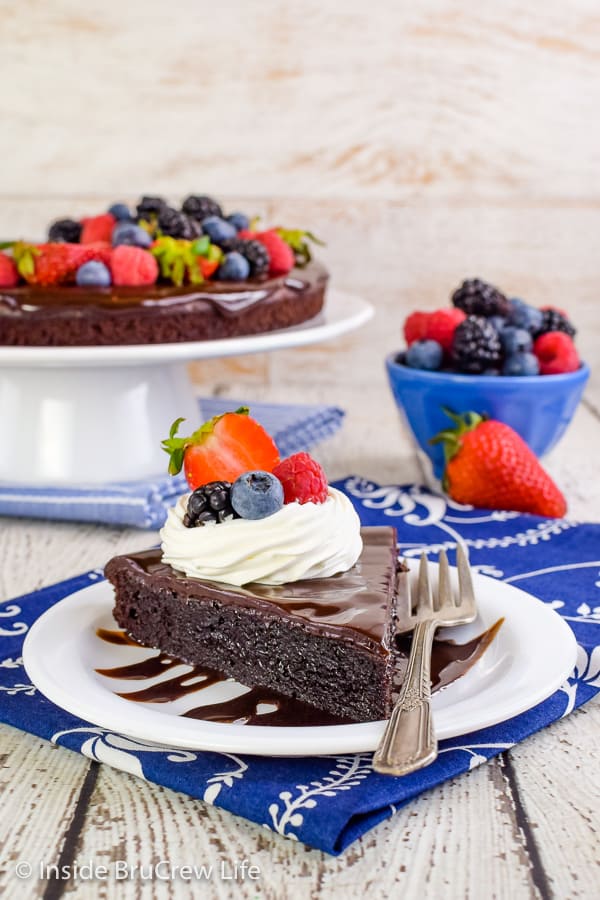 As I researched recipes for flourless chocolate cake, I saw so many different versions. Some called for a water bath, some called for separating your eggs and beating the whites, and most called for lots of eggs.
By now, you probably know that I prefer simple and easy recipes that give the illusion of being hard to make. I had no interest in a recipe that had so many steps and ingredients.
So here is my version of a flourless chocolate cake that is easy to make, gluten-free, and so decadent and delicious. It's truly the perfect dessert for any occasion.
Why this is the Best Flourless Chocolate Cake:
Naturally gluten free
So creamy and delicious
Will satisfy the biggest chocolate cravings
No topping necessary, but they are encouraged
This is definitely going to be my go-to dessert any time I need to make something for parties and events because it is absolutely amazing!!!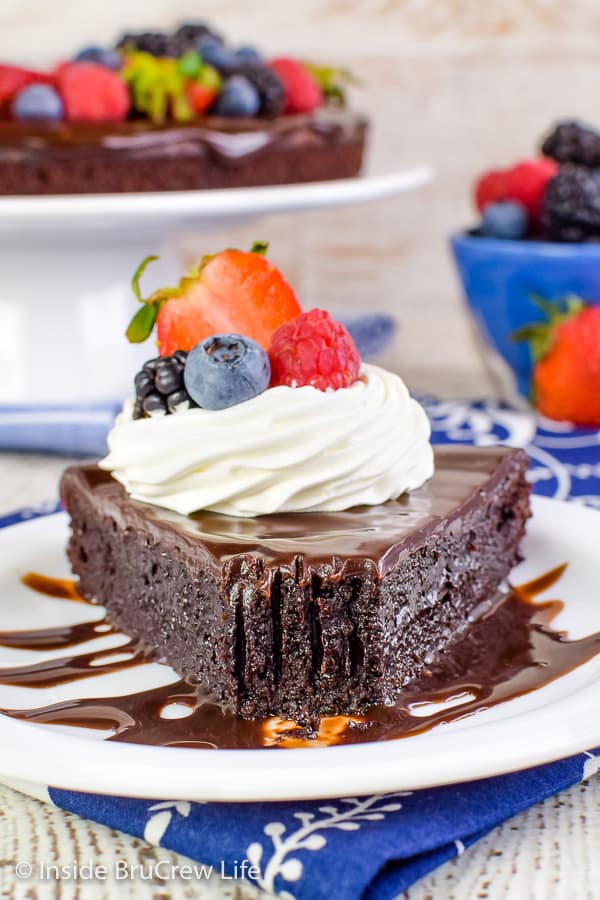 This easy flourless cake is seriously a show stopper with the chocolate ganache and fresh berries on top. Those toppings make it look like you just picked it up from the bakery.
But I'm here to tell you that this chocolate cake is seriously so easy to make. You probably even have all the ingredients in your kitchen right now, so you should probably run to the kitchen and start baking.
I love dark chocolate, so I used dark chocolate chips and dark cocoa powder in our flourless chocolate cake. Go ahead and use whatever one you have readily available because you need this cake in you life ASAP.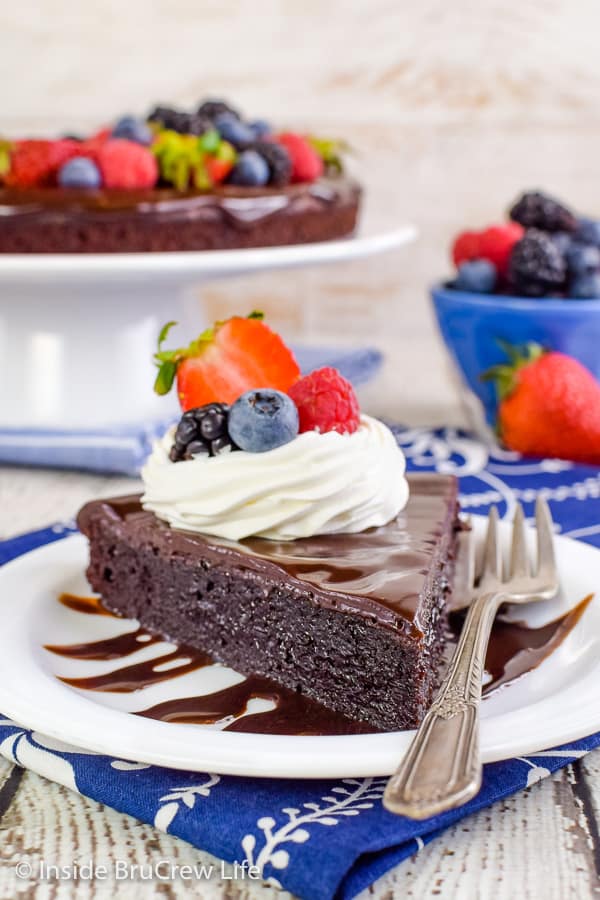 How to make the Best Flourless Chocolate Cake:
Preheat your oven to 350 degrees. Line the bottom of a 9-inch springform pan with parchment paper. You can also use a regular 9 inch cake pan too. I would recommend greasing the cake pan with nonstick spray and some cocoa powder if you use a cake pan, so the cake will flip out easily after it bakes.
Melt the chocolate chips and butter in a small saucepan over low-medium heat. Stir continually until it is all melted.
Stir together the sugar, vanilla, espresso powder, and salt in a large bowl. The espresso powder is optional if you do not have it or do not want to buy another ingredient.
Pour the chocolate mixture into the bowl and stir until completely mixed together.
Whisk in the eggs one at a time. Then stir in the cocoa powder.
Spoon the mixture into the prepared pan and bake for 24-25 minutes. Let the cake cool in the springform pan completely, then run a knife around the edges before removing the sides. If you use a regular cake pan, run a knife around the edges and flip the cake out onto a plate after 15 minutes. Make sure to flip it back over onto another plate right away. Let the cake cool completely.
Place chocolate chips and heavy cream in a microwave safe bowl and heat for 30 seconds. Stir until melted and creamy. Spread over the top of the cooled chocolate cake.
Flourless Chocolate Cake Toppings:
You can serve this dark chocolate flourless cake just as it is, and it will taste great. Here are a few other toppings that are delicious on it too.
Any variety of fresh berries
Powdered Sugar
Whipped Cream or Cool Whip
Vanilla Ice Cream.
If you love chocolate, you do not want to miss out on this flourless cake recipe.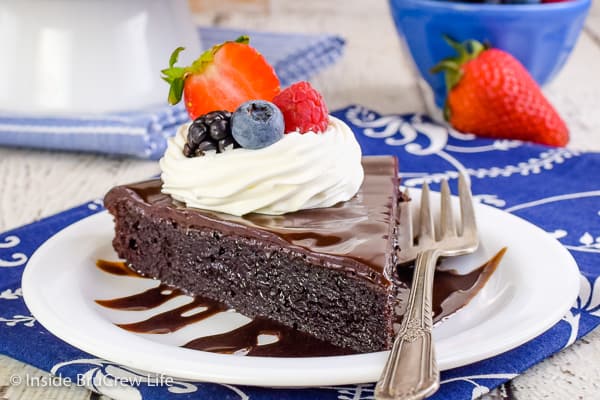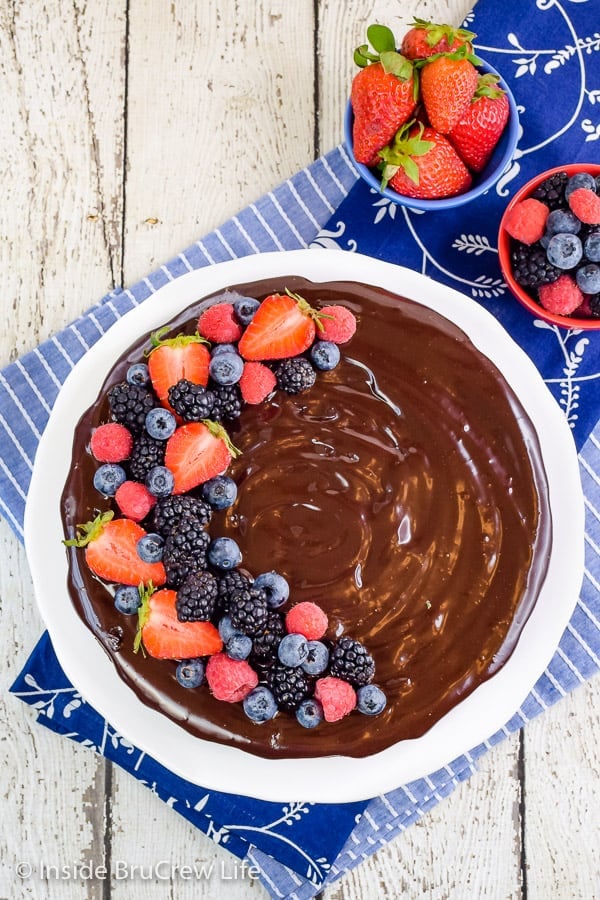 Does this flourless chocolate cake need to be refrigerated?
There is no need to refrigerate this cake. Cover it loosely and keep it in a cool place. If you do refrigerate it, make sure to remove it at least 2 hours before you serve it.
Can you freeze a flourless chocolate cake?
If you do have leftovers or want to make this chocolate dessert ahead of time, it does freeze great. Wrap it well and freeze for up to 3 months. Thaw it overnight in the refrigerator, then remove it at least 2 hours before serving or eating.
Will I taste the espresso powder in this chocolate cake?
Coffee is actually the secret ingredient to making chocolate cakes taste even better. Rest assured. You will not taste the coffee at all. Coffee and espresso powder just enhances and adds to the chocolate flavor, resulting in a richer chocolate dessert.
Is the Best Flourless Chocolate Cake truly gluten-free?
Yes, there is absolutely no flour in this cake.
This flourless chocolate cake can be made low carb or Keto by using a Keto-friendly sugar and sugar free chocolate chips (like Lilly's) or unsweetened baking chocolate.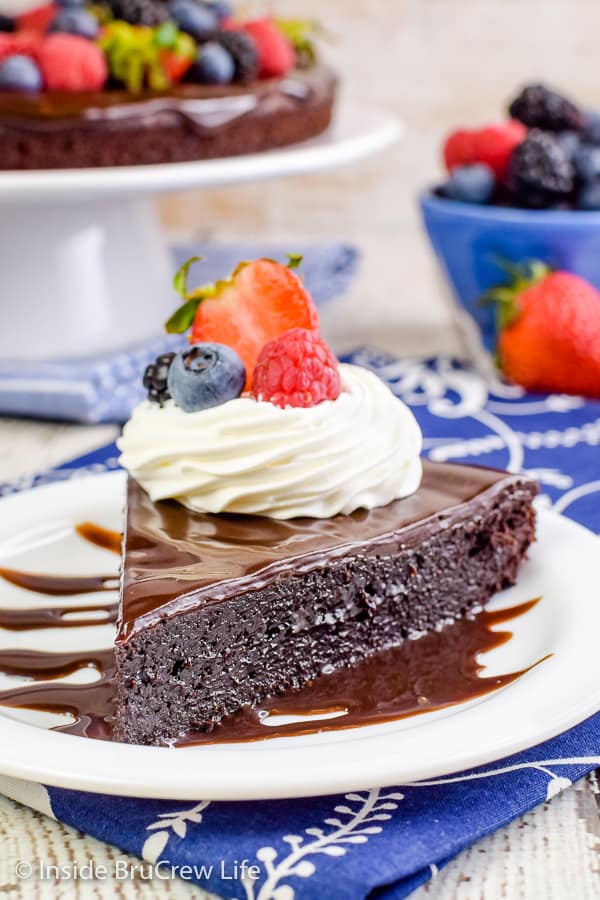 More chocolate desserts that you may like:
Satisfy your sweet tooth with a pan of Gooey Oreo Brownie Bars. Cookies and chocolate chips baked into a gooey brownie makes an awesome chocolate dessert.
These easy Chocolate Mint Cookies are loaded with three kinds of mint goodness. Such a great treat to fill the cookie jar with.
Three times the chocolate makes these Mini Triple Chocolate Cheesecakes a dream dessert for the chocolate lovers in your life.
This easy no bake Chocolate Tart only needs 4 ingredients. You are minutes away from chocolate goodness.
Make this easy no bake Cookies and Cream Chocolate Pie when you need a chocolate fix. Layers of cookies and pudding will make this your new favorite dessert.
Shredded zucchini and cocoa powder make this Dark Chocolate Zucchini Cake a decadent and delicious cake. It's the best way to eat your veggies. Wink, wink!