Make a bowl of this Pineapple Lime Cauliflower Rice to go with your taco dinners. It's a delicious and healthy side dish that goes well with pork, chicken, or fish.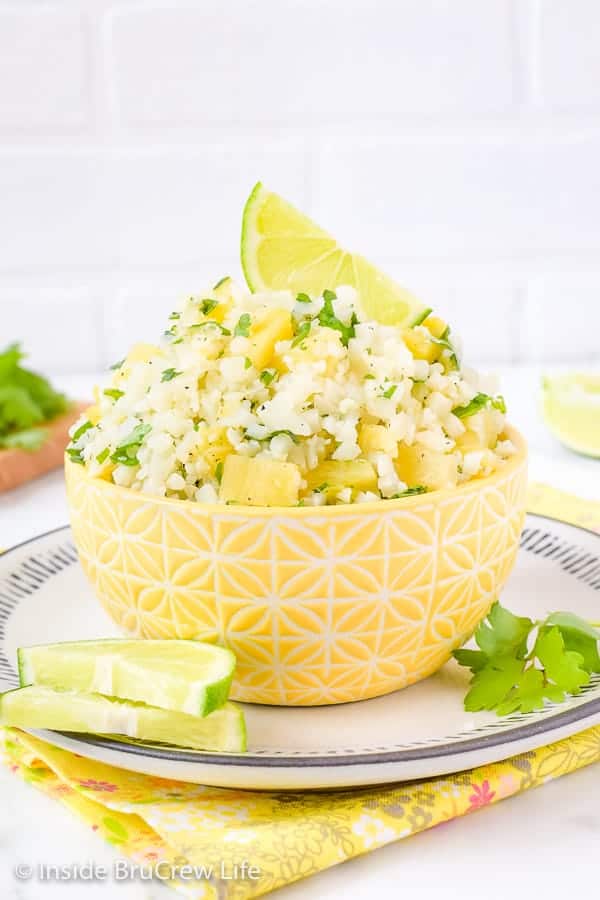 Say hello to our favorite side dish. We eat this Easy Cauliflower Rice all the time. And I do mean all the time. It's such a great thing to use in so many meals.
Those of you who eat healthy know what a magical vegetable cauliflower is. You can use it in place of regular rice and potatoes, and it really does taste very similar. Now, yes, it is cauliflower so it has a slightly different taste...but not much.
I love using it in this Spicy Rice and Chicken Soup and these Healthy Stuffed Peppers because our kids really can't tell the difference. Gotta love getting your teenagers to eat and enjoy a healthy meal, am I right?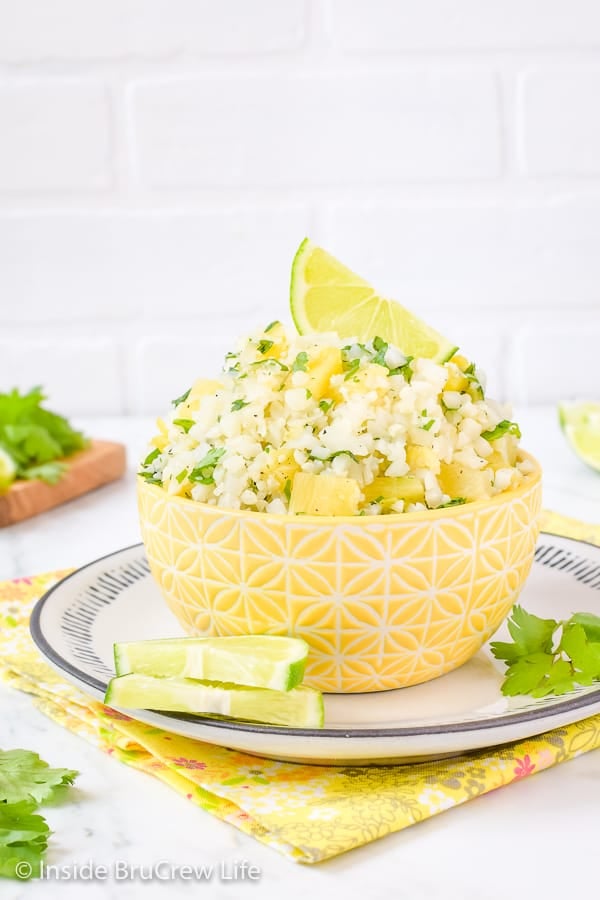 One of my favorite ways to change up cauliflower rice is by changing the mix ins. Now usually we just do a simple cilantro lime cauliflower rice and serve it with grilled chicken or fajitas. Other times I add parsley and garlic. It's also delicious with turmeric and ginger. All of these options work to keep this a delicious low carb option.
But last week I was in the mood for fish taco bowls. So, I made a sweet and spicy coleslaw and added pineapple tidbits to a bag of frozen cauliflower rice to serve in the bowls. Yes, I totally cheated on this bowl of cauliflower rice.
Most of the time I buy a big head of cauliflower and make my own cauliflower rice for our healthy meals. But when bags of veggies are buy one, get one free at the grocery store, I fill the freezer with bags of the frozen cauliflower.
It just saves me some time when I need to make this Tomato Basil Cauliflower Rice and Sausage for dinner in a hurry.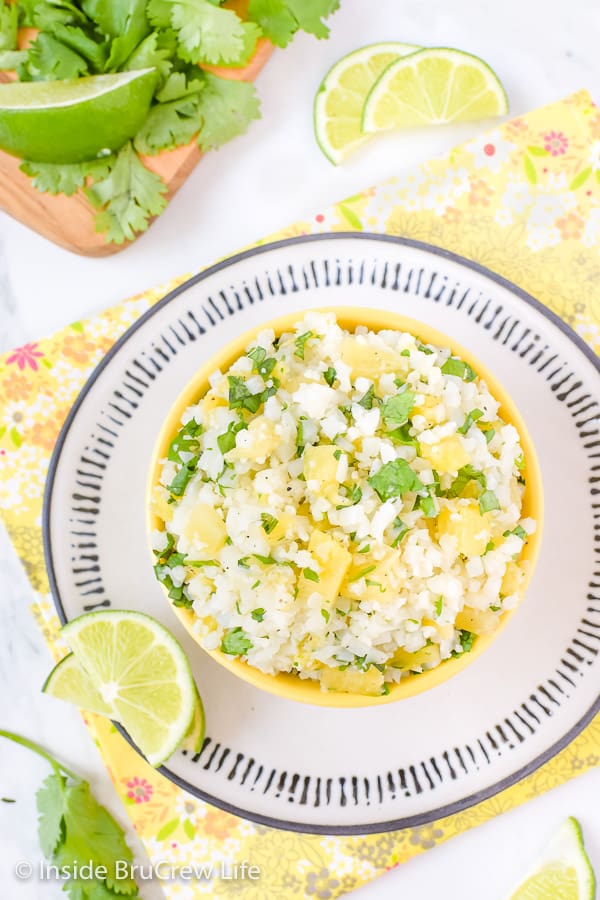 How to make Pineapple Lime Cauliflower Rice:
Cook the cauliflower in the microwave. You can shred your own in a food processor or buy a bag of frozen cauliflower rice. Either one works.
Open and drain the can of pineapple tidbits. If you want the pieces a little smaller, chop the tidbits with a knife before stirring them into the rice.
Add the lime juice and cilantro to the bowl of warm rice and stir. Season to taste with salt and pepper. Serve immediately.
What do you serve with Pineapple Lime Cauliflower Rice?
This cauliflower rice is delicious with tacos, fajitas, fish, pulled pork, grilled chicken, steak, or shrimp. You can pretty much eat it with anything you like.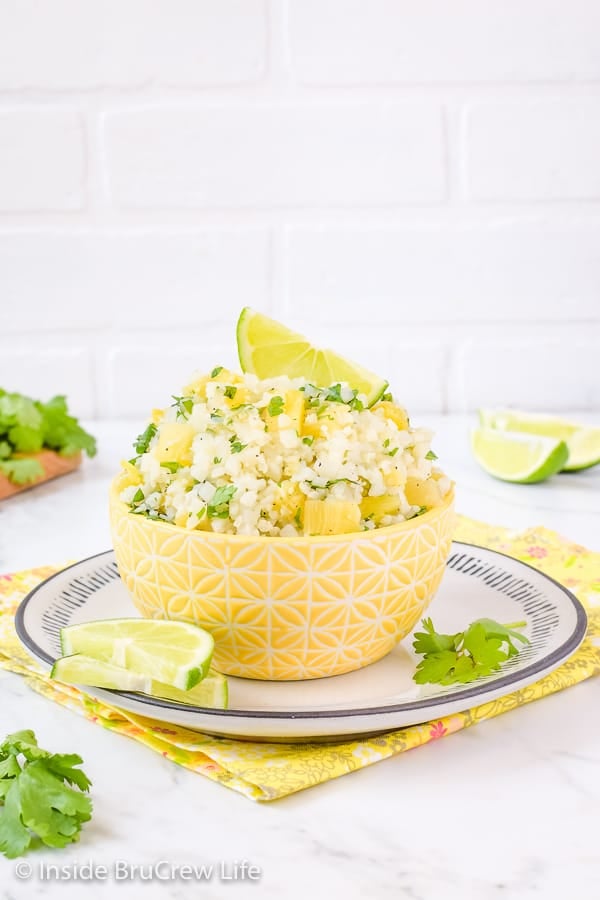 More healthy recipes with cauliflower that you may like:
These Healthy Pulled Pork Burrito Bowls are full of lean and green veggies and an easy pork that has cooked in your crock pot all day. Easy, delicious, and so healthy!
This easy Coconut Curry Shrimp is a delicious dinner that can be on your table in under 30 minutes. It's an awesome lean and green meal loaded with lots of flavor.
Satisfy your nacho cravings with a pan of these Chicken Caprese Cauliflower Nachos. This low carb appetizer is a delicious and healthy option for big game days.
This easy Oven Roasted Cauliflower is delicious and so simple to make. The caramelized crispy edges make it a great side dish to serve with any meal.