A bowl of this Easy No Bake Neapolitan Cheesecake Trifle is the perfect dessert for a hot summer day. Easy, no bake, and full of chocolate and strawberry goodness in every bite.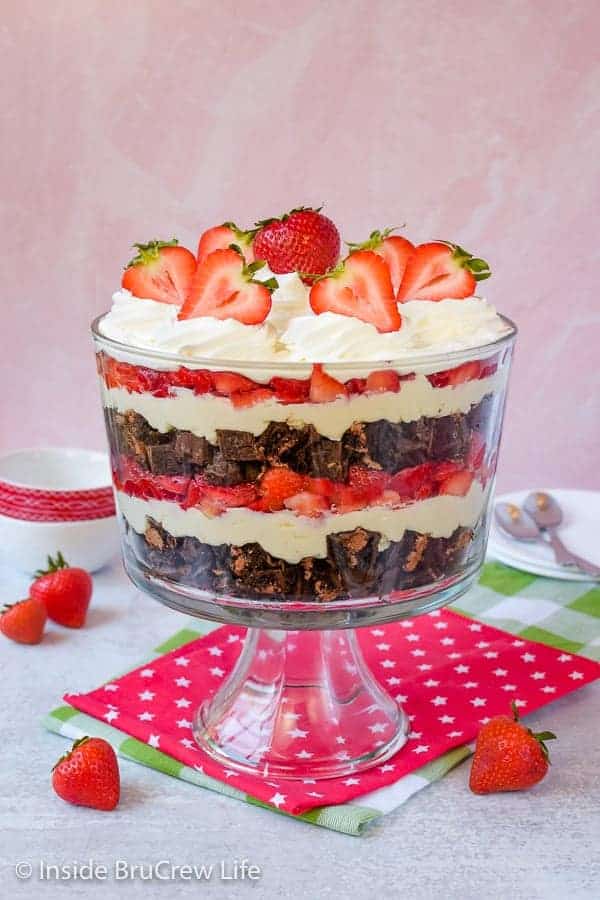 I have hit the time in summer when I do not feel like baking. This doesn't happen often because I usually always love to bake.
But when the temperature outside is crazy hot and the humidity is crazy high, baking just isn't something I want to do much of. I just want to chill out and do nothing for the next few weeks. At least until it's time to start doing all the school shopping.
So, I'll just keep the Strawberry Limeade Slushies coming while I sit on the beach chair by the pool. Anyone else feel like doing the same?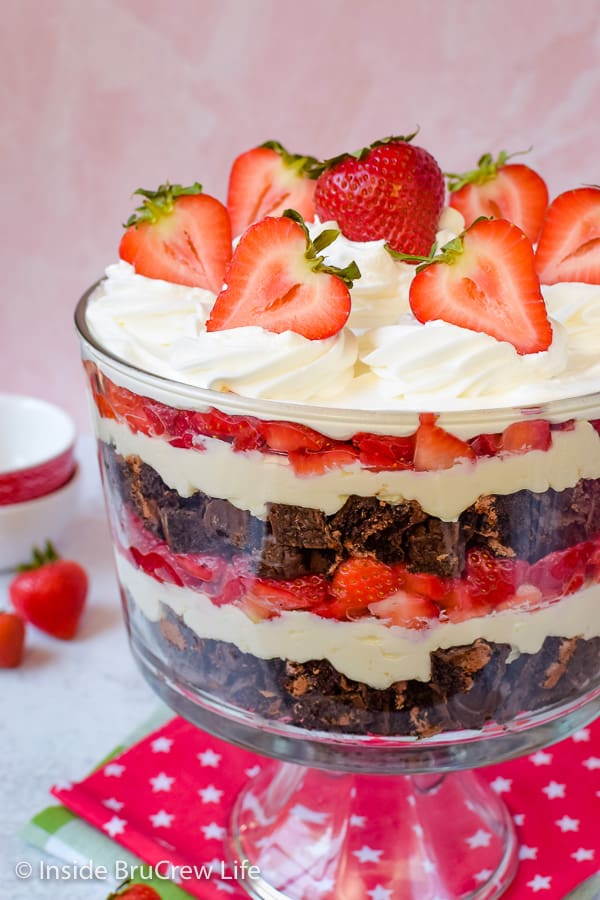 Of course, there are still events and meetings and groups to attend, so making dessert still has to happen from time to time. This is when no bake desserts become my best friend.
A cake trifle is one of the easiest and prettiest desserts to make in no time at all. One of my favorites is this Pina Colada Cake Trifle. It always gets big smiles when we bring it to summer picnics and BBQ's.
I was in the mood to create something similar, but it had to be something that didn't require any baking. These easy Lemon Mousse Fruit Parfaits were the inspiration for this chocolate strawberry cake trifle.
This time I just layered everything in one giant bowl. Something about a giant bowl of cake and fruit is so pretty and impressive. Am I right?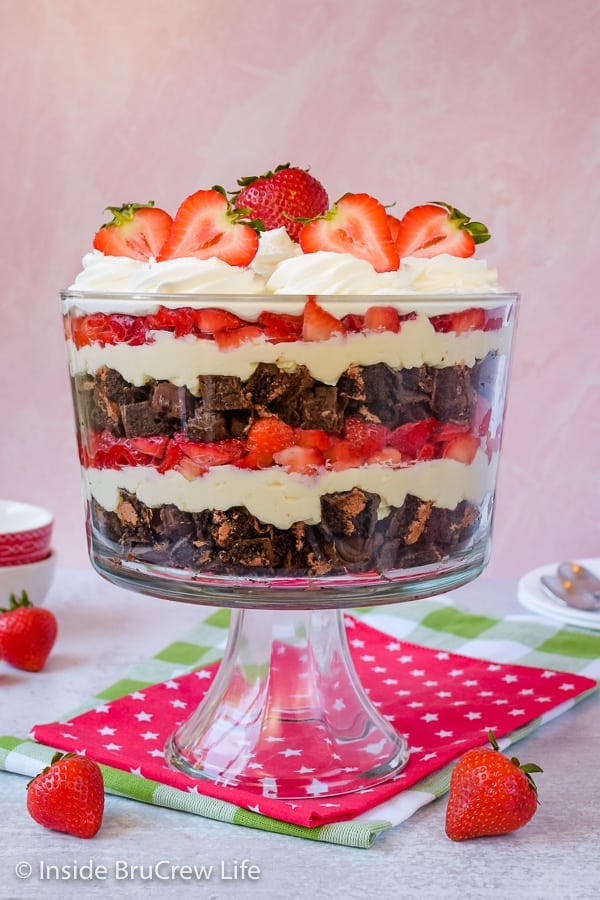 I like choosing snack cakes for the base of a cake trifle when I am short on time or I do not feel like baking. There are so many different options at the grocery store that you could choose.
It's so easy to layer the cake with fruit and no bake cheesecake for an easy dessert in minutes.
How to make an Easy No Bake Neapolitan Cake Trifle:
Cake: Choose your favorite chocolate snack cake and cut them up into bite sized chunks. Place half of the chunks in the bottom of a large bowl.
Cheesecake: Beat together softened cream cheese and sugar until it is creamy. Add some vanilla and Cool Whip to give it flavor and a light fluffy texture. Spoon half of the mixture on top of the snack cakes.
Fruit: Remove the tops of the strawberries and cut them into slices. Be sure to reserve a few whole berries for the top of the Neapolitan trifle.
Topping: Use a piping bag and icing tip 1M to add more swirls of Cool Whip to the top of the no bake cake trifle. Right before serving cut the reserved strawberries in half and place on the swirls.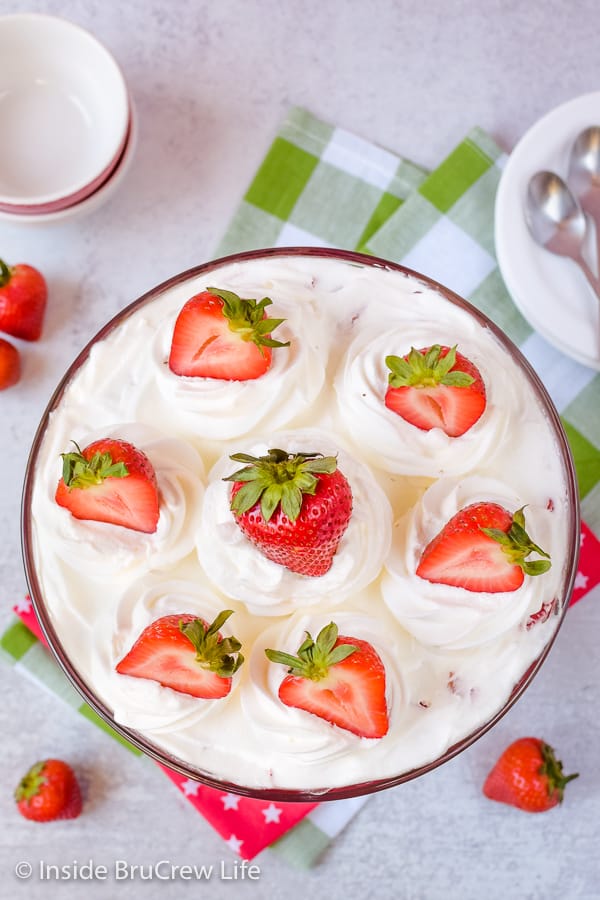 Some tips on this cake trifle recipe:
Feel free to use your favorite snack cake in place of the chocolate fudge cakes we used. There are so many different cakes and cookies that would work with the no bake cheesecake and strawberries. A few choices I would recommend are Zebra Cakes, Oatmeal Creme Pies, Cosmic Brownies, Swiss Cake Rolls, or Strawberry Shortcake Rolls.
You can also use angel food cake or cookies instead of the snack cakes. Another option is to bake a cake mix or the Best Vanilla Bean Pound Cake for the layers. Keep in mind that it will take more time and will not be a no bake recipe then.
If you are opposed to Cool Whip, feel free to make a stabilized whipped cream and use that instead. I recommend beating 3 cups heavy cream with ¾ cups powdered sugar until it reaches stiff peaks. Gently measure that out and use it instead of the Cool Whip. Pro Tip: 3 cups of whipped cream is the same as an 8 ounce container of Cool Whip
You can use any fruit in this cake trifle. I just like the way strawberries look and go with chocolate and vanilla. Feel free to make it your own and use any fresh fruit you prefer. Cherries, raspberries, blackberries, or blueberries would all taste great too.
Anyway you change up the layers will taste amazing. That's what I love about no bake cake trifles. The possibilities are endless and you really can't mess it up.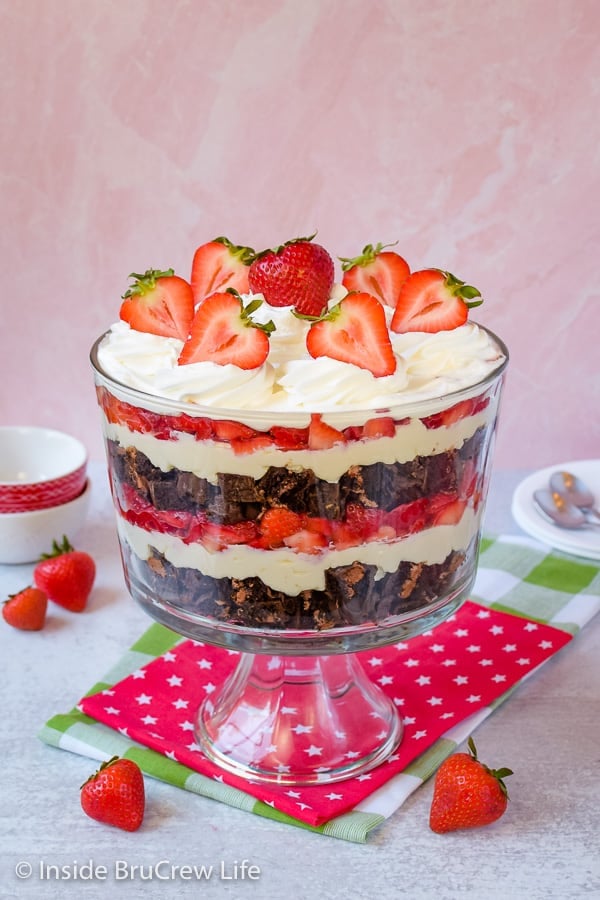 More easy cake trifle recipes:
Oatmeal Creme Pie Berry Trifle - cookies, fruit, and no bake cheesecake makes an easy and impressive dessert
Strawberry Key Lime Cheesecake Trifle - layers of cake cubes, no bake cheesecake, and fruit makes this an easy dessert for picnics and summer parties
Peach Pie Cheesecake Parfaits - jars of angel food cake, no bake caramel cheesecake, and peach pie filling makes the cutest little desserts
No Bake Berry Shortcake Trifle - layers of fruit, whipped cream, and Hawaiian rolls make this an easy dessert
Peppermint Brownie Trifle - brownies, peppermint cheesecake, and chopped up candy bars is perfect for holiday parties