This easy Lemon Strawberry Pie is a delicious dessert for summer parties and picnics. The layers of strawberry pie and lemon cream filling will have you going back for another slice of this summer pie in a hurry.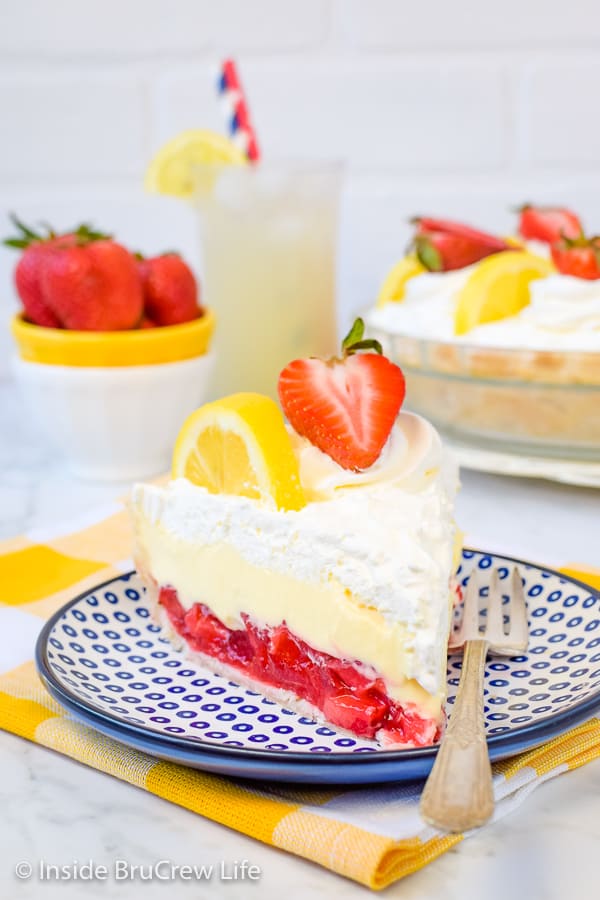 Why we love this Strawberry Lemon Pie
One of the fun things I like to do in the kitchen is to take existing recipes and mash them together into a completely new and delicious dessert.
This strawberry cream pie happens to be one of those crazy creations. I used a small batch of the filling from this strawberry pie with graham cracker crust and the filling from this strawberry cookie pie to come up with this new pretty and delicious summer pie recipe.
It is so easy to put together, has a layer of strawberry pie filling, and a layer of creamy lemon goodness. One bite and we were all in love with this easy strawberry lemonade pie.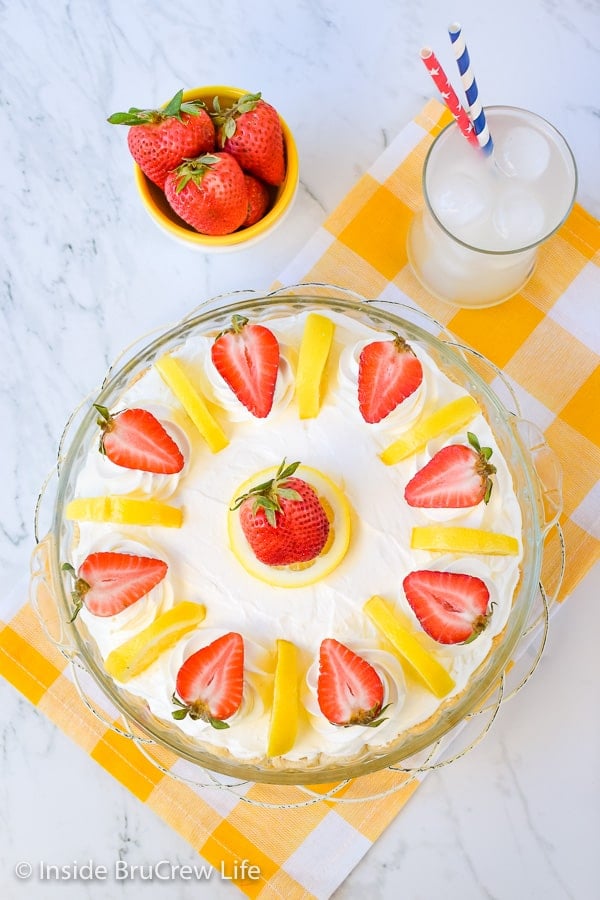 Ingredients for a Strawberry and Cream Pie
With just a few simple store bought ingredients you can make this lemon cream pie with a strawberry pie bottom.
Pie Crust - homemade or store bought is fine.This does keep this pie from being a completely no bake recipe. You can do a graham cracker crust, but I preferred the taste of these layers with a flakey pie crust.
For the Strawberry Filling
Strawberries - washed, dried, and diced
Cornstarch - thickens the filling
Sugar - sweetens the pie filling
Strawberry Jello - sweetens, thicken, and add a bright red color
For the Lemon Cream
Cream Cheese - softened ahead of time
Lemon Curd - 1 jar from the store or make this Easy Lemon Curd.
Cool Whip - one large container thawed or use 6 cups of this Homemade Whipped Cream.
For the Topping
Lemon Slices
Strawberries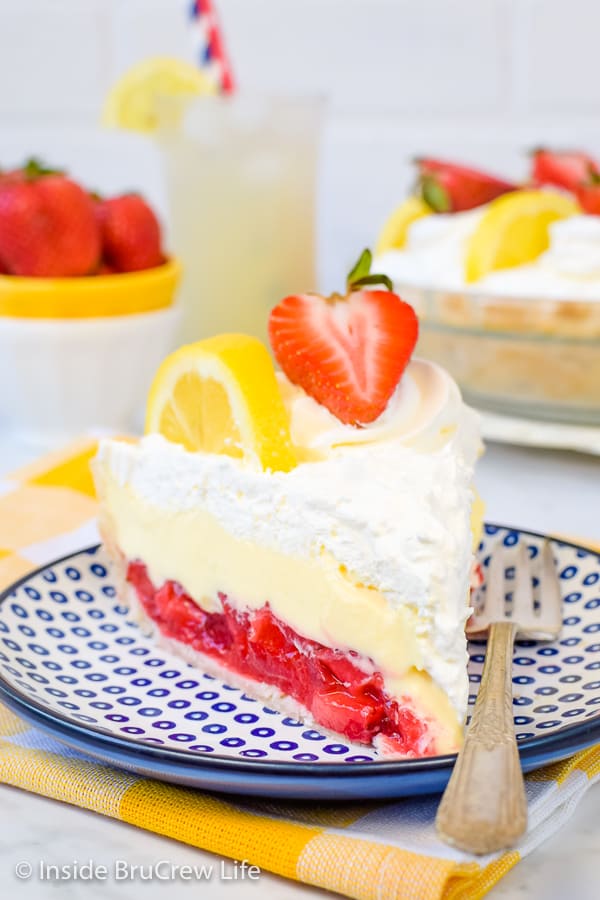 How to make a Lemon Strawberry Pie
The layers in this lemon cream strawberry pie come together easily once the pie crust has been baked and cooled. Make sure to refrigerate the finished pie long enough for each layer to set properly.
Preheat your oven and set the pie crust out 15 minutes before baking.
Place your pie plate upside down on the counter. Mold a sheet of tin foil around the outside of the pie plate. Remove the foil and turn the pie plate right side up.
Unroll the pie crust and place it in the bottom of the pie plate. Fold and crimp the edges of the crust.
Place the foil mold into the pie crust. This will keep your pie crust from bubbling as it bakes. Bake the crust then remove the foil to let it cool.
Make the strawberry pie filling and pour it into the bottom of the cooled crust. Refrigerate while you make the lemon cream.
Beat the cream cheese and lemon curd until creamy. Fold in Cool Whip gently.
Spread the lemon cream filling on top of the strawberry layer carefully. Refrigerate for at least 4 hours.
Top the lemon cream pie with Cool Whip swirls, fresh lemon slices, and strawberries right before serving.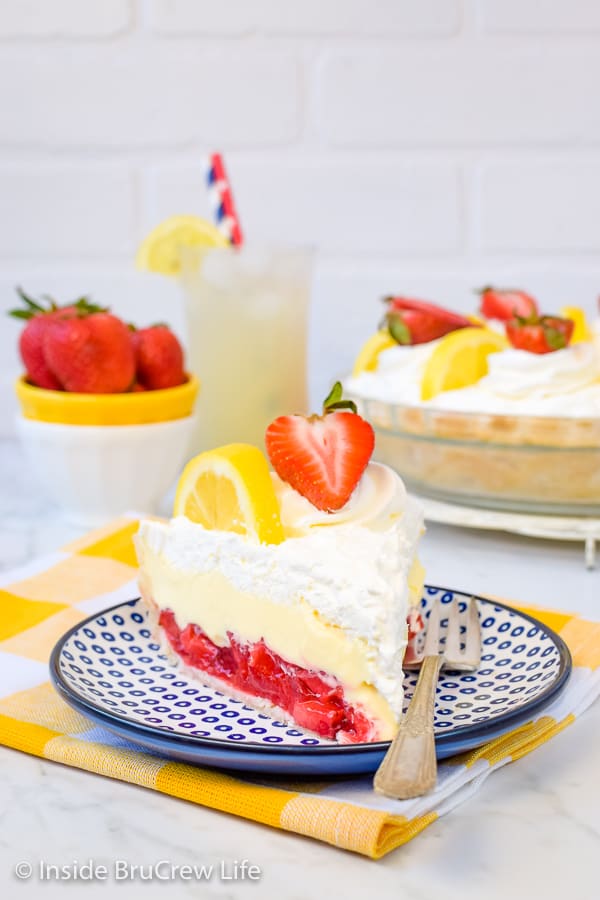 Frequently Asked Questions
How do you make this a completely no bake pie?
Use a homemade or ready made graham cracker crust or a golden Oreo cookie crust. Both of those will work and will taste delicious too.
What can use instead of Cool Whip?
You can use homemade whipped cream. Use 2 cups heavy cream and ½ cup powdered sugar to make a stabilized whipped cream first. Then just use the same amount of that in place of the Cool Whip in the recipe.
Can you use a canned pie filling instead of making the homemade strawberry pie filling?
Yes, that will work too. Open a can of filling and pour it into the bottom of the crust. Just be aware that canned pie filling will not set up like the pie filling made with Jello, so it will be a looser set pie after it chills.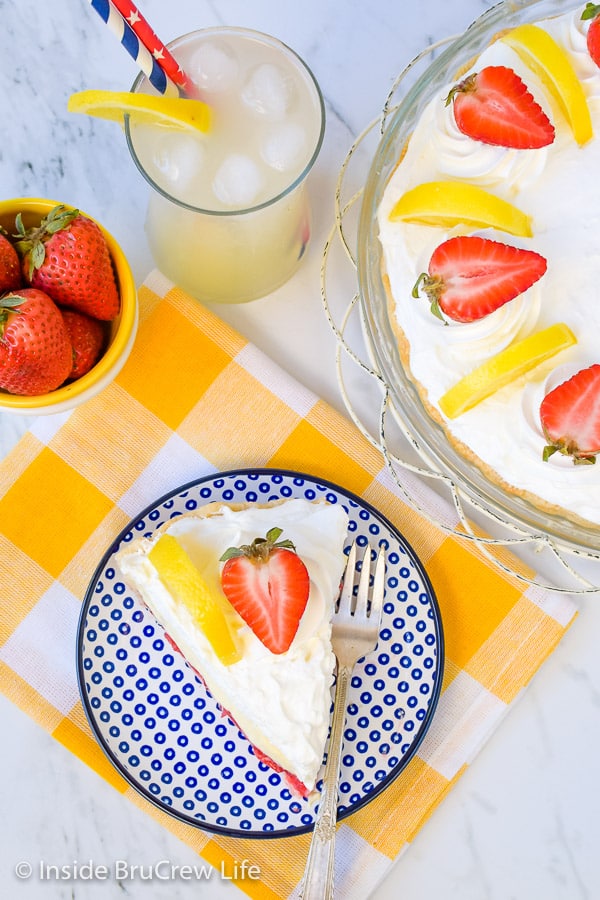 Other Easy Pie Recipes